South Mountain Creamery boxes are ubiquitous on doorsteps around my neighborhood and when I discovered that the Creamery / Farm gave tours, I knew it would be a great opportunity to show my kids where their food came from and provide a rare opportunity to spend a few hours on a real, working farm.
South Mountain Creamery Tour
The tour starts at the Creamery's small, rustic country store where a guide gives an overview of the farm and its operations.  
The tour then moves onto the milking area, where visitors can see all of the equipment that is used to milk cows several times a day and ask questions.  Then, the group moves on to see the cows eating and resting between milkings. 
Later in the tour, visitors can see more cows in the calf barn. 
On the day of our visit there were many baby cows ready and willing to be pet by the kids.  We even got some licks.  We also saw a cow that had recently given birth in the pasture with her hours-old baby. 
The tour also includes a visit to the grain silo and an explanation of how grain is grown and used for food for the animals as well as fuel.  You can also see the world-famous chicks and calves of South Mountain Creamery that appear on Animal Planet Live.
Cow Milking & Other Activities
Daily at 1:30 p.m., there is an opportunity to view a cow milking so you may want to plan your tour time with that in mind.
The farm also has a small play area and big rock pile with tons of toy trucks for kids that you are free to use after your tour. 
READ NEXT: Maryland Ice Cream Trail: Details & Map
At the end of the tour, visitors get a complimentary scoop of ice cream made from the milk of South Mountain Creamery's cows. 
From South Mountain Creamery and other farms in and around Middletown, you can also buy:
Milk
Cheese
Eggs
And other products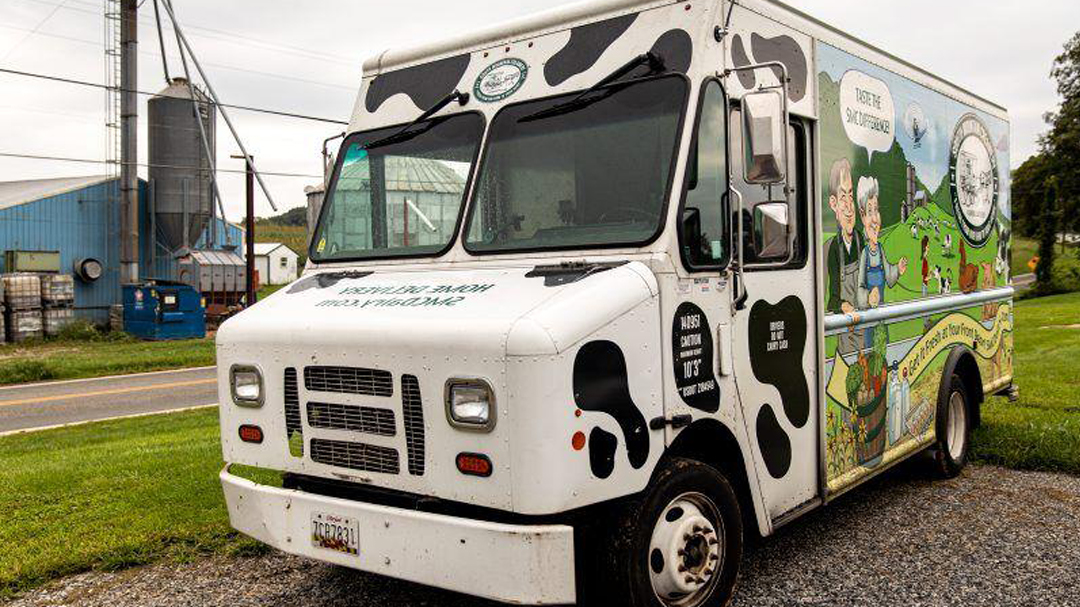 It was too hot the day of our visit to buy anything perishable, but had I been able I would have stocked-up on ice cream and other products made on the farm. Next time, I'll bring a cooler!
RELATED: 7 Water Parks in Maryland: Huge Slides, Wave Pools, Lazy Rivers & More
Although South Mountain Creamery was about an hour from my home in DC, I thought it was well worth the drive! I'm also thinking of signing up for milk delivery.
Hours & When to Go
The farm offers both self-guided and guided tours.
The self-guided tours do not require an appointment and only cost $5 per person which also gives you a tour booklet.
On the tour you will se:
The Milking Barn
The Cow Barns
The Maternity Ward
The Calf Barn
And discover everything that happens in each
Guided tours are offered from April to September for groups of 10 or more and are by appointment only.
Good to Know Before You Go
We recommend wearing close-toed shoes to the farm
Try to arrange your schedule to be able to view the daily cow milking
South Mountain Creamery is situated close to Harper's Ferry and Frederick and a visit to either town would make a good place to explore or grab lunch before or after your tour
Another nearby farm you may also want to visit as well is Misty Meadow Farm Creamery.
Getting There
South Mountain Creamery is located at 8305 Bolivar Rd., Middletown, MD 21769