Miller Farms in Clinton, MD is a wonderful farm we love to go pick strawberries at every year.
"Under the bridge and over the dam, looking for berries, berries for jam." I'm a fan of the children's book, Jamberry. While there is no bridge or dam, you don't have to look far to find strawberries be it for jam, pie or to eat off the vine.
Miller Farms definitely caters to fans of berry picking as it is the only pick-your-own crop on the property!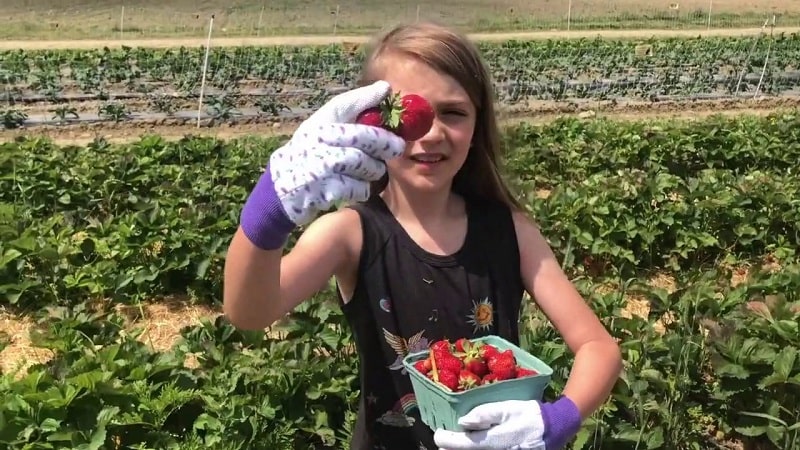 Between the sweet berries, unique market, delicious bakery and community love for those less fortunate, how can you not support Miller Farms?
The family owned and operated business has been going strong since 1840 in Prince George's County.
Pick Your Own Strawberries
My family went the first weekend in search of the best strawberries. We patiently waited as rain then wind tried to derail us from our adventure.
The farm supplies you with cartons, boxes and bags to fill your fruit.
At $3.99 a pound, it's a great value. Being conservative we chose a carton and with it nearly filled to the brim, it cost only $3.85.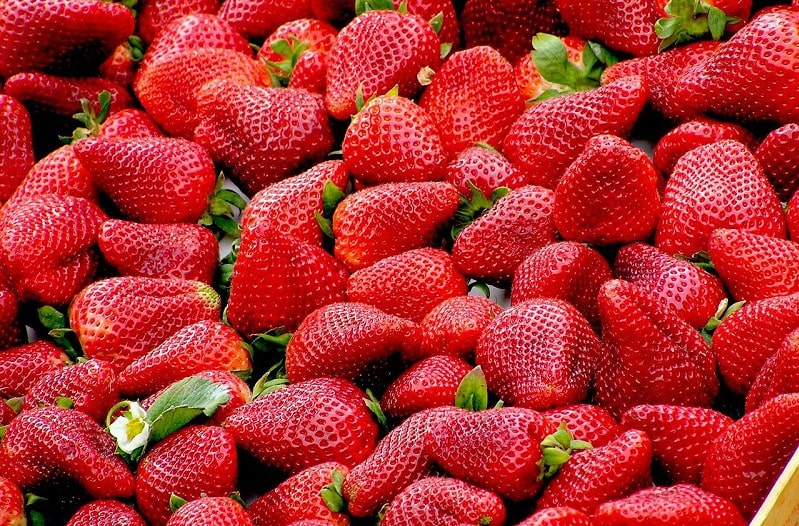 Some of the strawberries were still ripening, but the selection was large and plenty were ready to be picked.
My daughter didn't have to walk far to be able to fill her carton with freshly picked strawberries. A small table with a friendly cashier will weigh your fruit and payment can be made with cash or credit card.
Produce Market
Our next stop was the produce market.
They have everything to plan the perfect picnic such as ready-made pulled pork BBQ, potato salad, coleslaw, corn on the cob and watermelon or pre-picked strawberries.
Don't forget they have Amish roll butter and cheeses, old fashioned candies and roasted peanuts.
Got allergies or ailments? They stock pure local honey, honeycomb and apple cider vinegar.
Sausage gravy, smoked country ham, sausage and bacon and if you're feeling adventurous, they even sell turkey necks!
Adjacent to the cashiers, I highly recommend getting a half smoke served on a potato bun. My daughter isn't a big fan of hot dogs, but she loved this one.
Gleaning
I love that Miller Farms is involved in "gleaning." Gleaning means allowing groups of people to collect leftover crops to give to the needy.
While Miller Farms only allows PYO strawberries, gleaning here includes harvesting:
Kale
Collards
Turnips
Mustard
Eggplant
Squash
They also donate their #2 produce, day old donuts and bakery items to central kitchens in the community.
Bakery
Next up, we headed to the next door…the bakery.
The bakery has several tempting options with a large selection of donuts. I'm always happy when Apple Cider donuts are on the menu!
We also tried the strawberry cream and honey dip versions.
Pies are sold by the slice and whole and sugar free or no sugar added options are available.
The strawberry theme continues with Strawberry and Strawberry Rhubarb pie, but Country Cinnamon Apple is equally popular. For savory items, the Millers are famous for their Butterflake rolls and jalapeno cheddar cornbread.
All of their baked goods are made daily in house. They always have four flavors of handmade ice cream in rotation so no surprise strawberry is here until July.
My husband and I battled it out for who would get the vanilla versus the strawberry soft serve. Both homemade flavors were creamy and delicious.
Note: they come in kids, small and large sizes and the small is plenty.
Nursery
Don't forget to stop by the nursery where you can find colorful blooms and vegetable plants. There you'll find:
Hanging Baskets
Planters
Bedding Plants
Perennials
Succulents
Herbs
Fruit and Vegetable Plants
What is available changes throughout the year due to what is in season. They have some of the largest mums you'll find, available in September.
Tickets & Pricing
There is no entrance fee at Miller Farms. The only cost is for the strawberries you pick at $3.99 a pound.
Hours & When to Go
Picking hours are from 9am – 1pm Monday thru Friday and 9am to 5pm Saturdays and Sundays.
The bakery is open from Monday to Friday 6am to 7pm, Saturday 7am to 7pm and Sunday 7am to 5pm during summers.
The produce market is open Monday to Saturday 8am to 7pm and Sunday 9am to 5pm.
Knowing that the picking season ends at the end of May or until they run out of strawberries, make it a priority to visit Miller Farms before it ends!
Good to Know
You can pay with cash or card
Picking containers are provided and will be weighed
With the way the berries are grown, you will want to wash them well to get off any sand
There is handmade ice cream and donuts in the bakery
Picnic tables are outside and a portable toilet is nearby
Non-service animals are not allowed in the fields so it's best to leave pets at home
Call ahead or check their Facebook page to make sure they are open if it's raining. 
For additional information, give them a call at 301-297-9370
Pets or any other service animals are not allowed here.
Getting There
Miller Farms is located at 10140 Piscataway Rd. Clinton, MD 20735
To find the strawberry fields, drive past the market, then drive onto a narrow gravel road and turn right. You'll see a big sign directing you to the fields where you can park. It is located at the corner of Piscataway Road and Tippett Road.
Things to Do Near Miller Farms