To be honest, I really didn't expect much when I visited The Baltimore Museum of Industry.
I was, however, surprisingly blown away by this museum and the kids had a lot more fun than I imagined. Now having been, I recommend other families visit with their kids too.
This museum often gets overlooked but really shouldn't.
I would actually venture to say…this is easily one of the top museums in Baltimore.
While the museum is about the history of Baltimore, the state of Maryland and a number of industries that started here, there is lots to see and there are interactive exhibits as well.
The Baltimore Museum of Industry can be easy to overlook among the many other kid-friendly attractions in Baltimore, but it's well worth a look.
While my family and I (with children 10, 8.5, 6, and 1.5) visit a lot of museums, especially a lot of the DC Museums, and the Baltimore Museum of Industry stands out as being different in a great way. 
What to See & Do
The museum has several types of themed rooms that cover different industries.
For example, they have rooms like the printing press, newspaper room, a textile factory, a forge, and others.
We loved so much of it and some of the highlights were:
Seeing how a cannery worked
Discovering an electric car that was created in the 1800s
Finding out which jobs you could have based on your race
Learning about Baltimore & Maryland history
Seeing vintage equipment
Watching different machines in action (on the guided tour)
What to Expect
The Baltimore Museum of Industry covers a number of different industries that actually started in the Baltimore area which is quite interesting.
Instead of a bunch of exhibits behind ropes, this museum creates replicas of real life as it existed in the olden days and traces progress through the Industrial Revolution. 
Families can:
Explore what a traditional deli was like
Walk into a pharmacy from 1910
Visit a cannery
Stop by a print shop with a working Linotype machine
Peak inside a 1929 garment factory
View a machine shop
And of course there's plenty more too!
There is also a huge room filled with planes, trains, and more with a view of Inner Harbor, as well as an entire room filled with all types of cars from old food delivery trucks to electric cars.
We found the exhibits to be very interactive and immersive so kids will actually really like this museum just as the adults will!
Each room has a green box filled with toys and books related to the theme of the room. 
For example, kids can dress up in the garment factory, play with toy cars in the car room, or read a book while looking at boats in the Inner Harbor. 
The museum staff is also very helpful and informative. We asked them a number of questions and they were beyond friendly and really went above and beyond to make sure to share as much as they could.
Tours
When you visit, there is a self-guided audio tour available which walks you through the different galleries.
If you prefer a tour lead by a docent, those tours happen on Saturdays only.
Both of these tours are included in the price of admission.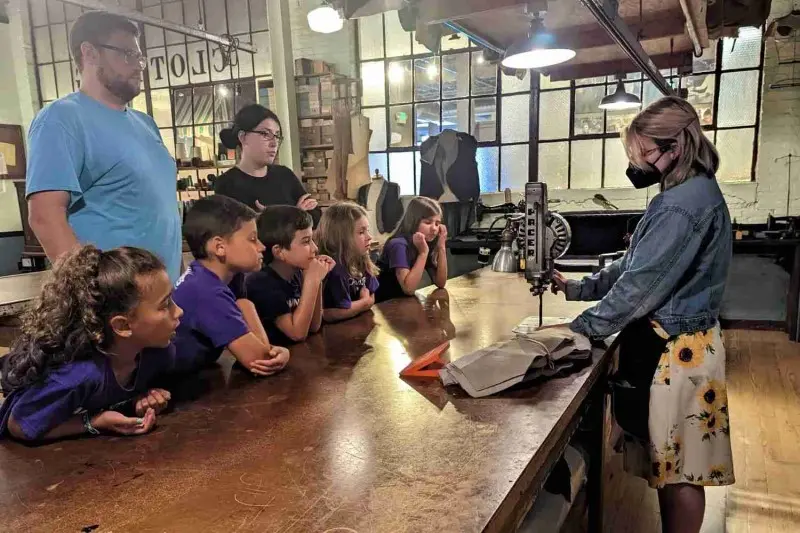 Events & Programs
The museum has rotating programs each month so it's always a good idea to check their calendar for events going on for both kids and adults.
They also have a number of annual events like community concerts on select Saturdays during the summer from June to September and the Bull and Oyster Roast.
READ NEXT: 130+ Things to Do in Maryland With Kids
Hours & When to Go
The Baltimore Museum of Industry is open from Wednesday through Sunday from 9am to 3pm.
They are closed on Mondays and Tuesdays.
If you want to see a linotype demonstration, those take place on Saturdays at both 10:30am and 11:30am.
You'll want to plan on spending a couple of hours here.
Admission & Pricing
Tickets are $15 for adults and $8 for kids ages 6 to 18. Kids 5 and under are free.
Tickets can also be purchased in advance on the museum's website.
Good to Know Before You Go
The museum is all on one floor and is stroller and wheelchair friendly
If you need to charge your phone, you'll find a device charging station in the media communications room
There are lots of benches throughout the museum so you can easily find a place to sit down if needed
There is a small gift shop in the museum
Getting There & Parking
The Baltimore Museum of Industry is located at 1415 Key Hwy, Baltimore, MD 21230 which is less than 1 mile from the Museum of Science only about 1.5 miles from the National Aquarium and many other Baltimore Harbor attractions and restaurants.
The museum actually has it's own parking lot with plenty of free parking which definitely isn't common in this area.
Visiting The Baltimore Museum of Industry
If you are looking for somewhere new to explore give the Baltimore Museum of Science and Industry a try!
You'll really be surprised how much fun the kids will have here.
They actually even have school field trips come here because the kids learn a lot and have fun.