There are so many fun things to do in Alexandria, Virginia that you can spend weeks and months exploring it all.
If you're looking enough to be close to Alexandria, you'll be coming back regularly to enjoy the beauty, fun activities and events.
There are so many beautiful parts of Alexandria to explore. Whether you enjoy the waterfront and people watching or prefer to walk in nature undistrubed, there are plenty of options for you.
Even the Alexandria transportation is fun can be fun from riding a water taxi to taking a cruise or riding on the free trolley (more on that below!).
Here we'll share 40+ of the best things to do in Alexandria VA. You're sure to find something great to do!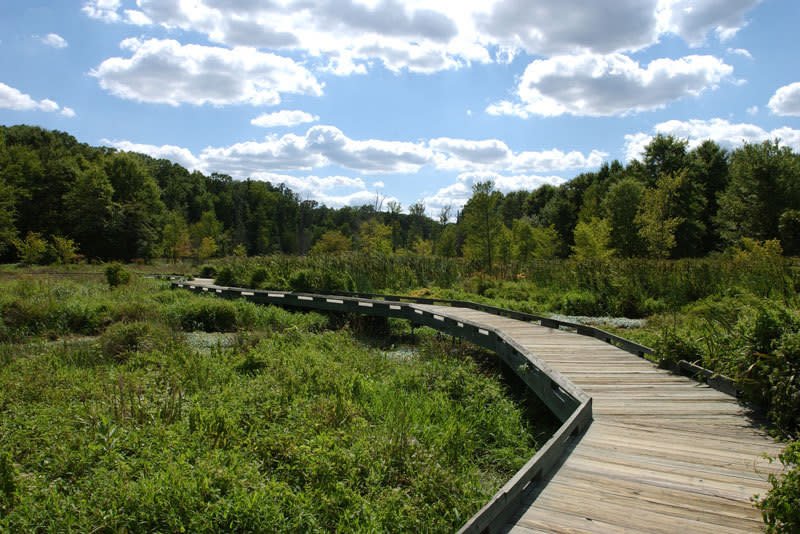 #1 Huntley Meadows Park
3701 Lockheed Blvd, Alexandria, VA 22306 | Full Details
Huntley Meadows Park is a natural oasis right in the middle of Alexandria.
The best part of the park is the boardwalk that guides you right over the wetlands. While many people go to birdwatch, it's common to see frogs, turtles, ducks and even small snakes up close.
It's a shorter walk and a really great park for both kids and adults.
You'll be amazed at how this quiet, natural place can exist right in the middle of the city. And you'll likely be coming back again!
Look out for the special events that happen here from time to time.
See the trail map and full details here >>
#2 Great Waves Waterpark
4001 Eisenhower Ave, Alexandria, VA 22304 | Full Details
Next on our list of fun things to do in Alexandria VA, is Great Waves Waterpark.
This is one of many fun water parks in Northern Virginia.
Located inside Cameron Run Regional Park, Great Waves Waterpark has a wave pool, splashpad, sprayground cascades, lagoon, water slides and more.
#3 Green Springs Gardens
4603 Green Spring Rd, Alexandria, VA 22312 | Full Details
Green Springs Gardens is such a beautiful and peaceful place to visit. If you're visiting with kids, you must stop by the Children's Discovery Garden.
There are:
Mailboxes naming the gardens
Colorful wind chimes
A teepee
A mosaic hopscotch
Edible garden
And more
There is also a family garden which scavenger hunt placards, shovels to dig in the dirt and even a wildlife garden with a small pond where you're bound to see some wildlife like frogs or rabbits.
#4 Mount Purrnon Cat Café + Wine Bar
109 S Alfred St, Alexandria, VA 22314 | Website
Mount Purrnon is actually one of 6 cat cafes in the DC area.
Many people would argue there's nothing much better than getting to snuggle some kitties while sipping on wine on a pleasant Saturday morning.
And that's exactly what you get to do here at Mount Purrnon Cat Cafe.
They also have other food and beverages to enjoy. Plus, you can eat in the lounge and then head upstairs to hang with the cats.
#5 Winkler Botanical Preserve
5400 Roanoke Ave, Alexandria, VA 22311 | Full Details
Winkler Botanical Preserve is a hidden gem in Alexandria.
The location is a bit hidden and is actually the site of a former pig farm. The park is a nice place to be in nature and see views of the lake with a man-made waterfall.
The trail is a 1.4 mile loop and you may spot some birds (we have spotted bald eagles here on several occasions) and other small wildlife along the way.
If you'd like to spend some time in nature where they won't be many people if any and not have to travel far, this is your spot.
#6 Alexandria Archeological Museum
105 N Union St UNIT 327, Alexandria, VA 22314 | Full Details
The Alexandria Archeological Museum is makes for a short archaeology field trip for kids and adults. It showcases the history of community digs which started the City of Alexandria as it became a leader in preservation.
As as it's located in the Torpedo Factory, when you're done with your visit you can explore the rest of the center, take a walk along the boardwalk and grab a bite to eat on the water.
#7 Shadowland Family Entertainment Center
5508 Franconia Rd, Alexandria, VA 22310 | Website
Shadowland is a huge family entertainment center with many attractions like:
A mega arcade
Laser tag
Laser maze
And no, this isn't just for the kids. Adults enjoy ShadowLand too! It's worth visiting for the entire family.
And if you're looking for fun things to do in Maryland, they also have locations in Columbia and Gaithersburg.
#8 Get Air Trampoline Park
340 S Pickett St, Alexandria, VA 22304 | Website
Get Air is a really fun trampoline park in Alexandria. And there is more to do than just jump on trampolines.
You'll find other fun attractions like:
Kiddie court (for the littlest ones)
Dodgeball
Foam pit
Ninja course
Slackline
Slamball
Fidget ladder
And if you don't feel like playing with the kids, there are massage chairs to relax in.
#9 Alexandria Farmers Market
Alexandria has five farmer's markets so you can find one available on Thursdays, Saturdays and Sundays every week.
In fact, Alexandria is home to one of the oldest farmer's markets in the nation on Saturdays.
Each farmer's market has a variety of vendors that sell typical fruits and vegetables plus other items like meat, cheese, breads, pastries, flowers, crafts and a lot more.
You'll find the full list here.
Our Kids Recommendation: You cannot miss the old own farmers' market that is open every Saturday since the 18th century.
#10 Chessie's Big Backyard
6601 Telegraph Rd, Alexandria, VA 22310 | Website
Chessie's Big Backyard located inside of Lee District Park is a wonderful playground to bring your kids. They have play areas separate by age groups so there is plenty of space for everyone.
They have a merry-go-round, spray park, nature trail, and obstacles.
The musical walking trail is also a lot of fun!
There is also a tree fort type of area as you walk so while you may struggle to get the kids away from the play area, make sure to leave time for the trail.
This playground is also accessible.
#11 Take a Stroll on the Waterfront
The waterfront in Old Town Alexandria is just a place you have to visit.
Stroll along the wonderful boardwalk with the best views of the Potomac River and Washington, DC. As you walk along the water, stop and enjoy the bars, restaurants and some of the best ice cream.
On the weekends especially, there is also live music.
#12 King Street Trolley
The King Street Trolley is a fun way to get around Old Town Alexandria and it's free! The trolley is open 365 days a year and runs approximately every 15 minutes from 11:00am to 11:pm.
There are 20 stops to get you close to different shops, restaurants and attractions. See the full trolley map here.
#13 Sportrock Climbing Center
5308 Eisenhower Ave, Alexandria, VA 22304 | Website
Sportrock is an 18,000 square foot indoor climbing center for bouldering and sports climbing.
There is even a 60-foot wall to try and climb!
They also have a gym, yoga studio and classes.
Sportrock was actually the first commercial climbing gym that opened in the DC area (all the way back in 1994!).
#14 Ben and Jerry's Ice Cream
103 S Union St, Alexandria, VA 22314 | Website
Ben and Jerry's is located near the water front park so it's a great place to grab some delicious ice cream before heading over to walk along the water.
Serving homemade, hormone-free ice cream, they have dairy and non-dairy options with flavors like:
Butter pecan
Strawberry cheesecake
Cherry garcia
Coconut seven layer bar
Chunky monkey
The tonight dough
Triple caramel chunk
And a whole lot more
They also offer sundaes, smoothies and shakes.
#15 Jerome "Buddie" Ford Nature Center
5750 Sanger Ave, Alexandria, VA 22311 | Full Details
Jerome "Buddie" Ford Nature Center is one of many local nature centers.
This is the place to go if you want to see lots of local live animals. This nature center has something for everyone and is great for the entire family.
Right outside the nature center is a 50-acre wildlife sanctuary.
See everything you can do here.
#16 Kidcreate Studio
724 Jefferson St, Alexandria, VA 22314 | Website
Kidcreate is an art studio that was built just for kids! The have children's art classes, workshops, events and camps.
You'll find changing classes where kids can learn various art topics and work with different materials. Some topics you may see covered are:
Slime-tastic
Fairies and princesses
Jewel art
Dinomania
Sparkle spectacular

#17 Dyke Marsh Wildlife Preserve
Alexandria, VA | Website
Have time for a day trip?
Dyke Marsh is a 380-acre freshwater wetland and wildlife preserve that runs along the Potomac River between Old Town Alexandria and Mount Vernon.
The Haul Road Trail goes through different types of habitats and is only 3/4 of a mile long. The trail is flat and is part gravel, part boardwalk.
Boats can also be rented to explore the marsh which is a lot of fun.
#18 Escape Room Live Alexandria
814 King St 2nd floor, Alexandria, VA 22314 | Website
Escape Room Live is a highly-rated escape room with great staff and great rooms.
They have 4 rooms to choose from with varying degrees of difficulty. You'll find intricate puzzles and clues to make the experience fun.
The decor here is really great which really adds to the experience.
#19 Chinquapin Park Recreation Center
3210 King St, Alexandria, VA 22302 | Full Details
The Chinquapin Park Recreation Center has a lot to offer including:
25-meter indoor pool
Nature trails & park
Tennis courts
Saunas
Fitness room
Racquetball courts
Sand volleyball courts
and more
Inside Chinquapin Recreation Center is also the Alexandria Soft Playroom which is covered in colorful soft mats with blocks, cubes, steps, slides, arches and a ball pit. The playroom is only for kids 5 and under.
#20 Cameron Run Regional Park
4001 Eisenhower Ave, Alexandria, VA 22304 | Website
Cameron Run Regional Park is a 26-acre park in Alexandria with so much to do!
Run by the NOVA Parks agency, you can enjoy:
Slowpitch and fastpitch batting cages
The slides & more fun at Great Waves Waterpark
Picnic shelters
Plenty of open space
In the winter they even have a Christmas lights display and ice skating at their Winter Village.
#21 Dora Kelley Nature Park
5750 Sanger Ave, Alexandria, VA 22311 | Website
Just outside the Jerome "Buddie" Ford Nature Center, is Dora Kelley Nature Park.
The park is a 50-acre wildlife sanctuary with a one-mile long paved nature trail that meanders along streams, wooded hills, and freshwater marshland. In the spring, this is a beautiful place to see wildflowers as well.
It's definitely a great way to escape the city and explore nature.
#22 The Dairy Godmother
2310 Mt Vernon Ave, Alexandria, VA 22301 | Website
The dairy godmother is a retro-style parlor with unique flavors of frozen custard and sorbet, all handmade.
They have a variety of flavors of sorbet that change daily. Vanilla and chocolate frozen custard is available every day, as well as a unique flavor of the day.
Some of the rotating daily flavors have included:
Lava flow
Cereal milk
Lucky Mint
Mozambique
Lemon chip
Drumstick
Maple crunch
Pineapple upside down cake
And many, many more.
They also offer treats especially made for dogs that are made from plain yogurt, peanut butter and eiither pumpkin or banana puree.
#23 The Spite House
523 Queen Street in Alexandria, VA
Hollensbury Spite House In Alexandria is only 7 ft wide and often referred to as the skinniest house in the nation.
Built in 1830, this blue house is only about 25 ft deep and only has 325 square feet split between two levels.
It's called the spite house, because the house was built out of spite. The original owner built it to keep horse-drawn wagons and loiterers out of his alley. So the living room walls are simply the brick walls of the adjacent houses.
It's a fun house just to see and take a picture of when you're in the area.
#24 Schuyler Hamilton Jones Skateboard Park
Bring your skateboards and head to the Schuyler Hamilton Jones Skateboard Park.
While on the smaller side, the skate park is great for beginners.
You won't find a bowl but there are many ramp variations, a halfpipe and other obstacles. Plus there is plenty of flat surface to move around.
#25 Scramble
5412 Eisenhower Ave, Alexandria, VA 22304 | Full Details
Is one of the area's indoor playground and kids have so much fun here! The nice part for the parents is that it is pretty easy to find your kids through the mesh walls of the play areas.
They do sell food and kids snacks if you didn't bring any with you.
The kids absolutely love it here and it's always a challenge to get them to leave.
Adults are also welcome to play in the play areas and if not they have comfortable seating and free, high-quality Wi-Fi available.
Find out more about what to expect at Scramble here.
#26 Ben Brenman Park
4800 Brenman Park Dr, Alexandria, VA 22304 | Website
Ben Brenman Park is a wonderful place to watch the birds, ducks, turtles and more as you cross the bridged walkway over the water.
There is a beautiful lake that has a bridge walkway to cross over. You'll find a gazebo in the middle where you can stop and watch for wildlife.
Across the bridge you'll also find:
A dog park
Benches
Picnic tables
A nice playground
Volleyball, soccer and baseball fields
Paved and gravel walking trails
What more can you ask for?
#27 UpCycle Creative Reuse Center
5380-D Eisenhower Ave, Alexandria, VA 22304 | Full Details
Upcycle creative ReUse Center is such a fun place to create art out of recycled Goods.
This is not only a good way the teach the family about art, it's also a great way to remind ourselves how to be more resourceful, use what we have and create less waste in the world.
They also take donations and they have so many great materials to use like fabric, paper, tiles, containers, paint, crafting tools, yarn and pretty much anything else you have in mind.
But they have lots of great kids activities and workshops. There are also events and programs for adults too!
This is a great indoor activity or even somewhere fun to come on a rainy day.
#28 Walk or Ride the Wilkes Street Tunnel
398 Wilkes St, Alexandria, VA 22314
The Wilkes Tunnel is a neat piece of Alexandria's history.
It's really fun to walk through or ride your bike through and this is also a popular place for a photoshoot in Alexandria. The tunnel has a whole other feel to it at night.
The tunnel spans about 170-ft and it dates back to the 1800s. It was previously used during the Civil War as of Railway passage between DC and Richmond.
#29 Try Non-Traditional Sports at Urban Evolution
5505 Cherokee Ave, Alexandria, VA 22312 | Website
Urban Evolution is a great place to learn some skills that you won't find taught in many other places.
They are all about movement and use non-traditional sports so you have fun and forget that you're working out.
Some of the classes include:
Parkour
Circus skills
Tricking / Freerunning
Aerial acrobatics
Hip hop dance
Juggling
And more
The classes are tailored to the students and very welcoming with highly knowledgeable staff.
#30 Visit Jones Point Light and Jones Point Park
Jones Point Dr, Alexandria, VA 23242 | Website
On the Potomac River, Jones Point Park is just south of Old Town Alexandria.
This used to be one of the largest centers for shipping, manufacturing and transportation in the entire United States.
The park is also home to Jones Point Lighthouse which was built in 1855 and it's the last riverine lighthouse in the state.
So what is there to do at Jones Point Park?
Walk the gravel interpretive Trail to learn more about the Park's history
See the freshwater Marsh habitat
Enjoy the to fishing piers
Bring your canoe or kayak and hit the water
Enjoy one of 2 playgrounds
Play a game of basketball
Or attend one of the parks event like learn to ride (where kids can learn to ride their bike) and lighthouse life
#31 Take a cruise on the Potomac River
Being that part of Alexandria runs alongside the Potomac River, taking a water taxi and even a river cruise is such a fun way to enjoy the area.
There are a number of great companies that will take you and you can decide how much time you want to spend on the water. From a few minutes on a water taxi to a multiple hour dinner cruise. Or even a narrated cruise that offers some sightseeing and photo opps.
Some companies to consider are Spirit of Mount Vernon by City Cruises, City Cruises Alexandria Water Taxi and Potomac Riverboat company.
#32 Take a Guided Tour at the Apothecary Museum
105-107 S Fairfax St, Alexandria, VA 22314 | Website
The Apothecary Museum is a historic apothecary shop that has been preserved.
Her family who owned it was forced to close down due to a sharp decline in sales during the Great Depression.
This museum showscases one of Alexandria's oldest continuously run businesses.
Being a National Historic Landmark, this museum has many neat things to see from the past including:
Herbal Botanicals
Hand blown glass
Medical equipment
Journals, prescription and formula books
Ledgers, orders and invoices
Harry Potter fans, you can even take speciality tours like a Harry Potter themed tour!
#33 Torpedo Factory Art Center
105 N Union St, Alexandria, VA 22314 | Website
What used to be a US Naval torpedo station was converted into what is now The Torpedo Factory Art Center in 1974.
The Torpedo Factory is actually the nation's largest community of working artists.
Every time you visit can be a different experience as you can see different artwork and even different artists actively working on their latest piece.
There is a variety of art such as paintings, sculptures, jewelry and a whole lot more.
The factory itself is actually quite large and spans over 3 floors full of artist studios.
You'll find a lot of artwork for sale and it's really neat to be able to meet some of the artists directly and talk to them about their pieces (and if you're lucky see it being created).
Keep an eye out for fun art classes too.
#34 Relax by Kingstowne Lake
6545 Grange Ln, Alexandria, VA 22315
Kingstowne Lake is a lesser-known lake where you can escape into nature and get grounded without having to interact with a lot of people.
The beautiful lake has wildlife and asphalt walking trails. There's also a lot of shade and the trail itself is about three-quarters of a mile around.
This is a perfect place to go for a short walk with the family and the dog.
You'll feel like you're more in a natural preserve when you see all the life here including fish, turtles, geese and ducks.
The kids definitely enjoy the little wooden bridges throughout.
#35 Paint This!
1013 King St, Alexandria, VA 22314 | Website
Paint This! Is an adorable Studio that you can paint your own ceramic pottery and glass.
And there is so much to choose from including:
Kitchen and dinnerware
Figures
Boxes
Vases
Planters
Frames
And a lot more
No need to bring anything with you, they have all the brushes, tools and materials you need including over 150 colors to choose from.
They also offer mosaic projects including mirrors, picture frames and different plaques.
#36 Enjoy One of the Many Wonderful Parks
Alexandria is home to so many wonderful parks so you always have a different one to choose from! These are the best places to spend an entire day with your family.
Take for instance Potomac Yard Park which has a wonderful playground for the kids, splash pads in the summers, mommy and baby swings, wheelchair accessible play areas and a maz.
There is also other nearby parks to enjoy like:
Windmill Hill Park with riverfront views, a playground and athletic courts
Hayfield Community Park has a small green area with a playground
Pole Road Park offers a walk along the water and lots of nature
Wickford Park has a nice playground with a rope tour, picnic area and basketball court
McCutcheon Park is a 17-acre park with trails, open space and a playground
Collingwood Park has multiple sport fields, tennis and basketball courts, a playground and trails
Riverside Park is a great place to walk, bike or bring a picnic to with great views of the water
Parkhurst park is a quiet community park in the back of a nice neighborhood. The park is great for kids with sand boxes, swings, slides, climbing wall, unique structures and more.
#37 George Washington's Mount Vernon
3200 Mount Vernon Memorial Hwy, Mt Vernon, VA 22121 | Website
Mount Vernon is the former plantation of the first president of the United States. The property runs along the Potomac River.
You'll find the mansion well preserved and tour guides will take you through while educating you on the American history and answering your questions.
They also have a museum with lots of interesting historic items. The entire experience is great for all ages.
There is also a souvenir shop and a restaurant is also on-site.
After the tour, enjoy a nature walk outside and bring a picnic to enjoy in the open space.
#38 Fort Ward Museum and Park
4301 W Braddock Rd, Alexandria, VA 22304 | Website
Fort Ward Park is the 5th largest fort built to defend Washington DC during the American Civil War. Ninety percent of the original walls are still there and well-preserved which is amazing to see.
This historic site also has a small museum with artifacts and is very informative.
The park itself, while in the middle of the city, is a nice place to walk with a walking path and includes a bridge, picnic areas, some grills and even a small, historic cemetery. There is also an amphitheater on site.
#39 Enjoy Free Outdoor Concerts
Free outdoor concerts and performances can be found throughout the city, espeically during the summer.
For instance, at Grist Mill Park in Alexandria hosts Mount Vernon Nights that has a variety of musical performances during the summer.
Lee Distric Park also hosts Lee District Nights which has free concerts to different kinds of music including: latin, jazz, bluegrass and vintage rock n' roll.
#40 See the Holiday Lights
Every year we all look forward to seeing all of the holiday light displays in the area.
Alexandria is home to some great light displays including:
The Alexandria Holiday Boat Parade of Lights at the Alexandria City Marina
The Alexandria Tree Lighting Ceremony
And Ice & Lights Winter Village
Alexandria also has other fun holiday events like the Water Skiing Santa that visits the Old Town Waterfront.
#42 See a Show at The Little Theatre
600 Wolfe St, Alexandria, VA 22314 | Website
The Little Theatre of Alexandria is one of the best community theatres you'll find in this area.
The theatre itself is small so every seat in the house is a good one.
Despite it's size, they put on some amazing performances. The actors are top notch and the sstage design is always high quality.
If you're looking for a high quality show locally at a smaller cost than some of the bigger theatres, this is your spot.
Things to Do in Alexandria
Although not directly in Alexandria, if you're looking for another great nature spot, Oxon Cove Park & Oxon Hill Farm is only 15-minutes from Alexandria and is a great place to learn about historic farming and see animals.
As you can see there is so many amazing things to do in Alexandria, Virginia that everyone can find something to do any day of the week.