Arlington VA is a vibrant and diverse city located in Northern Virginia, just across the banks of the Potomac River from Washington D.C.
It offers a plethora of fun activities and attractions for people of all ages and interests.
Here are a few reasons why you might want to look for fun things to do in Arlington, VA:
1. It's a great place to explore history

Arlington is home to a number of important historical sites, including Arlington National Cemetery (have you visited the tomb of the unknown soldier and seen the changing of the guard?) , the Pentagon, and the U.S. Marine Corps Memorial.
2. There are plenty of outdoor activities

Arlington has numerous parks and outdoor spaces, such as the Potomac Overlook Regional Park, the Theodore Roosevelt Island Park, and the Long Bridge Park.
These spaces offer opportunities for hiking, biking, picnicking, nature trails and other outdoor activities.

3. It's a foodie's paradise

Arlington has a diverse food scene, with restaurants serving cuisine from all over the world.
Whether you're looking for a quick bite, a nice family breakfast or a fancy dinner, you're sure to find something that will satisfy your cravings.

4. It's a hub for arts and culture

Arlington has several theaters, galleries, and museums, including the Arlington Arts Center, Signature Theatre, and the Synetic Theater.

These venues offer a wide range of performances, exhibitions, and events throughout the year.

5. It's a great place to shop

Arlington has a variety of shopping destinations, from small boutiques, independent toy stores and large shopping malls.

You can find everything from trendy clothing to artisanal goods, and there are plenty of places to pick up souvenirs or gifts for friends and family.
Overall, Arlington is a great place to visit if you're looking for a fun and diverse range of activities to enjoy. W
ith that being said, here the best things to do and fun places to visit in Arlington VA (and even a few places to check out a great view too!).
#1 DEA Museum
700 Army Navy Dr, Arlington, VA 22202 | Website
The DEA Museum showcases the history and accomplishments of the Drug Enforcement Administration (DEA).
There is so much to see and do at the musem like:
Exploring the exhibits that cover the history of drug use, trafficking, and enforcement in the United States. The exhibits include displays of confiscated drugs, drug paraphernalia, and interactive displays that allow visitors to learn about drug-related issues.
Learning about DEA operations including the daily operations of the DEA, tactics and technology used, working in investigations and more
Attending one of their educational programs for kids and adults (topics range from drug prevention, drug education and addiction.
Watch a movie or documentary about drug enforcement
They also have some interesteing, drug-related items and souvenirs in their gift shop.
Overall, the DEA Museum offers an educational and informative experience for those interested in learning more about the history of drug enforcement in the United States.
#2 Gravelly Point Park
Washington Memorial Parkway in Arlington County
Gravelly Point Park a popular spot for outdoor activities and recreation, especially for those interested in aviation. It's definitely a local favorite! Even if you're not into aviation, the experience is still unique!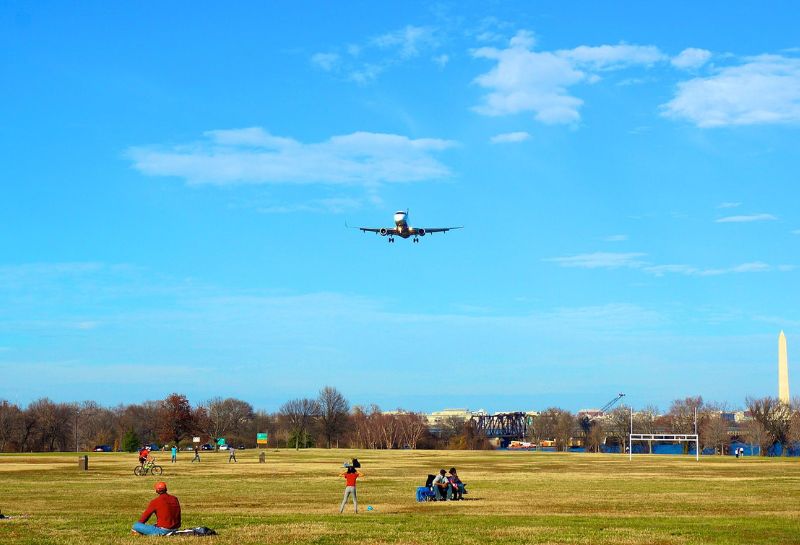 Here are some of the things you can do at the park:
1. Watch airplanes take off and land: Gravelly Point Park is located next to the Ronald Reagan National Airport, so you can see airplanes taking off and landing right above your head.
The are really close and people love trying to snap photos to look like they are reaching up and touching the planes as they fly overhead.
2. Picnic and relax: The park has several picnic tables and grills, as well as plenty of open space for picnics and relaxation. It's a great spot to enjoy a picnic lunch or dinner while watching the planes fly overhead.
3. Bike or walk on the Mount Vernon Trail: The Mt. Vernon Trail runs through Gravelly Point Park and offers a scenic and paved path for biking, walking, or running.
There are miles of trails (18 miles to be exact) and it runs from George Washington's Mount Vernon Estate to Theodore Roosevelt Island.
4. Play sports: The park has a large open field where you can play sports like frisbee, soccer, or football. There are also volleyball courts and a basketball court.
5. Kayak or paddleboard on the Potomac River: The Potomac River is just a short walk from the park, and you can rent kayaks or paddleboards from nearby rental companies to explore the river.
6. Watch the sunset: The park offers beautiful views of the Potomac River and the Washington, D.C. skyline, making it a great spot to watch the sunset.
Just across the water is the Key Bridge Boathouse which is a perfect place to rent some kayaks and head towards Gravelly Point.
#3 Upton Hill Regional Park
6060 Wilson Blvd, Arlington, VA 22205 | Website
Upton Hill Regional Park is well known locally for Ocean Dunes Waterpark.
But there is a lot more to enjoy at the park during anytime of the year including:
A mini golf course with different obstacles and challenges
Batting cages
Picnic areas with grills
A playground with slides, swings and climbing structures
Trails that offer scenic views along the way
Don't forget to visit Climb UPton, the park's newer vertical adventure park with 90-elements.
#4 Long Branch Nature Center & Park
625 S Carlin Springs Rd Arlington, VA | Website
The Long Branch Nature Center & Park is a beautiful and serene natural area with a variety of activities and attractions to explore. A few of our favorite things to do at the park and nature center are:
1. Hike the trails: The park has several hiking trails that wind through forests and along streams. The trails vary in difficulty, so there is something for everyone.
2. Attend a nature program: The Long Branch Nature Center offers a variety of programs and activities for all ages, including nature walks, wildlife talks, and kids' camps.
3. Visit the nature center: The nature center has a variety of exhibits and displays showcasing local wildlife and habitats.
There are also live animal exhibits featuring turtles, snakes, and other native animals. If you have young kids, take them to the Children's Discovery Room which has a lot of fun hand-ons activities.
An interesting fact according to a Nature Center publication, "Long Branch is the only nature center in Northern Virginia to take in and rehabilitate injured wild reptiles."
| READ NEXT: 19 Nature Centers in the DC Area
#5 Explore George Washington Memorial Parkway
There is so much to explore along the George Washington Memorial Parkway, both on foot and in the car. There are 25 sites to see along the parkway, some of which will actually take you out of Arlington.
You can see a piece of history and even visit wildlife preserves along the way.
Some of the best places we have stopped and enjoyed include:
Claude Moore Colonial Farm
Great Falls Park
Theodore Roosevelt Island
Arlington House
The kids love participating in the free junior ranger programs at these locations and earning a Junior Ranger badge.
#6 Visit an Island
Did you know you there is an island in Arlington? Theodore Roosevelt Island is a natural oasis in the middle of the city, with beautiful views of the Potomac River and lush forests and wetlands.
Simply taking a walk or sitting and enjoying the scenery can be a peaceful and rejuvenating experience.
You can take a boardwalk trail, explore the wetlands (this keeps the kids busy in nature!), pack a picnic and watch the birds.
#7 Enjoy the Trails & Streams
2420 N Kenmore St, Arlington, VA 22207 | Website
At Windy Run Park you can enjoy trails and streams.
Although located in Washington DC, you can also easily combine your visit to the park with a visit to the National Mall, which is only a few miles away, to see the monuments like The Washington Monument, Lincoln Memorial, War Memorials, Kennedy Center and more.
This is a rather rewarding trail and you can walk down to a waterfall.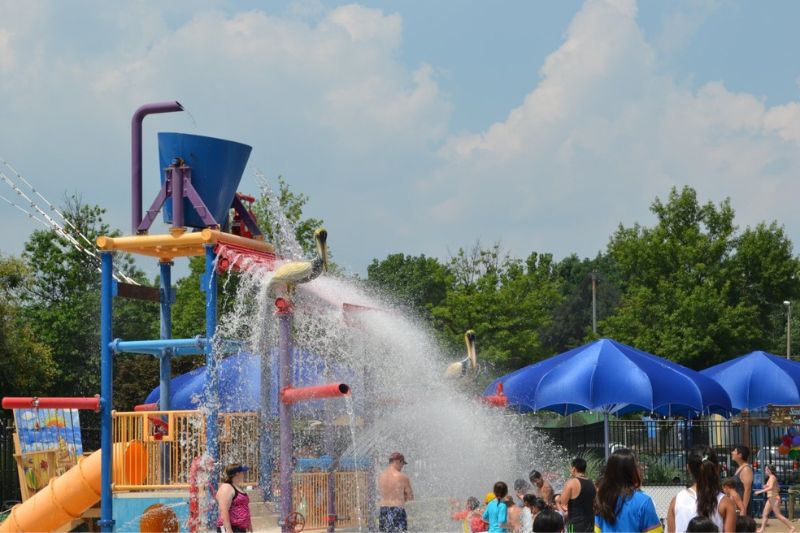 #8 Visit Arlington's Ocean Dunes Waterpark
6060 Wilson Blvd, Arlington, VA 22205 | Website
Ocean Dunes Waterpark has everything the kids could ever want from a water park to keep them busy for hours including:
2 slides (must walk up 100-feet to get to 1 open and 1 tube slide)
A 500-gallon dumping bucket
A large swimming pool
Waterfalls
Squirters
If you want to feel like you're at the beach without having to leave Arlington, this is a great place to go!
#9 Go Ice Skating
627 N Glebe Rd Suite 800, Arlington, VA 22203 | Website
Located at the Ballston Quarter, MedStar Capitals Iceplex is a great place to go ice skating in Arlington.
In fact, MedStar is the highest ice rink above street-level in the United States!
Take your kids for a spin on the ice at the MedStar Capitals Iceplex where the Stanley Cup Champion Washington Capitals practice —they even have an area where the kiddos can get signed autographs from their favorite players.
They have great public skate sessions so you can go without having to sign-up for lessons (unless you want to of course!).
#10 Virginia Highlands Park
1600 S Hayes St, Arlington, VA 22202 | Website
Virginia Highlands Park not only has play equipement and athletic fields, they also have basketball courts, tennis courts (lighted at night) and a football field. If you're a tennis player, you'll really appreciate these nice courts.
Definitely bring the dog as there are a couple of dog parks too!
If you're bringing the kids, there is a nice playground and lots of shade. The little ones will also enjoy the splash pad.
#11 Take a Pasta Making Class
925 North Garfield Street, Arlington, VA 22201 | Website | Discount
CocuSocial offers past making and cooking classes (get 25% off classes here). We tried this and it was such a blast! We even went back for their sushi making class.
You can choose between making cavatelli pasta or gnocchi and you will make the dough from scratch.
The chef was so great, the instructions were easy to follow and the food turned out so delicious. It was really fun getting to learn.
I don't feel like I could have done this at home before but now I'm going to give it a shot!
#12 Visit the Potomac Overlook Regional Park & Nature Center
2845 Marcey Rd, Arlington, VA 22207 | Website
Potomac Overlook Regional Park is a hidden gem in Arlington. One of our absolute favorite things to do in the park is to visit the Potomac Overlook Nature Center as it has several hands-on exhibits and even live animals.
The park connects to the Potomac Heritage Trail which we sometimes ride are bikes on as a family. You can even go horseback riding on this trail which is an unique experience.
The park is home to a variety of wildlife, including deer, foxes, and birds and there are some nature related educational events and programs for kids and adults that are worth checking out.
#13 Skate on the Largest Outdoor Rink in Northern Virginia
1201 S Joyce St, Arlington, VA 22202 | Website
The largest outdoor ice skating rink in the area is in Pentagon Row…in the winter only of course! It's also the second largest in the state of Virginia too.
This nice, large (7,200 square foot) rink is popular and advanced reservations are highly recommended. You even get a discount when you book in advance.
Tickets are good for 2 hours of skate time.
Being in Pentagon Row, this is the prime location for nice restaurants to eat at before or after your skate session and plenty of shops. Plus, there are dual sided fireplaces to warm up at.
You can even sign-up for youth and adult ice skating lessons on Saturday mornings.
#14 See the Large Spheres at Dark Star Park
1655 Fort Myer Dr, Arlington, VA | Website
Dark Star Park is actually a small park but it's surprisingly relaxing to visit. There are large spheres throughout the park that represent fallen stars.
While that may not sound too exciting, the kids actually love this! Mine love to run around them, attempt to climb on them, hide behind them and take fun pictures.
There is also a tunnel to walk through.
One day a year, everything lines up with the sun so you can see the annual effect of the shadows (typically August 1st).
Keep in mind, there is heavy traffic usually on the outside of the park.
#15 New (Kid) Cyclists Try the Learning Loop
301 S Harrison St, Arlington, VA 22204 | Website
At Glencarlyn Park, kids who are learning to ride their bike can bring their bike to the larning loop.
There is even a water bottle filler, a bike repair station and a rain garden.
When the kids are done riding their bike, they can:
Visit the nature trails
Play at the nature-themed playground
Play in the sand pit with step pillars and a tunnel
Visit the community garden
Walk around Sparrow Pond
The park is also home to Long Branch Nature Center.
Definitely bring your camera to this park as you'll often see deer and there are beautiful flowers in the spring.
#16 Visit an Independent Toy Store
1220 N Fillmore St, Arlington, VA 22201 | Website
If you've never been to an independent toy store, it's time you change that. At Kinder Haus Toys you'll find a unique selection of toys, books, clothing for kids and more.
It's a very fun and happy place and it reminds you of a more old-fashioned store which I love.
The people who work there are always so nice and are helpful with recommendations when you are looking for anything for kids whether babies, teens or ages in between.
While you'll find some of the common toys like legos (quite a large selection I will add), there are plenty of other educational games, stuffed animals and more.
Plus, I was able to get a gift wrapped on-site for my best friend's daughter so that was a huge plus!
#17 Playing Bowling, Arcade Games & More
4238 Wilson Blvd Ste 1180, Arlington, VA 22203 | Website
At The Punch Bowl Social in Arlington, the kids can go bowling, play at the arcade and should we mention karaoke?
The burgers here are actually very good and the fries are air fried so they are very tasty too!
They have 3 levels which divide up the fun.
You can participate in activities like:
Mini bowling
Darts
Giant scrabble
Jenga
Karaoke
Ping Pong
Foosball
Pool / billards
Board and card games
Vintage arcade
We were surprised at how many fun photos we ended up taking here too.
Note: Kids are welcome until 10pm. Then guests need to be 21+. This is a similar age policy to Top Golf.
#18 Try a Free Fly Fishing Class
2879 Clarendon Blvd, Arlington, VA 22201 | Website
Orvis offers free fly fishing classes which is good for beginners of all ages.
These Fly Fishing 101 classes introduce you to the sport covering:
The fundamentals of what you need to know to get started
The equipment you will need
Basic casting
Fly selection
And more
Once you "graduate," they do offer a Fly Fishing 201 class where you will actually test our your skills in the water and start fishing.
The class is offered in-store (our preference) but you can also do it online.
#19 Ride One of The World's Longest Continuous Escalators
1850 N Moore St, Arlington, VA 22209 | Website
At 207 feet, the Rosslyn Metro Escalator is one of the longest continuous escalators in the world.
It is part of the Washington Metro System and connects the street level of the Rosslyn Metro Station to the platform for the Blue, Orange, and Silver lines.
It rises up about 115 feet and takes approximately 2.5 minutes to ride the escalator from the bottom to the top.
While you might not go out of your way to see it, it's worth going for the ride if you're nearby.
#20 Visit Mosaic park
538 N Pollard St, Arlington, VA 22203 | Website
Mosaic Park is located in the Ballston area of Arlington and is a really fun place for kids.
Despite it not being the biggest playground, it is more unique and the kids have a blast.
The park has:
A playground
Super color flooring
Climbing wall
Rain garden
Children's play area
Interactive playground which is open Memorial Day weekend through Labor Day weekend (hello summer!)
#21 Visit the Interactive Fog Area at Long Bridge Park
475 Long Bridge Drive, Arlington, VA 22202 | Website
Unique to Arlington Parks, is an interactive fog area at the playground. And let me tell you, the kids love this!
The park itself has 36-acres of open, green space and is home to the newer Long Bridge Aquatics & Fitness Center, a 92,000 square foot facility.
The walking path overlooks the multi-purpose fields, the Potomac River and Roaches Run Waterfowl Sanctuary.
The train also runs by the park so if you have any train lovers, they'll enjoy this park!
#22 Pick Up Fresh Fruits & Veggies at The Farmer's Market
Arlington has a couple of fabulous farmer's markets which are some of the best farmer's markets in Northern Virginia.
The FRESHFARM Farmer's Market operates on Saturdays year round while the Ballston Farmer's Market runs April through November.
#23 See the Greatest View of Washington DC
1201 Wilson Blvd, Arlington, VA 22209 | Website
Appropriately named The View of DC, this observation deck gives you the most amazing views of Washington DC and the monuments including the Capitol Building, Lincoln Memorial, Jefferson Memorial, Washington Monument and the surrounding bridges.
You can even see the National Cathedral. Amazing!
You will take an elevator up to the top (31 floors up). The elevator has a clear, open view from top to bottom on 2 sides of the elevator so it's quite an experience getting to the top. If you are afraid of heights, you'll want to be prepared for the ride!
The observation is open to the general public and best of all, there is no fee to visit. This is definitely a hidden gem and makes you feel like you are on top of the world!
The observation deck is nice and large. You can even take strollers so the little ones can visit too.
Keep in mind, you are only allowed to bring in bottled water. No other drinks or food are allowed so make sure to leave those in the car.
Note: you will need to show your photo ID to be able to visit (applies to anyone 16 and older). Children under 15 need to visit with an adult.
#24 Sit Under the Starts at The David M. Brown Planetarium
1426 N. Quincy Street, Arlington, VA 22207 | Website
Throughtout the year, The Friends of Arlington's Planetarium hosts a number of lieve events at the planetarium.
As events get closer, they announce more information and open up reservations which typically do sell out.
Events are first opened to members before opening to the general public.
Some of their events are:
Stars, stars, stars
Dinosaurs
Space telescope fleet
Human spacelifht
Exploring the solar system
Looking at earth from orbit
And more
#25 Check Out One of the Delicious Breakfast Spots
Arlington is one of our favorite places for breakfast in Northern Virginia. Some of our favorite breakfast spots in Arlington are:
Ruthie's All-Day (apple pie pancakes are a hit with the kids and then we head to Windy Run Park to burn it off!)
Sweet Leaf Cafe (we love the outdoor seating and healthy food options)
Good Company Doughnuts & Cafe (for when you just need a treat for breakfast)
#26 Potomac Heritage Trail
The Potomac Heritage Trail is a wonderful network of trails that will take you to some great places.
One popular section of the Potomac Heritage Trail in Arlington is the Theodore Roosevelt Island Loop.
This 1.5-mile loop trail takes you across a bridge to Theodore Roosevelt Island, which is a national memorial to the 26th president of the United States. The island features:
Several hiking trails
Scenic overlooks
A boardwalk that takes you through a marshy area
Another option is the Four Mile Run Trail, which is a flat, paved trail that runs for approximately 6.5 miles from Shirlington to the Mount Vernon Trail. The trail also runs adjacent to the Washington & Old Dominion Trail.
This section of the Potomac Heritage Trail is great for biking, walking, or running, and offers scenic views of the surrounding area.
#27 Bon Air Park Rose Garden
The Bon Air Park Rose Garden is one of our favorite places for a picnic in Northern Virginia. This garden is so beautiful, it is very common to see wedding photos being taken here.
And it's completely free to visit these formal gardens! You can easily spend a couple of hours here.
You're welcome to bring your dog and there is even a small playground nearby for the kids.
#28 Visit The Memorials
Arlington actually has some great memorials and military monuments that are worth a visit.
Netherlands Carillon is located in Arlington County and offers a beautiful place to see wide views of Washington, DC. There are nice, large trees to grab some shade and see lots of tulips in the spring.
This represents freedom and friendship between the people of the Netherlands and the United States.
During the summer, they even have free jazz, pop and patriotic music concerts on the bells.
Iwo Jima Memorial is a U.S. Marine Corps War Memorial dedicated to all marines who lost their lives defending the country since 1775.
As you can probably guess, the Pentagon Memorial is the National 9/11 Pentagon Memorial and is set-up in the Navy Annex overlooking the Pentagon. This permanent memorial is to remember the 184 people who died in The Pentagon and on American Airlines flight 77.
Another memorial you can see is the Air Force Memorial which honors the service members of the US Air Force. As you drive towards the city, you can't help but see the memorial's stainless steel spires that soar into the sky (402-feet to be exact).
The memorial is located near The Pentagon and Arlington National Cemetery.
#29 Take a Pentagon Tour
Note: there are currently no tours available
Many people don't realize that you can actually take tours of the Pentagon. And most people also think it's located in Washington, DC…not Arlington, VA!
The tours and tour guides are really awesome and informative!
Tours are only available on Tuesdays and Thursdays at either 10am or 1pm and you must be a US citizen.
Tours talk about the history of the building, the 4 branches of the military and the tour guides known an impressive number of stats and facts which they share throughout the tour.
You do need to schedule a tour at least 2 weeks in advance as they need time to clear (read: do background checks on) who is coming in the building.
If you're lucky enough to know someone who has a Pentagon bade, you are allowed to enter and do a self-guided tour with them.
Note: no electronic devices, including cell phones, are allowed in the building.
#30 Take a Walking Tour of Arlington National Cemetery
Arlington National Cemetery offers walking and tram tours 363 days a year (yes, they only don't offer tours 2 days a year) from the Welcome Center between 8:30am and 4:00pm.
Tours depart every 30 minutes. The tours are live-narrated and you can stop by the John F. Kennedy and other grave sites.
They stop at 4 sites on weekdays and 7 stops on the weekends.
It's also fun to listen to live music from the U.S. Army band