There are year round things to do in Chandler AZ and here we're sharing all the fun options.
From fun experiences to have, new places to go, indoor and outdoor fun, plus festivals, markets, hikes with beautiful scenery and more, you'll find something for everyone.
Whether you're looking for world-class golf facilities (like Bear Creek Golf Complex), swimming pool, miniature golf, local food and local events, recreation centers, and more fun activities, there is plenty to do in Chandler!
Plus, it's close to other nearby cities like Mesa and Gilbert that also offer tons of fun things to do.
745 E Germann Rd, Chandler, AZ 85286 | Website
Playtopia is a farm-themed playground with sections for different age groups on Tumbleweed Park. And it's one of our favorite outdoor activities in the area!
You'll find fun features like a fossil dig area, ziplines, and all the fun features you can expect of a great playground.
Plus, there are other fun areas of the park you can continue to explore like the
Tumbleweed Recreation Center or the Chandler Tennis Center which has 15 newer tennis courts.
Local tip: one of the best coffee shops in Chandler is Peixoto Coffee Roasters which is just a few minutes from the park. I usually stop by and pick up my favorite coffee (their iced vanilla latte) before taking my kids to the park.
The park also has plenty of picnic tables so make sure to bring a picnic to enjoy with the family!
#2 Burst of Butterflies Create & Paint Studio
141 W Boston St, Chandler, AZ 85225 | Website
Burst of Butterflies Create & Paint Studio is a fun studio to visit for pottery painting, canvas painting, glass fusing, mosaics, clay making and more.
They really take the time to teach you here so you will actually improve your craft while still having a great time.
They're open every day of the week and even have classes and special events you can attend.
2380 S Stinson Way, Chandler, AZ 85286 | Website
At Chandler Municipal Airport you can walk right inside the Airport Hangar. Mechanics will be working on client airplanes and there are a few aircraft on display.
What's even more fun is there is a restaurant right next door called Hangar Cafe where you can enjoy breakfast or lunch while you watch the planes on the runway.
#4 Lantana Ranch Playground
1250 E Appleby Rd, Chandler, AZ 85248 | Website
Lantana Ranch Playground is a newer airport-themed playground and it couldn't be more fun! The first time we went, my kids were hooked!
There are a lot of features so it's easy to find something fun for kids of different ages. They have features like:
A rock wall
Zip line
Swings (including 2-person swings)
Spinning structure
Corn hole
Instruments
For the older kids (and adults!) there is a ninja obstacle course and a basketball court. Parents can also enjoy the walking path next to the playground area and the whole family can enjoy the very large green area.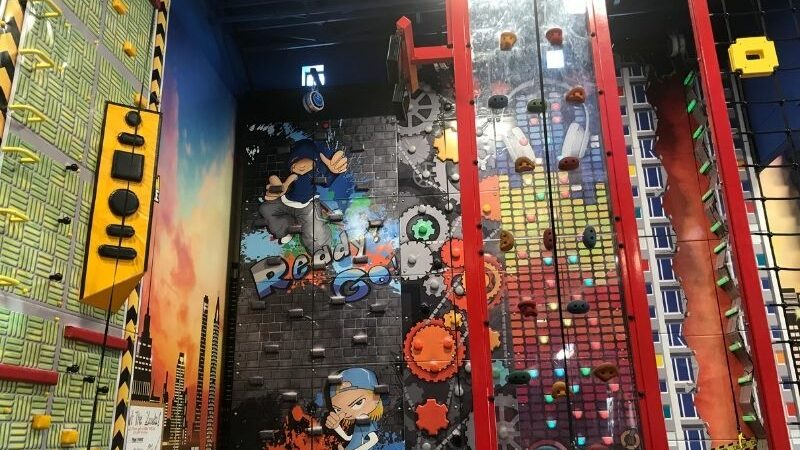 2061 N Arizona Ave, Chandler, AZ 85225 | Website | Discount
Trampolines
Climbing walls
Spider tower
Mega play structure
Super slides
Obstacle course
Mini zipline
Ball blaster area
Ninja course
4050 E Chandler Heights Rd, Chandler, AZ 85249 | Website
Veterans Oasis Park is a certified wildlife habitat and until you really start to explore, you won't realize it's over 110-acres.
While there are a number of reasons we absolutely love this park, one thing we particularly love is the visitor's center (the Chandler Nature Center), which is actually called the Environmental Education Center.
NEARBY: 40+ Things to Do in Mesa – Ultimate Fun Guide
Make sure to leave time for all there is to do at the park including the Solar System Walk, Junior Naturalist Program, Education Center (with snakes & more), a memorial with color changing lights, lake, fishing, bird watching and more.
On the weekend they even also offer free bird watching walks for families!
2840 S Alma School Rd, Chandler, AZ 85286 | Website | Discount coupon
Big Air Chandler has 15 attractions including:
Basketball hoops with trampolines
Foam pit
Battlebeam
Dodgeball
and a lot more
Plus some more unique features you won't find at the other trampoline parks like:
The vault
A bull ride
A valo jump (think trampoline and video game!)
Save up to 45% off admission here
300 S. Chandler Village Drive Chandler, AZ 85226 | Website
The Chandler Museum is a 10,000 square foot facility with local exhibits, many changing so you can always come back to see something new about local history.
There are different showcases, a courtyard with activities, and a small house.
Kids can also complete a scavenger hunt which keeps them very engaged and they have easy, medium and hard options.
330 E Ryan Rd, Chandler, AZ 85286 | Website
The Arizona Railway Museum is a great place to see some train cars and even better…get to climb abroad a few of the cabooses.
Your admission includes:
Access to the train yard
Open-air train
Access to 12 passenger cars and a caboose to walk through
Indoor display museum
Gift shop
#10 Desert Breeze Park
660 North Desert Breeze Blvd E, Chandler, AZ 85226 | Website
Desert Breeze Park is a huge public park in Chandler. It has a large lake with ducks, a splash pad for the kids, sport courts, walking paths and a nice playground.
Also at Desert Breeze Park is Desert Breeze Railroad.
Familles can hop aboard the train and ride around the park. Next to the train station is also a carousel. You can purchase individual tickets or wristbands for unlimited rides.
#11 Mesquite Groves Aquatic Center
5901 S Hillcrest Dr, Chandler, AZ 85249 | Website
Mesquite Groves Aquatic Centers is one of 6 aquatic centers in the area.
It's quite popular, especially in the afternoons but despite being popular, there is a lot of space and fun to be enjoyed.
HOW ABOUT A TREAT? Here's 35 Best Desert in Arizona (Phoenix & Beyond)
You'll find a lazy river, water slides (one open and one tube slide), a water play area, splash pad, whirpool for the kids to be whisked around, as well as a competition pool with diving boards and lap lanes.
It's also a cheap thing to do in Chandler at only $1 per child and $2.25 per adult.
#12 Alta Boulders Climbing Gym
2945 S Alma School Rd, Chandler, AZ 85286 | Website
Alta is a great place to go indoor rock climbing in Chandler.
The gym offers lots of routes and is good for all climbing levels so even if you've never tried rock climbing before, this is a place you'll be welcome.
And since they open at 5am, you'll be able to sneak in a fun workout before work!
#13 810 Billiards and Bowling
3455 W Frye Rd Unit 2, Chandler, AZ 85226 | Website | Discount Coupon
810 Billiards and Bowling in Chandler is bowling with a different vibe.
They also have pool tables, grames and TVs so you can watch the games. You'll also find some arcade games for the kids to play when they're done bowling.
Save 36% on bowling + food package
#14 The Perch Brewery
232 S Wall St, Chandler, AZ 85225 | Website
You probably haven't considered taking the kids to a brewery, but consider this…
This brewery has outdoor seating, awesome breakfasts and…
Over 100 tropical rescue birds!
Yep, there are large enclosures around the outdoor seating area with the largest at the entrance and others scattered around. You may just get a seat right next to an enclosure.
Definitely one of the unique things to do in Chandler AZ.
#15 Visit the Chandler Bike Park at Espee Park
450 E Knox Rd, Chandler, AZ 85225 | Website
Espee Park is a dream for bikers! This 33-acre park has 4 miles of bike courses so bikers of different skill levels can find something.
There are features like
A jump box
Double moller
Molehill
Hubba ledge
Vertical surface higher than a basketball hoop
And if everyone in the group isn't up for the bike courses, the park also has a spray pad, water tower, and other water features to stay cool.
#16 Chandler Fashion Center Mall
3111 W Chandler Blvd, Chandler, AZ 85226 | Website
This indoor Chandler Mall has over 180 stores and restaurants, as well as a huge Harkins movie theatre. The kids can enjoy the splash pad in the Outdoor Village.
There is a food court with lots of options and even a life size chess set outside in front of the Old Spaghetti Factory, plus corn hole and huge Jenga blocks. Kids can ride around on cool motorcyles as well.
#17 Arrowhead Pool
1475 W Erie St, Chandler, AZ 85224 | Website
Close to Download Chandler is Arrowhead Pool. The pool has:
1-Meter Diving Board
3-Meter Diving Board
Family Play Pool with Zero-Depth Entry
Lazy River
L-shaped 50-meter pool
Waterslide
Toddler slide
Current river
This is another one of the cheap things to do in Chandler AZ.
#18 Attend a Free Art Class
10 E Chicago St, Chandler, AZ 85225 | Website
Did you know the Vision Gallery offers free kid's art classes as part of their Vision Kids Program?
On Saturdays at 10am and 1pm, in-person classes are held with up to 20 kids. Each child is allowed to attend up to 3 classes per semester. Optionally you can join a "last minute" waitlist in case anyone cancels and then you can attend additional classes.
Classes on all types of art are taught.
Outside the classrom is also an art-o-matic machine which is neat to checkout!
#19 See If You Can Escape at Escape:chandler
312 N Alma School Rd #9, Chandler, AZ 85224 | Website
Escape:Chandler has fun interactive escape room games with an incredible atmosphere.
Hidden codes, door and more where you will discover clues to solve a mystery and exit the room before your time is up.
SAVE: Discounts on Local Escape Rooms Here
There are different rooms, each with a different theme so you can come back and try again. Staff here is great and makes sure you have a great experience.
Whether you've never tried an escape room before or you've been to your fair share, everyone can enjoy Escape:Chandler.
#20 Enjoy Family Friendly Comedy
250 S Arizona Ave, Chandler, AZ 85225 | Website
Improv Mania hosts comedy shows on Friday and Saturdays but…get this…they also have family-friendly shows at 7pm!
Yes, that means you can actually take your kids and not worry about what will be said. The comedians take suggestions from the audience and will have the whole family laughing!
#21 Big Sushi
2095 N Dobson Rd, Chandler, AZ 85224 | Website
Kids (ok, and adults too!) love having sushi roll right by their table on a small conveyor belt, allowing them to grab whatever looks good to them.
Different color plates have different prices, all of which are very reasonably priced.
Local Tip: save a litle room and head to the next shop over (there is literally an open doorway connected the two from the inside, and have a fish-shaped ice cream cone at Snowtime!
#22 The Screamery
140 N Arizona Ave #106, Chandler, AZ 85225 | Website
Really anytime of the year you can enjoy ice cream. This is Arizona after all!
The ice cream here is delicious and for good reason. This is handcrafted ice cream made from natural milk and cream. It's pasteurized on-site at their facility without any added chemimcals or stabilizers.
This ice cream shop actually educates you on their process so you know how good it is!
There are many flavors and add-ins to make the perfect combination for everyone in your party.
#23 Attend a Murder Mystery Dinner Show (& Eat Spaghetti)
3155 W Chandler Blvd Suite 9, Chandler, AZ 85226 | Website
The Old Spaghetti Factory is a fun family-friendly restaurant with some unique decor and indoor and outdoor seating options.
You can also attend a Murder Mystery Dinner Show on select dates.
#24 Gravity Extreme Zone
190 S Kyrene Rd #5, Chandler, AZ 85226 | Website
Insider tip: you get 2 free visits with the Pogo Pass (use coupon code OURKIDS for 50% off)
Gravity Extreme Zone is an awesome trampoline park. You can choose to go just for the trampolines or upgrade your pass for some other unique features including:
Skywalk rope course
Extreme rock wall
Stairway to heaven
Leap of faith
Bungees
Drop slide
#25 Hike the trails
There are a number of hiking trails in Chandler. You can visit simpler ones like the one around the lake at Veterans Oasis Park (mentioned above) which is good for beginners and kids.
You can also visit the longest hiking trail in Chandler called Wild Horse Pass Interpretive Trail which is 2.9 miles long and takes about 50 minutes to hike.
The Maricopa Trail, which is 315 miles long, also goes right through Chandler.
#26 Crayola Experience Chandler
3111 W Chandler Blvd Suite 2154, Chandler, AZ 85226 | Website
This hands-on amuseument park offers 19 different activities for families, all of course, inspired by Crayola products.
If you're looking for an indoor activity where you can get creative with the family, this just may be what you're looking for.
Some of the attractions include:
Chaos and Creativity Show
Texture CRAYze
Melt & Mold
Wrap It Up! (where kids can even make their own crayola crayon!)
Drip Art Random Rain
#27 Visit One of the Largest Indoor Play Places in the Country
6919 W Ray Rd, Chandler, AZ 85226 | Website | Discount Coupon
Makutu's Island is one of the largest indoor play places in the country.
This tropical themes play area has a huge tree from in center where kids can climb, slide, bungee and explore caves.
They'll find tunnels, tubes, slides, totem pole, and a snakes slide that starts four levels up. There is also an extensive video arcade with lots of games and an on-site restaurant with pizza, quesadillas, fries, smoothies and more.
Save up to 39% off admission to Makutu's Island >>
#28 Visit a 48,000 Square Foot Indoor Action Sports Playground
1050 E Pecos Rd, Chandler, AZ 85225 | Website
At KTR (Kids That Rip) in Chandler, you literally can't possibly be bored.
They have just about everything you could want to do to stay active including:
Skatepark (skateboard, BMX, scooter)
Parkour
Ninja warrior course
Trampolines
Tumbling
Airbags
You can even sign-up for classes and host birthday parties.
#29 See a Theatre Show By Youth
250 S Arizona Ave #3, Chandler, AZ 85225 | Website
Come see some seriously talented kids perform at the Children Youth Theatre in Chandler.
Or let the kids try something new and take various theatre, acting or even improv classes. This is a great way to get kids to grow and build their confidence.
#30 Look Dine-In Cinemas
1 W Chandler Blvd, Chandler, AZ 85225 | Website
Comfy seats, food, cocktails and a movie. You'll find all the latest movies you would expect, as well as independent films, documentaries and more.
You won't find just candy and basic movie theatre snacks here. They have a lot more including pizza, cheese fries, salads, sandwiches, crispy wings, sliders, kids options and a variety of desserts.
And if you don't fill up at the cinema, you can also walk to restaurants before or after the movie to have a full night of fun!
#31 Take a Swing in the Indoor Batting Cages
2440 E Germann Rd UNIT 9, Chandler, AZ 85286 | Website
Stay cool no matter what time of year and enjoy baseball or softball training at Extra Innings Chandler, an indoor training facility. There is:
Adjustable pitching machine
Baseball and softball practice balls
Practice bullpen pitcher's mound
The state-of-the-art facility is good for all ages and has 30-foot high ceilings with 9 batting tunnels.
The public can reserve the tunnels for 30-60 minute increments.
#32 Go Horseback Riding
6940 W Broken Ear Road, Chandler, AZ 85226 | Website
If you're looking for a great place to go horseback riding in the City of Chandler, head to Koli Equestrian Center.
The guides here are not only informative but also energetic which makes for a great time! You may even have a chance to see some of Arizona's wild horses which is such a special experience.
They even offer margarita sunset rides! This is one of the best things to do in Chandler!
#33 Spend Time in Historic Downtown Chandler
The vibrant downtown area has so much and gives you easy access to a lot of what Chandler has to offer including:
The Saturday Farmer's Market (with free yoga in the park from October to May)
Boutique shops and galleries
Tons of local restaurants with a variety of delicious food & live music
Chandler Center for the Arts (which happens to be a great place to see dance performances)
Art Galleries (like the Zelma Basha Salmeri Gallery and others displaying American Indian art and art from local artists)
Entertainment
And more
#34 Go Ice Skating
7225 W Harrison St, Chandler, AZ 85226 | Website
Chandler has a great place to go ice skating called Ice Den Chandler. While they offer lessons, we often just go to their public skate sessions.
It's such a nice facility and the staff are really pleasant.
Just make sure you register online before going as you can't walk-in without pre-registering.
#35 Watch a Race at Wild Horse Pass Motorsports Park
20000 S Maricopa Rd, Chandler, AZ 85226 | Website
If you want to see drag racing on a world-class drag strip, this is the place to go!
Note: unfortunately, after the 2023 NHRA Camping Wold Event (which is one of the biggest drag racing series in the world), the motorsports park will permanently close as an overpass is being built for I-10.
Fun Things to Do in Chandler AZ
As you can see there are so many fun things to do in Chandler AZ. It's the perfect place whether you're looking for free or cheap options or not holding back, there is something fun you can do today.
With it being so hot for a good portion of the year, it's nice to know there are great things to do indoors in Chandler, as well as outdoor options.
Or our favorite, try something new almost every weekend and you'll have some great experiences and create great memories in Chandler.