There are so many fun things to do in Mesa Arizona, which is Arizona's third largest city, and here we're going to cover everything there is to do.
So no matter your age, group size, budget, preference towards indoors or outdoors…you'll find something fun to do in Mesa on this list.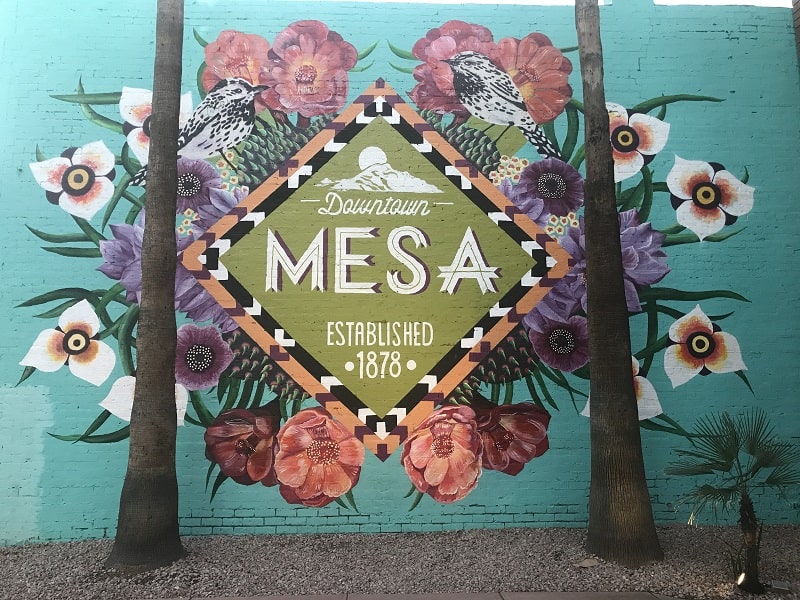 From huge entertainment centers, sports games, food, shows and a lot more, there are some unique and memorable experiences to be had here in Mesa, Arizona, one of the best places for fun in the state of Arizona!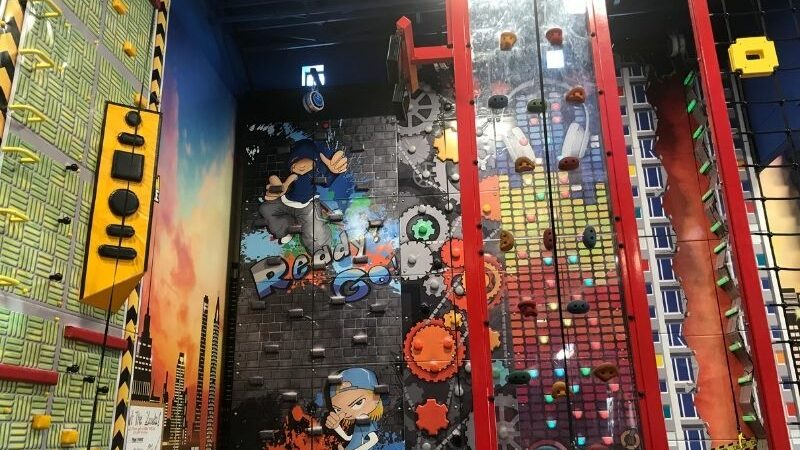 #1 Uptown Jungle
5741 E McKellips Rd, Mesa, AZ 85215 | Full Details | Discount Coupon | Free Admission
Uptown Jungle has locations in the valley and one of our favorite is in Mesa.
This is one of our go to places for fun, especially when the kids need to burn some energy or even when we need to find a place to play indoors with friends.
The Uptown Jungle in Mesa has features like:
Trampolines
Climbing walls
Spider tower
Mega play structure
Super slides
Obstacle course
Mini zipline
Ball blaster area
Ninja course
Save up to 40% on admission to Uptown Jungle here or get 2 free admissions per year with the Pogo Pass (use coupon code OURKIDS to get 50% off).
This is one of my youngests favorite things to do in Mesa. So if you have a couple of hours and want to let the kids run while, this is the place to go!
#2 Jake's Unlimited
1830 E Baseline Rd, Mesa, AZ 85204 | Website
Jake's Unlimited is a huge entertainment center for families with:
Unlimited food and drink
Rides (like tornado ride, bumper cars, carousel, tea cups and more
Over 170 arcade games
Bowling
Laser Tag
VR Zone
For the adults there is also a full bar and billiards. You can literally spend hours and hours here and everyone has a blast!
#3 Creme & Chocolat
1744 S Val Vista Dr #111, Mesa, AZ 85204 | Website
Build your own crepes and waffles, plus ice cream sandwiches dipped in your choice of chocolates…need I say more?
When you order a crepe you can watch them make it on the griddle right in front of you. And when you order a dipped cone or ice cream sandwich, you can select from a number of chocolates at the chocolate bar.
MORE SWEET TREATS? Here's 35 Best Desert in Arizona (Phoenix & Beyond)
One customer said "My husband and I decided that we would try all of the ice cream shops in the East Valley, 1 each week. Out of all of them, Creme & Chocolats came in first!"
That's how good it is!
#4 See a Full Size Tyrannosaurus Skull
1816 W Baseline Rd, Mesa, AZ 85202 | Full Details
A newer addition to Mesa, is Tyrannostorus. It's a store full of exciting dinosaur fossils including bones and teeth, plus aquatic fossils, shark teeth, games and toys, gems and minerals and more.
It almost feels like an interactive museum as the team is passionate about fossils and is happy to share their knowledge and answer questions.
Plus, you're actually allowed to touch everything!
You'll also enjoy the dig site where you can purchase excavation kits and dig for fossils right in the middle of the store.
#5 Eat the Largest Pancakes You've Ever Seen
805 N Dobson Rd, Mesa, AZ 85201 | Full Details
At Henhouse Cafe, they serve a plate of just 2 pancakes that are big enough to feed 11 people. Yes, you read that right.
Now you may be like my family and bring less people thinking you'll be able to eat it all. Afterall, it's just a couple pancakes.
Let's just say I dare you! 🙂
#6 Take a Walking Sculpture Tour
Main Street (and side streets) | Website
Downtown Mesa has a self-guided walking scultpure tour where you can see different, permanent sculptures year round.
They also have many murals as you walk along main street that are fun and interesting to look at and photograph.
You can do all this while walking by the local shops and restaurants.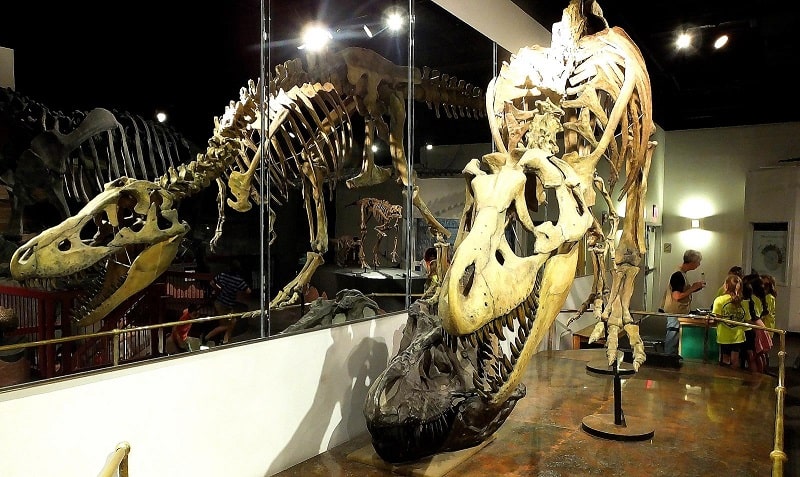 #7 Arizona Museum of Natural History
53 N Macdonald, Mesa, AZ 85201 | Website
Also in downtown Mesa, is the Arizona Museum of Natural History. And as you probably expect, this is where the dinosaurs are!
In fact, you'll find dinosaur footprints on the sidewalks leading up to the musem.
You can even do the Mesa sculpture tour before or after your museum visit as some of the sculptures are right outside this museum.
The museum is quite large and has multiple levels.
Local Tip: The Mesa Contemporary Arts Museum is only a 5-minute walk from the Arizona Museum of Natural History.
One really fun feature is the simulated thunderstorm, complete with rain and water rolling down the inside of the museum.
#8 Organ Stop Pizza
1149 E Southern Ave, Mesa, AZ 85204 | Website
Organ Stop Pizza isn't just a pizza place. This is an experience unlike any other. It's home to a massive Wurlitzer organ that covers the entire 2-story front wall of the restaurant.
An organist rises from below the restaurant and begins to play many popular songs.
Customers can write down song requests and leave them for the organist to consider. You'll see him pull from the suggestions and begin to play.
As you can expect from the name, pizza is served, along with a salad bar and even ice cream.
Only cash is accepted and you'll have to pick up your order from the counter when it's ready.
#9 View The Stars at The Local Planetarium
1833 W Southern Ave, Mesa, AZ 85202 | Website
On the first Friday of the month during Spring and Fall Semesters, The Mesa Community College Planetarium has free Astronomy Nights which are open to the public.
A free planetarium show is included and you'll have the chance to take a look through the telescope.
#10 Smell The Roses
1833 W Southern Ave, Mesa, AZ 85202 | Website
At Mesa Community College, you can take a self-guided tour through their public Rose Garden.
This is the largest rose garden in the state and here you'll see a variety of rose bushes types and colors. All are labeled and even have a phone number to call to listen to a pre-recorded message to learn more about what you are seeing.
The best time to see the roses at their best are late March, April, May, June, November, and December. Other times the roses have been pruned or are not in bloom just yet.
#11 Go Roller Skating
7 E Southern Ave, Mesa, AZ 85210 | Website | Discount
USA Skateland is a great and inexpensive place to enjoy public roller skating for ages 5 and up.
Not only do they have a high-energy roller skating rink, there is also a small arcade and snack bar.
On Tuesdays you can enjoy $5 public skate night and skate for a couple of hours. They play upbeat, popular music and the DJ keeps it entertaining.
It's a mix of beginners and more advanced skaters but everyone sticks to the rules so everyone has a good time.
#12 Kids That Rip
1927 N Gilbert Rd, Mesa, AZ 85203 | Website
Kids That Rip is a huge indoor sports facility where kids and adults can burn off some serious energy while having a blast doing so.
Attractions include:
Trampoline
A variety of sport courts
Dodgeball
Sky bridge
Warped wall
Toddler area
Skate park
And because all of this fun will make you tired, there is a cafe on site.
NEARBY: 31 Things to Do in Chandler AZ: Ultimate Fun Guide
They have both classes and open passes depending on if you want to visit one time and pay by the hour, or attend regularly.
#13 Fat Cats
5846 E Longbow Pkwy, Mesa, AZ 85215 | Website | Discount
While Fat Cats is well known as a movie theatre they offer several attractions:
8-screen movie theatre with large reclining seats
Glow-in-the-dark golf
Arcade games
Bowling
Virtual reality entertainment
DEAL: Get 1 FREE game of bowling AND 1 FREE game of glow golf every week for a year with this pass
They also offer $5 movies all day long on Mondays and all the arcade games are 1/2 off on Wednesdays.
#14 Enjoy a Mango Pancake
1832 W Broadway Rd #105, Mesa, AZ 85202 | Website
Ever tried a mango pancake? It's actually nothing like the pancake you're thinking of.
It's actually cream filled, think whipped cream, and has a piece of mango in the middle. You can find this at Miss Dessert, which has authentic Japanese flavors.
Mango pancakes are just one of their offerings. You'll also find a large variety of unique boba teas, snacks, and desserts.
#15 Pick Your Own Fruits & Veggies
4011 S Power Rd, Mesa, AZ 85212 | Website
Vertuccio Farms offers different pick-your-own fruits and veggies throughout the year.
They're also well known for their fall festival with a corn maze and all, which is definitely an event worth attending if you haven't been. In the winter they have a Christmas festival as well.
Local tip: Keep an eye on their website or Facebook page as they post when the next crop is ready to be picked.
In the spring, they have absolutely delicious pick-your-own peaches for a very reasonable price. The peaches are so juicy!
They also pick and sell the fresh produce directly and in their market store which you can come by anytime.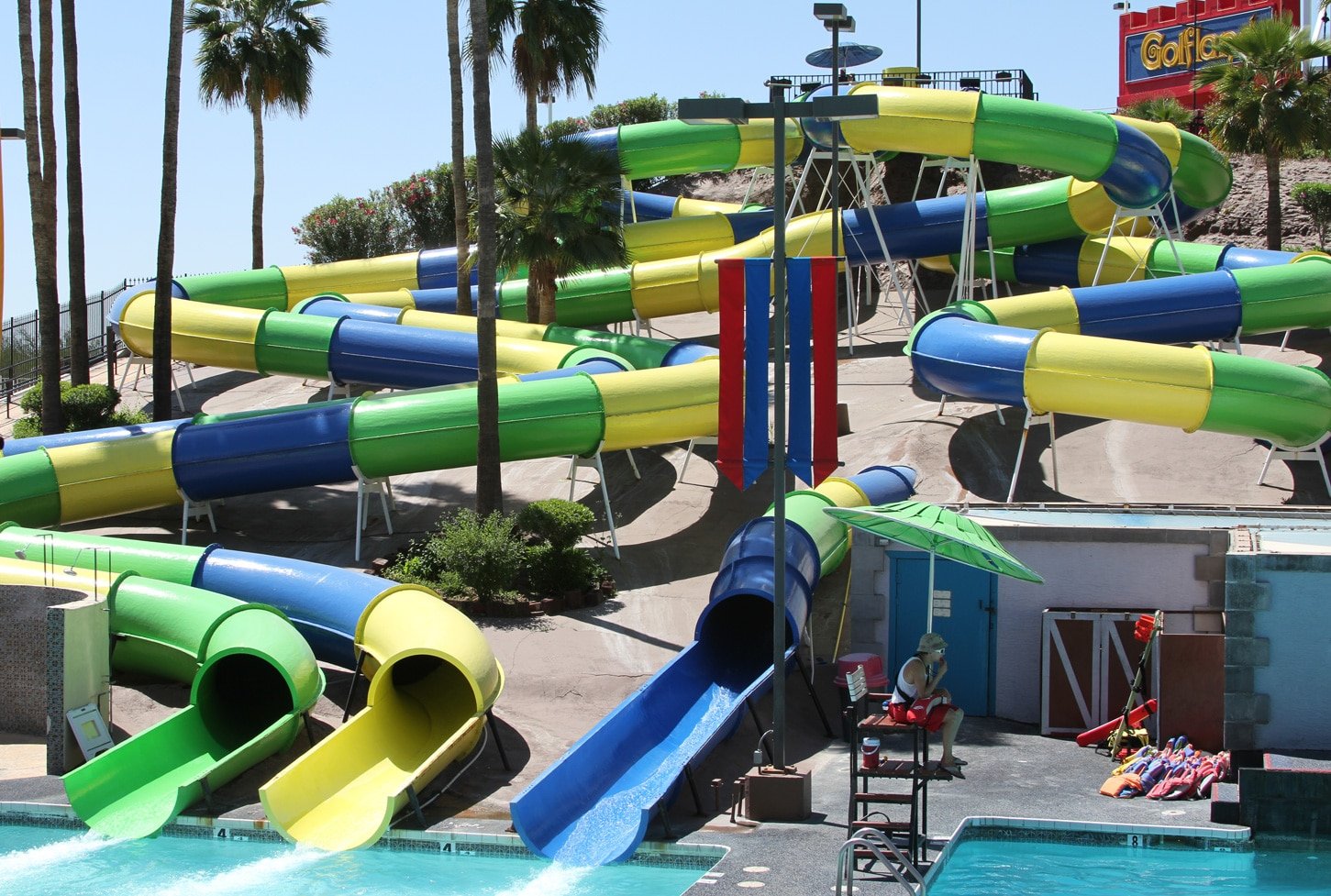 #16 Head to the Waterpark
155 W Hampton Ave, Mesa, AZ 85210 | Website | Discount
Golfland Sunsplash is a great place for kids and families. The water park has a storm rider, thunder falls, splash pad, wavepool, lazy river, harbor slides, water coaster, rock slides, boat, tail slides, activity pool and more.
DEAL: Get 1 FREE visit per year with this pass (use coupon code OURKIDS for 50% off)
While the waterpark is not year-round, Golfland does have year-round activities like:
3 miniature golf courses
An arcade
Restaurant
Go-kart track
Laser tag
Bumper boats
Check their calendar for splash nights where you can come enjoy the waterpark at night.
This is a great place to entertain kids (and adults!) of all ages.
#17 Go Tubing on the Salt River
9200 N Bush Hwy, Mesa, AZ 85215 | Website
No visit to Mesa is complete without experiencing tubing down the river. The river itself is beautiful!
The Salt River tubing company offers float trips so all you have to do is show up and float down the river. They provide the tubes and bring a shuttle to pick you up when you arrive at the end.
NEARBY: In the surrounding area, take the Apache Trail past the Goldfield Ghost Town
You can choose how far down the river you want to go. Float times vary between 2 and 5 hours. And belive me, the time goes quick!
This is also a great way to see the Wild Horses on the Salt River, especially if you go early.
Local tip: The Mesa Historical Museum is not too far from the Salt River.
#18 Climb Aboard an Old Warplane
2017 N Greenfield Rd, Mesa, AZ 85215 | Website
At the Arizona Commemorative Air Force Museum, you will be given the chance to climb aboard 1 – 2 old warplanes. You'll see the tight quarters and just what soldiers had to experience from the sky.
You'll definitely learn some facts about how tough they had it and what challenges they faced.
Local tip: They also offer a monthly family day where they have a few activities for kids and they offer a family admission for a highly discounted rate.
The docents are quite knowledgeable and provide great tours where you'll learn about the history, interesting facts and see how equipment changed over the years starting from the earliest inventions to more recent times.
#19 Visit The i.d.e.a Museum
150 W Pepper Pl, Mesa, AZ 85201 | Website
The i.d.e.a Museum is an interactive art museum designed for the younger kids.
This is a smaller museum but the kids still have fun and can spend a couple of hours.
There are different sections of the museum:
(1) The first is hand-ons and very exploratory with building blocks, a light board to write on (super cool!), grocery shopping, dress up and more.
(2) Another area offers interactive exhibits that occassionally change.
(3) And lastly there is an interactive learning area with a blacklight rainforest room and more.
Local tip: We usually stop by my favorite coffee shop in Mesa called Jarrod's Coffee before heading over to the i.d.e.a museum
If you don't have time to visit the museum and you're nearby, you can always play the musical instruments outside the museum completely for free or even snap a selfie in the larger than life chair out front.
#20 Enjoy an Ice Cream Stuffed Donut
40 N Macdonald #2, Mesa, AZ 85201 | Website
At Novel Ice Cream, you can enjoy ice cream or request your ice cream be stuffed inside a warm, delicious donut because…well, why not?!
You'll also find unique ice cream flavors to choose from like:
Madagascar Vanilla
Bookie Monster
Marshmello Charm
They have flavors that are always on the menu and a small handful that change every few days so you can always try something new.
Insider tip: This location is right across the street from the Arizona Museum of Natural History so you can grab ice cream, hit the museum and also do the walking sculpture tour all on the same day.
If you say you don't like donuts, well, this place has been known to convert non-donut lovers. But if you prefer a cone or a cup, that's fine too!
#21 Test Your Bike Skills & Ride the Ramps
2955 N Recker Rd, Mesa, AZ 85215 | Website
If you or the kids like riding bikes, Desert Trails Bike Park is a must visit! Whether you have toddlers or adult kids, there are different features for everyone.
This huge bike park not only offers some beautiful views, it also has:
Bike trails
Pump track
Kids skills track
Some kids even bring their scooters to use on some of the tracks that are more scooter friendly.
There are picnic tables and restrooms on site. The park is also right across the street from Fat Cats Mesa which you can head to afterwards.
#22 Attend Spring Training
2330 W Rio Salado Pkwy, Mesa, AZ 85201 | Website
Sloan Park is home to spring training for the Chicago Cubs.
Even if you're not a Cubs fan, going to a baseball game is still a lot of fun. Most of the seats are in the shade (except for the lawn) and the stadium itself is beautiful.
But it's not just for the Cubs. Other teams play there too at other times of the year like the Arizona League Cubs of the Arizona League and the Mesa Solar Sox of the Arizona Fall League.
#23 Explore Riverview Park
2100 W Rio Salado Pkwy, Mesa, AZ 85201 | Website
Located in the same complex as Sloan Park, Riverview Park is a really fun playground for kids. So pack a picnic and go enjoy the playground, splashpad, open areas and more including:
50-foot tall Genesis climbing tower
60-foot long caterpillar mesh rope climbing structure
2 playground clusters for ages 2-5, 6-12 and above
Orbit spinner
Zip line
Fishing lake
Spray ground with many water features
#24 Ride (or Walk) The Rio Salado Parkway
Just east of Riverview Park (south side) | Website
Running along the Salt River bank is a path for walking or biking.
The pathway goes on for miles and even takes all the way to Tempe Town Lake.
The pathway going through Mesa connects Riverview Park, Sloan Park and Mesa's Riverview shopping center.
#25 See a Family-Friendly Comedy Show
214 W Main St, Mesa, AZ 85201 | Website
The Neighborhood Comedy Theatre offers weekly family-friendly comedy shows! Yes, clean comedy the whole family can enjoy.
There are Friday and Saturday night shows for all ages. Friday nights have a Main Street Comedy show which is a mix of storytelling and improv comedy.
The Saturday night shows are improv comedy.
This means the show is never the same twice. With different comedians, different topics and a different audience, you can enjoy coming again and again.
#26 Go to a Petting Zoo
3440 S Hawes Rd, Mesa, AZ 85212 | Website
Superstition Farm is a small farm that makes a nice stop if you have an hour or so to spend. You'll be able see and feed (some) animals like:
Donkeys
Goats
Sheep
Pig
Ducks
Hens
Tortoises
Cows
They also have private tours you can book as well where you can take a guided hayride around the farm.
Remember: Keep an eye on their Facebook page for announcements on births, new arrivals and new experiences. We once were able to feed bottles to baby cows!
Besides the animals, you can also purchase items like homemade ice cream, raw milk, cheese and farm eggs.
#27 Bass Pro Shop
1133 N Dobson Rd, Mesa, AZ 85201 | Website
Bass Pro Shop isn't just a outdoor recreation store, it's an experience, especially for the kids! There is so much for them to see and even do like:
Dozens of stuffed animal displays
Feed the trout in the Trout Stream (1:30pm daily)
Indoor waterfall
Huge 18,500 gallon aquarium with large fish & scheduled live feedings (Saturdays and Sundays at 2:00pm and Tuesdays at 6:00pm)
Archery range
Pistol range
Gaming
They also offer free classes for kids and adults on all types of topics such as bass fishing, fly fishing, meat processing and predator hunting.
They are also very popular for their Santa Wonderland including free photos with Santa and free photos with the Easter Bunny in the spring.
#28 See a Family-Friendly Theatre Show With Child Actors
4501 E Main St, Mesa, AZ 85205 | Website
The East Valley Children's Theatre puts on some absolutely amazing shows with child actors. As they teach various theatre classes for kids, the kids then create and act out the performances and the public is invited.
These are the real deal! The shows have professional directors, managers, and designers.
It's great to be able to support the kids who have worked so hard to put the show together and for them to be able to see the entire process of what it takes to make one of these shows happen.
#29 Attend 2nd Friday Night Out
Main St (between Center and Robson) | Website
From 6pm to 10pm on the second Friday every month, Mesa holds a free event with 50+ artists, musicians (including live bands), entertainment, food and vendors.
Every month has a different theme so you'll see something new.
There are lots of arts & crafts, food trucks, booths and restaurants. So much fun!
#30 Visit the Largest Escape Room Facility in the World
86 W University Dr, Mesa, AZ 85201 | Website
Did you know Mesa is home to the largest escape room facility in the world? That's right, Escape Rooms Mesa is located in a 15,000 square foot, 4-story mansion built in the 1920s and it has 17 unique escape rooms.
Get ready to be challenged, entertained, and wow'd!
They have novice rooms up to more advanced, each with a unique theme, so there is something for everyone. They have nice touches that really give it a nice experience.
#31 Catch Dinner & A Show
5247 E Brown Rd, Mesa, AZ 85205 | Website
Whether you want to go out just the adults or you want to bring the kids along, a dinner and a show makes for a great night out!
The Silver Star Theater has good food, followed by great entertainment including musical performances, variety shows, classic plays and even a murder mystery dinner.
They have a 27 x 15ft professional LED screen where they display changing graphics that really enhances the show.
This is your chance to see some amusing and talented performers.
Note: Shows are recommended for ages 5 and older.
And if you are in need of any Arizona souvenirs, there is a large gift shop with everything you need inside.
#32 Take a Tour Boat Cruise
14011 N Bush Hwy, Mesa, AZ 85215 | Website | Discount
Take a cruise any day of the week on Saguaro Lake with Desert Belle Cruises.The cruises are well narrated, there is live music onboard, the drinks are cold and the scenery is beautiful.
You'll hear about the history, geology, geography and wildlife native to the Sonoran Desert.
Local tip: if you want to go a little farther up to Canyon Lake, you can take a scenic nature cruise on the Dolly Steamboat.
If you are lucky, you may even see wild horses, big horn sheep and bald eagles.
DEAL: Get Up to 40% Off a Desert Belle Cruise
Even if you're traveling from other areas like Tucson or Scottsdale, the cruise is worth it.
Local tip: For a unique dining experience, one of the most popular and best restaurants nearby is Shiprock Restaurant.
#33 Head to the Trampoline Park
8946 E Germann Rd, Mesa, AZ 85212
Elevate Trampoline Park is a 33,000 square foot trampoline park with:
Trampolines (of course!)
Silk ropes
Zip line
Foam pits
Toddler area
Trampoline basketball
Dodgeball
and more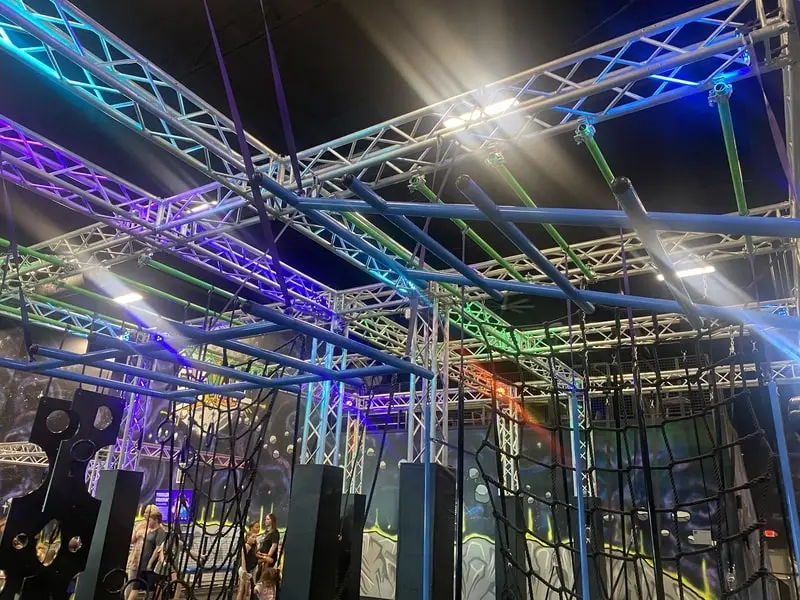 They even have a weekly discounts for toddlers, homeschoolers and families.
This is just north of downtown Queen Creek so it makes for a good stop if you're going in or out of Queen Creek.
#34 Cool Off at a Fun, Refreshing & Cheap Public Pool
When it's hot in Mesa, there are a number of public pools (9 to be specific) you can enjoy. And what's nice is not only how fun they area but just how cheap they are as well.
Most pools only cost $4 for adults and $2 for kids and each pool has public swim hours. Some of the popular public pools are:
Mesa Aquatic Complex
Skyline Aquatic Center
Brimhall Aquatic Complex
Mesa pools also have some fun events throughout the season as well so it's worth keeping an eye out for those.
#35 Watch the Planes at Falcon Field Airport
4800 E Falcon Dr, Mesa, AZ 85215 | Website
It's a lot of fun to come watch the planes and helicopters come and go. There are 2 viewing areas to watch from:
The shaded patio behind the terminal
The park on the east side of the terminal (at the base of the air traffic control tower)
The park has plexiglass fence around it so young ones can't get out. They also have some shaded areas, benches, turf area and airplane seats for kids.
The airport's viewing lobby is open from 7am to 6pm Monday to Thursday.
If you're really looking for an adventure, you can also take a training flight from this airport.
#36 Go Kayaking
Saguaro Lake is a great place to sit in the sand and enjoy the water. It's almost like you're at the beach but then you remember you're in the desert!
If you don't have a kayak or paddleboard, you can visit the Saguaro Lake Marina (this is also where the Desert Belle Cruises depart from) and visit Precision Marine where you can rent kayaks or runabout, fishing or pontoon boats.
Nearby in the Tonto National Forest, you also have easy access to Saguaro Lake Ranch which has rustic cabins, kayak and paddle board rentals, tubing and horseback riding.
#37 Take a Scuba (or Mermaiding!) Classes
2245 W Broadway Rd, Mesa, AZ 85202 | Website
Yes, you can take a scuba class in the desert at El Mar Diving Center. They offer scuba classes for both kids (ages 8+) and adults.
You can even take mermaiding classes!
#38 Attend an Event at Belle Bank Park
1 Legacy Drive, Mesa, AZ 85212 | Website
A newer addition to Mesa, Belle Bank Park is a 320-acre sports and entertainment park and is home to Legacy Sports.
While they have youth and adult sport teams, class and other fitness opportunities, they also serve as an event and concert venue so it's worth checking out their upcoming events.
#39 See Kid-Friendly Improv
1061 N Dobson Rd Ste 114, Mesa, AZ 85201 | Website
At JesterZ Improv, comedians request audience participation and suggestions for their acts.
There are no scripts in this 90-minute show, making every show different! This is like a "Whose Line Is It, Anyway" type of show.
Shows are even kid-friendly so it's safe to bring everyone.
This is such a fun place whether you're looking for a night out with friends, a date night or even taking the whole family out.
#40 Go to a Family-Friendly Unlimited Vintage Retro Arcade
4840 E Jasmine St #102, Mesa, AZ 85205 | Website
Startfighters Arcade offers an unlimited free play admission for the classic video and pinball games. You can even leave and return without having to pay again.
Starfighters considers themselves like a living museum with their 150+ classic, new and retro arcade games.
They do not offer food but snacks and drinks are available.
Come relive your childhood memories!
#41 Visit Usery Mountain Regional Park
3939 N Usery Pass Rd, Mesa, AZ 85207 | Website
If you're look for outdoor activities, Usery Mountain Regional Park is a beautiful park with miles of trails to hike while viewing the Superstition Mountains. It's close to the lower salt river and Saguaro Lake.
Why visit?
Over 29-miles of hiking and mountain biking trails
Views of the Superstition Mountains
It's a great place for horseback riding (bring your own horse or visit one of the nearby stables)
Picnic areas with tables, barbecue grills, water and restrooms
One of our favorite hikes is Wind Cave Trail which is a moderately challenging 2.9 mile out-and-back trail.
#42 See a Show at The Mesa Arts Center
1 E Main St, Mesa, AZ 85201 | Website
The Mesa Arts Center is the place to go for:
Concerts
Performing arts
Events
Art activities
Music & dance
Shows
Comedy
And more
The theater is really neat inside and out. We've always appreciated the comfortable chairs and the great sound effects.
The whole area surrounding area is very artsy and nice too.
#43 See a Game at Hohokam Stadium
1235 N Center St, Mesa, AZ 85201 | Website
Hohokam Stadium is where you can go to see the Mesa Solar Sox baseball team play. This is also where you can catch a spring training game for the Oakland A's.
The parking is easy, ticket prices are reasonable and there is actually some shade too. Not much else you can ask for!
And they have the largest video board in the Cactus league so you'll have no problem seeing the score.
#44 Take the Kid's to Pioneer Park
526 E Main St, Mesa, AZ 85203 | Website
Locals know Pioneer Park for it's awesome 9,000-ft playground that even lights up at night. It's definitely the one playground the kids won't forget!
There is a 3-story tower slide (plus several other cool slides) and all types of things for the climbs to climb on, around and through.
Local tip: Pioneer Park is right across the street from the Mesa Arizona Temple.
Beyond just the playground, this 18-acre park also has:
Volleyball
Basketball
Covered picnic areas
Small splash pad
Large lake with stage area
Good to know: this part does tend to attract some homeless people. While they typically just stick to themselves, it's good to be aware.
All The Best Things to Do in Mesa AZ
As you can see, the Mesa area has no shortage of fun things to do for everyone in the family. The question is, what will you do next?
More Fun Things to Do Nearby