When I was growing up, the Maryland part of Ocean City was where you went when you were a teen or college-aged student. I avoided Ocean City for nearly two decades opting for quieter beach retreats.
Now that I have a 10-year-old who yearns for more than just the salt life, I've come to realize there are so many fun things to do in Ocean City MD that cannot be beat.
The town is known for its Boardwalk, which stretches for nearly 3 miles along the beachfront. The Boardwalk is lined with shops, restaurants, and attractions, and is a popular place to walk, ride bikes, and people watch.
Other popular activities in Ocean City include fishing, swimming, boating, and sunbathing. The town also has a number of parks and golf courses.
The beach is definitely the main attraction, but there are also a ton of fun activities for the whole family to enjoy. Here are 25+ of the best things to do in Ocean City, Maryland.
From Northern Virginia, Ocean City is an easy breezy 3-hour drive.
Ok, maybe not easy crossing the Bay Bridge, but you'll surely feel a breeze with the windows down!
Ocean City is a bustling, yet fun beach that is great for seashell hunting, sand castle making and surfing. Here we're sharing the top things to do in Ocean City MD so you have a great trip!
#1 Take a Sea Rocket Dolphin Cruise
302 1st St, Ocean City, MD 21842 | Website
Can you go in downtown Ocean City for your water adventures. It's hard to go to the beach and not notice all of the people out on the water having a great time.
Whiskey rocket you can:
Dolphin cruise
Go parasailing
Speed boat cruise
Sunset cruise
Banana boats ride
Kayak and SUP rental
Or even rent a floating dock that is anchored in the water where you can lounge and play all day.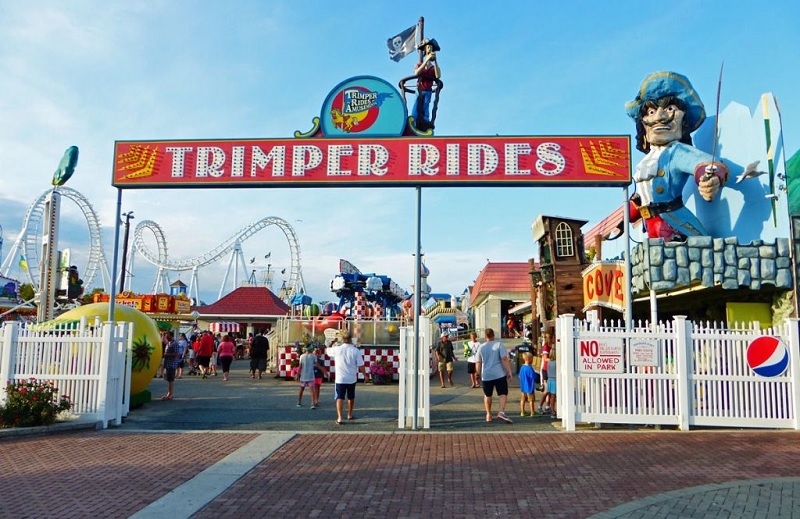 #2 Trimper Rides
700 S Atlantic Ave, Ocean City, MD 21842 | Website
Trimper Rides of Ocean City is the oldest continuously family owned and operated amusement park.
Here they offer rides, games and food all spread out over 100,000 square foot. Some of their most popular rides are:
Area 51
Kiddie water boats
Pirates Cove
Endeavour
Fun slide
Mirror maze
Spinner coaster
Ferris wheel
Here you can also ride Herschell Carousel, one of the oldest in the country.
They also have one of Ocean City's largest arcades called Marty's Playland.
RELATED: 7 Water Parks in Maryland: Huge Slides, Wave Pools, Lazy Rivers & More
There are also plenty of snacks and treats like chocolate covered bacon and strawberries.
Depending on how long you are staying, they have day or night passes as well as mega or season passes you can take advantage of. 
#3 Jolly Roger Amusement Park
2901 Philadelphia Ave, Ocean City, MD 21842 | Website
One of the big draws is Jolly Roger Amusement Park which comprises of Speedworld, Splash Mountain Water Park, Jolly Roger at 30th Street and Jolly Roger at the Pier.
Speedworld features several types of go kart tracks, while the popular Splash Mountain is a waterpark boasting 17 slides, 3 kiddie pools and a lazy river.
Jolly Roger at 30th Street is a good option for younger children with offerings such as tea cups, swings, a funhouse, zipline/ropes course and a train ride. There are a few roller coasters, a pirate ship ride and two mini golf courses. Watch pirate theatre or free circus; both occurring daily.
#4 Ripley's Believe It or Not!
401 S Atlantic Ave, Ocean City, MD 21842 | Website
Steps from the Jolly Roger at the Pier is Ripley's Believe It Or Not. There are several options the Odditorium, Mirror Maze and Laserace, which can be purchased for a combo price.
Notice the shark head…it's a true story.
After a storm, the shark literally busted through the building! We liked touching a piece of the Berlin Wall, seeing a gold karat Mini Cooper, Darth Vader made from recycled parts and comparing our height to the tallest man in the world.
I recommend Ripley's for ages 8+.
#5 Walk (or Ride!) the Boardwalk
You can really go to Ocean City with out going to the boardwalk! The Ocean City boardwalk is 2.45 miles long.
The Ocean City Boardwalk is likened to the streets of New York City. Yes, it is busy and you need to keep moving! There are the speed walkers, the pedal bike families and the plethora of cyclists.
We saw the odd Segway and a neat mini car grooving along the boardwalk. The benches face both ways so you could change from people watching to enjoying kites flying along the oceanfront. Bicycle rentals dot the walkways.
#6 Ocean City Life Saving Museum
813 S Atlantic Ave, Ocean City, MD 21842 | Website
You'll find that Ocean City life-saving Museum on the boardwalk. It's a smaller 2-level museum that's great for kids I've been able to hold their interest. There is a lot of history on Ocean City as well as the life-saving service.
Kids can also participate in a scavenger hunt and look for Sherlock the shark in each of the Museum's room.
NEXT: 51 Summer Fun Activities in DC, Maryland & Northern Virginia
There are even a few small aquariums with some of the local ocean life. During the summer months you'll find more activities for kids.
This is an inexpensive Museum to visit and kids under 12 are free.
#7 Baja Amusements
12639 Ocean Gateway, Ocean City, MD 21842 | Website
Baja Amusements is a family friendly fun park with 10 acres of activities including go-karts, mini golf, rides, arcade and more.
There aren't as many rides for the littlest kids but elementary kids and older have tons to do here. 
Some rides you'll find here are:
Carousel
Frog hopper
2 climbing walls
19-hole (yes, 19) Mini golf
The go-karts are definitely the big attraction here and you will even find double seated go cars on their family track. They even have a rookie truck specifically for kids ages 5 to 7 years old.
Hourly wristbands can be purchased to enjoy all of the attractions. Check the website for coupons.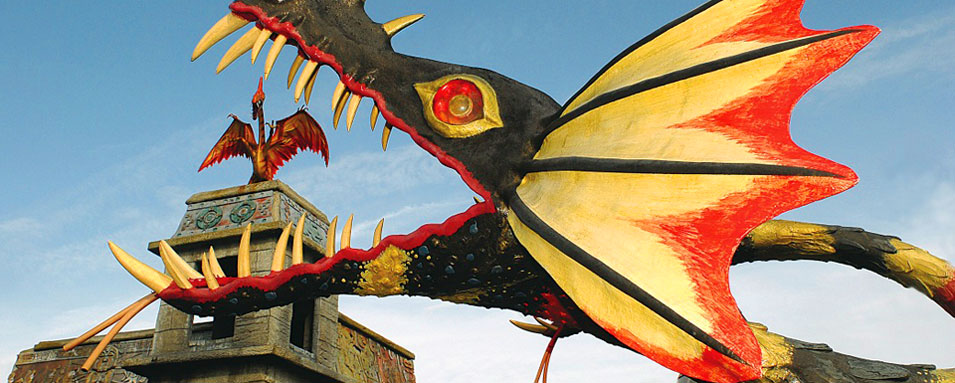 #8 Old Pro Golf
Multiple Ocean City locations | Website
Old Pro Golf in Ocean City has four different indoor and outdoor locations with a total of 6 different courses you can play. 
READ NEXT: 7 Best Amusement Parks Near Ocean City MD: Go-To Parks
Their course themes are:
Temple of the Dragons
Renaissance Castle
Undersea adventure
Dinosaur park
Caribbean pirate
Safari village
All locations are open daily from 9 a.m. to 11 pm. Make sure to check out their website for specials.
#9 Watch a Free Live Ice Performance
11700 Coastal Hwy, Ocean City, MD 21842 | Website
Carousel ice skating rink is a unique Ocean City attraction and is definitely a hidden gem.
The ice skating rink is actually inside of the Carousel Oceanfront Hotel and when there isn't a performance going on, you can go ice skating as well. Admission prices and skate rentals are inexpensive.
READ NEXT: Maryland Ice Cream Trail: Details & Map
You can also enjoy dinner and a show on the rink side overlook.
The rink is open Sunday through Thursdays from 10am to 4pm and 7:45pm to 10pm.
They've also been known to have free live ice performances during the summer.
#10 North Side Park
200 125th St, Ocean City, MD 21842 | Website
North Side Park is one of the best (and most popular) parks in Ocean City. It is a huge, public recreation park with an awesome playground, indoor gym and sports courts.
The park also has beautiful views at the pier, the kids really find the playground a lot of fun and there is a smaller area for the littlest kids to play.
When you explore the natural areas you will also find signs about the animals and plants that you see.
If you'd like to attend events while in town, definitely look for event at this park. In December they have the holiday light oh, in July Fourth of July fireworks and Mora.
#11 Frontier Town
8428 Stephen Decatur Hwy, Berlin, MD 21811 | Website
Frontier Town is located just outside of Ocean City in Berlin. Frontier Town is an Old west-style Town or you can ride the train, go on pony rides end at end shows.
Admission to the town is free and they have different shows going on every hour. There are also many different types of shops and this is a great place to pick up some different souvenirs or momentos.
All of the shows you can see are:
Native American show
Frontier Town follies
Gun fight in the street
Trick shooting
Wild West show case
You can also find a water park and mini golf here.
#12 Assateague Island National Seashore
7206 National Seashore Ln, Berlin, MD 21811 | Website
Also located just outside of Ocean City in Berlin, is Assateague Island National Seashore. This is one of the ten great places to see the wild ponies, bald eagles and other seabirds.
Here you can take a ranger guided program, rent a kayak, go bike riding, hiking and even horseback riding.
NEARBY: 24 Things to Do On Chincoteague Island
Other fun activities are swimming in the surf, crabbing, fishing and collecting shells.
#13 See the Ocean City Air Show
Ocean City Beach | Website
The Ocean City Air Show is awesome to see. At the show you can watch the jets soar over the beach. They have multiple performers with different types of jets.
While you can watch the air show from the beach, you can also watch the show from VIP viewing areas including sand boxes, skybox, drop zone beach and the flight line club, each offering a different experience.
#14 Take the Sandcastle Home Tour
Various Homes | Website
The Sandcastle Home Tour typically occurs in September and 1,000+ people come for the tour.
What exactly is this tour?
Select home owners with some absolutely amazing properties, open their homes to the public to tour. These homeowners have renovated and styled their home to make it something truly special.
Both in-person and virtual tours are available.
#15 Go Fishing
Ocean City has a number of public fishing piers and they even have two free fishing zones.
For example you can go fishing on the pier just off the boardwalk in downtown Ocean City and you are not required to have a fishing line. There is just an $8 entrance fee and if you didn't bring your fishing gear you can also rent bronze and other equipment.
#16 Stop By Candy Kitchen
Various Locations Ocean City | Website
Panda Kitchen is a super popular place sweet dreams in Ocean City. They are so popular, they have 22 locations between Ocean City and Delaware beaches.
At Candy Kitchen, you'll find delicious treats like:
Taffy
Fudge
Chocolate
Pretzels
Truffles
Gummies
And more
#17 Sundaes in the Park
Northside Park 127th Street and the Bay | Website
On Sunday evenings from 7 to 9 p.m. there is live family-friendly entertainment for adults and kids. Music ranges from country to rock to oldies and tribute bands.
There are different free activities for kids each week.
And of course, the best part is that ice cream which you can purchase on site.
At the end of each week there is also a firework display to enjoy.
MORE FUN: 111 Things to Do With Kids in Maryland
#18 Enjoy Some of the Best Ice Cream
Is it possible to go to the beach and not have ice cream? Don't think so!
Luckily there are plenty of amazing ice cream parlors throughout Ocean City.
Some of the best parlors you may want to try are:
Justine's Ice Cream Parlour
Julia's Ice Cream
Southpole Ice Cream Roll
#19 Challenge Yourself at Escapomania
3 Ocean City Locations | Website
Why not try an escape room at the Beach? Escapomania is located in uptown, midtown and downtown and each location has a few rooms to choose from making for a total of 9 different rooms to try.
Some of their room themes are:
The Great Heist
Soul Snatcher
Wonderland
Mad Scientist's Lab
#20 Take a Flashback Old Time Photo
19-B Boardwalk, Ocean City, MD 21842 | Website
Getting an antique or old-time family photo is such a fun thing to do!
This is one of those once in a lifetime type of experiences. They have so many different theme options for your photo that you will easily be able to find something you like.
They also have a large wardrobe / costume selection for you to choose from and can make recommendations for the photo you want.
#21 Shop at Kite Loft
2 Ocean City Locations | Website
The Kite Loft has all things kites!
This is really an awesome store. It's fun to come in and see the variety of kites including trick kites and other fun types. They also have other itesm like flags, hammocks and other accessories.
This is another popular place right on the boardwalk. Staff here is very knowledgeable and you can learn a ton about kites.
Also keep an eye out for Kite Loft's Sunfest Kite Festival which typically takes place in September.
#22 Visit a Quirky Landmark
201 N Boardwalk, Ocean City, MD 21842 | Website
The Ocean Gallery is definitely a unique landmark in Ocean City.
You'll find prints and art from different artists. Whether or not you want to pick up some art, it's fun to see tons of pieces here and there are 3 different levels to view.
The outside mural itself is quite neat to see.
The building is made completely of recycled materials (including some from the Ocean City Boardwalk itself). Admission is free.
#23 Go Horseback Riding
During the off season, in spring and winter, you can actually go horseback riding right on the beach!
Even if you go during the summer, you can also go riding on one of many scenic trails in the area.
Holly Ridge Equestrian Center is a great place for guided horseback riding on some of the area's scenic trails. The farm is just minutes outside of Ocean City.
#24 Go Mini Golfing
13903 Coastal Hwy, Ocean City, MD 21842 | Website
Lost Treasure Golf is a fun mini golf course with 2 treasure hunting themed courses with 18-holes each and some pretty impressive scenery.
This course is very well kept, has beautiful landscaping and has several waterfalls throughout.
This is also an easier course for the kids to play so it's great for families.
You can also hold on to your score card and use it to come back for a discount.
#25 Rent a Bike & Hit the Trails
There are so many great places to ride bikes and this is a fun way to explore. The boardwalk is a fun place to ride but it can also be a bit crowded.
Some of the other fun places to bike are:
Assateague Island Trail which is the longest trail in Ocean City
Northside park
413 Rail to Trail
Fred Hudson Road Trail
Cold Spring Bike Path
#26 Enjoy Some Delicious Food
Ocean City has over 200 restaurants so there is literally something for everyone.
If you're on the boardwalk, step into one of several locations of The Dough Roller where you can get pizza by the slice, pie, fried chicken and everything else.
I loved showing my daughter the old school lunch boxes and nostalgic toys from the past.
Drive in, dine in or take away from the walk-up window of Dumser's Dairyland for yummy soft serve ice cream.
And don't leave the Boardwalk without a bucket of Thrasher's French Fries or a funnel cake.
The New York style pizza at Pizza Tugos is made fresh to order and all three locations deliver.
For something a little fancier, head to the bay front where stellar seafood options can be found at The Bayside Skillet, Fager's Island and Phillips Crab House.
Map of Things to Do in Ocean City, MD
Frequently Asked Questions
Are there any zoos or aquariums near Ocean City, Maryland?
There is no aquarium in Ocean City, MD, however, you can still see some aquarium tanks at The Ocean City Maryland Life Saving Museum. The Assateague Island Visitor Center also has touch tanks for the kids.
What are the hidden gems in Ocean City, MD?
There are some hidden gems and lesser known things to do in Ocean City, MD. The Carousel ice skating rink inside the Carousel Oceanfgeront Hotel is one hidden gem. The Ocean Gallery is also a unique landmark in Ocean City.
What part of Ocean City is best?
Downtown Ocean City is the best part to stay with nice hotels and most of the attractions and other fun things to do nearby.
So Many Fun Things to Do in Ocean City MD
Ocean City features 10 miles of ocean beach that beckon you to splash in the waves, sunbathe on the sand and feel the thrills of the boardwalk's amusement rides.
In the summer there are also concerts, Movies on the Beach and Sundaes in the Park, offering free family fun.