The Turkey Hill Experience is definitely a unique experience. And if you're thinking this experience is just for the younger kids, it's not!
During our visit, there were actually many teens here who were enjoying themselves and just as much into the activities.
Of course a single scoop of ice cream is typically enough to get a kid to want to do anything, but here you get unlimited samples of Turkey Hill ice cream (about 8 to 10 different flavors) and ice tea which is, of course, very tasty!
I won't mention how many samples we had. 😋
What to Expect
The building itself is quite large and has 2 floors of interactive activities for visitors.
The entire staff here is incredibly friendly and helpful no matter who you are dealing with. It is definitely a place where we felt welcomed and like everyone enjoyed their job.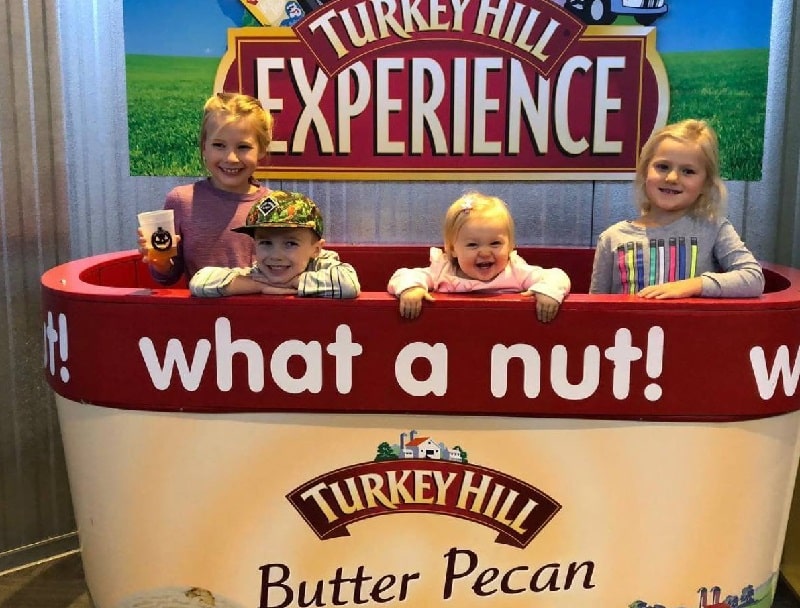 The facility is a cross between a factory tour and a children's museum. For interested foodies, there is plenty of information about the process of making Turkey Hill ice cream and the products that go into it.
For rambunctious kids looking for fun, there is a ball pit, slides and plenty of interactive experiences.
The self guided tour of the facility took our group of two moms and 4 kids ages five to ten about two hours.
Exhibits
It's actually interesting to see how the Turkey Hill packaging has changed over the years. I was also surprised to learn just how many Turkey Hill products their were that I have purchased over the years without even realizing they were Turkey Hill.
Single Experience Admission
While I highly recommend the double or even triple experience tickets, if you purchase a single experience ticket, there are several activities you can participate in.
Everyone gets to participate in these regardless of ticket type.
Milking The Cow
Upon entry to the second floor the first thing our kids raced to do was to "milk" the mechanical cows.
Three life size cows are set up among the "pasture" of Lancaster County, PA with milking buckets and stools for young farmers to get to work.
Instructions nearby help out first timers but the "cows" were very cooperative and had a seemingly endless supply of milk on hand.
This is a fun and different experience for sure!
Star in a TV Commercial
With your newly created ice cream flavor, you can star in a new commercial to promote it! They provide scripts for the kids to follow or they can make up their own. They even record it so you can download it and watch it again at home.
This experience is especially fun for the older kids.
Virtual "Make Your Own" Ice Cream Creation
Nearby is a virtual mixing station with a screen that looks like ice cream base rushing by. Seemingly by magic, when the kids pretend to dump the flavoring in, the base changes color according to the ingredient.
This was fascinating to my 5 and 6 year olds! For the older kids you can race a virtual timer to fill ice cream cartons of various sizes and to get the correct proportions of ingredients in batches of ice cream.
In this section, the interactive exhibits that walk you though the process of making ice cream, including everything from milk to filling the cartons before it is sent to the stores.
Here you can create your own ice cream flavor with different ingredients and design your own package. It's all virtual though so you won't be able to taste it like in the Taste Lab.
This is definitely an experience you have to try at least once! So find a good day for a road trip and stop in for some ice cream creating, tasting and fun!
And More
Moving past this area to the mixing and packaging section was another favorite spot for our group. Here large tubs labeled with ice cream flavor mix-ins such as coffee, blueberries etc. are stacked on shelving.
One final hit was the freezer area where kids and adults can step inside the "cold room" to feel the temperature that the ice cream needs to be stored at to keep solid.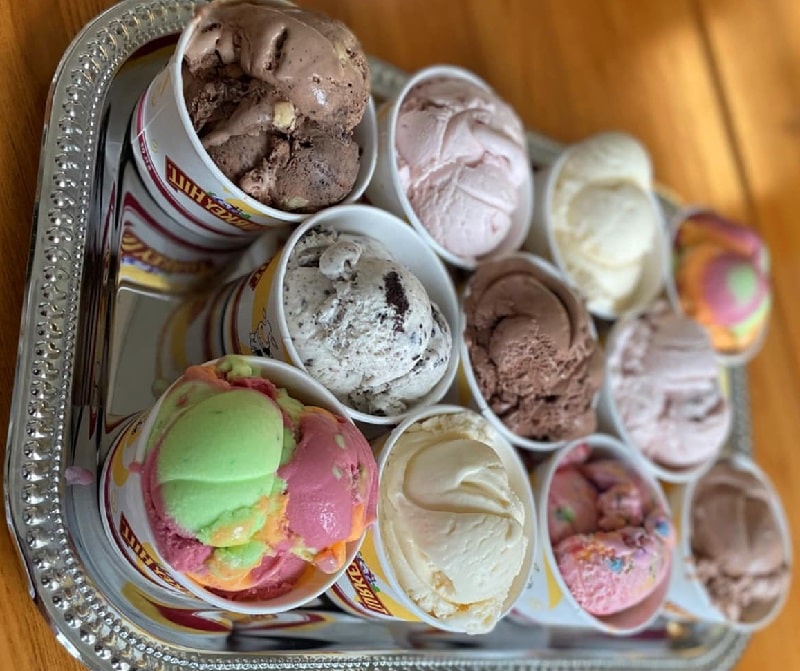 The Taste Lab
The Taste Lab is an extra experience so make sure your ticket includes it. It's definitely worth getting to make your own ice cream creation here.
Before we started, we watched an instructional video to learn more about the process of how ice cream is made.
They did quiz us at the end, so make sure to pay close attention!
Once you hit the ice cream area everyone is given a Turkey Hill factory hat to wear. Here you can watch a brief movie about the process of making ice cream, engage in interactive games, try free samples (with no signed limit) and get in line for "Create Your Own."
We each of us was given a large scoop of vanilla ice cream and we got to choose our different flavors, toppings and syrups to add in.
Some of their mix-ins include:
Marshmallow
Chocolate
Caramel
And several more
It's enough to fill up a pint of ice cream which you get to take home and enjoy.
The staff will let you try as many flavors in your cup as you'd like so don't hesitate to ask. Plus, you can always go back for more!
And as you can imagine, you'll be full after going back 2 or 3 times. This will make up for your admission right here.
This experience takes about 45 minutes.
Good to Know: We did have one person in our group who thought they weren't going to be able to do much because they are dairy-free but she was pleasantly surprised they were able to give her dairy free samples when she asked.
Tea Discovery
Next up was the Turkey Hill Iced Tea room. You must purchase the triple experience ticket to visit the Tea Discovery room. It's not much more so it's definitely worth it.
Here large screen computers are set up for you to take a "Tea Personality" quiz to see which Turkey Hill beverage is best suited for your lifestyle.
In the tea discovery experieence you'll not only be able to sample several different flavors of iced tea, you'll also be able to learn about where the teas come from, how it is made, the health benefits of team and more.
For kids they had samples of lemonade, limeade and fruit punch to try.
This experience takes about 30 minutes.
Gift Shop
There is also a gift shop on the first floor if you want to take home a souvenir other than the belly ache from eating too much ice cream!
The items are really neat and it's worth taking a look. You'll find souvenirs like:
Turkey Hill shirts
Jackets
Ice cream scoops
Iced tea glasses
And more
What to Eat
If all of this fun has left you hungry for more ice cream or lunch, the Turkey Hill Experience has a creamery and cafe downstairs. Here kids' meals like grilled cheese, hot dogs and quesadillas are available for $3.95 including a side and a Turkey Hill beverage. Soups, salads and sandwiches are sold for $4 to $9.
Tickets & Pricing
There are 2 factors that will determine your ticket prices – visitor age and what you want to experience.
You can purchase the single, double or triple experience. The double experience includes the Taste Lab where you make your own ice cream and the triple experience includes the Taste Lab and Tea Discovery.
Single discovery tickets for everyone 13 and up are $13.50. While double and triple experiences are $22.45.
Kids ages 3 to 12 are $12.50 for single experience and $21.45 for double experience. Kids 2 and under are free (although you do need to pay for the Taste Lab and Tea Discovery experiences if you decide to do one or both of those).
The tea discovery experience costs $5 per person and can be added to your admission ticket as they do not sell tickets just for this experience.
If any adults are past or present military, you will receive free admission simply by showing your military ID, however the Taste Lab and Tea Discovery are not included.
Hours & When to Go
If you go on the weekend with kids, it's definitely helpful to have more than one adult. That way one can wait in line while the other entertains the kids. There is the ball pit, the two slides which represent when ingredients are swirled into the ice cream, and the smelling station where you can stamp the scents of different flavor combinations onto a card.
You can also hit the free sample station while waiting in line with four flavors to choose from.
The Turkey Hill Experience is open daily except for Thanksgiving and Christmas Day. The hours change throughout the year so it's best to check their schedule before heading there. They have extended hours from 10am to 4pm during most of the summer and they open later and close earlier during other months.
If you're able to go during the week, there will be less crowds. We went on a Thursday and there weren't a lot of people there which was really nice for us.
It took us a few hours to go through the entire experience. I would definitely recommend having at least 2 hours available so you're not rushed.
No matter what day you go, the earlier part of the day tends to be better especially when it comes to crowds.
If you visit during Christmas time, there are lots of Christmas decorations which makes for a nice experience too.
Good to Know Before You Go
Save room for ice cream, you'll get to eat a lot!
They have an Autism-friendly certificate
Turkey Hill is a kosher certified facility
Dairy free samples can be provided upon request
Sometimes there are special events so check their calendar
If visiting during the summer (June, July and August), make sure to make a reservation online ahead of time
Strollers are allowed
Free wifi is available
Getting There & Parking
The Turkey Hill experience is lcoated about 20 minutes from Lancaster. Free parking is available on site in the front of the building.
Occassionally, during the busiest months of the year (summer), they use off-site parking and a free shuttle is provided.
Frequently Asked Questions
How long does the Turkey Hill Experience Take?
We recommend planning to spend at least 2 hours for the full experience. If you plan on doing the Taste Lab and Tea Discovery, plan on 3 hours.
How long is Turkey Hill Experience Taste Lab?
The Turkey Hill Experience Taste Lab takes about 45-minutes.
What city is the Turkey Hill experience in?
The Turkey Hill Experience is in Columbia, PA, about 20 miles west of Lancaster.
How far is Turkey Hill Experience from Hershey Park?
Hershey Park is about 35 minutes (or 22 miles) from the Turkey Hill Experience.
More Nearby Fun
Around the corner, there is a nice park with a great view, plus a walking trail.