Uptown Jungle Fun park is an indoor trampoline and play park with a city style theme. The park is fun for all ages, even kids as young as 18 months have fun and enjoy staying the whole time.
Thinking about checking it out? Here's everything you need to know before you go.
Attractions
Uptown Jungle has many attractions so there is something for kids of different ages. You'll find:
Trampolines
Climbing walls
Spider tower
Mega play structure
Super slides
Obstacle course
Mini zipline
Ball blaster area
Ninja course
The Ball Blaster Area
The ball blasters are a lot of fun. Kids have fun loading up the blasters with soft balls before launching them across the area.
The Volcano Slide
At the front of Uptown Jungle is a volcano kids can climb up the side of and slide down the other side.
The Trampolines
There is a large trampoline area with several trampolines.
The Climbing Walls
There are several climbing walls the kids can try. Staff will let them into the rock climbing area and they can let the staff know which one they want to try. The staff will put on a harness and help them. When they are done, they can choose another wall to climb. If there are many kids in line, they will need to let others go before climbing again.
MORE MESA FUN: 40+ Things to do in Mesa – Ultimate Fun Guide
Mega Play Structure & Other Obstacles
Kids can't help but notice the main mega play structure which has all types of obstacles, slides and climbing features spread out over 2-levels.
The only problem with there being so many fun things to do here, is that even with a 2-hour pass the kids won't be ready to go. So they'll definitely want to come again!
Tickets & Pricing
The prices depend on the day of the week you plan to go. For weekdays, the prices are $13.50 for a 90-minute pass and $15.75 for a 2-hour pass.
On the weekend, the cost is $18.50 for a 90-minute pass and $21.75 for a 120-minute pass.
Parents are always half price if you want to use the park with the kids. If you don't plan to play, you don't pay.
Memberships
Memberships are also available and give you and /or your family unlimited access to Uptown Jungle all year.
If you visit more than a couple times per month, a membership is probably the way to go.
NEED A SWEET TREAT? Here's 35 Best Desert in Arizona (Phoenix & Beyond)
There are both single memberships (good for one child), as well as family memberships (for 4 people) available.
Visits with memberships are good for 2-hour sessions on each visit. Parents play free with memberships and you also receive 10% discounts on merchandise, concessions and birthday party packages.
Uptown Jungle Deals, Discounts & Coupons
You'll often find Uptown Jungle Fun Park passes available on discount on here. There are choices for 1-hour or 2-hour sessions either for weekdays or weekends.
They sometimes have a pop-up on their website featuring a buy one, get one hour of play when you join the uptown birthday club (free).
It's also cheaper to go on weekdays than on the weekends, even without a coupon.
MORE JUMPING: Explore Elevate Trampoline Park in Mesa / Queen Creek
Also keep an eye on Uptown Jungle's Facebook and Instagram for occasional deals as well.
A few other discounts are available including:
Uptown Tot Discount: ages 5 and under can come Monday – Thursday from 9am – 12pm for $10. Siblings are $5 and parents are free. Check the event calendar for specific tot days.
Homeschool Discounts: students can come on Thursdays from 1pm – 3pm for $10 (siblings are $5).
Military & First Responder Discount: everyday military and first responder parents receive $2 off admission per child (must show ID).
Events
Uptown Jungle occasionally host events. The best way to find out about these events are to:
Sign-up for their email list
Follow their Facebook page
Look at their event calendar on their website
Food & Drink
Food is sold at the Fuel Store where you'll find a variety of food, snacks and drinks.
For The Adults
If you don't plan on playing with the kids, there is an adult lounge available for you to relax, watch TV or do what you would like. There is also seating and benches throughout Uptown Jungle so you can watch the kids play.
Free wifi is also available if you'd like to catch up on any work or get things done while the kids play.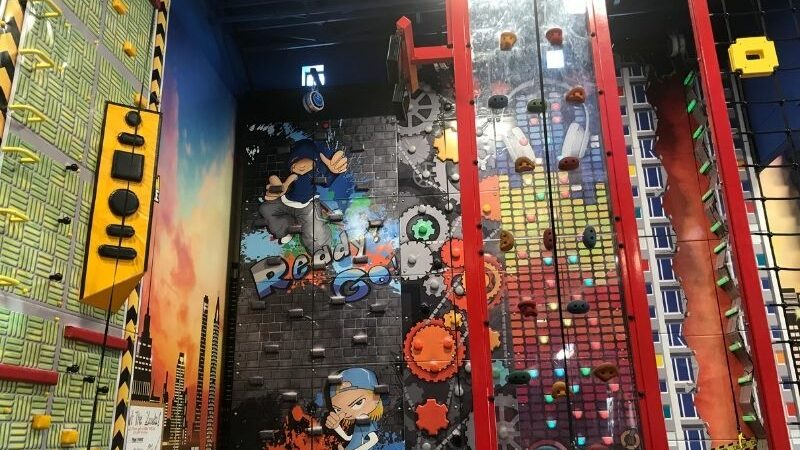 Hours & When To Go
Uptown Jungle is open:
Monday – Thursday from 9am to 8pm and 10 to 8pm on Fridays – Sundays.
As hours can change, it's always a good idea to check the locations calendar on their website as they have different events and hours can slightly differ per location.
Good to Know Before You Go
Bring your own water and snacks (there are snacks available although they can be expensive and no healthy options are available)
There is a toddler only area available
There is no security on site to check which adult is leaving with which child
Make sure to bring your own trampoline socks, otherwise they are sold on site for $3.50
Birthday party packages are also available
Everyone must sign a waiver before going and you can do so online here
Family-friendly restrooms are available on site
Getting There
Chandler Location:
Location is at 2061 N Arizona Ave, Chandler, AZ 85225, United States.
Mesa Location:
Location is at 5741 E McKellips Rd, Mesa, AZ 85215, United States
Uptown Jungle Fun Park has several locations in Arizona including: Chandler, Mesa, Phoenix, Peoria and Avondale.
Things to Do Nearby