There are many great amusement parks in Virginia that are perfect for families.
So whether you're looking for a fun-filled day trip or a weekend getaway, you'll want to check out these 9 Virginia amusement parks.
From roller coasters to water parks, Virginia has something for everyone when it comes to amusement parks. These theme parks won't disappoint!
9 Virginia Amusement Parks & Theme Parks
#1 Motor World
700 S Birdneck Rd, Virginia Beach, VA 23451 | Website
Motor World is an amusement park in Virginia that is perfect for those who love cars, as you can probably guess from the name!
The park has a number of different attractions, including a driving range, go-kart track, and bumper cars.
This place is so huge, they actually have 10 go-kart tracks with 250 karts in 16 different styles. It's really like nothing else you've seen when it comes to go-karts!
They also have rides like:
Skycoaster
Gravity storm
Bumper boats
Kiddie & thrill rides
Splat zone paintball
Shipwreck golf
Let's just say, you can't get bored easily here.
There is also a large arcade and several restaurants on site. This is the perfect destination for a day or night out with friends or family.
#2 Atlantic Fun Park
233 15th St, Virginia Beach, VA 23451 | Website
Atlantic Fun Park, located in Virginia Beach, offers something for everyone.
Thrill seekers can enjoy the park's 3 roller coasters, while those looking for a more relaxing day can take a spin on the carousel or paddle boats. Or for some fun with a little scenery, go on the 100-foot tall ferris wheel while you look out over the beach.
RELATED: 100 Things to Do With Kids in Northern VA
Other rides you'll find include:
Crazy surf
Flying Bobs
Rock wall
Spring ride
Kiddie combo ride
Paratrooper
Kiddie motorcycles & flying elephants
Gravitron & sea dragon siwnging ship
And plenty more
You'll also find 12 midway games, 16 family fun rides and plenty of food options!
There is also a water park area with slides, a lazy river and a kiddie pool.
Atlantic Fun Park is open from May to September, making it the perfect summer destination.
#3 Busch Gardens Williamsburg
1 Busch Gardens Blvd, Williamsburg, VA 23185 | Full Details
If you're looking for a fun family day out, Busch Gardens Williamsburg is the perfect spot!
This amusement park in Virginia offers something for everyone, from roller coasters and water rides to shows and animal exhibits.
Some of the fun things you'll do are:
Ride the coasters like Griffon, Alpengeist, Loch Ness Monster, Tempesto and so many more
Attend live shows including live concerts, talent shows
See the animals including horses, sheep, wolvess, cattles, birds of prey and others
Visiti kid-friendly attractions
There's always something new to see and do at Busch Gardens Williamsburg.
In addition to its many rides and attractions, the park regularly hosts special events like concerts and holiday celebrations. And with over 30 species of animals on site, there's plenty of opportunity for learning and exploration.
RELATED: 7+ Water Parks in Northern Virginia
No matter what time of year you visit, Busch Gardens Williamsburg is sure to provide a memorable experience. So put on your sunscreen and get ready for some fun!
#4 Water Country USA
176 Water Country Pkwy, Williamsburg, VA 23185 | Website
The amusement park Water Country USA is located in Williamsburg, Virginia and is the mid-Atlantic's largest waterpark.
With a 1950s – 1960s surf theme, the park has a number of attractions, including a lazy river, wave pool, and several water slides. There are also several restaurants, live entertainment and shops on site.
The park is open from May to September and is very popular with families.
#5 Splashdown Waterpark
7500 Ben Lomond Park Rd, Manassas, VA 20109 | Full Details
There are so many great water parks in Northern Virginia and Splashdown Waterpark is definitely one of them!
Splashdown Waterpark has plenty of water activities to keep everyone entertained, from the thrilling water slides to the lazy river.
#6 Massanutten Resort: Indoor and Outdoor Water Park
1822 Resort Dr, Massanutten, VA 22840 | Website
Massanutten Resort is a perfect place to enjoy Virginia mountains.
The resort has both an indoor and outdoor water park.
The indoor water park is heated and great for those cold winter days. The outdoor water park is huge! It has a lazy river, several pools, and several slides.
There is also a section just for little kids.
READ NEXT: 51 Summer Fun Activities in DC, Maryland & Northern Virginia
The amusement park at Massanutten Resort is great for all ages.
The resort also has:
Miniature golf
Go-karts
An arcade
Rock wall
There is something for everyone in the family!
#7 Great Wolf Lodge
549 E Rochambeau Dr, Williamsburg, VA 23188 | Full Details
Located in Williamsburg, VA, Great Wolf Lodge is a popular destination for families, as it offers a variety of activities perfect for kids.
Some of the highlights of the park include a waterpark, arcade, and miniature 18-hole golf course.
Great Wolf Lodge is also home to several restaurants and a gift shop.
Great Wolf Lodge has many different rides and attractions for visitors to enjoy. The waterpark features several different water slides and a large pool area.
#8 Ocean Breeze Waterpark: Virginia Beach Outdoor Water Park
849 General Booth Blvd, Virginia Beach, VA 23451 | Website
Ocean Breeze Waterpark is an outdoor water park in Virginia Beach, Virginia.
It was founded in 1974 and is now one of the largest water parks on the East Coast.
The park features over 30 rides and attractions, including a lazy river, 6 high speed water slides, a children's play area, and a wave pool.
There are also several restaurants and shops located within the park.
Ocean Breeze has 20-acres of fun so there is something for the whole family.
There are also shaded areas for grabbing a bite from one of the park's several food options.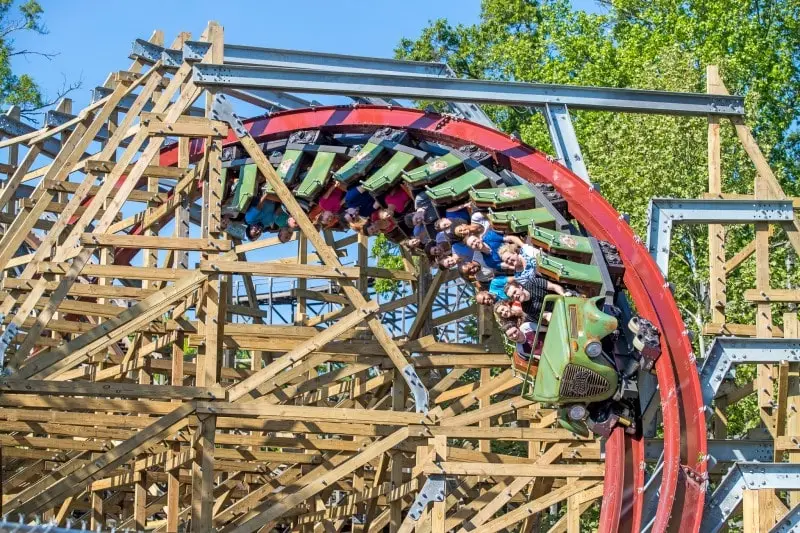 #9 Kings Dominion
16000 Theme Park Way, Doswell, VA 23047 | Website
Kings Dominion is a well-known amusement park located in Doswell, Virginia. The park features roller coasters, water rides, and other family attractions like:
Jungle X-Pedition
Blue Ridge Tollway
Eiffel Tower
Lazy River
Lighthouse Landing water park
Peanuts turnpike
And many, many, many more
Kings Dominion is also one of the country's largest amusement parks, with a total area of 520 acres.
READ: Is Kings Dominion Cashless?
Other attractions include several children's rides, a dozen midway games, and more than thirty food stands. The park has three main areas: Action Zone, International Village and Americana.
Frequently asked questions about Virginia Theme Parks & Amusement Parks
What are other things to do than Theme Parks & Amusement Parks that are worth visiting in Virginia?
There are so many museums, nature centers, waterparks, beaches and state parks worth visiting in Virginia.
When visitors think of amusement parks and theme parks in Virginia, the first few places that come to mind are Kings Dominion and Busch Gardens.
While both of those parks are definitely worth visiting, there are many other places in Virginia that offer fun and excitement for visitors of all ages.
One place that is definitely worth a visit is Luray Caverns. Carved out by rushing water over thousands of years, these caverns offer a unique look at underground scenery.
There are also a number of activities available at Luray Caverns, including boat rides, hikes, and cave tours.
But there is also a lot more to do in Luray than just the caverns.
Another place worth visiting is the Natural Bridge Wildlife Preserve. This preserve is home to a variety of animals, including:
Bears
Deer
Bobcats
Eagles
Visitors can take guided tours or hike the trails on their own to see the animals up close.
What are the best Virginia Theme Parks & Amusement Parks?
Some of the best Virginia amusement parks include Kings Dominion, Busch Gardens Williamsburg, and Water Country USA.
Kings Dominion is a large amusement park that has something for everyone. It has thrill rides, family rides, and children's rides.
Busch Gardens Williamsburg is a theme park with a European flair. It features several roller coasters and other thrill rides as well as live entertainment.
Water Country USA is a water park with slides, wave pools, and other attractions.
Map of Virginia Amusement Parks
Picking From the Best Virginia Amusement Parks
It's clear a lot of people love their amusement parks in Virginia! They are a great way to spend time with family and friends, and offer something for everyone.
Be sure to check out the different parks in the area and experience all they have to offer.
More Fun in Virginia: