Just north of Frederick is the Walkersville Southern Railroad. If you have a train lover or you're just introducing your little one(s) to trains, this is a great place to start to foster the appreciation of locomotives.
What's really fun for kids are the specialty trains like the Walkersville Southern Railroad Bunny Train which will definitely be something the kids will remember for a long time!
What to Expect
We arrived 20 minutes early and most of the three cars in operation were full. We found some comfy seats facing one another and danced to du wop classics like "Rockin' Robin" and "Lollipop" piped into the speakers.
Naturally the train was noisy due little ones anticipating the arrival of the great Easter Bunny.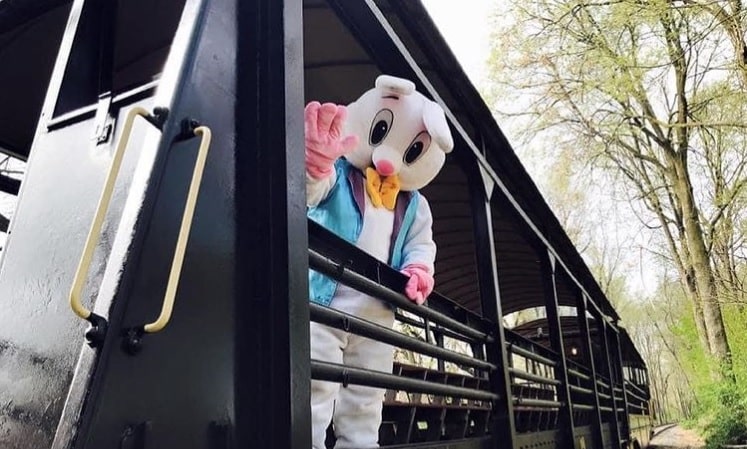 Moving at a graceful 10 miles per hour, there are lovely panoramic views of the Catoctin Mountains, an 1820 farmhouse peppered with cows, search for groundhogs, owls, red box and the infamous bunnies in the fields and receive a lesson in Civil War history.
We learned about the Monacacy River bridge which flooded in 1972 taking 23 years to rebuild. I was unable to find out why it took so long because the great Easter Bunny arrived in our train car.
The tall and friendly bunny stopped with each family, graciously sitting babies on his lap, giving hugs, high fives and posing for pictures. The Easter Bunny's assistant handed every child a rubber duck disguised with bunny ears.
The time spent with the bunny was brief, but no different than a mall experience.
Mary, the train conductor, narrated the first half of the tour highlighting the Monacacy River and the history of the small town of Walkersville. She was pleasant, even sitting down for a minute to talk to my eight year old. There is a lull at the halfway point of the trip.
After the bunny visits everyone, there is a 10 minute stop to check the brakes allowing the train operation to continue in reverse. At this point, my daughter became a bit bored because she was seeing the same sights as the ride up.
When to Go
Walkersville Southern Railroad's season officially opens in May and runs until October.
The Bunny Trains operate annually the week before and the week of Easter.
Tickets & Prices
Tickets for the Bunny train are $20 for coach for everyone ages 2 and up. Children under 2 are free if riding on a lap – otherwise they must have a ticket.
You can also reserve a private caboose for up to 20 riders for $450.00.
Tickets can be purchased on the Walkersville Southern Railroad website here.
Other Special Events
If the Easter bunny isn't your thing or if you'd like to visit again, there are several other special events including:
Parade of Engines
Steam Locomotives
Jesse James Day
Civil War Reenactors
Star Spangled Fireworks Special
Ghost Train
Teddy Bear Picnic
During select dates in November and December they also run the popular Santa Trains.
Walkersville Southern Railroad also hosts dinner trains the first Saturday of the month and mystery dinner trains the third Saturday of the month.
All the train rides are family-friendly and take place in the dining car.
If you are looking for a unique gift for mom, they have a Mother's Day dinner train ride departing May 9 at 6 pm.
Private children's birthday parties are available in the caboose.
Good to Know
Walkersville Southern Railroad runs a very limited schedule. Trains depart during the regular season from May through September at 11 a.m., 1:30 p.m., and 2 p.m. on Saturdays. In October, trains run on both Saturday and Sunday. Options include an open-air car, enclosed cars or caboose at a standard fee.
There are no bathrooms at the train station. The only bathrooms are port-a-potties next to the museum. However, if you are on a dining car excursion, bathrooms are available.
After your train ride, stop across the street to the train museum. While small, there is antique train equipment, a model train, tic-tac-toe train game and Thomas the Train pieces for kids to enjoy. There are Easter coloring sheets with crayons, and a few tables where you can enjoy complimentary fruit punch and cookies.
Getting There
Walkersvile Southern Railroad is located at 34 W Pennslyvania Ave., Walkersville, MD 21793.
There is plenty of parking on site for a full train of people.
Things to Do Nearby
Fountain Rock Park & Nature Center is such a fun place and there is also a playground on site.
Let the kids burn off some energy at the playground at Walkersville Community Park
Visit a ginormous train setup at the Roads and Rails Museum
Head just down the street to the Walkersville Public Library with a nice children's area
Visit the animals at the Catoctin Wildlife Preserve
Adventure Park USA is also close by!