If you're wondering where you can go to see wild horses near the Salt River in Arizona, here we'll cover everything you need to know before you go.
The drive alone is worth the visit as you are surrounded by the Sonoran Desert in Arizona. You'll see parts of the Goldfield Mountains, Stewart Mountain, and Red Mountain on your way to see the Salt River wild horses.
Where to See The Salt River Wild Horses
What's amazing about the Salt River is there are several places you can see the horse up close without having to go far out into the desert.
There are several recreations sites right along the river where you can park, walk down to the river and try your luck at seeing the horses.
Below you'll find tips for the best times to see the horses.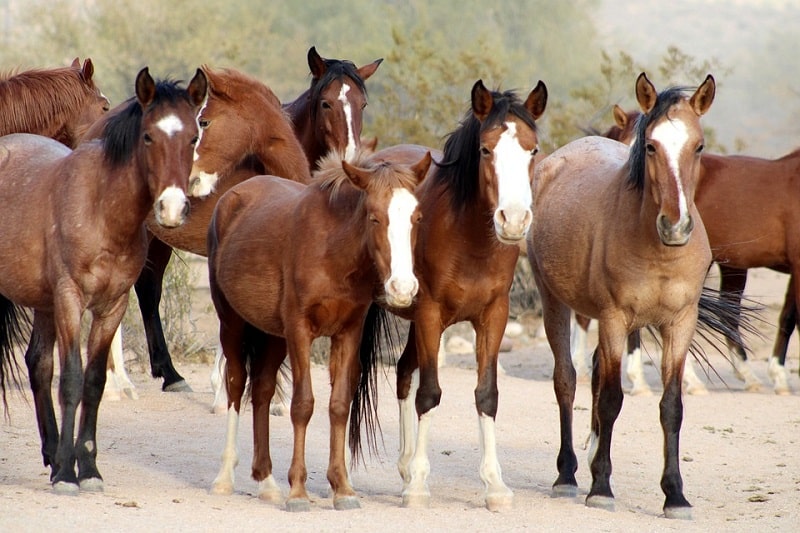 These are the 7 recreation sites where you can see the wild horses:
Granite Reef
Phon D Sutton
Coon Bluff
Blue Point
Pebble Beach
Saguaro Lake
Butcher Jones
These 7 recreation sites are all within 13 miles of each other, only taking 20 minutes to get from the first (Granite Reef) to the last (Butcher Jones).
MORE MESA FUN: 40+ Things to do in Mesa – Ultimate Fun Guide
Now there is an 8th place you can see the wild horses which is not located near these sites. And that is along SR-347 heading to (or out of) Maricopa, Arizona.
This area doesn't give provide you a place to stop and observe the horses. If you're lucky, you'll see them as you pass by.
Once you do spot the horses along the Salt River, you'll typically see a group together. As you continue to stay, more horses tend to come out and join them.
Plan on spending some time just observing them. It's amazing to listen to how they communicate with one another, roll in the water, run and splash, eat the plants at the shoreline and play.
Other Ways To Experience The Wild Horses
If you're a little more adventuresome, you can also see by kayaking the Salt River. Saguaro Lake Ranch, which as you can probably guess, is on the Saguaro Lake Recreation Site and offers kayak rentals (including a shuttle ride back to your car).
Another popular way is to tube the Salt River. This is available with Salt River Tubing from April or May (depending on weather) through September. If you go tubing, you'll want to go earlier in the morning to give yourself the best chances.
Mid-day weekend tours with lots of people have lesser chances of seeing the horses but you'll still have a great time tubing!
Map of Where to See Wild Horses on The Salt River
This map will show you all the locations listed in the previous section so you can see how nearby the different areas are.
So for example, if you visit Coon Bluff and don't see the horses, you can always go around the corner to the Phon D Sutton Recreation Site and try there.
When to Go
The horses have a rather large area to roam around the Tonto National Forest. They do, however, tend to have their times where they come down towards the water to give you the best chances to view them in their natural habitat.
The best time to see the horses is within 2 to 3 hours of either sunrise or sunset when the horses are most active.
They typically come down to the water to drink, eat and play in the water around that time.
How Many Horses Are There?
The Bureau of Land Management estimates there are about 500 horses who live along the Salt River.
What Else to See & Do
While you come to see the horses, there is more to keep your eye out for in the area!
The area is also a great place to see birds. You may see different hummingbirds, flycatchers, Lucy's warbler, hooded oiole, bluebird, mockinghird, robin, waxwing and more.
There are also eagles who nest in the area so you may spot them in the area as well. It's common for the south side of the Salt River to be closed from December thru June to give the Eagle's space to nest safely.
This is generally along the Bulldog Cliff's area but can happen in the Blue Point and Sheep's recreation areas as well.
Also common in these areas are a variety of animals including javelina, coyotes, deer, raccoons and others, however, those typically won't be around when you are there.
And of course there are a variety of lizards, snakes including the zebra-railed lizards and the western diamondback rattlesnake.
Passes & Prices
The Salt River is within the Tonto National Forest which has it's own fees. So in order to visit, you will need a recreation pass.
There are several types of recreational pass you can use:
Tonto Daily Pass
Tonto Discovery Pass
America the Beautiful Pass
Not all locations have passes on site. You can find passes at:
Pebble Beach
Coon Bluff
Phon D Sutton
Saguaro Lake
You can also purchase passes beforehand online here or at a retail vendor (see the full list of vendors here).
Sometimes the cost of pass is less at a retail vendor than it is on site so it can pay to plan ahead.
Tonto Discovery Passes and some America the Beautiful Passes are sold via the phone and shipped directly to you (no additional cost for shipping). You can also order online here.
A Tonto Daily Pass costs $8 at retails and $12 on site. If you purchase on site (credit card only), the cost is $12 and a receipt will print that expires in 24 hours.
When you purchase at a retailer, you will receive a hangtag where you can scratch off the day and time of your visit.
You can purchase the Tonto National Forest daily pass online here.
What to Bring
Blanket (and / or chairs depending on how much walking you plan to do)
Plenty of water
Snacks
Your best camera
Getting There
You'll find the recreational sites about 17 miles Northeast of Arizona.
From Northeast Mesa, on the 101 loop, drive north on Power Road. After a few miles, Power Road connects with Bush highway and turns east which leads you to the recreation sites.
You will see signs pointing to the different sites as you drive and get closer.
If you prefer to skip the highway, you can also drive North on Ellsworth Road (which will change to Usery Pass Road). After a few miles, it will connect with Bush Highway.
From Bush Highway, Pebble Beach, Saguaro Lake, Blue Ridge, and Water Users recreational sites will be on your right. Granite Reef, Coon Bluff and Phon D Sutton recreational sites will be on the left.
Good to Know Before You Go
Remember, the horses are not in a zoo. They are in the wild so where they will be at any given time can change and is completely up to them.
Please do NOT approach the horses or get too close. Respectfully watch and observe their natural behavior from at least 50 feet away.
If the horses come towards you, move to maintain the distance and allow them access to the water. This is their home, not yours
Never feed the wild horses. Stick around and you'll get a chance to see them eat what is naturally available to them.
Some places like Coon Bluff and Pebble Beach you may get lucky (if you go at the right time) and see the horses very close to where you parked without much walking. Other times you may need to walk the trail for a bit.
Bathrooms are available on site.
Please remember to take all trash you bring, back out with you.
The non-profit, Salt River Wild Horse Management Group, works to protect the wild horses in the area.

If you decide to bring your dog, keep them on a leash at all times and away from the horses
Frequently Asked Questions
When can you see wild horses at Salt River?
There are 7 recreation sites where you can see the wild horses: 1) Granite Reef, 2) Phon D Sutton, 3) Coon Bluff, 4) Blue Point, 5) Pebble Beach, 6) Saguaro Lake and 7) Butcher Jones

You can also see the wild horses while tubing, kayaking or paddleboarding down the Salt River with or without a tour.
How many wild horses are in the Salt River?
According to the Bureau of Land Management, there are about 500 horses living in the area along the Salt River.
While you may only see a single wild horse, often you will see a group with at least a handful of horses.
Can you see the wild horses without a tour?
Yes, you can absolutely see the Salt River wild horses without a tour if you prefer! If you have your own tubes, kayaks or paddleboards, you can float down the river and often you will see wild horses in or next to the river.
Go during non-busy times to give yourself the best chance of a sighting.
When is the best time of year to see the wild horses?
You can see the horses all year round. In the summer, it's best to go early morning and late afternoon as the horses tend to come out during the least hottest parts of the day to get a drink.
During other times of the year, many say to go during the same timeframes, however, I have personally had luck seeing the horses many times during the middle of the day.
Things to Do Near the Salt River