If you're an animal lover living in or visiting Northern Virginia that's looking for some great zoos in Northern VA, we've got you covered!
With a variety of zoos and petting farms in the area, there's no shortage of opportunities to get up close and personal with some of your favorite animals.
While there are some awesome zoos and places to see animals in Virginia, like the Metro Richmond Zoo, The Virginia Zoo, the Virginia Living Museum and the Virginia Aquarium and Marine Science Center in Virginia Beach, sometimes Richmond, Virginia Beach and Newport News are just too far to go!
That's why here I'll share all of the best zoos in Northern Virginia, as well as a few petting farms and animal preserves nearby.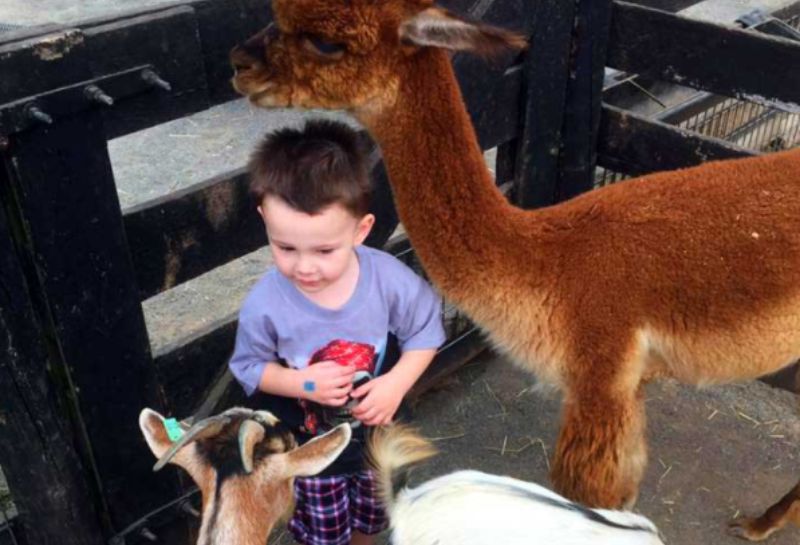 #1 Leesburg Animal Park
I19246 James Monroe Hwy, Leesburg, VA 20175
During my family's visit to Leesburg Animal Park, my family and I had a great time interacting with a variety of animals and learning more about conservation efforts.
The park is definitely a popular destination for families in Northern Virginia who are looking for a fun (and educational!) experience.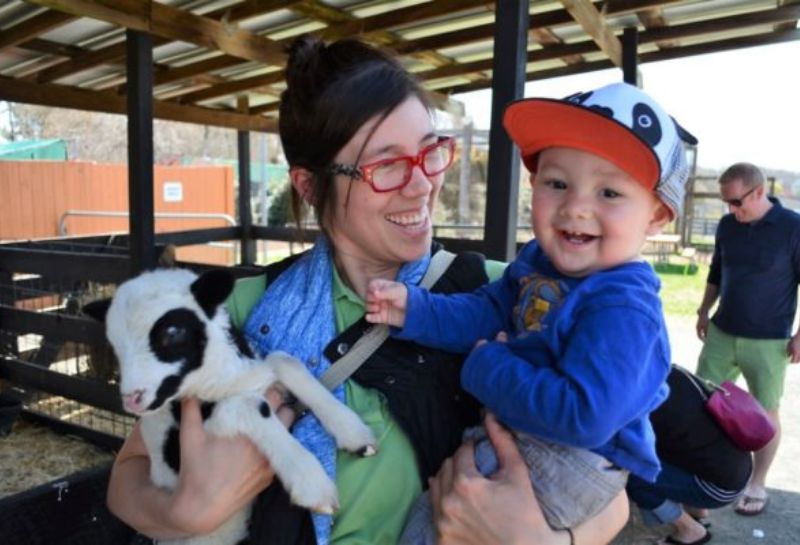 One of the best parts of the park is the interactive petting zoo, where kids can get up close and personal with pet goats, sheep, pigs, and even alpacas. The petting zoo area has feeding stations so you can feed the animals as well.
The park also offers pony rides, which are always a favorite activity for kids.
During our visit, we also took a wagon ride that gave me a chance to see all of the animals and learn more about them from the knowledgeable staff.
NEARBY FUN: 25 Things to Do in Leesburg: Ultimate Fun Guide
These wagon rides are offered multiple times a day, so there are plenty of opportunities to take one, although they are only offered seasonally so check before going if you want to make sure the rides are running.
They also offer Easter egg hunts in the spring and other special events throughout the year.
This is definitely the place to bring all your little animal lovers!
#2 NOVA Wild
1228 Hunter Mill Rd, Vienna, VA 22182
Located in Fairfax County, NOVA Wild (previously Roer's Zoofari and before that, Reston Zoo) has taken over the family zoo, an animal preserve like no other in the area.
Located in Vienna, we were thrilled at how many different types of exotic animals we got to see up close and personal.
As a visitor, you have the opportunity to see a wide variety of native ane exotic animals, including:
Foxes
Cheetahs (from sub-saharan Africa)
Sika deer
Owls
Bald eagles
Watusi
Emu & Rhea
Squirrel monkey
Pigs
And other wild animals
The safari tour was definitely the highlight of our visit.
During the 30-minute ride, we had the opportunity to feed and interact with many of the animals, including giraffes, zebras, and camels.
The tour guide was very knowledgeable and provided interesting information about each animal we encountered.
When you're done with the safari, there are also other parts of the park you can walk thru.
Another great part of the zoo was the petting zoo area. It was a perfect spot for families with young children, who could feed and pet the goats, sheep, and other farm animals.
I also noticed that pony rides and wagon rides were available for an additional fee, which would be a great way to experience the zoo from a different perspective.
I would highly recommend it for families looking for a fun, as well as an educational day trip, or for anyone looking for a special event venue.
#3 Frying Pan Farm Park
2739 West Ox Rd, Herndon, VA 20171
Frying Pan Farm Park is a unique destination that offers visitors a glimpse into the past.
Located in Herndon, Virginia, this park features a working farm that dates back to the 1930s.
The part of the park specifically for kids is called Kidwell Farm.
Visitors can see a variety of farm animals, including:
Cows
Pigs
Goats
Sheep
Horses
This is our absolute favorite place to visit in the spring as we all love to see the baby goats.
🐐 Make sure to watch for announcements about the births of baby animals every Spring so you can stop by and see them!
And I can't forget to mention that there is free admission! Yep, just pull up, park and enjoy the day at the farm.
#4 Cox Farms
15621 Braddock Rd, Centreville, VA 20120
We recently visited Cox Farms in Centreville, Virginia, and it's definitely a must-visit for families with kids. The farm offers a wide range of activities that are perfect for children of all ages.
For most of the year, you can only visit Cox Farms and all of it's amazing attractions during the Cox Farms Fall Festival.
Top Fall Attractions at Cox Farms

Wagon Rides | Stonehedge
Corn Maze | Hay Ride | Petting Zoo
Mine for Jems | Giant Slides
The rest of the year, you can only visit the Corner Market where they sell their produce and other delicious goodies.
One of the many highlights of the fall festival is the petting zoo area, where kids can interact with friendly farm animals like goats and llamas.
My kids loved feeding and petting the animals, and we even got to see some baby animals which was super cute.
Another fun activity we did was the wagon ride, which takes you around the farm and gives you a great view of the beautiful scenery.
We also had a blast navigating our way through the corn maze, which was challenging but fun. The Fall Festival is especially popular, with tons of fun activities like pumpkin picking, live music, and delicious food.
The Stone Hedge replica attraction has now been at Cox Farm for a number of years.
You can visit stone hedge from a shuttle at the on-site store during the fall festival events and there are limited access times during the Spring, Summer and Winter months.
Zoos Near Northern Virginia
While there are plenty of great zoos and petting farms in Northern Virginia, there are also some great options located just a short drive away.
Here are a few of the best zoos and animal preserves located near Northern Virginia:
#5 Smithsonian's National Zoo
3001 Connecticut Ave NW, Washington, DC 20008
Distance from NoVA: about 20 minutes
Located in Washington DC, the Smithsonian National Zoo is a great place, especially as admission is free (you do have to pay for parking though). The zoo is part of the Smithsonian Institution, the world's largest museum, education, and research complex.
With over 2,700 animals from 390 species, the zoo has plenty to see and learn about.
It's definitely a whole day adventure!
The zoo's conservation efforts are a highlight, as it is home to many endangered species.
Visitors can see giant pandas, red pandas, Sumatran tigers, African lions, and many other animals that are part of the zoo's breeding programs.
Some other attrcations that are fun for kids are:
The Good of the Hive Mural
Speedwwell Conservation Carousel ($)
Me and the Bee Playground
Squirt Zone
There is also a Kids' Farm, where children can learn about and interact with domestic animals such as goats, sheep, and alpacas.
You can expect to spend at least 2-3 hours here.
#7 Clark's Elioak Farm
10500 Clarksville Pike, Ellicott City, MD 21042
Distance from NoVA: about 60 minutes
We visited Clark's Elioak Farm recently and had a blast exploring all the fun activities they had to offer. It's a perfect destination for families with kids, located in Ellicott City, Maryland, just a short drive from Northern Virginia.
One highlight of our visit was definitely the petting zoo filled with adorable baby animals like lambs and goats.
It was so fun getting up close and personal with them, and the kids around me were absolutely delighted.
But that's not all – Clark's Elioak Farm also offers pony rides and wagon rides, which are both great ways to experience the farm. The wagon ride takes you around the entire farm and lets you see all the different areas, while the pony ride gives you a chance to ride around on horseback.
One of the most unique things about Clark's Elioak Farm is the themed areas you can explore. The Fairy Tale Forest is a must-visit for any Disney fan, with structures and characters from classic stories like Snow White and Cinderella.
READ NEXT: 21 Petting Zoos in Maryland (Farm & Exotic Animals)
The Enchanted Pine Tree Maze is also a lot of fun, and provides a challenge for visitors of all ages. There are 100 Enchanted Forest pieces there so it's definitely something you'll want to see.
Overall, we had an amazing time at Clark's Elioak Farm and would highly recommend it to anyone looking for a fun and unique family outing.
#7 Virginia Safari Park
229 Safari Ln, Natural Bridge, VA 24578
Distance from NoVA: about 3 hours
Virginia Safari Park is a totally different experience. This is a huge self-drive safari adventure park where you will see exotic animals roaming around as you drive through the park.
For a unique and thrilling experience, head to Virginia Safari Park in Natural Bridge. This 180-acre park allows visitors to drive through three miles of safari trails to see over 1,000 animals from six continents.
PETTING ZOO & MORE FUN: Great Country Farms in Bluemont has fun activities, farm life & a farm petting zoo
Some of the highlights include zebras, giraffes, camels, and bison, all of which (except for the zebras) can be fed with food purchased at the park.
Visitors can also take a wagon ride through the African Savannah exhibit, where they can see ostriches, antelopes, and other animals up close.
After the drive-thru safari, there is also a walk-through area with smaller animals, a petting zoo, and a gift shop.
Note: this place is not at all associated with the Natural Bridge Zoo who came under fire in the past years.
#8 Luray Zoo
1087 US-211, Luray, VA 22835
Distance from NoVA: about 90 minutes
Located right next to Luray Caverns, Luray Zoo is a non-profit rescue zoo that provides a home for animals that have been abandoned, abused, or neglected.
The kids love the entrance to the zoo as you walk into a crocodiles mouth and there is also a huge dinosaur out front.
The zoo has over 250 animals from 70 different species, including many exotic and endangered animals.
UP NEXT: 35 Best Things to Do in Luray Virginia: No Just Caverns
Visitors can see:
Big cats such as lions, tigers, and jaguars
Bears
Monkeys
Reptiles
Native birds
The zoo also has a petting zoo where visitors can feed and interact with farm animals such as goats, sheep, and chickens. The zoo's staff is knowledgeable and passionate which is always wonderful to see.
Note: While Luray Zoo used to offer a Discovery Tour, they don't currently offer any tours
#9 Catoctin Wildlife Preserve and Zoo
13019 Catoctin Furnace Rd, Thurmont, MD 21788
Distance from NoVA: about 60-90 minutes
Located in Thurmont, Maryland, just a short drive from Northern Virginia, the Catoctin Wildlife Preserve and Zoo is a must-visit to see animal friends.
With a variety of exotic and domestic animals on display, this hidden gem has lots of exotic animals to see.
At Catoctin Wildlife Preserve and Zoo, you'll have the opportunity to see over 300 animals from six continents, including a variety of exotic species you won't find anywhere else in the area.
From African lions and tigers to kangaroos and lemurs, you'll have the chance to get up close and personal with some of the world's most fascinating creatures.
They also offer some really neat looking animal encounter opportunities where you can even feed and interact with some of the animals under the supervision of trained professionals. While we haven't done this yet, we'd really like to when we go the next time.
In addition to the exotic animals, Catoctin Wildlife Preserve and Zoo is home to several native Virginia species, including black bears, red foxes, and bald eagles.
These animals serve as ambassadors for their wild counterparts, and the zoo staff work to educate visitors about the importance of conservation efforts to protect these animals and their habitats.
Visiting a Zoo in Northern VA
Northern Virginia and the surrounding area has a wealth of amazing zoos and animal parks, each offering a unique experience for visitors.
From the conservation efforts of the Smithsonian National Zoo to the drive-through adventure of Virginia Safari Park and the rescue mission of Luray Zoo, families can learn about and appreciate the beauty and diversity of the state's wildlife.
Don't miss out on the opportunity to create unforgettable memories and expand your knowledge of the natural world.