Purchasing an American Girl doll is an expensive investment.  So much so, that I refused to spend the $120 on the doll of the year, Grace Thomas.  I had already done a big party with my daughter's friends at another venue.  Luckily, Granny wanted to get her the first American Girl doll, so we collaborated and suggested that we should go to American Girl as a small celebration of her turning 8 years old.
While reservations for dining or parties at the American Girl Bistro are not required, I highly recommend them.  Being that it was spring break, I was glad I booked in advance.  After 1 p.m., the bistro was at max capacity.  I booked our group of three online.  Choose your location as Washington, DC.  From there, it's easy to select a day and time.  I checked the box indicating that this was our first visit.  There is a section where you can notify the bistro of food allergies or accessibility needs.  You can also email them with questions to [email protected].  A confirmation number is sent to your email with a reminder sent to you again a few days in advance.
READ NEXT: American Girl Bistro Tea: Teatime Fun
There is no need to arrive early at the bistro.  My party arrived 20 minutes early and after we were checked in, we were not seated until three minutes prior to our reservation time.  However, my daughter happily checked out the store and played with the displays to pass the time.  Since it was her birthday, both she and her doll received a birthday crown and sticker.  Her doll, Grace Thomas, joined us table side with her own "treat seat."   Have no fear if your darling doesn't have an American Girl doll.  There are plenty of loaner dolls on hand that look just like your daughter.  I saw about a dozen dolls longing for a table to join and I just loved that this was an option.
If you don't like the color pink, the American Girl Bistro is not the place for you.  Subtle shades of pink and mauve line the booths and emanate onto the table with a cheerful flower pot of pink, plastic Gerber daisies.  A little box with icebreakers called Table Talks is a great way of conversing with your friends.  The server will ask if it's your first time, make a big fuss and just be as sweet as pie.  It wasn't sugar sweet overload, but in a society where customer service lacks, American Girl gets 5 stars from this gal.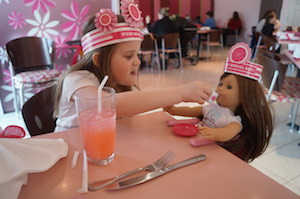 The menu looked so delicious we had a hard time deciding on one thing.  Of the over half dozen starters, we settled on the cheese quesadilla and the fancy fruit fondue which included fruit kabobs, mini blueberry muffins and flower pot filled with strawberry yogurt dip.  A dozen entrees featuring an array of kid-friendly items and healthy sandwiches.  It's rare that my mother and I do this, but we both picked the same appetizer and entrée.  The chicken Caesar salad was plentiful, while the birthday girl had her favorite chicken tenders with fries and accompanying fruit kabob.  Alongside our fancy glasses of pink lemonade, a pink ribbon cake with pink candles came out with a singing staff.  The half chocolate half vanilla cake tasted like it was just made and was accompanied by a daisy ice cream flowerpot.  I didn't even have to ask, but the server came with the boxed leftover cake in a bag.
We chose the Bistro Birthday Celebration package which includes an appetizer, entrée and non-alcoholic for each person, birthday cake and ice cream, and a keepsake for the birthday girl and her doll.  The birthday girl was told she could keep the hair bows which doubled as napkin holders and the doll-sized plastic cup and saucer.  Her doll also got a plastic pint-sized birthday balloon, gift bag and t-shirt.  While we didn't have a party with other children, this package includes a goody bag and doll tiara for each girl along with invitations and thank-you notes.  I found the price of $30 per girl and $20 per adult very reasonable.  The bill was $74.20 which included tax.  The Bistro Birthday Celebration is for ages 3 and up.
If you have the money to splurge, they also offer a Deluxe Birthday Celebration.  With a package price of $47 per girl and $37 for adult, the party is for groups of 6 to 14 people and recommended for girls ages 8 and up.  The celebration includes the same as the Bistro Birthday Celebration along with a private room and a craft.  You can add the Doll Hair Salon service as an add-on.
In addition to birthday parties, they host brunch, lunch, afternoon tea and dinner.  You can certainly have a birthday celebration and order a la carte.  The dessert menu include a birthday cake milkshake with sprinkles and a candle.
I could not get over the impeccable service we encountered at our first dining experience at American Girl.  The staff went out of their way to make my daughter feel so special, even when six other birthdays were taking place at the same time.  We will definitely be returning to experience the food and fun at the American Girl Bistro.
Photos by Kathleen Molloy.