It's cherry blossom time in DC and that means it's time to plot when and where to see the blooms!
The undisputed best way to see Peak Bloom is from the Tidal Basin at sunrise before the crowds arrive, but if waking at 4:00 am is not for you, we have you covered.
Here you'll find our list of the best places to see cherry blossoms in Washington DC, Maryland, and Virginia away from the crowds.
Whether or not you want to attend the Cherry Blossom Festival, you still have lots of other opportunities to see the cherry blossoms.
The National Park Service is forecasting the 2023 peak cherry blossoms to be March 22 – 25.
Many, but not all, places are free.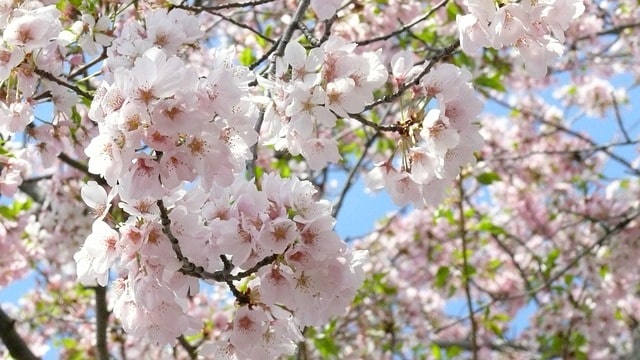 For example, Mount Vernon and Dumbarton Oaks both charge admission fees. Also bear in mind that the number of trees varies by location.
Some locations are full of blooms while others, like the Bishop's Garden and Brookside Gardens feature just one magnificent tree perfect for photos and seeing the delicate pink flowers up close.
Check out our list of where to find cherry blossoms away from the crowds of the Tidal Basin and find the perfect spot for viewing for your family.
Virginia : 5 Best Places to See Cherry Blossoms Without Crowds
#1 Founder's Park
Near Old Town Alexandria, Founder's Park overlooks the Potomac River and has nice benches along the way.
351 N Union St, Alexandria, VA 22314 | Website
#2 Mount Vernon
The Mount Vernon Trail is a path that runs along the Potomac River. It goes from Mount Vernon to Theodore Roosevelt Island. This is one of my family's favorite places to ride our bikes and see the Cherry Blossoms.
3200 Mount Vernon Memorial Hwy, Mt Vernon, VA 22121 | Website
#3 Meadowlark Gardens
The Meadowlark Botanical Gardens has 95-acres of lakes, walking trails and gardens to explore. And of course, 100+ cherry trees to enjoy!
9750 Meadowlark Gardens Ct, Vienna, VA 22182 | Website
Looking for buses from New York to Bethesda? Check these out here
#4 The George Washington Masonic Temple
This active Masonic temple is also home to some beautiful cherry trees. Take a guided tour to the top to get a great view and sit among the blossoms.
The Masonic Template is temporarily closed at this time.
101 Callahan Dr, Alexandria, VA 22301 | Website
#5 Ben Brenman Park
Ben Brenman Park is a beautiful park with lots of Cherry trees.
4800 Brenman Park Dr, Alexandria, VA 22304
Maryland: 6 Best Places to See Cherry Blossoms Without Crowds
#1 Green Park and Playground
The Green Park is actually located in a residential neighborhood (how lucky for those that live there!) in Gaithersburg. It's a nice green space that even has a playground for kids and a dog park. The Cherry trees wrap around the park.
#2 Brookside Gardens
Brookside Gardens already has so many fun things to do so adding in beautiful Cherry Blossoms only makes it that much better. They have 26 Cherry trees including Yoshino and Weeping Cherry.
This is the spot for close-up blossoms!
1800 Glenallan Ave, Wheaton, MD 20902 | Website
#3 Kenwood
Kenwood is a luxury residential area near the Washington DC border. If you missed seeing the Cherry blossoms at the Tidal Basin, the trees here tend to bloom just after (usually from a few days to a week) those at the Tidal Basin.
This is quite a spectacular place with 1,200 Yoshino trees lining the streets.
It's best not to drive through the neighborhood. There is no parking available once there. Landy St is the easiest option for parking.
#4 Glenview Mansion
Glenview Mansion is a historic home in Rockville quite popular as a wedding venue as the grounds are very beautiful. Here you'll find Kwanzan Cherry Blossoms. As soon as you turn in, the road leading in is lined with cherry blossom trees. And of course the formal gardens have rows of cherry blossoms.
603 Edmonston Dr, Rockville, MD 20851 | Website
#5 Druid Hill Park
If you're not located near DC, you don't have to make the trip just to see cherry blossoms. Druid Hill is a huge park in Baltimore with winding walking paths where Japanese Cherry Blossoms run along the sides. Bring a picnic, relax and take in the view!
900 Druid Park Lake Dr, Baltimore, MD 21217 | Website
Washington, DC: 12 Best Places to See Cherry Blossoms Without Crowds
#1 Kenilworth Park & Aquatic Gardens
At Kenilworth Park & Aquatic Gardens you'll find Cherry trees surrounding the parking area and even as you arrive at the visitor center. While you're there, this is a fun place to visit and take a stroll along the boardwalk too.
1550 Anacostia Ave NE, Washington, DC 20019 | Website
#2 Hains Point
Hains Point at East Potomact Park is where many people park to walk over to the Tidal Basin to view the Cherry Blossoms. At Hains Point you can see Cherry Blossoms that line the road but less crowds as most are focused on the Tidal Basin.
Keep an eye out for the Yoshino Cherry Blossoms which tend to blossom around the same time.
Located at the Southern tip of East Potomac Park between the main branch of the Potomac River and the Washington Channel in Southwest Washington, D.C.| Website
#3 Capitol Grounds
The US Capitol has lots of Cherry Blossom trees around the grounds. If you want to see the most available here, head to the Lower Senate Park where you'll find 100+ trees.
First St SE, Washington, DC 20004 | Website
#4 National Arboretum
The National Arboretum isn't known for it's Cherry Blossoms. Perhaps that's because they're not all together. As you roam the garden, you'll see the Cherry Blossoms sprinkled throughout.
3501 New York Ave NE, Washington, DC 20002 | Website
#5 Campus of American University
Did you know there are 25 Cherry trees at American University? You can see these near the School of International Service and the East Quad Building.
As the University was designated as an arboretum in 2003, you'll also see magnolias, dogwoods, and redbuds.
4400 Massachusetts Ave NW, Washington, DC 20016 | Website
While many places to see the blossoms are along the water, the National Cathedral gives you gothic architecture for a backdrop which is a nice change. Bishop's Garden has beautiful blossoms to take in.
3101 Wisconsin Ave NW, Washington, DC 20016 | Website
#7 Foxhill Village
In this quiet neighborhood, you can go for a nice walk or even a bike ride to see the Cherry Blossoms in bloom.
Foxhill Village is located just south of Glover Park along Reservoir Road on the north and Foxhall Road on the west and south sides.
#8 Dumbarton Oaks
Dumbarton Oaks is already a beautiful place to visit and Cherry Blossoms line the pathways here in Georgetown. While you're there you'll also be able to see magnolia trees and other spring flowers.
1703 32nd St NW, Washington, DC 20007 | Website
#9 Montrose Park
Montrose Park is adjacent to Dumbarton Oaks making it a second place you can see in Cherry Blossoms during the same outing. The park also has a children's play area to keep the kids entertained for a bit.
3052 R St NW, Washington, DC 20007 | Website
#10 Anacostia Park
Anacostia Park has 1,200 acres and all along the Anacostia River are beautiful Cherry Blossoms. This is a great place to combine with the Kenilworth Park & Aquatic Gardens to view the Cherry trees.
1900 Anacostia Dr, Washington, DC 20020 | Website
#11 MLK Memorial
The Martin Luther King Jr Memorial is the newest monuments so close to the Tidal Basin. The memorial is surrounding by Cherry Blossoms and is close to the water which makes it such a nice and scenic place to visit.
1964 Independence Ave SW, Washington, DC 20003 | Website
#12 Stanton Park
Staton Park has a statue of General Nathanael Greene and beautiful cherry trees surround the statue. This is located only a half mile from the Capitol and only takes 10 minutes to walk from Union Station. So if you want to escape the crowds, you can grab a bench and enjoy the blossoms.
6th street northeast &, 226 4th St NE, Washington, DC 20002 | Website
#13 Oxon Run Park
Oxon Run Park has the largest collection of Cherry Blossoms you're going to find in Washington, DC. with 200+ trees
1200 Mississippi Ave SE, Washington, DC 20032 | Website