Pick-your-own strawberry farms in Virginia are getting ready for you! It's the opportunity we wait for all year long and it's here!
Imagine spending the day with family and friends, enjoying the warm sun, all while you pick delicious, bright red strawberries right from the vine.
These 5 farms are the best options to pick your own strawberries in Virginia.
When picking strawberries, there are a few things to keep in mind:
Strawberries do not continue to ripen after they are picked so make sure to pick nice red ones
Pinch off the strawberry behind the cap instead of pulling on the plant
Picked strawberries should be stored in the refrigerator
Do not wash the strawberries until you are ready to eat them
Keep any non-service animals at home
Keep some strawberries just to eat, get more to freeze for later in the year and use some to make jams, jellies, pies or even homemade ice cream
#1 Yankey Farms
11806 Bristow Rd, Bristow, VA | 703-618-3782 | Website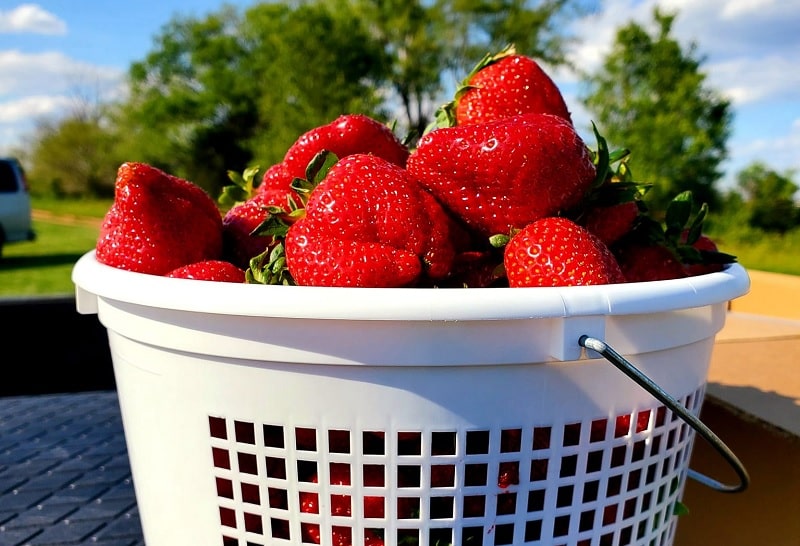 Yankey Farms has strawberries ripening to be picked the first week of May and they expect to have strawberries into early to mid-June!
Reservations are not needed unless you are visiting on a Saturday or Memorial Day Monday and must be made the day prior to your visit.
Yankey Farms provides containers for you to fill and strawberries are sold by volume.
38299 Hughesville Rd, Hamilton, VA 20158 | 540-751-1782 | Website
Picking strawberries at Wegmeyer Farm is a great way to spend the morning!
The strawberries are always so tasty and it's hard to pass up their freshly made donuts too.
You will need to make a reservation online before visiting and you will pay for the family. This includes the price of one large bucket. If you want an additional bucket, you can purchase another on-site.
The staff on-site is friendly and helpful.
Don't forget to take a family photo at the giant strawberry bucket!
Learn more about strawberry picking at Wegmeyer Farm >>
#3 Great Country Farms
34345 Snickersville Turnpike, Bluemont, VA 20135 | 540-554-2073 | Website
Great Country Farm's annual Strawberry Jubilee Festival separate this farm from the rest! Of course they have pick-your-own strawberries and then there is a whole festival of fun including:
Live music
Farm contests
Wagon rides
Food
Fun games
You can also decorate your own wagon or stroller for the parade.
The festival does require a paid admission and the strawberries are sold separately.
#4 Braehead Farm
1130 Tyler St, Fredericksburg, VA 22401 | Website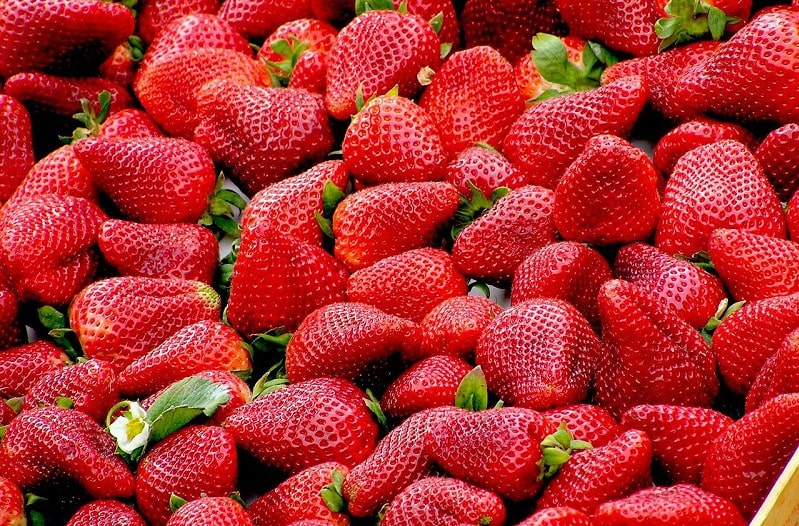 Braehead Farm has pick-your-own strawberries typically from late April and sometimes extending into June depending on the heat.
It's free to enter the farm and you only pay for the strawberries you pick. There is another section of the farm called The Family Playgrounds that has activities including farm animals, picnic areas, play equipment and a hay barn. This area does have an admission fee of $5 per person ages 3+).
Pre-weighed buckets are available to purchase for $1. You can also bring your own bucket but that will add to the weight.
1584 Snowden Rd, Delaplane, VA 20144 | Website
Hollin Farms opens their pick-your-own strawberry season in late May.
There is no admission to enter the farm and you only pay for the strawberries you pick.
The scenery around the farm is just beautiful and really makes for a relaxing time with nature all around. There are some farm animals on-site as well and Hollins is a great place to come pick fruits and vegetables throughout the year.