After last week's constant chaos, I finally got to take my child to the Pumpkin Playground at Burke Nursery and Garden Centre. Even though it rained last week, the ground was still wet and muddy in parts, even prompting Burke Garden Centre to post a "muddy conditions" sign. All the festivities are outside and you will definitely destroy any good clothes if worn here.
The Fall Festival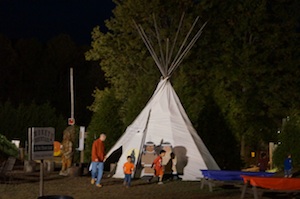 This was the first time we have been to a fall festival in the evening. With it being darker earlier in the evenings, I assumed it would be empty. It was quiet, but there were some families with young children and even an elementary aged birthday party. I have heard it can get hectic with mass crowds on the weekends so it was great to be able to move at our own pace under a moonlit sky.
My husband was drawn to the sound of Indian mummers in the giant teepee. There is a Native American storyteller that is present on weekdays, but the time varies. If that is something of interest, be sure to call ahead before your visit.
Things to do
While it was nice to see the farm animals, it is not a petting zoo. Don't expect to feed the animals or admire their cuteness up close. This disappointed my animal loving daughter who didn't pay much attention to the sheep, goats, peacock, turkey, or chickens. The only thing that she noticed was the snoring pig!
However, this was one time when she had more fun running around the grounds making sure she tested every slide. And yes, there are a lot of slides in the form of traditional metal and plastic versions, to ones you whizz down on a magic carpet. There are slides coming out of a cat's mouth, pumpkin, airplane, monster truck, enchanted castle, and pirate ship. I loved the yellow brick road backdrop leading to the Wizard of Oz slide. I was shocked because my usually nervous 6 year old mastered the Miner's Mountain Slide solo. Blackbeard's ship was everyone's favorite. If you board the Pearl be sure you say argh! The Western Town complete with general store and county jail has a trio of mechanical horses to ride. No coins needed, simply push the button. The wee ones can head to the OK Corral and ride on a pint-sized carousel.
For old school playground fun, take a whirl on the rainbow colored merry-go-round or sit in a swing (both bucket and standard swings are available). Be the conductor of the Iron Horse Railroad, roll yourself silly in the tumbling tubes, have a chat through the phone tubes or dig for gold in Money Mountain.
The Hayride
My husband and I found the spooky hayride to be the most enjoyable part of the outing. Be advised, the hayride does have some spooky scenes that are not appropriate for young children. There is a picture of a devil, gory images of flesh eaten skeletons, and creepy alien faces coming out of the trees. Mixed in are friendly cartoon characters and scarecrows. On our tractor-pulled hayride, a 4 year old boy was not scared while my 6 year old and another 7 year old girl found most of the ride to be fun, but scary. The ride lasts 10 minutes and I think the scare factor increased because we went when it was dark outside.
There are plenty of picnic tables and two covered seating areas. Concession include hot dogs, hamburgers, snacks like cotton candy, candy bars, cracker jacks, and beverages. We were not fans of the hot dogs, but I like that they offered veggie chips and healthy fruit snack options.
There are port-a-potties, only one of which had toilet paper during our evening visit. A makeshift diaper changing area hides behind a giant pumpkin. There is a hand washing sink next to the animal pens which is near the portable toiled.
The fee to enter is $9 per person weekdays and $12 on weekends with admission free for children under age 2. On Columbus Day the price is also $12. On your way out, pick up a complimentary, small pumpkin. On the weekends, the price increases because there are more activities like face painting and a pumpkin balloon house. There is an additional cost for weekend activities: $2 each for the moon bounce, wobble wagon and balloon animals, and $5 for a pony ride. While I understand an extra cost associated with a pony ride, I do find it absurd to charge extra for a moon bounce and wobble wagon. I also feel that because the majority of the activities are for children, that parents should pay less for admission.
The retail area has seasonal décor like scarecrows and a decent selection of various types of pumpkins, gourds and apples from the Shenandoah Valley. There are jams, dressings, and salsas, many of which are made by Burke Nursery. Don't forget to outfit your house this season with some colorful mums.
Burke Nursery and Garden Centre's Pumpkin Playground is held annually from October 1 to 31. They open daily at 9 am. The festival ends at 8 pm Monday-Thursday and Sunday, and at 9 pm on Friday and Saturday. Weekend activities are open from 10 am to 5 pm.
Bottom Line
While the fee to enter is pricey, it's good clean fun for young children (we recommend ages 8 and under), and, if you go on a weekday, you're more likely to enjoy a less crowded atmosphere. Immediately after departing, my child asked if we could go back again tomorrow!