Although there are tons of attractions, in Charleston proper, the biggest draws of the area are the plantations.
Charleston Plantations to Visit
There are several plantations to visit and they are conveniently located just minutes from each other. We visited 5 plantations:
Middleton Place
Magnolia Plantation
Drayton Hall
The Charleston Tea Plantation
Boone Hall
Middleton Place Plantation
Middleton Place, Drayton Hall, and Magnolia Plantation are conveniently located minutes away from each other.
This plantation is not only the first landscaped garden in North America but it has historical significance as well. In 1741, the plantation became the family seat of the Middletons.
Henry Middleton was a president of the First Continental Congress.  His son Arthur signed the Declaration of Independence, and Arthur's son Henry was the governor of South Carolina.  Henry's son William signed the Ordinance of Secession.
What's to See at Middleton Place
You could easily spend a full day at both of these plantations.
The beautiful, manicured, formal gardens of Middleton Place reflect the design principles of Andre Le Notre, who created Versailles.
There are a number of small secret gardens including one with classical statues of the four seasons. Other gardens include a sundial and rose garden and an octagonal sunken garden, formerly a bowling green.
Behind the estate are two bodies of water called Butterfly Lakes, reflecting their shapes. The garden is perfect and beautifully maintained from every vantage point.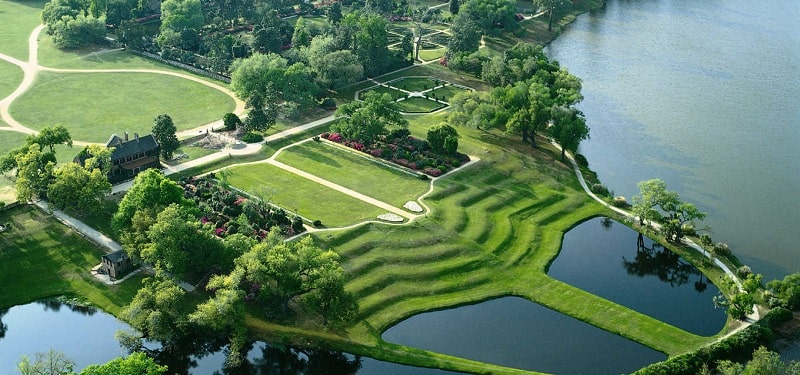 On the opposite side of the museum house are the Stable Yards. Here, guides in Colonial garb demonstrate crafts continuously. The Carriage House stores a collection of 19th century vehicles including a cart used by a governess and her charges.
The textile shop would be especially appealing to young children. We were able to feel the difference between wool, flax, cashmere, and Sea Island cotton.
The largest shed covered soap and candle making, corn grinding, and tanning deer hides. Eliza's House, a typical two-family slave building, tells the story of the slaves at Middleton.
The huge lawn in front of the house had a number of Gulf Coast sheep running around and scratching their backs with tree branches. Other farm animals include cashmere goats, cats, chickens, water buffalo, and a 300 lb. guinea hog.
An upscale Southern restaurant sits beside the mansion.  Near the entrance, the Garden Cafe, with a small selection of sandwiches and salads, as well as souvenirs, is a more affordable option. Next door is gift shop.
Middleton Place Tickets & Prices
Middle place has both general admission tickets as well as a number of packages. We'll break down your options here.
While tickets can be purchased online and in-person, online tickets are encouraged. In-person tickets will cost a few dollars more.
General admission tickets
Tickets for ages 14+ are $26, children ages 6 – 13 are $10 and children 5 and under are free.
What's Included
Your general admission tickets give you access to:
65 acres of formally landscaped gardens
Exhibits, displays, artisans and historic animal breeds in the stables
30-minute Guided Garden Tour (starting every hour from 10am – 3pm)
40-minute conversation on Beyond the Fields: Enslavement at Middleton Place (starts on the hour from 11am – 3pm)
30-minute guided tour to see the historic livestock breeds
Tour Add-Ons & Packages
Add-ons and packages are in-addition to general admission if you'd like to expand your experience at the plantations.
Add-ons include:
House Museum Tour is $15
Combination Package includes admission to Middleton Place, Edmondston-Alston House and House Museum Tour. Tickets are $30 for children (ages 6 – 13) and $49 for adults.
Ashley River House & Garden Tour provides access to Drayton Hall and Middleton Place (you can visit on different days). Tickets are $16 for children (ages 6 – 13) and $42 for adults.
Middleton Places from The Ashley includes admission to Middleton Place as well as a boat cruise and kayak tours. Tickets start at $40 for kids (ages 12 and under) and $60 for adults.
There is also a VIP Tour experience for $300 which is good for up to 4 guests as well as a personalized picnic.
Hours

Middleton Place is open everyday except for Christmas Day from 9:00am – 5:00pm.
It's important to note that different tours do start at specific times, typically starting at 10am or 11am with the last tour running at 3pm.
The restaurant is open daily from 11am – 3pm for lunch and re-opens from 6pm – 9pm for dinner.
Drayton Hall
Drayton Hall is an iconic 18th-century estate in between Middleton Place and Magnolia Plantations.
This plantation survived the Civil War intact and is considered the country's best example of Palladian-inspired architecture.
What's to See at Drayton Hall
Drayton Hall has no furnishings whatsoever so it is most interesting to architecture aficionados.
The Hall does include fine art and historical artifacts. Included in their collections are rare 18th century objects.
What's Included in General Admission
Included in admission are:
Landscaped areas
Drayton Hall's Museum Galleries
Guides are stationed in the galleries to answer any questions
African American cemetary
Self-guided nature walks
Museum shop
Lenhardt Garden
Caretaker's House
Drayton Hall Tickets & Prices
Both general admission tickets and packages are available.
Tickets are $24 for adults and $10 for children ages 7 – 15. Children under 6 and under are free.
An Interpreter-Lead House Tour is available which includes admission for $35. Advance registration is required.
The Ashley River House & Garden Tour Combination Tickets includes admission to Drayton Hall and Middleton Place for $42 (adults) and $16 per child. It is recommended to allot 5 hours to explore both places.
Hours
The Drayton Hall main house and landscaped exterior are open Wednesday through Monday from 9am to 3:30pm (the gate closes 1 hour prior to close) and is closed on Tuesdays.
Magnolia Plantation & Gardens
Established in 1685, it is the oldest public garden in the nation, opening in 1870 as a tourist attraction.
In contrast, to Middleton Place, which is formal and peaceful, this garden is far more random and the Plantation offers more variety.
The 60-acres of garden include a Biblical garden with many of the plants mentioned in the Old and New Testament. The most famous section of the garden has a beautiful pond with an iconic red bridge.
The garden is famous for its camellias and azaleas.
What's To See
The Magnolia Plantation is a lot of fun for kids!
The 45-minute train ride takes you around the entire property. You get a chance to see many alligators, even baby alligators depending the season. The man-made rookeries attracted great egrets, snowy egrets, and great blue herons.
The horticultural maze is also a lot of fun for kids.
The Conservatory, Petting Zoo and Nature Center (included with the basic admission) are worth exploring.
There you can pet goats and deer. Plus see other animals like a red fox, a blue and gold macaw, chickens, birds of prey, bunnies, turkeys, snakes, and hogs. And of course, a peacock that seems to pose for photos!
The Audubon Swamp Garden is right next to the parking lot.
You have to enter the code on your ticket for entry. Here you'll see similar grounds and wildlife to the train ride but you will have more time to see the alligators and birds up close.
As it is quite large, make sure to keep track of where you go so you don't get lost.
If you're hungry, you can always stop at The Peacock Cafe for a quite bite to eat.
There is so much to see at Magnolia Gardens include: the house, nature tram, children's garden, nature boat tour, From Slavery to Freedom, zoo & nature center, swamp gardens, Peacock Cafe, gift shop and bird walks.
Magnolia Plantation & Gardens Tickets & Prices
Tickets need to be purchased for each activity that you want to do so definitely decide what looks the most fun before you go as tickets can add up quick.
Note: if you do not get a chance to see everything on the same day you can use your ticket to return within 7-days.
Children 5 and under are free.
General admission is $29 for adults and $15 for kids ages 6-12. This gives you access to:
Magnolia's historic gardens along the Ashley River
The Children's Educational Garden
Petting zoo and nature center
Tropical Conservatory
Horticultural maze
The Peacock Cafe where you visit with Peacocks and mini-horses
Hiking and biking trails through the woods
Swamp
Former rice impoundments
Award-winning guided "From Slavery to Freedom" tour
The following experiences incur an additional fee of $10 for adult and child:
Historic house
45-minute nature tram tour
45-minute nature boat ride to explore the rice fields and see wildlife (including alligators)
45+ minute self-guided tour of Audubon Swamp to see a wide range of wildlife
The Charleston Tea Plantation
The Charleston Tea Plantation is America's only tea plantation and is 45-minutes from Charleston. But if you love tea…this is a place you have to go!
The tea gardens are quite amazing as you can see hundreds of thousands of tea bushes growing out over acres.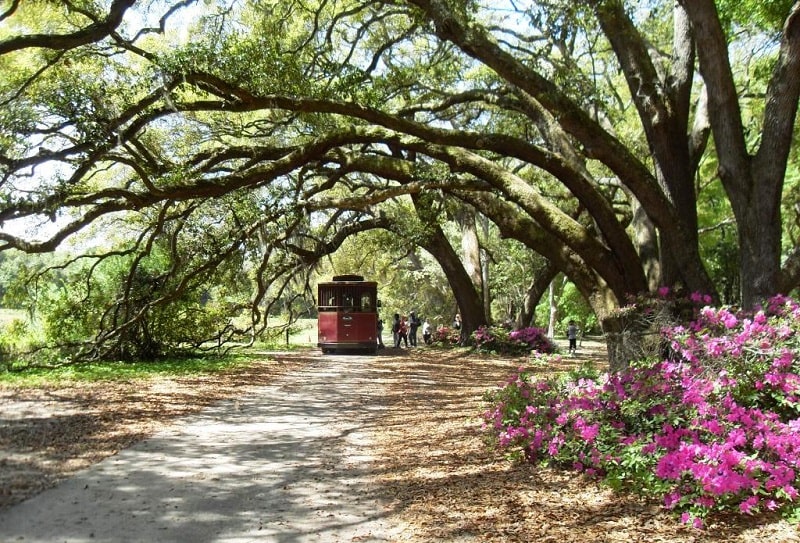 What's to See
Tea of course!
Here you can take a free self-guided factory tour, which lasts about 15 minutes and you'll learn about how tea is made.
Instead of skipping the gift shop, go in so you can taste free samples of different types of tea, hot and cold.
Don't forget to snap a picture alongside the garden's mascot, Waddy the Frog!
Charleston Tea Garden Tickets & Prices
It's actually free to visit the gardens! In fact, the only thing you will need to pay for is the Trolley Tour, if you even decide to take it of course.
The Trolley Tour costs $14 for ages 12+ and $7 for kids ages 4-11. Kids ages 3 and under ride free. The Trolley Tour is 35-40-minutes and stops at the Green art greenhouse
You can also take a factory tour which starts every 15 minutes. This tour is completely free and you'll learn all about how tea is made.
Boone Hall
Boone Hall is still a working farm. And it's most famous for its avenue of oaks, which inspired the entrance of Twelve Oaks (the home of Ashley Wilkes in the movie Gone with the Wind).
Boone Hall was also the site of the movie The Notebook and the television show North and South.
The plantation was established by Englishman Major John Boone in 1681.
What's To See
One of the highlights of your visit will be the shows in the Gullah Theater, an open air theater with benches.
You can get the day's show times when you buy your tickets in the Hospitality Center.
This one woman-show introduces you to the songs and culture of the Gullah, the African-Americans in South Carolina, Georgia, and the Sea Islands, and the history of the plantation.
This outdoor theater is at the far end of the slave cabins.
The additional eight original brick slave cabins now each feature a segment of African-American history. For example, one cabin focused on emancipation and another focused on archaeology.
Most of the cabins have short historical videos. In one cabin, a woman made sweet grass baskets.
In the Hospitality Center, you are also assigned a time for a 30-minute house tour. The house was rebuilt in 1936 but features many antiques like a 1780 Hepplewhite mahogany dining room table and a French 1850 mirror.
Only the first floor library, hall, dining room, and loggia are on view.
Finally, take the 30-40 minute motorized tractor tour around the property which is still operating as a pick-your-own farm for strawberries, blueberries, cucumbers, and more. This is so fun so don't miss this!
In the gardens, you can even see antique roses over 100 years old. The butterfly pavilion also lets you see butterflies in different stages fo their life cycle.
Produce is available at the nearby market. The Butterfly Cafe serves sandwiches and ice cream and acts as a small gift shop.
Boone Hall Tickets & Prices
General admission to this plantation is all inclusive, so all tours you'll find here are included.
Adults are $26, children ages 6-12 are $12 and children 5 and under are free. There is a small discount for senior, military and AAA members.
Getting to The Plantations
Which charleston south carolina plantations to Visit?
Each of the four plantations had its own unique personality. If time doesn't allow you to visit them all, here's how you may decide:
Middleton Place is peaceful, calm and great if you are interested in gardening or living history.
Magnolia Gardens is teeming with wildlife.
Boone Hall specializes in African-American History.
Drayton Hall is great for architecture aficionados.
The Charleston Tea Plantation satisfies your craving for tea.
What to Bring
When visiting the plantations, what you will need will vary depending on the time of year you visit. As your experience will primarily be outdoors, do consider what you will need such as:
Smartphone and headphones for an audio tour where available
Plenty of water
Snacks
Sunglasses
Sunscreen
Comfortable shoes
Good to Know Before You Go
Make sure to give yourself more time than you think you need. The plantations are huge and you can easily spend a day at each
Handicap parking and restrooms are available. Please check with the visitor center for the best wheelchair routes throughout the garden. Do note: garden paths are made of dirt
Parking is free
Approaching, touching or feeding animals in the stableyard is not permitted
Headphones can be purchased inexpensively on-site (Drayton Hall) if you wish to do the audio tour and do not have your own headphones
What's to Do Nearby
If you're looking to do more near the Charleston Plantations, these are some good options: