Visiting Croydon Creek Nature Center makes me feel nostalgic for when my younger daughter was a toddler and we'd go on the monthly Tiny Tot Walks.
Croydon Creek Nature Center is the only nature center owned and operated by the City of Rockville.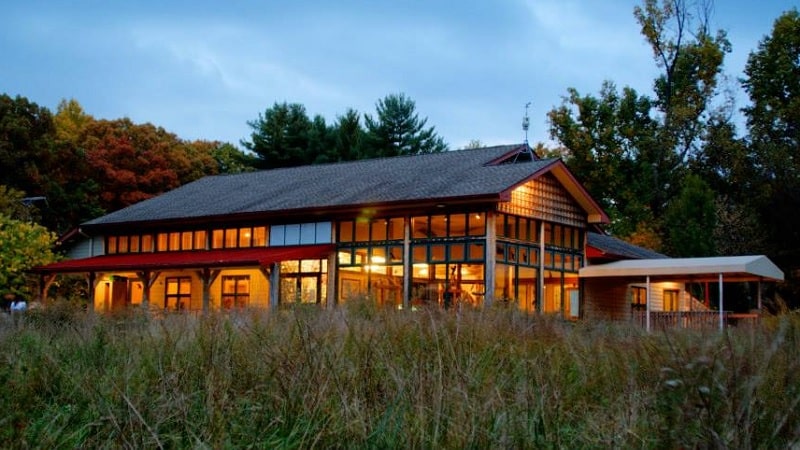 It is surrounded by the beautiful grounds of the 153-acre Rockville Civic Center Park.
Nature Center & Exhibits at Croydon Creek Nature Center
As you enter, you'll be struck by a beautiful mosaic mural called Gaea's Corner by local artist Deidre Saunder, which features local wildlife such as rabbits, fish, and butterflies.
On the floor are a variety of animal tracks. The lobby also has two terrapin tanks and a stuffed beaver.
Your first stop should be the information desk, where you can request free activity sheets for your child including scavenger hunts to the mural and the outside, plus word searches.
The Gift Shop
Behind the information desk is a small gift shop called Nature Notions with affordable nature-related merchandise, including Audubon plush birds, Dover activity books and Folkmanis puppets.
There are also nature journals, bookmarks, and nature guides.
Please Touch Area
Opposite the gift shop is the Please Touch Area, where children are invited to touch:
Animal furs
Skulls
Seeds
Other plant materials
At the window is a cross section of a tree. Its rings are labeled with significant dates in the history of Rockville.
The Discovery Room
The Discovery Room is a cheerful place, decorated with a wildlife mural. It's chock full of books, puzzles and games. The table in the center of the room has changeable granite plates for making rubbings.
There's an:
Observation beehive
Corn snakes
Tree frogs
Toads
A spotted salamander
A box turtle named Rover
Pumpkin, the common snapping turtle
The Exhibit Room
The Exhibit Room has changing exhibitions. On my recent visit, the exhibits were on recycling and easy art projects for kids.
The projects included a milk carton bird feeder and an origami frog. Handouts were available for each project, which was a nice touch.
This light filled room overlooking the bird feeders has rocking chairs, benches and binoculars for relaxed viewing of the outside.
Find out more about the birds by using the Maryland Birds computer program. The only animals in this room are terrapins and Wink, the eastern screech owl.
READ NEXT: 19 Nature Centers in the DC Area
Downstairs will hold little appeal for children.
There's a small library room with free handouts provided by Rockville and a variety of gardening and wildlife books for adults. There's also a small selection of kid's books.
The new permanent exhibition explores how to manage urban watersheds and how we can impact watershed health. Younger children will only be attracted to the stuffed fox, squirrel and skunk.
The centerpiece of the exhibition is a topological map of the area around the Nature Center.
Nature & Hiking Trails
A native plant garden encircles the Center and there's a new camp fire pit outside. The back porch looks out onto an open meadow. The weather station has a weather vane and sundial. There are three marked trails in the John G. Hayes Forest Preserve, none of which are stroller friendly.
Heritage Trail: .86 miles. You'll see the foundation of a two-story wood house that was built in the late 1800s and a fenced enclosure for deer. This trail follows the creek.
Woodland Trail: 1.10 miles. Look for local wildlife on this trail.
Overlook Trail: .17 miles. This trail offers a good view of the stream and the falls.
When visiting the Nature Center, you may also want to explore the vast grounds of the Rockville Civic Center Park.
Two playgrounds are a short walk across the parking lot and the immense lawn. Children will be drawn to the exterior of the Cottage, a playhouse built in 1938 (closed).
As parents, you will enjoy the Pinneberg-Rockville Friendship Garden, a beautiful terraced garden with a sundial and roses on the far side of the tennis courts.
Changing tables are available in both family restrooms on the first floor but not in the lower level restrooms. Water fountains are outside of the family restrooms.
There are no picnic tables at the Center but the campfire circle and back porch are pleasant places for lunch. Two picnic tables are down the drive near the tennis courts.
Events & Programs
Programs that promote understanding, appreciation and protection of our natural resources are offered for kids of different ages for nominal fee. There are also family programs that can be booked so that parents can be involved. To book you may visit their website or call 240-314-8770.
Hours & When to Go
Monday: Closed
Tuesday – Saturday: 9:00am – 5:00pm
Sunday: 1:00pm – 5:00pm
Fees
Admission to Croydon Creek Nature Center is free.
Birthday Parties
At Croydon Creek Nature Center, you can also do themed birthday parties from virtual to in-person for residents and non-residents.
Themes such as Virtual Classic Party, Classic Party, Feathers and Fur, Creek Crawl, and Geocaching Adventure can be booked year-round on Saturdays and Sundays.
Call Croydon Creek Nature Center at 240-314-8770 or visit their website for more information.
Getting There & Parking
The Croydon Creek Nature Center is located at 852 Avery Rd., Rockville, MD.
Parking for the center is ample.
Things to Do Nearby