Lancaster Central Market is the oldest running farmer's market in the United States and has been a fixture in the city for over 125 years.
Located in the heart of downtown Lancaster, the always popular market is a large market with a variety of vendors offering everything from fresh produce, meats, cheeses, baked goods and handmade crafts and souveniors.
Whether you're a local looking for the freshest ingredients for your next meal or a visitor in search of a unique shopping experience, the Lancaster Central Market is a must-see.
Here we'll take a closer look at what you can expect when visiting this iconic Lancaster landmark.
What's Available at The Market
The downside to the market is its popularity. It is extremely crowded and I would not recommend bringing small children during peak hours, let alone a stroller.
However, it is a fantastic way to get everything you need from vegetables, freshly made smoothies and tea to prepared meals, flowers and candles. No visit to Lancaster is complete without some Amish souvenirs.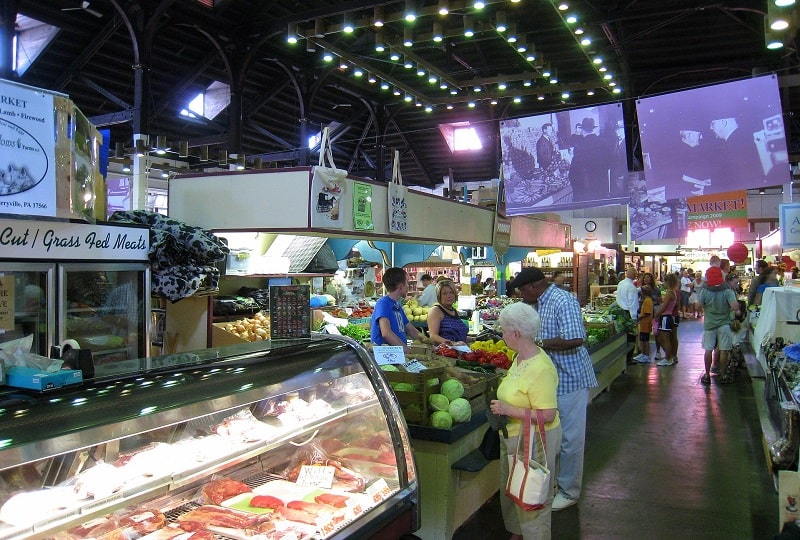 We picked up cookies from Wendy Jo's Homemade, strawberry jam from Amish Family Recipes, sweets from The Candy Stand and grilled hot dogs and Turkey Hill lemonade from Stoltzfus Fresh Meats.
While I mainly bought Amish brand products, various cultures are represented here like NY bagels, Italian cheeses, Greek cuisine and more.
Some of the other fun products you can expect to find are:
Bread, specialty cheeses & dairy
Candy & snacks
Coffee & tea
Crafts, collectibles & home decor
Ethnic food
Farm produce, flowers & garden
Meats, poultry & fish
Pastries, ice cream & chocolate
Soup, sandwiches & salad
Specialty grocery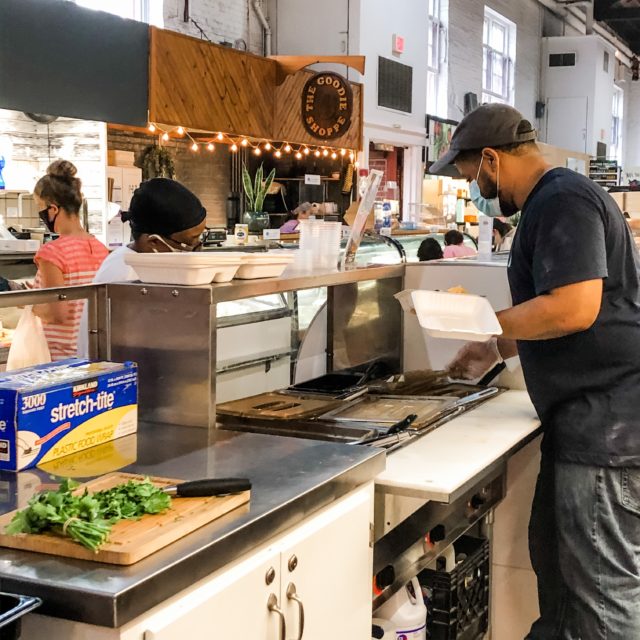 I would have loved to stroll along the market longer, but the crowds made it impossible to thoroughly enjoy the experience.
Vendors at The Market
There's way too many vendors to list here but what's really helpful is the complete, sortable directory of vendors if you want to see which vendors you'd like to visit before you go.
Some of our favorite, however, are:
Christina's Criollo
Central Market Juice Company
Groff's Vegetables
Guacamole Specialists
Havana Juice
Kom Essa
Maplehofe Dairy
Hours & When to Go
only three days a week. They operate Tuesdays and Fridays from 6 a.m. to 4 p.m. & Saturdays 6 a.m. to 2 p.m.
Getting There & Parking
The best parking is the Lancaster City Parking Authority garage at W. Orange & N. Prince St. Shoppers because it is located behind the building.
There are also lots on the first block of W. King and N. Prince Streets.
Metered street parking is difficult to secure.
Good to Know Before You Go
There is only one restroom with a changing station
It can get very busy in the market so come with some patience
Frequently Asked Questions
Where to park for Lancaster Central Market?
It's best to park in the Lancaster City Parking Authority Garage at W. Orange and N. Prince St.
What day is market day in Lancaster?
Central Market is open on Tuesdays, Fridays and Saturdays. These days are called 'Market Days' in Lancaster.
How many vendors does Lancaster Central Market have?
Lancaster Central Market has almost 70 local vendors which are open 3 days per week: Tuesdays, Fridays and Saturdays.
How old is Lancaster Central Market?
As of 2023, the market is 134 years old. It started in 1889.