Who says parents are the only ones that can fix things? Several craft and home improvement stores offer free DIY projects and workshops for kids. Here we'll break down all the fun to be had with Lowe's Kids Workshops, as well as those at Home Depot.
Prior to Covid, there were monthly in-person workshops at Lowes. Things have (hopefully) changed temporarily to offer free kids pick-up kits to go.
Lowe's Kids Workshops
Lowe's Kids Workshops is offered every on the second Saturday of every month (while supplies last).
You need to register online in advance as these workshops are popular and spaces do run out.
The DIY Kids' Kits
The kits come with everything you need to make the project, which changes every single month.
We've seen kits like:
Ice hockey table
Ice cream truck
Fire truck
Time capsule
Bird bungalo
Football goal
Basketball hoop
As you can see there is a variety and the kits change from month to month. In some months you'll also see notice a seasonal theme.
With the in-person workshops, there will be make-shift tables set-up for all the participants. You'll likely be sitting on upside down Lowe's buckets.
"We want to inspire the next generation of do-it-yourselfers and our Kids' Workshops offer a meaningful way for customers and their families to learn new skills together".

Scott Draher, a Vice President in Lowe's store operations
When you arrive, the employees hand out the kit and a kid's apron with a space to write their name. There will be the tools on site needed (in kid's sizes). The kit also comes with step-by-step instructions on what to do and the kids can put their own creative spin on the coloring.
Kids also receive a certificate of completion and a patch.
You'll need to watch the website for upcoming kid workshops at Lowe's. They don't announce the upcoming kit until the month prior.
All Lowe's kids workshops and kits are completely free. No other purchase is required either.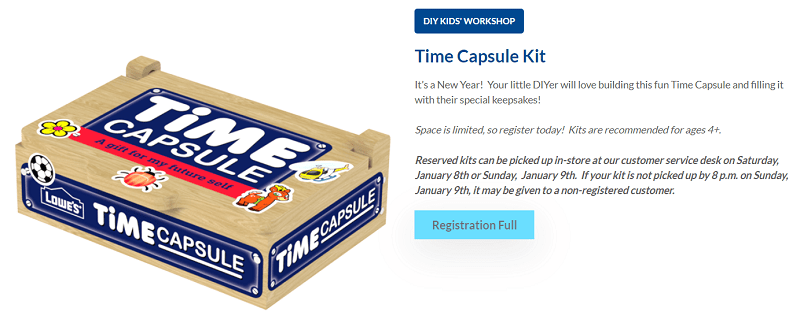 Register for the Lowe's Kids' Workshop Kit
To register for a Lowe's Kid's Workshop Kit:
Step 1: Visit Lowe's DIY site
Step 2: Under the DIY Kids' Workshops, click the 'Find an Event Near You' button
Step 3: Enter your zip code
Step 4: Select 'View Locations Events' button next to your desired location
Step 5: Click the registration button and enter your details
Home Depot Kids Workshops
Like Lowe's, The Home Depot Kids Workshops are offered the first Saturday of every month from 9am to 12pm.
The workshops are now available as take home kits and can be picked up at the store the first Saturday of every month between 9am and 12pm. The kids are completely free with no purchase required.
If you can't make it during the pick-up time or would prefer to order the kit, you can do so for $4.98. This gives you a week to pick-up the kit anytime in store.
You can also purchase more than 1 kit at a time which is nice if you want to have multiple projects or don't want to have to go back to the store for the next one.
The kit includes all the materials to make the project, a certificate, pin and Home Depot apron.
With the in-person kids' workshops,
Projects & Activities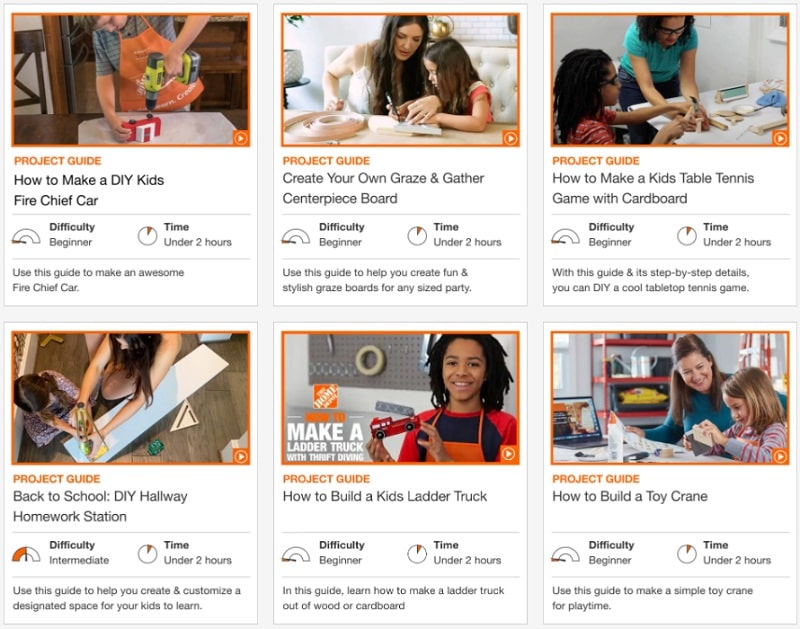 In addition to the take home kids's workshops kids, you can also find projects and activities available online. While you won't be given a kit, you will be given a material list and video instructions to help you and your child create a project together. There are many to choose from so this can keep you busy for awhile!
Good to Know
Safety goggles aren't needed but your child may enjoy wearing them anyway
The kits usually take about 20 – 30 minutes to complete
All the wood is pre-cut so you won't need to do any cutting yourself
Smaller kids will need help with some tasks like hammering small nails into plywood.
Wood glue, hammer, and/or screwdriver is not included in the kits.
The workshops are designed for ages 5 to 11
Registration does fill up quickly and as kits are limited, you'll want to watch ahead of time to make sure you can register.
Children are never too young to learn do-it-yourself skills. The Home Depot and Lowe's kids programs are offered in all stores. It's free and guaranteed fun!