For my family, attending the Home Depot Kids Workshop has become a monthly ritual.
Who says parents are the only ones that can fix things? We also recently discovered the Lowe's Kids Workshops as well. Both offer DIY projects and workshops for kids.
The workshops are fun, educational and interactive.
This is our idea of free fun and quality time with the family, where we get to learn with different kids of projects.
We headed to our local store on a saturday morning and had a fun time. Here we'll break down what you need to know and expect for Home Depot's Kids Workshops, as well as the Lowe's Kids Workshops.
For the past couple of years, my mother's day gifts have been from kids' workshops and I have always been surprised with the kinds of projects my kids were able to work on.
Last year, they made a mini flower garden, and the year before that, poolside birdhouse. All from the hands-on workshop they attended.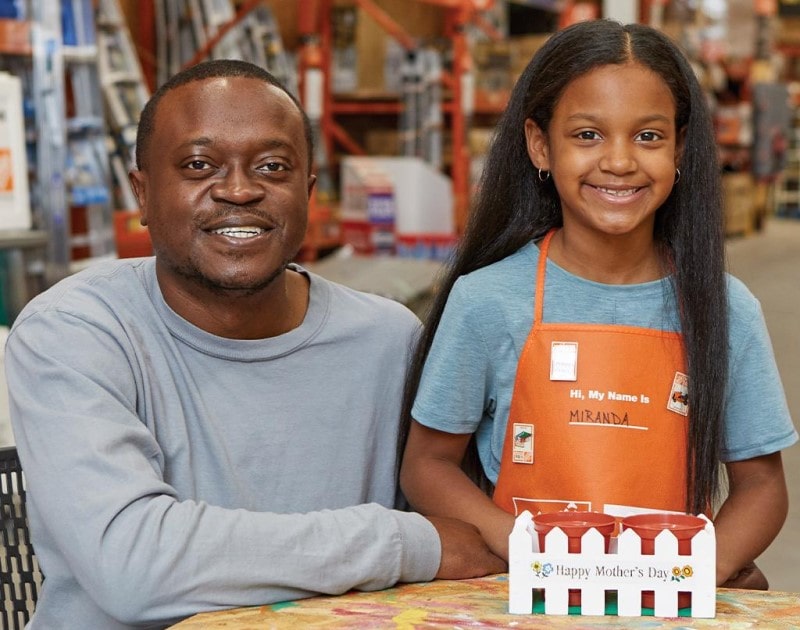 Home Depot's Free Kids Workshops
Like Lowe's, the free Home Depot Kids Workshops are offered on the first Saturday of the month from 9am to 12pm.
These workshops give kids a nice mix of skill-building from creativity, tool usage, safety and even seeing a project through from start to finish.
At the beginning of the workshop, each child is given to keep a:
Home Depot Associates' aprons (the bright orange apron of course!)
Commemorative pin / achievement pin for the project
The DIY kit
Certificate of completion
Every kid's workshop is different and there is a newly constructed project kit available each month so the kids never get bored of it.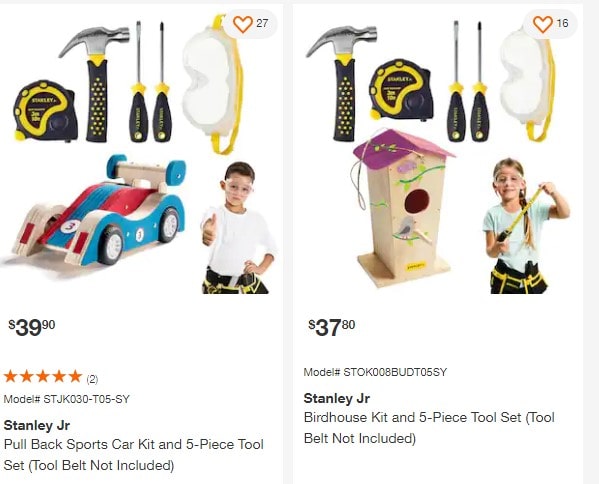 During Covid, the monthly projects were available as take home kits and luckily, they are no back in person!
This is a completely free in-store event on the first Saturday of every month and no purchase is required to participate.
It's important to note that kit's are available on a first come, first-served basis so if you go towards the end of the workshop, there may not be enough kits.
2023 Dates for Home Depot Kids Workshops
The Home Depot Kid's Workshops will be on the following Saturdays:
January 7 (Snowball game)
February 4 (Valentine's vase)
March 4 (Pinball game)
April 1 (Poolside birdhouse)
May 6th (Flower planter)
June 3 (Putting green)
July 1 (Fireworks bean bag toss)
August 5 (Treasure chest)
September 2
October 7
November 4
December 30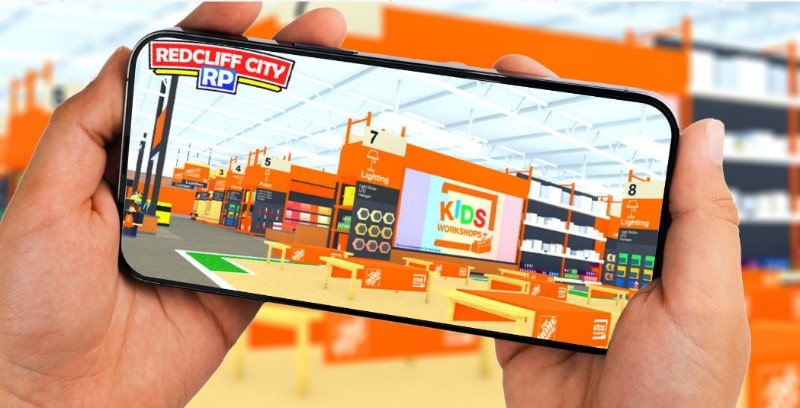 Home Depot's Virtual Kids Roblox Workshops
Home Depot Workshops now include a virtual workshop on Roblox. So if you can't make it to your local Home Depot or want to be able to participate more often, this is a good option.
This experience takes place in Roblox's Redcliff City and allows gamers to learn through collection materials in order to build projects.
When your gamer enters Redcliff City, they can find the Home Depot metaverse storefront and can choose from 3 projects:
A birdhouse (easy)
Mini flower garden (medium)
Small car (hard)
After selecting a project, kids will start a scavenger hunt to collect materials through the (virtual) aisles.
Tip: When kids attend an in-person Home Depot Kids' Workshop, they can pick-up a unique code that can be redeemed in Redcliff City.
Projects & Activities
In addition to the take home kids's workshops kits, you can also find projects and activities available online. While you won't be given a kit, you will be given a material list and video instructions to help you and your child create a project together. There are many to choose from so this can keep you busy for awhile!
Every single month they pick a brand new project for the kids so it's not repetitive. This also gives them a chance to use new tools and develop new skills.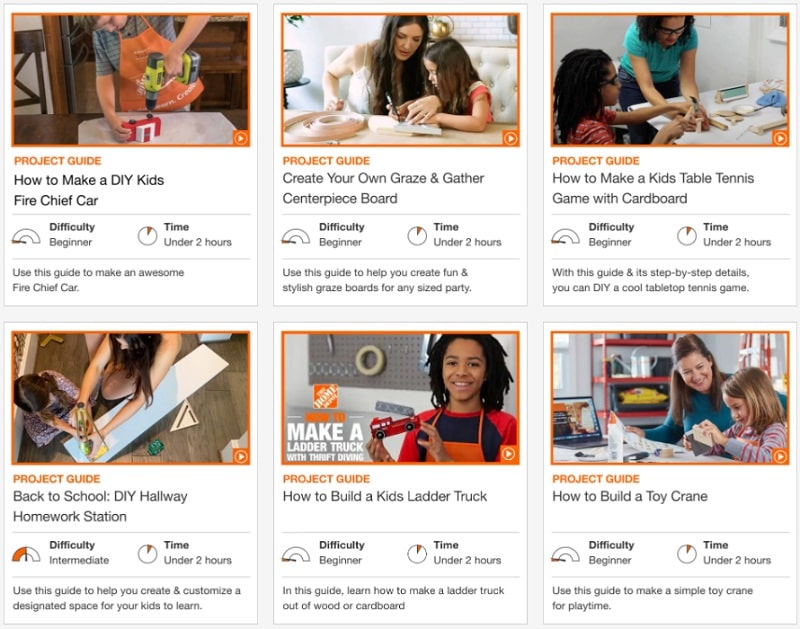 We've done a variety of projects so far including:
A small bird house
Pin ball game
Flower planter
Small car
Summer camper
Pencil desk organizer
Train ornament
And others
Purchasing a Kit
During Covid you could pick up or even purchase your own kit on the Home Depot website for about $5. That then gave you the flexibility to pick-up the kit anytime in store.
These days, they don't have the kits available for sale, however, if you search their website for 'kids kits,' they do have a handful of options that range from $25 to $40. Those also include tools for them to keep.
While they do give the kids a Home Depot apron, I like to have my kids where clothes I don't care about much in case they get them dirty or painted on.
Registering for the Workshops
While the workshops are held the first Saturday of each month, some locations do want you to register in advance so it's best to visit the Home Depot's website to check.
It's also a good idea to show up earlier to make sure that there are enough kits. Once we had a new Home Depot built close to our house and we showed up 30-minutes after opening and the kits were all gone.
Luckily, they at least gave us some prior kits for the kids to take home and build. This is the only time we experienced problems with their inventory levels and I'm guessing it's because they were new and unsure how many families would attend the first month.
Lowe's Kids Workshops
Lowe's Kids Workshops are offered every on the second Saturday of every month (while supplies last).
You need to register online in advance as these workshops are popular and spaces do run out.
The kits come with everything you need to make the project, which changes every single month.
We've seen kits like:
Ice hockey table
Ice cream truck
Fire truck
Time capsule
Bird bungalo
Football goal
Basketball hoop
As you can see there is a variety and the kits change from month to month. In some months you'll also see notice a seasonal theme.
With the in-person workshops, there will be make-shift tables set-up for all the participants. You'll likely be sitting on upside down Lowe's buckets.
"We want to inspire the next generation of do-it-yourselfers and our Kids' Workshops offer a meaningful way for customers and their families to learn new skills together".

Scott Draher, a Vice President in Lowe's store operations
When you arrive, the employees hand out the kit and a kid's apron with a space to write their name. There will be the tools on site needed (in kid's sizes). The kit also comes with step-by-step instructions on what to do and the kids can put their own creative spin on the coloring.
Kids also receive a certificate of completion and a patch.
You'll need to watch the website for upcoming kid workshops at Lowe's.
All Lowe's kids workshops and kits are completely free. No other purchase is required either.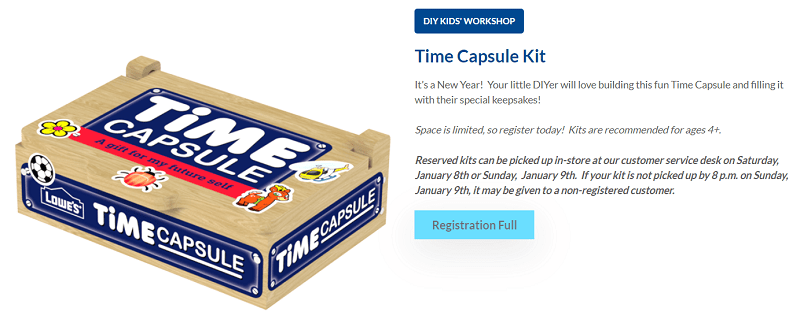 2023 Dates for Lowe's Kids Workshops
January 21 (Snowman picture frame)
February 11 (Swan note holder)
March 18 (Cardinal garden ornament)
April 1 (Build a bunny planeter)
May 20 (Spring flower pop-up toy)
June 10 (Lawn mower photo holder)
July 15 (Tic-tac-toe grill game)
August 12 (Rolling toy pick-up truck)
September 16 (Home team football card holder)
October 21 (Fire truck toy)
November 18 (Thanksgiving turkey photo holder)
December 16 (Holiday delivery truck)
January 20 (2024) (My first DIY toolbox)
Registering for the Lowe's Kids' Workshops
To register for a Lowe's Kid's Workshop Kit:
Step 1: Visit the Lowe's website
Step 2: Under 'Featured Workshops', click on the upcoming workshop
Step 3: Check to see if the right location is listed or select 'Change Store' to select a new location
Step 4: Sign-in to (or create an) account
Step 5: Click the registration button and enter your details
Note: registration opens approximately 30-days prior. Check the workshop registration page for the exact date
If you can't make it during the pick-up time or would prefer to order the kit, you can do so for $4.98. This gives you a week to pick-up the kit anytime in store.
You can also purchase more than 1 kit at a time which is nice if you want to have multiple projects or don't want to have to go back to the store for the next one.
The kit includes all the materials to make the project, a certificate, pin and Home Depot apron.
Frequently Asked Questions
What age are Home Depot kids workshops for?
Home Depot kids workshops are meant for the younger kids typically between the ages of 5 and 12. I think kids as young as 3 will enjoy it, although they will definitely need more of your help. Most teens will not want to participate.
What age do kids go to Lowes workshops?
Lowe's workshops are also meant for the younger crowd about
Do you have to register for Home Depot kids workshops?
You do need to register in advance for the Home Depot kids workshops. Registering takes less than 1 minute to do and will help ensure there is a kit available for you.
Is this a drop off event?
No, kids must be supervised by a parent or guardian at all times at both the Home Depot and Lowe's kids workshops.
Good to Know
Safety goggles aren't needed but your child may enjoy wearing them anyway
The kits usually take about 20 – 30 minutes to complete
All the wood is pre-cut so you won't need to do any cutting yourself
Smaller kids will need help with some tasks like hammering small nails into plywood.
Wood glue, hammer, and/or screwdriver is not included in the kits.
The workshops are designed for ages 5 to 12
Registration does fill up quickly and as kits are limited, you'll want to watch ahead of time to make sure you can register
This can be a really fun way to get a little one-on-one time with your child while doing something fun (and free!) together.
Children are never too young to learn do-it-yourself skills. The Home Depot and Lowe's kids programs are offered in all stores. It's free and guaranteed fun!
Thanks to these Home Depot and Lowe's Kids Workshops, I have the youngest generation of DIYers in my family.