While Northern VA may not be the heart of the first drive-in movie theater (Camden, NJ is), we were pleasantly surprised by a fun, free family event in the Centreville area.
Throughout the summer, Starlight Cinema features several drive-in films to enjoy from the comfort of your own car, blankets or chairs.
Starlight Cinema is part of the Fairfax County Park Authority Summer Entertainment Series. Simply tune your radio in and get ready for a show on two larger than life big screens!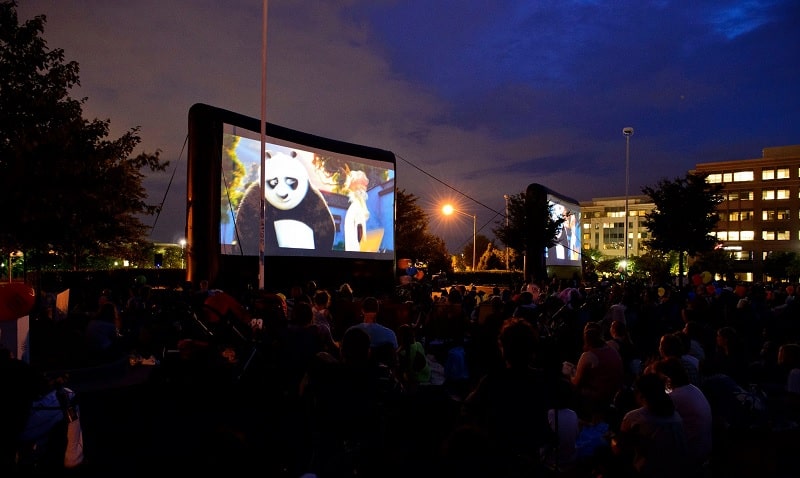 What to Expect
Admission to the Starlight Cinema drive-in movies is completely free!
The feature presentation begins at dark so if you have little ones, the games are a perfect way to burn off their energy.
Musical numbers, tic tac toe, and corn hole all caught the attention of my little one.
There were plenty of people in line but the wait went quickly. They also offered a face painting and a temporary tattoo station for the kids to indulge in as they waited for the feature presentation to begin.
Two bounce houses were set up and monitored by staff.
2022 Schedule of Movies & Shows
August 6:
Movie: Luca
Children's Show: The Great Zucchini
August 13:
Movie: Encanto
Children's Show: Marsha and the Positrons
RELATED: 100 Things to Do With Kids in Northern VA
August 20:
Movie: Sing 2
Children's Show: Rocknoceros
August 27:
Movie: 'The Mitchells vs. The Machines '
Children's Show: The Uncle Devin Show
When to Arrive
Arrive early because we drove in 15 minutes after the gates opened and it was already 75% full. SUV's and vans will be directed to park in the back so keep that in mind for viewing purposes.
We were in the last row and had a fairly blocked view of the big screens. Most people brought chairs, blankets and towels to sit on near the front of the lot.
NEXT: 30+ Northern Virginia Farmer's Markets: Complete List by City
Gates open at 6pm to so you'll have time to find a good spot and get set up. While the movie doesn't start until dark, there is a pre-movie children's show that starts at 7pm so it's worth getting there early if you can.
What to Bring
Keep in mind the drive-in movies are hosted in a parking lot so if you don't plan on watching from your car, you'll want to bring a thicker blanket, pads or chairs to sit on.
There are some cheap and reasonably priced food options that are available, however, if you'd prefer to skip that, definitely back dinner and / or some snacks to enjoy during the movie.
Things to Note
There is a first aid table on site.
Several portable toilets are available towards the back of the lot.
The evening that we attended became very crowded. Dress your children in bright colored clothing so you can locate them easily. Also, come up with a plan on where to meet if you do get lost or separated.
Getting There
The address for the event is 5860 Trinity Parkway, Centreville, VA, 20120
The drive-in movie area is located off of Trinity Parkway close to Lifetime Fitness Center. If you have been over to the Centreville Farmer's Market, the drive-in is set up across the street.
A Drive-In Movie Experience
Starlight Cinemas is an affordable evening out for the whole family. Listen to live music before the show begins, hang out with your friends and family and get ready to take a step back in time at a drive-in movie.