Did you know the UniverSoul Circus is coming to town and there's no way we're going to miss it!
Do you miss the thrill of watching a circus show? Do you long for the days you could marvel at the fantastic acrobats, and clowns under the big top? If so, you're not alone.
If you think that the circus culture is dead, think again. It's true that some of the most iconic circus names, such as Ringling Bros. and Barnum & Bailey, have closed their curtains for good after a 146-year run in 2017.
Maybe it's because the entertainment tastes have moved away from traditional circuses, towards more theatrical circus entertainment focusing on acrobatics, such as the global phenomenon Cirque du Soleil.
But what if you want to enjoy the same traditional circus with a twist? That's when UniverSoul Circus comes into the picture!
Now in its 30th season, UniverSoul Circus feels like a traditional circus in some ways, compared to a troupe like Cirque du Soleil with its avant-garde directors and themed narratives.
UniverSoul has a ringmaster and clowns and has an intimate feel to it, as if it's the late 1800s and an itinerant family of performers has pulled into your prairie town to entertain you with acrobatic feats.
So don't miss this opportunity to see one of the coolest shows on earth. They have an upcoming show in National Harbor, MD, from June 30.
What to Expect
UniverSoul Circus is an extraordinary show that guarantees a fantastic time for everyone, especially families. The energy from the crowd and performers is simply unmatched, creating a lively and enjoyable atmosphere.
One of the highlights of the UniverSoul Circus is the incredible crowd participation, involving both kids and adults. It's a joy to see everyone getting involved and having a great time together.
What sets UniverSoul Circus apart is its focus on entertainment and laughter, with minimal emphasis on animal acts.
As a huge animal lover, I appreciate this approach and highly recommend the show to families.
It's a refreshing experience that encourages positivity, especially for kids. I particularly loved the show's ending, where they brought out the entire cast with their flags, creating a truly awe-inspiring moment. It left me feeling amazed and grateful.
More than any other circus I've been to, UniverSoul felt like a community event – with the added bonus of athletic virtuosity and death-defying feats.
The Big Top wasn't too big; everyone had a good view of the ring. In the end, all the performers gather for a rousing gospel number (which, I have to admit, was a bit of a surprise since I hadn't realized that that's what the soul in UniverSoul referred to).
Most of all, the diversity of the performers was inspiring – their strength and daring should spark a lot of dreams.
What's to See & Do
UniverSoul feels wholly modern and different: a high-energy urban circus plus Caribbean Carnival plus tent revival. The ringmaster is from South Africa, where he started performing as an acrobat and a contortionist at the age of four.
He joined UniverSoul Circus at the age of eleven and has since become a multi-talented entertainer who can:
dance
sing
rap
& make people laugh
He is the heart and soul of the show, leading the audience through a journey of music, culture, and fun.
The number of performers in UniverSoul Circus varies depending on the location and the season, but it usually ranges from 50 to 75 performers from different countries and backgrounds.
The circus features 12 acts that showcase circus arts, theater, and music from urban pop culture worldwide. Here are some of the highlights:
The Bone Breakers
A contortionist performance by four young men from Conakry, Guinea, in West Africa.
They can bend, twist, and distort their bodies in extreme ways that seem to defy the limits of human anatomy. They also incorporate music, dance, and humor into their act, making it a fun and interactive experience for the audience.
They have been part of the UniverSoul Circus since 2017 and have amazed audiences with their jaw-dropping skills.
Motorcycle Globe of Death
Also known as the Globe of Steel, as the word 'death' was not seen as family-friendly.
The act involves riders zooming around inside a 16-foot-wide steel sphere at high speeds, performing stunts and tricks while avoiding crashing into each other. The act is a classic circus thrill that has a century-long history and has evolved with the motorcycle itself.
The current record for the most riders in the globe simultaneously is seven, which has been achieved by two different troupes, including the Torres family, who perform in the UniverSoul Circus.
Clown Crew
The Clown Crew is one of the most popular acts in the UniverSoul Circus, as they keep the audience entertained with their jokes and antics throughout the show. They also interact with the other performers and the ringmaster, creating a fun and engaging atmosphere. They are not only funny but also talented and creative.
The Clown Crew is a group of three comedians who perform in the UniverSoul Circus. They are:
Fresh the Clownsss: a hip-hop clown from Detroit, Michigan, who wears colorful wigs, face paint, and sneakers. He is known for the viral dance videos and catchy slogan, "We Lit." He also has a rap song called "Clown Walk" that he performs in the circus.
Zeke: a veteran clown from Atlanta, Georgia, who has been with the UniverSoul Circus since 2005. He is known for his funny costumes, silly props, and audience participation. He also has a signature dance move called "The Zeke."
Onionhead: a clown from Brazil who joined the UniverSoul Circus in 2017. He is known for his witty banter, social commentary, and positive messages. He also has a unique hairstyle that resembles an onion.
The Caribbean Dancers
Hailing from Trinidad and Tobago, this talented group, also known as the Caribbean Dynasty, brings the rich culture and rhythm of the Caribbean to life.
Decked out in colorful costumes that reflect the vibrancy of their homeland, the Caribbean Dancers captivate audiences with their high-energy performances.
They sway, twirl, and groove to the infectious beats of soca, reggae, and calypso music, creating an irresistible party atmosphere under the big top.
One of the most mesmerizing moments of their act is the limbo dance. With each passing moment, the dancers showcase their agility and flexibility as they gracefully bend their bodies under a fiery bar, gradually lowered.
This captivating display highlights their incredible talent and pays homage to the national dance of the Caribbean.
The Ethiopian Foot Jugglers
This group of talented acrobats from Ethiopia, also known as Circus Abyssinia, will leave you in awe with their jaw-dropping performance.
Inspired by the remarkable journey of Derartu Tulu, the first African woman to win an Olympic gold medal, these acrobats have taken foot juggling to a whole new level.
Imagine lying on your back and effortlessly juggling various objects with your feet. That's exactly what the Ethiopian Foot Jugglers do!
Balls
Hats
Umbrellas
Chairs
– you name it, they can juggle it with their feet.
Their coordination, balance, and precision are simply mind-boggling. As they toss and catch objects in perfect harmony, you'll be left wondering how they make it look so effortless.
But it's not just their incredible juggling skills that make them stand out. The Ethiopian Foot Jugglers bring an element of entertainment and joy to their act.
They incorporate music, dance, and humor, creating a lively and interactive experience for the audience. You won't be able to resist tapping your feet to the rhythm and laughing along with their playful antics.
The Wuhan Flying Trapeze
The Wuhan Flying Trapeze is one of the most thrilling acts in UniverSoul Circus! This group of 13 talented aerialists from Wuhan, China will take you on a journey of jaw-dropping stunts and heart-pounding excitement.
Prepare to be amazed as the Wuhan Flying Trapeze defies gravity with their daring flips, twists, and somersaults high up in the air.
Their skills are truly extraordinary, as they perform triple somersaults, double twists, and passing leaps that will make your heart skip a beat. But it's not just about the stunts – this interactive group also knows how to entertain the crowd.
During their performance, the Wuhan Flying Trapeze members engage with the audience and the ringmaster, creating a fun and immersive experience.
They crack jokes, make gestures, and involve spectators in their act, making sure everyone feels like a part of the show. You'll find yourself laughing, cheering, and clapping along with the rest of the amazed crowd.
What Else
Beyond the extraordinary acts mentioned, the UniverSoul Circus offers a myriad of other captivating performances that will leave you in awe.
From awe-inspiring acrobatics to mind-blowing magic and daring stunts, this circus promises an unforgettable experience. With vibrant energy, dazzling costumes, and a diverse cast of talented performers, it's a magical affair not to be missed.
In between the acts, the music gets everyone dancing. Yes, that was my seven-year-old son joining in on the Whip and the Wobble.
Members of the audience get picked to participate in crazy-good dance-offs. Vendors roam the bleachers selling $10 cotton candy.
Good to know before you go
The show is about 2.5 hours long, with a 15-minute intermission.
The circus is held in an air conditioned big top tent accommodating up to 2,000 people.
The seats are arranged in a circular fashion, so you can get a good view from any angle.
If you have little ones with sound sensitivity, you must be cautious during motorcycle bike performances, as they can be a little loud.
Similarly, for individuals with light sensitivity or other sensory differences, it's worth noting that there are numerous strobe lights and flashing colors throughout the show.
There are toilets onsite in a trailer.
The circus has a strict no outside food or drink policy, but they do sell snacks like chicken wings, funnel cakes, and other circus fare. Vendors roam the bleachers hawking popcorn and cotton candy, etc.
You can also find souvenirs and merchandise at their gift shop.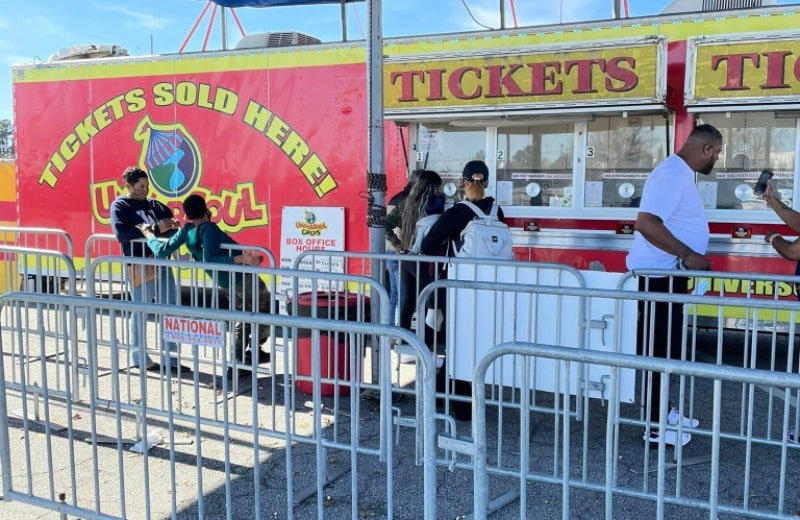 Tickets & Pricing
The ticket prices for UniverSoul Circus vary depending on the date, time, and seat availability. You can expect them to range from $25 to $55 per person, offering different seating options and viewing experiences.
Keep in mind that kids 12 months and older will require a ticket for entry, while kids under 12 months can join in the fun for free!
To secure your spot under the big top, you can conveniently purchase tickets online.
Getting There and Parking
The circus tent is set up in the Plateau Parking Lot at 268 Waterfront St, National Harbor, MD 20745
When heading to the UniverSoul Circus in National Harbor, MD, there are several parking options to consider.
The closest parking is at the Plateau Parking Lot, which costs $20 per car.
Street parking is also available in National Harbor, but it is limited and can be difficult to find. Street parking is free after 6pm.
Another option is the National Harbor Metro Station (located at 1650 Waterfront St, National Harbor, MD 20745). It is a short walk from the circus, and parking is free.
Plan ahead for a convenient and budget-friendly visit.