Introduction
ZooLights is back in the National Zoo this holiday season, and the event features mainstay animal frames outlined in lights along with a couple of new attractions.
The display's course runs along Olmsted Walk, between the Visitor Center near Connecticut Avenue and the Kids' Farm near Rock Creek Parkway.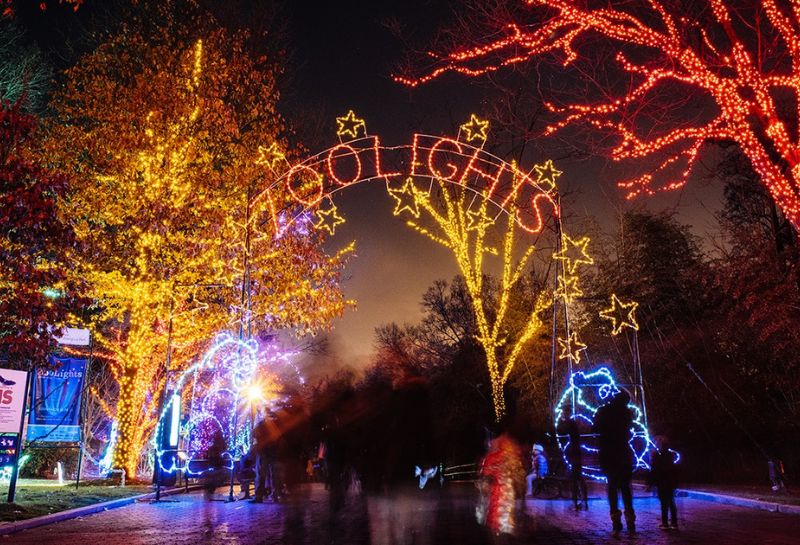 The side trails (Asian, Elephant, American) are closed during ZooLights, but several animal houses remain open.
New this year: Admission to ZooLights is free, but a special entry pass separate from a daily Zoo pass will be required. There is a flat-rate parking fee of $30. Daytime parking tickets are not valid for ZooLights parking.
The 500,000 LED bulbs used to brighten trees and animal outlines make for steady entertainment along the walk.
My kids (and seemingly everyone around us, and, okay, me too) can't wait to spot the next animal along the walk (bald eagle! naked mole rat! anteater!) or point out some cool feature (lights that look like raindrops! trees with color-changing lights!)
Other Attractions
Fans of the zoo's now-closed invertebrates exhibit will be glad to see that the corresponding display (octopus, nautilus, and so on) is not extinct.
We started at the Visitor Center near Connecticut Avenue to check out the dozens of sugary gingerbread habitats in the zoo's annual contest.
My boys also loved the Lego train display made from Legos, and the other two smaller train setups (don't worry, fans of Thomas the Tank Engine, he's here).
ZooLights does not feature the Zoo's animals. All indoor animal exhibits will be closed to allow animals to get a full night's rest.
There's a long line-up of musical performances this year too. You can check the complete list and information on their official website.
Tickets and Prices
This year, a special entry pass separate from a daily Zoo pass will be required for all attendees, including Zoo Members.
There is a flat-rate parking fee of $30.
Daytime parking tickets are not valid for ZooLights parking.
ZooLights free entry passes and paid parking passes will be available on a rolling basis two weeks prior to the event night.
To reserve the ZooLights Passes visit this page
Coupons and Discounts
As a member of the zoo, you can get a walk-up entry (valid for up to 15 people)
Members are also eligible to get free parking passes
There is also a 15% discount on in-park food and retail purchases
Hours and When to Go
Passes allow entry 8 a.m. to 5 p.m. (summer) and 8 a.m. to 3 p.m. (winter)
Passes open for reservation on a rolling basis, 4 weeks in advance
Good to Know Before You Go
In between viewings, there was a countdown clock showing when the next showing would begin (though if you didn't know about the laser show in advance you might not be able to figure out what the clock is all about).
Other entertainment along the way includes two dancing tree displays (flashing trees set to music) and a performance stage for local acts.
RELATED: Holiday Light Shows in the DC Area
The slides and train are down near the Kids' Farm, and the carousel is not far away, near Lemur Island. Kids must be 36 inches tall to ride the tube slides.
While the 5 to 9 PM event time makes sense, I always find it a challenge to make this outing work well when we factor in dinner and bedtime, since our house is 30 to 40 minutes from the zoo.
Food & Drink
This year we opted to eat at the zoo's Mane Grill for dinner, but other years we've gone to Comet Ping Pong or Chipotle and pushed bedtime.
Tempting kettle corn, hot chocolate, and hot cider are among the treats for sale at a few points along the ZooLights walk.
The thrill of being at the zoo in the dark and the near-constant wow factor from the twinkling bulbs make ZooLights an exciting evening for families.
Additional Information
ZooLights is open from 5 to 9PM through Dec 30 (except Dec. 24, 25).
If you drive, plan to get there at the start of the event to make sure you get a spot in your desired lot.
Spaces were scarce the night we attended.
Brochures for ZooLights are available at info spots throughout the zoo. They include a map of all the highlights.
The giant hill layout of the zoo means one uphill climb and one downhill coast. Be prepared for that mountainous, whine-filled walk. Strollers can be a lifesaver.
FONZ (Friends of the National Zoo) members can take advantage of a members-only lounge in the Elephant Community Center building on Saturday nights.