There are likely more amusement parks near Ocean City, MD here on the east coast than you may think.
So if you're looking for some great options that offer a wide range of family-friendly fun, you'll find just what you're looking for here.
Prepare for a whirlwind of family-friendly fun as we uncover the hidden gems, even including an amusement park with live mermaids!
For my family growing up, every summer season we had an Ocean City tradition. Even if we planned to go somewhere else, we could always count on going to Ocean City and visiting one of the theme parks.
This certainly created lifelong memories for me and I'm thrilled to be able to do the same for my kids now.
Whether you're seeking heart-pounding thrills, refreshing water attractions, or enchanting experiences, these are the amusement parks that families return year-after-year.
So, gather the whole family, pack your bags, and get amazed by the captivating realm of amusement parks near Ocean City, MD. Get ready for a summer filled with unforgettable memories and non-stop excitement!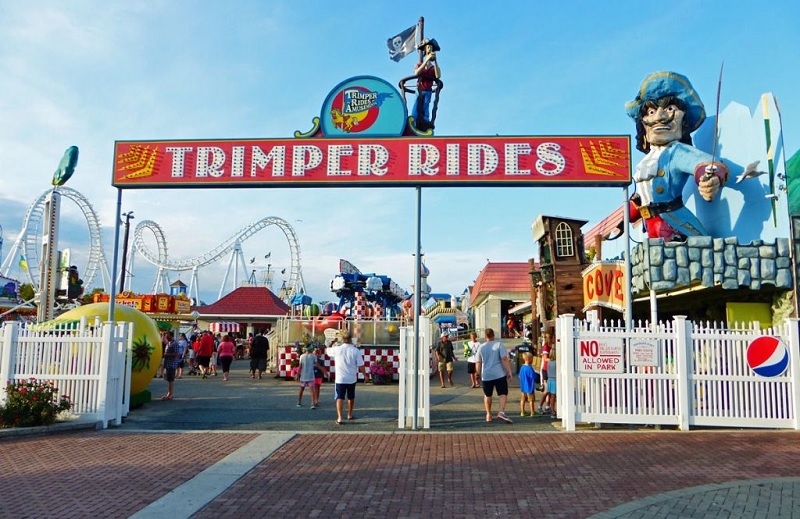 #1 Trimper Rides and Amusement Park
Trimper Rides is a true gem with a remarkable legacy spanning over 125 years. What makes it even more special is that it's still operated by the same family, keeping the traditions alive and thriving.
When you visit Trimper's Rides, be sure to take advantage of their afternoon wristband option.
MORE WATER FUN:  7 Best Indoor Water Parks Near Delaware
With unlimited amusement rides, this is the ultimate way for kids to experience everything they want without you worrying about having to pay more.
Let the young ones loose as they explore a wide array of rides, including:
Grand Carousel

: built in 1912, it's one of the oldest carousels in the US. Start your visit here to plan your rides and build excitement. Look out for the animals in the inner circle—they move up and down!


Tidal Wave

: a high-speed thrill that will leave you breathless. Brace yourself for a surprise—this coaster takes you backward just when you least expect it.


OC Big Wheel

: a massive ferris wheel, offers an unforgettable experience for all ages. Rising 149 feet high, it provides an incredible view from Assateague Island to Fenwick Island.


Teacups

: a family-favorite, offering a thrilling and fun-filled adventure. Feel the wind in your hair as you whirl around in these mini teacups.

And many more!
One standout experience at Trimper Rides is their haunted house. The Haunted House is a two-story building that's filled with spooky sights and sounds.
Riders board a small car that takes them through a series of rooms, each one more frightening than the last.
For those who have a soft spot for arcades and a variety of games, Playland at Trimper Rides is a haven for fun. While it may not offer as much for teenagers, it's an ideal destination for the little ones.
#2 Jolly Roger Amusement Park
2901 Coastal Highway, Ocean City, MD 21842
Jolly Roger Amusement Park is a family-friendly amusement park located in Ocean City, Maryland. There are actually 2 Jolly Roger locations, one at the Pier and the other at 30th Street.
The Jolly Roger Park at the Pier location is easily spotted by the giant ferris wheel.
From the adrenaline-pumping amusement park ride at high speeds to the classic rides, this park has it all. Let's explore some of the most popular rides by location so you can decide where to go.
The 30th Location
At the 30th Street location, famous attractions include:
Wild Cat: a favorite among visitors. It's a thrilling roller coaster that strikes the perfect balance between excitement and fun, providing plenty of laughs and screams.
Iron Horse Express: a must-try experience. Dating back to its opening day in 1964, this classic railroad train takes you on a leisurely ride around the park, allowing you to soak in the sights and sounds of this beloved 50-year-old amusement park.
A larger water half-pipe slide: am extreme water slide with a 45-foot tall vertical ramp
The Iron Horse Express: the 1952 antique train ride
The Pier Location
At the Pier location, these are just a few of the pier rides worth trying:
Giant Wheel: a towering Ferris wheel that offers stunning panoramic views of Ocean City, the beach, the ocean, and the inlet. It's an experience you won't want to miss.
Double Decker Venetian Carousel: This two-tiered carousel doubles the fun of a regular one, delighting guests of all ages. Hop on a beautifully decorated horse and enjoy a whimsical spin that will create lasting memories.
Bumper cars
Local tip: make sure to pick up some of Thrasher's French Fries at the concession stands (located on the breezeway of the pier).
They also have plenty of kiddie-sized fun so kids of all ages will have something to do.
Jolly Roger Amusement Park in Ocean City, MD, is the perfect place for families looking to have a blast. With its wide range of rides and attractions, there's something for everyone to enjoy.
Note: if you can ride the giant slingshot, you are much braver than I am!
#3 Baja Amusements
12639 Ocean Gateway, Ocean City, MD 21842
If you're looking for a thrilling and exciting experience, racing around on go-karts is a must-do activity. It not only provides a good time but also allows you to blow off some steam while on vacation.
During our visit, we had an absolute blast at Baja Amusements. The highlight was definitely the go-karts, where the kids even got to take the wheel while we guided them through the track.
It was an exhilarating and memorable family experience, filled with friendly competition and laughter.
READ NEXT: The Pennslyvania Amusement Park with No Entry Fee
One thing that stood out to us was the incredibly friendly staff. They made it super easy for our little ones, who were first-time go-karters, to feel comfortable and enjoy themselves.
Their guidance and support made the experience even more enjoyable for the entire family.
Local tip: Baja Amusements also has free parking
#4 Splash Mountain Water Park
2901 Coastal Hwy, Ocean City, MD 21842
Jolly Roger's Splash Mountain is the largest water park on the Eastern Shore of Maryland, offering a wide range of water slides, pools (including 3 kiddie pools), and attractions suitable for all ages.
While it may not appear large from the road, it surprises visitors with its generous size and my kids can easily spend the entire day here.
Whether you have little ones or older kids, this water park has something for everyone.
Some of the most popular attractions at Jolly Roger's Splash Mountain include:
The Wave Pool: where you can experience crashing waves perfect for body surfing.
The Lazy River: a leisurely river where riders can float down on inner tubes.
The Kiddie Pirate Ship Pool: a pool designed for younger children, featuring a pirate ship and water cannons.
The Splash Mountain Mermaids: Mermaids who swim around the park and interact with guests.
Eye of the Hurricane: go round and round in this hurricane tube slide
Aqua loop: a water slide where the trap door opens and sends you flying 480-feet downward (this was even name the #1 waterslide in the U.S. by Popular Mechanics)
And more!
Did you know?
The Jolly Roger's family of separate parks that includes family tracks for go-karting and Jolly Roger mini-golf courses.

These miniature golf courses which take you through a tropical rainforest and under waterfalls? Make sure to check out the treasure golf course too!
#5 Grand Prix Amusements
12424 Ocean Gateway, Ocean City, MD 21842
Since 1989, this thrilling amusement park has been delighting visitors of all ages with its wide array of attractions and activities.
One of the highlights of Grand Prix Amusements, located in West Ocean City, is its impressive collection of go-kart tracks and has a very family-friendly atmosphere.
With seven tracks in total, there's a track suitable for every member of the family, regardless of age or experience level.
From the rookie track, designed for young racers aged 5 and above, to the adrenaline-pumping ProTrack, reserved for those aged 16 and older, there's a track that will satisfy every speed enthusiast.
But the fun doesn't stop at go-karting. Grand Prix Amusements offers a diverse range of activities to ensure everyone has a blast:
Batting cages: Seven batting cages with baseball and softball speeds ranging from "slow" to "very fast," suitable for all skill levels.
Bumper Boats: Water blaster boats for ages 5 and up and at least 40″ tall, perfect for bumping and splashing around.
Rock Climbing: Challenge yourself on the climbing walls and test your physical and mental strength.
Mini golf
And more!
Note: Grand Prix also has double-seat go-karts so you can drive along with someone else. The driver must be at least 12-years-old.
You can purchase a 2-hour wristband for unlimited rides during that time or one of their other ticket package options.
#6 Frontier Town Adventure Park
8430 Stephen Decatur Highway, Berlin, MD 21811
Frontier Town Adventure Park is located only 15 minutes from Ocean City.
This western theme park has:
Water park
High ropes adventure park
Western park
Zip lines
A full service restaurant
Cooling off in the pool is one of the highlights of the water park, which was clean and maintained at a great temperature.
Families were all enjoying their time in the water park, and we found plenty of convenient food and drink options available within this wild west park.
They also offer a variety of engaging activities that will keep kids entertained and active throughout their visit.
They also have a campsite which has a restaurant attached, where families could order breakfast, lunch, and dinner to-go.
Local tip: you can even take horse and carriage rides here!
#7 Viking Golf & Go-Karts
38965 Island St, Fenwick Island, DE 19944
Located in Fenwick Island, Delaware, just 20 minutes from Ocean City, Maryland. I can assure you that this park is a must-visit destination for families seeking a fun-filled and memorable experience.

Viking Golf & Go-Karts offers a wide array of attractions that cater to all age groups. The activities that they offer include:
A 18-Hole Miniature Golf Course
You'll also find a fun, 18-hole miniature golf course that is clean, well-maintained, and perfect for all ages.
Our little ones, who were first-timers, quickly caught on and had an absolute blast!
As you make your way through the course, you'll encounter charming Viking-themed obstacles and informative signs that add to the fun.
Plus, there are plenty of benches and ample space if you happen to be waiting for the group ahead of you.
A Go-Kart Track
If you're craving some speed and excitement, Viking Golf & Go-Karts also offers a thrilling go-kart track.
Feel the adrenaline rush as you zoom around the track, competing with family and friends for the fastest lap. It's an exhilarating experience that will have you coming back for more.
A Water Park
The waterpark has numerous splash areas and smaller slides, perfect for the younger ones in your family.
It's a great place to cool off and enjoy some water-filled adventures.
After all the excitement, make sure to explore the boardwalk. Here, you'll find an ice cream corner, and a variety of delicious food options.
Other Maryland Amusement Parks