The Apple Festivals in Virginia are one of my family's absolute favorite things to do every year in the fall.
There are many different types of apples to try and beyond the apples, the festivals have a lot more fall fun to offer!
Of course there are all the apple goodies including apple cider, apple pies and other apple goodies to try.
Plus many festivals have live music, hayrides, mazes, kid's areas and other family-friendly activities.
Here you'll find the best apple festivals in Virginia.
When are the Apple Festivals?
The peak season for apples is mid-September to mid-October so most of the Virginia apple festivals take place during that time.
That ensures you not only get the freshest apples to take home, but also the freshest apple treats like butters, pies, ice cream, cider, fritters and so many more.
Some festivals only take place for one-day, while others take place for a number of days or even weekends, giving you plenty of opportunities to attend.
Apple Festivals in Northern Virginia
Loudon Heritage Farm Museum Autumn Apple Festival
Sterling, VA | September 30, 2023 | Website
The Loudoun Heritage Farm Museum's Apple Festival is in it's 18th year and this is one apple festival you don't want to miss! They have:
Live Music
Cider Pressing
Apple Games
Kid activities
Moon Bounces
21+ Hard Ciders, Wine and Beer Garden
Food trucks
DEAL ALERT: Save up to 60% Off Admission to Loudoun Heritage Farm Museum
This event costs $10 to get in, unless you are a museum member ($8) or child 2 and under (free).
Virginia Beach Farmers Market Apple Extravaganza
Virginia Beach, VA | September 16, 2023 | Website
This one-day festival in Virginia Beach has a craft show, children's activities and music.
You will also have the opportunity to visit The Rural Heritage Center and the educational gardens. There will be plants for sale that attract butterflies for you to take home.
This annual event will also have plenty of craft vendors, musical performances and food trucks as well.
Apple Festivals in Central Virginia
Apple Festival at Drumheller's Orchard
Sept 30 – Oct 1 & Oct 21-22, 2023 
Lovingston, VA | Website
Drumheller's has 2 apple festivals every year that always fall on the last weekend in September and the third weekend in October.
If you're looking for apples, food and fun, this just may be the festival you're looking for.
The apple cider is as fresh as it gets with no preservatives or additives, just juice straight from the apples. They also have food like:
Apples
Apple butter
Apple cider (non-pasteurized)
Honey
Side meat
Country hams
Pumpkins
Baked goodsOur apple cider is , which means it's just the juice from the apple.
This apple festival also has some unique and fun activities for kids of different ages from hayrides to the pumpkin patch, an apple sling shot, kids zone and lots of music and food.
Delicious BBQ and country meals will also be available for purchase.
Amherst Apple Harvest Festival
Amherst, Virginia |Oct 21-22, 2023 | Website
The Amherst Apple Harvest Festival has so much fun packed into just a couple of days!
They will have crafts available for purchase and also craft demonstrations where vendors will show you how they make their crafts.
There will also be a variety of food and drinks including hot dogs and homemade apple cider. Yum!
And there is lots of activities for the kids including face painting, cotton candy, crafting and more.
This apple festival also has great performances with singers and dancers you'll want to see.
Silver Creek & Seaman's Orchards Apple Butter Festival
Tyro, VA | Oct 7 & 21, 2023 | Website
The Silver Creek & Seaman's Orchards Apple Butter Festival has been hosting this apple butter making event for over 30 years.
Taking place on the first and third Saturday of the year, this festival has many fun events including:
Pick your own pumpkins
Corn maze
Apple butter makin
Live music
Crafters
Food vendors
Kids activities
Yummy apples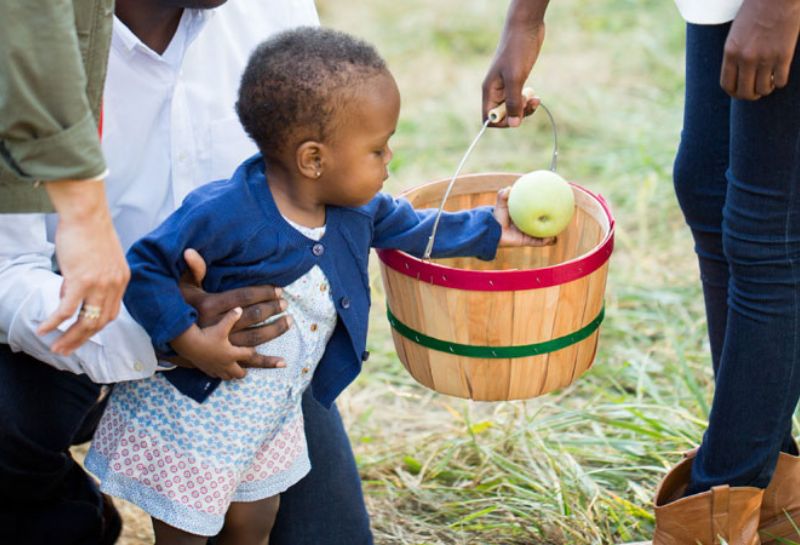 Chiles Family Orchard Fall into Fun
Crozet, VA | Sept 16-17, 2023 | Website
This peach farm will have both pumpkins and apples to be picked at their fall harvest festival. They also have fall-themed entertainment throughout the event.
Imagine tasting apple butter right off the kettle and taking some jars home. Yes, please!
Why Visit?
Apple butter making demonstration
Clogging performances
Live music
Yummy food
Apple picking
Pumpkin picking
Apple Days Arts & Craft Show
Waynesboro, VA | Oct 7 – 8, 2023 | Website
The Apple Days Arts & Craft Shows is full of local artists, crafters, vendors and non-profits.
While vendors change every year they typically have vendors with:
Apples
Preserves
Cider
Apple dumplings
Kettle corn
Gaming
Food trucks
And so much more
Apple Festivals in Shenandoah Valley
Shenandoah Valley Apple Harvest Festival
Clear Brook, VA | Sept 16 – 17, 2023 | Website
This family and pet friendly apple festival makes for a full day of fun, so pack your picnic blankets and chairs and come spend the day.
Whiel this festival costs $10 for everyone 11 and up (free admission for younger kids), the proceeds all go to local non-profits.
Why Visit?
Moon bounces & inflatables
Live music
Apple pie eating contest
Canine challenge course
Classic car & hot rod show
Pony rides
Samples
You'll also find enough vendors and artisans to fill 2 open-air vendors, a kid's area with giant slides, a kid's castle, obstacle course, balloon art, an apple pie baking contest, family-friendly live entertainment, and food concessions.
Apple Harvest Festival
Mount Jackson, VA | Oct 28, 2023
Note: this event for 2023 has been cancelled without enough volunteers
Come visit the quaint town of Mount Jackson during this fun fall festival!
There will be apple picking, live music, lots of good food and craft vendors right in the middle of town along Main Street.
Admission is free and there is something for everyone to enjoy.
Apple Harvest Festival & Farm Party
Middletown, VA | October 15, 2023| Website
This free event is packed with fun! At this apple festival you'll enjoy:
Live music
Barrel train rides
Petting zoo with farm animals
Local vendors
Wine tasting & craft beers tasting
Kid's activities
Plenty of yummy farm food treats
This is a family friendly event, so take the kids and spend the day in the country!
Marker-Miller Orchards Apple Harvest Festival
Winchester, VA | Oct 7-8, 2023 | Website
If lots of apple goodies and fun outdoor activities at a scenic farm sounds fun, this apple festival is for you! Marker-Miller Orchard has many varieties of apples for you to pick while you're there.
NEARBY FUN: Shenandoah Valley Discovery Museum
Plus they have lots of apple treats available including:
Apple cobbler
Apple Cider
Apple Pies
Apple Turnovers
Apple Pie Homemade Ice Cream
Apple Cider Donuts
Each day there will also be live music bands, BBQ, pizza, kettle corn and more.
The entire family can enjoy wagon rides around the beautiful farm to take in the views and kids will enjoy a ride on the cow train.
Graves Mountain Apple Harvest Festival
Oct 7-8, 14-15, 21-22, 2023
Syria, VA | Website
Every year Blue Ridge farmers celebrate their harvest at this festival that is close to Shenandoah National Park so you can enjoy a scenic drive too!
The festival will have apples from Graves Mountain Farm and nearby orchards. You'll also have the chance to pick-your-own apples right from the tree!
But apples aren't the only thing worth visiting for. This festival is packed with entertainment including:
Live bluegrass music
65+ crafters and other vendors
Petting zoo
Hay maze
Trail rides on horseback
Mule cart rides
Food: apple pies, fritters, BBQ, pork rinds, pork BBQ sandwich, french fries, ice cream and more
Beer and wine tent
The event costs $5 for everyone ages 16 and up.
Wade's Mill Annual Apple Butter Festival
Lexington, VA | Oct 21, 2023 | Website
At Wade's Mill they make apple butter the old-fashioned way by slow simmering it in a 130+ year old copper pot over an open fire.
You won't find apple butter quite like this! At this apple butter festival, you can take a turn stirring the long paddle and even get to take home your own jar.
Other highlights at the festival include:
Demonstrations including music, K9 unit, and more
Crafts by local artisans
Local food and drink
Musical performances
Admission is free.
Showalters Orchard and Greenhouse Apple Celebration
Sept 16, 23, 30 & Oct 7, 14, 21, 28, 2023
Timberville, VA | Website
This family-friendly celebration is all about apples! There will be plenty of yummy apple treats for you to try and not to mention, the absolutely amazing landscape that makes for a relaxing days.
Bring your blankets and chairs and come enjoy the vendors, food and relaxation.
Apple Festivals in Southwest Virginia
Gross' Orchard Apple Harvest Festival
Saturdays in Oct 2023
Bedford, VA | Website
This is a huge apple festival that you can make a fun day out of.
This annual event has been happening for over 30 years and features:
Live bands
Over 40 apple varieties
Wagon ride with horses
Apple butter and other goodies
Games and more
For kids that aren't used to being in the country, they have some great educational opportunities to keep kids entertained and learning.
Stuart's Apple Dumpling Festival
Stuart, VA | Oct 21, 2023 | Website
Located in the foothills of the Blue Ridge Mountains, the Apple Dumpling Festival has fresh apples of course!
This one-day event features live blue grass music from local musicians, artisan vendors, and delicious foods.
As a part of the festival, there is also a 5K race you can participate in. Kids will also enjoy entertainment for them including moon bounces and other inflatables!
Boones Mill Apple Festival
Boones Mill, VA | Oct 7, 2023 | Website
In it's 44th year, the Boones Mill Apple Festival is a one-day event that attracts thousands of visitors.
Every year they have different events throughout the day including performances, music, tractor pulls and more, from local talent.
Chilhowie Community Apple Festival
Sept 16, 22-24, 2023
Chilhowie, VA | Website
Every fall season, the small town of Chilhowie, Virginia, celebrates its apple orchards with a 2-day festival.
The event is the highlight of the year for the town's residents and draws visitors from all over the region.
Highlights of the festival include a parade, a street fair, and a beauty pageant.
One of the most popular community activities is the apple pie judging contest, in which contestants vie for top honors with their delicious creations.
In addition to all the fun events, there are also delicious apple pies for purchase to take home!
What to Bring to an Apple Festival
To have the best time, it helps to be prepared! Here are some items you may want to bring with you:
Plenty of water
Picnic (unless you want to eat on-site)
Snacks
Comfortable walking shoes for everyone
Comfortable clothing you don't mind getting dirty just in case
Map of Apple Festivals in Virginia
Recommendations for Apple Festivals
Before heading out to your nearby apple festival, make sure to check the weather. While some festivals are rain or shine, others are not. It's always a good idea to check the festival's Facebook page before going if rain is in the forecast.
If the event is still a go, you may want to pack and umbrella or even a light rain jacket if you have one.
It's also recommended to plan ahead of time what you may want to do with apples you bring home. You may want to pick-up extra to make your own pies or other desserts.
Attending an Apple Festival in Virginia
Apple festivals are a great way to spend a fall day in Virginia. These festivals have something for everyone in the family, from children's activities to live music and delicious food.
So be sure to mark one of these festivals on your calendar and enjoy all that Virginia has to offer this autumn!