Philadelphia, known as the city of brotherly love, is full of fun things to do for the whole family.
Here I'm sharing all the best places and best things to do with kids in Philadelphia so the entire family including kids of all ages (yes, the older kids too!), will have a great time in the city.
Only three hours away, a trip to Philadelphia is an easy and fun day trip, especially for Washington, D.C. families wishing to introduce young children to the critical role that Pennsylvania played in the American Revolution.
And let's face it, Benjamin Franklin is one of the coolest (insert answer: founding Father, scientist, inventor, diplomat, author, printer) this country has ever had!
Here you'll find all the best Philadelphia attractions, along with all the lesser known things to do that just the locals typically enjoy.
#1 Franklin Institute (Franklin Square)
The Franklin Institute is an incredible science museum that we absolutely loved visiting!
With 4 levels of super cool exhibits, it's a must-see for families in Philadelphia.
One of the highlights of our visit was the Harry Potter exhibit. It was absolutely spectacular, with interactive games and displays that allowed us to earn points for our chosen Hogwarts house.
You can also step inside the classic Giant Walk-Through Heart and discover how blood circulates as signs guide you through the experience.
With an accurate size comparable to the Statue of Liberty, this heart is quite impressive!
But that's not all!
The Franklin Institute offers a wide range of other attractions too including
Fels planetarium
Air show
Sir Isaac's Loft
SportsZone
Plus lots more exhibits on trains, planes, and space
We were particularly fascinated by the exhibits on electricity, the human brain, and the heart. It's amazing how much you can learn while having a blast!
#2 Philadelphia Zoo
The Philadelphia Zoo is actually the oldest zoo in the entire country.
It's a massive zoo that offers a plethora of activities for families to enjoy. You could easily spend an entire day here, although be prepared for a lot of walking!
One of the highlights of our visit was observing the animals in action. We were thrilled to see numerous animals actively walking around or engaging in playful behavior within their exhibits.
The red panda even approached us, providing an up-close encounter.
The monkeys provided endless entertainment as they swung and chased each other.
Local tip: Make sure to visit Big Cat Falls while you're there to see all the big cats from around the world.
Watching the gorillas roam around and savor the treats given by the zookeepers was a memorable experience.
Additionally, we witnessed a fascinating sight as a zookeeper fed the hippos carrots, prompting them to open their mouths wide for everyone to see.
#3 Independence Visitor Center
Located in the Historic District, the Independence Visitor Center offers a variety of exhibits and activities that are perfect for kids of all ages.
Inside the center, you'll find the Explore the "Philly Welcome Wall," a 42-foot-tall digital touchscreen with interactive information about the city.
For your little ones, there's a dedicated "Kid's Corner" with hands-on activities that teach them about American history.
The visitor center is located in the Old City – known as America's most historic square mile. So, there are many historical places to see here.
Independence Hall is a must-visit historical landmark in the Old City. Step into the assembly room to see where the declaration of independence was debated and signed.
Don't forget to explore the Liberty Bell Center, where you can see the famous bell up close and learn about its significance through interactive exhibits.
It's a fascinating and educational experience for the whole family.
You can also take the exterior or interior tour of the city hall, which is a great place to learn about American history.
Did You Know?
City Hall is the largest municipal building in the United States, containing over 14.5 acres of floor space and is the world's largest free-standing masonry building? It was designed to be the world's tallest building and in 1894 it became the world's tallest habitable building.
#4 Please Touch Museum
The Please Touch Museum in Philadelphia's Fairmount Park is a haven of creativity and discovery for families.
From the Wonderland exhibit inspired by Alice in Wonderland to the Fairytale Garden for toddlers, there's a variety of amazing fun activities
Kids can explore Nature's Pond and hop from lily pad to lily pad.
In the Food and Family Market, they can learn about the origins of food and the importance of healthy eating while engaging in fun activities.
The Rocket Room offers hands-on space exploration activities, while the Dentzel Carousel brings joy with its beautifully carved animals.
#5 Spruce Street Harbor Park
This free park offers a fantastic setting along the Delaware River, where you can enjoy a pleasant evening stroll and soak in the warm atmosphere.
As the sun begins to set, you'll be treated to a breathtaking display of beautiful lighting throughout the park.
When hunger strikes, you'll be delighted to find an array of amazing food trucks, small restaurants, and bars in the area. Indulge in delicious treats and refreshments, satisfying everyone's cravings after a day of adventure.
#6 Tour the Eastern State Penitentiary
Taking the Eastern State Penitentiary tour is a great experience for the whole family. Even my 7-year-old enjoyed it a lot!
The best part is that you can take the tour at your own pace, making it suitable for kids of all ages.
During the tour, they provide you with audio recordings that guide you through about 10-11 sections of the prison. The combination of sounds and storytelling really adds to the overall experience.
There is so much well-presented information to take in, and I was truly impressed by how they have preserved this historic building.
One of the highlights for me was seeing the decay of the cells.
It's a unique opportunity to witness the history of the prison firsthand. It's fascinating that these are the cells where Al Capone served time.
#7 Independence National Historical Park
With its rich history, stunning views of Independence Hall and the Liberty Bell, and a bustling atmosphere, Independence National Historical Park offers an unforgettable experience.
The park's expansive lawn provides ample space for kids to play within the urban setting.
Whether it's a historical reenactment, a guided tour, or a special event, there's always something happening to keep your family entertained.
#8 Philadelphia Museum of Art
Inside the Philadelphia Museum of Art, you'll find a wide range of intricate and beautiful exhibits. From paintings to sculptures, the collection spans different eras, countries, and artistic styles.
It's a great opportunity for children to explore and appreciate art from around the world.
While every piece in the collection is remarkable, there are two sculptures that particularly stand out to me: the Death of Cleopatra and Perseus vs. Medusa.
Local tip: this museum is also a great place to see amazing city views from various windows throughout the museum
These sculptures showcase incredible attention to detail and are truly captivating.
#9 Adventure Aquarium
Adventure Aquarium, located in Camden, just 4 miles from Philadelphia, is a must-visit place for families. The moment you arrive, you'll be captivated by the amazing view of Philly across the water.
My kids loved watching the scuba divers fearlessly swimming alongside the sharks in the tank.
READ NEXT: 5+ Aquariums in PA: Best & Closest Aquarium Options
Make sure to visit the touch tanks, where your children can have hands-on experience with various sea creatures.
The sting rays and anemones were our personal favorites, and we couldn't resist the opportunity to interact with them.
For those little adventurers who need a break from exploring, the play area at Adventure Aquarium is the perfect spot.
Don't miss out on the shows offered here! They are not only entertaining but also educational, catering to a wide range of ages.
#10 Betsy Ross House
Betsy Ross is said to have sewed the first American Flag, this historic house offers a glimpse into the life and times of a significant figure like her in American history.
The museum, though small, is well maintained, and we were pleasantly surprised to find a souvenir shop on-site.
But what made the experience truly special was encountering an employee dressed as Betsy Ross herself, sewing and eagerly answering questions just like the historical figure she portrayed.
The self-guided tour of the house was informative, and we learned a lot about Betsy Ross's role in sewing the first American Flag.
#11 Penn's Landing
William Penn envisioned Pennsylvania as a colony where people of all religions could live in peace and harmony.
Penn's Landing is a waterfront park in Philadelphia named in honor of William Penn, the founder of the city.
Explore the expansive area along the beautiful Delaware River and enjoy breathtaking views and well-maintained parks.
To fully experience Penn's Landing, consider taking a Segway or trolley tour to see all the sights.
The park's size can be overwhelming, but these guided tours make it easy to navigate and add an extra element of excitement.
The park offers a variety of restaurants and shops, ensuring that there's something for everyone's taste and interest.
#12 Sesame Place
Sesame Place offers quality family memories and has a dedicated family care center for moms.
The toddler rides and water park areas are a hit with kids, and the afternoon parade is a must-see. Don't forget to take fun character meet and greet photos.
At Sesame Place, you won't feel rushed and the kids will have a great time.
They also organize special events like the July 4th Fest, where you can celebrate America's birthday with Elmo and friends. Take patriotic photos with Elmo dressed in red, white, and blue!
#13 Smith Memorial Playground
When we arrived at Smith Memorial Playground, I couldn't have been happier.
The outdoor play area was fantastic, offering plenty of room for kids to run, climb, and play.
It's shaded by numerous trees, providing relief from the sun on hot days.
The indoor play area at Smith Memorial Playground was a hit with my son.
He had a great time exploring the toys and books available. It's a perfect space for younger kids to engage their imaginations and have fun.
What impressed me the most was the thoughtful design of the floors, which featured benches and seating options for parents. It made it easy for me to take a break and recharge while my son played.
#14 Ice cream at Weckerly's Ice Cream
Weckerly's Ice Cream is a must-visit spot when exploring Philadelphia with your kids. This delightful ice cream parlor offers a wide array of unique and creative flavors that you won't find anywhere else.
Personally, I highly recommend trying the "Whole Bean Vanilla" and "Cookie Dump" flavors, both topped with salted caramel.
Whether you prefer enjoying your ice cream in a waffle cone or a simple cup, each bite is guaranteed to be packed with amazing taste, flavor, and chill.
#15 Citizens Bank Park
Citizens Bank Park is a great place to enjoy a Philadelphia Phillies game, outdoor concert (in good weather, of course!) or a special event.
The park is well-maintained, and the concessions are well-organized. Plus, digital tickets make entry a breeze.
Local tip…
Want to see Citizens Bank Park up-close and personal?
Consider taking a public, behind-the-scenes tour to visit the dugout, hall of fame club, media room and more.
There are plenty of places to buy beer or snacks conveniently scattered throughout the park.
#16 Big Kahuna's Water Park
About an hour's drive from Philadelphia, Big Kahuna's Water Park is one of the fun places to visit with kids.
One of the highlights of the water park is the selection of slides. From exhilarating twists and turns to gentle slopes, there's a slide suitable for every age and level of adventure.
For younger children, Big Kahuna's offers a dedicated pool area with slides designed specifically for toddlers and younger kids. They can splash and play in a safe environment while having a blast.
The water park also features an indoor pool, which opens at around 11 am, providing a great option for water fun regardless of the weather.
MORE WATER FUN: 9 Best Indoor Water Parks in Pennsylvania
There's even a lily pad balancing area that challenges kids' coordination as they navigate their way across floating pads.
#17 Spot a Bald Eagle at Pennypack Park
This park offers a variety of activities for families, making it a perfect destination for a day of fun and exploration.
This is a popular park for enjoying:
Walking
Running
Biking
Fishing
Imagine taking a leisurely stroll along the park's trails while listening to the soothing sounds of nature and enjoying the serenity of being away from the hustle and bustle of the city.
One of the highlights of Pennypack Park is the opportunity to spot a bald eagle.
As you immerse yourself in the park's natural beauty, keep your eyes peeled for this majestic bird soaring through the sky.
#18 Elmwood Park Zoo
Elmwood Park Zoo is the perfect place to see live animals and is a great way to teach young kids about some of the endangered species.
It is a super cute and medium-sized zoo located in Philadelphia. The zoo is known for its friendly staff and well-cared-for animals.
One of the highlights of the zoo is the jaguar exhibit and sloth, which are often the best experiences for kids visiting. 
The zoo also offers specialty nights, including:
Overnight camping
Boo at the Zoo during Halloween
Holiday lights and shows during the holiday season
Additionally, there is a big playground for kids to enjoy and plenty of food options available.
#19 East Fairmount Park
This expansive park in Philadelphia is a haven for families seeking outdoor fun and relaxation.
It offers a variety of activities such as:
Picnicking
Biking
Jogging
Walking
and sightseeing
One of the park's highlights is its serene location by the water and under the shade of trees. It's a perfect spot to cool off during the summer and enjoy the peaceful atmosphere.
East Fairmount Park features impressive sculptures and well-maintained paved paths, adding to its appeal.
#20 African American Museum
This museum offers an abundance of knowledge, along with captivating visuals and interactive experiences.
It spans three floors, presenting information in a seamless manner.
The museum's interactive exhibits make it a fantastic experience for children. They can actively participate and engage with the displays.
One highlight is the teaching exercises on budgeting, which make learning fun.
Plan for about an hour to explore the museum thoroughly.
Philadelphia is one of my favorite cities, not only because there is so much to do with kids but it's also right across the bridge from New Jersey and an easy day trip from New York City which both have more great things to do with the family.
#21 Independence Seaport Museum
This enjoyable and informative museum is a must-visit when exploring the city with kids.
Make sure you have plenty of time to explore because there's so much to see. The exhibit on the revolutionary era Navy and the reforming of the Navy provides great insights.
You can even walk aboard an old naval vessel, which is incredibly cool!
Don't miss the chance to explore the Olympia (from the Spanish American war) and a submarine from WWII and later periods. Both are worth checking out.
Plus, you'll get a view of the Battleship New Jersey across the river.
#22 Philly Pretzel Factory for soft pretzels
Located in a vibrant shopping area, it offers a delightful experience for both children and adults.
Step inside or simply grab your treats from the convenient pick-up window.
The moment you bite into their soft pretzels, you'll understand why they are renowned for their exceptional taste.
In fact, I can confidently say that it's the best soft pretzel I've ever had in Philadelphia!
These pretzels are freshly baked, always maintaining their soft and warm texture.
The flavor is truly outstanding, and the perfect amount and type of salt give them an irresistible touch.
#23 Delaware River waterfront
This is one of the nicest outdoor activities and free things to do in Philadelphia.
The Delaware River Waterfront offers a scenic riverfront walk with great food and entertainment.
Make sure to visit the Spruce Street Harbor Park, a top-notch beer garden and urban beach.
It features hammocks, games for kids, live music, and a floating garden cafe.
The Summerfest Event adds more fun with amusement rides, miniature golf, and a skating rink on the piers.
Don't miss the chance to see the historical boats on the waterfront. You can even explore the US Navy cruiser "New Jersey," a submarine, and majestic tall ships.
#24 Explore Interactive Exhibits at Wonderspaces
Prepare for an amazing adventure at Wonderspaces. This ever-changing exhibition offers interactive art experiences for all ages.
Paint digitally with your body, express yourself on a wall of scrolls, or immerse yourself in a room filled with changing lights. Capture Instagram-worthy moments and let your creativity soar here.
You can even pick up a drink to enjoy while you look at the exhibits.
Some of the exhibits you'll enjoy are Submergence, Sun, and Body Paint.
#25 Go On a Scavenger Hunt
Embark on thrilling scavenger hunts with your kids and explore the city's vibrant locations. Here are some options to choose from:
Philly Frights: is a 2-hour scavenger hunt that takes you to some of Philadelphia's most haunted places. You will learn about the history and lore of these haunted places by solving riddles and completing challenges on your phone.

The hunt ends at Eastern State Penitentiary, where you can explore the prison grounds and learn about its history of paranormal activity.
NoLibs Nifty Neighborhood Scavenger Hunt: The NoLibs Nifty Neighborhood Scavenger Hunt is a self-guided scavenger hunt in Philadelphia's Northern Liberties neighborhood that takes about 1.5 hours to complete.

Teams complete challenges to learn about the history and culture of Northern Liberties.
Rummaging Rittenhouse Riddles Hunt: is a scavenger hunt in Philadelphia's Rittenhouse neighborhood that takes about 1.5 hours to complete.

Teams solve riddles and complete challenges using their phones to scan QR codes at various locations in the neighborhood. Along the way, they learn about the history and culture of Rittenhouse.
Create lasting memories with your family as you engage in these captivating scavenger hunts in Philadelphia!
#26 Visit a Kid-Friendly Beer Garden
Philadelphia has several amazing beer gardens.
These family-friendly beer gardens offer a relaxed atmosphere and entertainment options for everyone, making them ideal destinations when exploring Philadelphia with kids.
Morgan's Pier: A seasonal hotspot with views of the Delaware River, Morgan's Pier offers a kids' menu and accommodates families with strollers. Enjoy cocktails, live music, and beautiful surroundings.
PHS Pop-Up Gardens: These popular gardens in South Street and Manayunk feature food, craft brews, cocktails, family-friendly activities, and even plant swaps and craft workshops. Don't miss their signature frozen Gritty margarita!
Independence Beer Garden: Located near Independence Mall, this spacious beer garden has an extensive beer list, delicious food, and games like shuffleboard, cornhole, and ping pong. Perfect for a post-sightseeing visit.
The Garden at Cherry Street Pier: Enjoy open-air riverfront views of the Ben Franklin Bridge, a kids' menu with favorites like burgers and hot dogs, and cocktails, beer, and wine for adults. Explore artists' galleries and art installations during your visit.
#27 Visit Bartram's Garden
Bartram's Garden is a free, 50-acre garden that's open to the public and is the oldest botanical garden that has survived in North America.
Did You know?
Founded in 1728, Bartram's Garden is the oldest botanical garden that has survived in North Ameria.
The trails throughout the garden are easy to walk and take you down to the river where you can sit on the docks. Here you'll find:
Beautiful 18th century buildings
Perennial gardens
Koi pond
Walking trails
Picnic areas under trees
Beautiful views of the Philadelphia skyline
We loved the wood walking trail through the woods!
#28 Academy of Natural Sciences
The Academy of Natural Sciences of Drexel University in Philadelphia is a great place for families with young children.
The museum offers a variety of exhibits, including:
Dinosaur bones
Dioramas from around the world
A hands-on dig experience
The museum also has beautifully displayed dioramas showcasing wildlife from North America, Asia, and Africa.
On the top floor, you will be amazed by the magnified and larger-than-life insect displays.
The museum also has an Outside In discovery center, where visitors can engage in hands-on science activities, including watching fossils get inspected in the lab.
#29 Explore the 18th Century Garden
Just a short walk from major attractions, the 18th Century Garden offers a serene spot to relax and regroup with your family.
Its formal and orderly design features:
Symmetrical plantings
A white-painted gazebo
Trellises
Pergolas
You'll enter through a lovely brick entryway with wrought iron gates and discover a garden filled with trees and plants commonly found in colonial times.
You will feel like you have stepped back in time as you explore the orchard, formal garden, and herb and vegetable areas, all maintained by the National Park Service.
#30 Benjamin Rush State Park (& Model Airplane Field)
Escape the city at Benjamin Rush State Park, which you'll find just minutes away.
This is the place to enjoy gravel trails perfect for bike riding with your kids, spacious grassy areas for sports, and the sight of deer and butterflies in their natural habitat.
For a more fast paced thrill, RC planes take flight at the nearby runway and fly-zone.
#31 Treetop quest – zip lines
TreeTop Quests is the place to go for zip lines!
The size and beauty of the course is impressive and made for such an enjoyable experience.
They offer a variety of well-maintained obstacles that cater to different skill levels, which is nice as not all of us have treetop experience!
Each course features cushioned landings, providing an extra layer of security.
Local tip: Remember to pack a backpack with water, wear comfortable sneakers, and bring sturdy gloves.
#32 Take a Self-Guided Tour
Discover Philadelphia's iconic sites and vibrant murals at your own pace with these self-guided tours:
The Constitutional Walking Tour: is a self-guided 3-mile tour of Philadelphia's historic district.

You can download an audio tour or purchase a guide book to learn more about the sites you'll visit, including Independence Hall, the Liberty Bell, and Christ Church.
Valley Forge National Historical Park: is a free, 10-mile, 2-3 hour journey that follows the Blue Line on the park map and the green and yellow tour stop signs.

Along the way, you will visit 9 major tour stops, including the Washington Memorial, the Soldiers' Cemetery, the Muhlenberg Brigade Encampment, the State House, and more.
Mural Arts Walking Tour: is a 2-hour tour that takes you to some of Philadelphia's most iconic murals. You will learn about the history of mural arts in the city and see murals that depict a wide range of topics.
#33 Play Arcade Games
Looking for a fun activity to enjoy with your kids in Philadelphia? Try playing arcade games together! Check out these venues:
TAP Esports Center: this gaming center offers top-of-the-line computers, comfy gaming chairs, and a wide selection of pre installed games
University Family Fun Center: is the only running classic-arcade family experience in the city with old-school games like Pac-Man and Sonic, along with spin-the-wheel and basketball
Disguiser Party Game Lounge: this lounge specializes in hosting parties and offers group-oriented party games, along with great beverages and snacks.
These arcades provide fantastic opportunities for family bonding and friendly competition. Get ready for an unforgettable gaming experience with your kids!
#34 South Street
South Street is a hub of diverse groups and cultures, creating a lively and inclusive atmosphere for all visitors.
Discover unique shops where you can find statement-making outfits, indulge in mouthwatering Philly cheesesteaks, and enjoy live music performances.
South Street is home to friendly, privately-owned businesses offering one-of-a-kind products that can't be found elsewhere.
#35 Visit Love Park
Love Park is an iconic place to visit in Philadelphia for the love structure.
Don't miss the opportunity to take memorable photos!
When the sun sets, Love Park has nice lighting and it's a good time to see the park as well.
You can also let your kids play in the walk-through fountains!
#36 Go Hiking or Kayaking
With Valley to Summit, you can have many fun experiences like:
Guided rock climbing
Rappelling
Kayaking
Winter waterfall ice hiking
Hiking trails covered by Valley to Summit include, Wissahickon Valley Park, Ricketts Glen State Park, French Creek State Park and more.
Valley to Summit offers a winter waterfall ice hiking tour at Ricketts Glen State Park in Pennsylvania. The tour takes place from January to March and lasts for approximately 6 hours.
This is one of my family's top things to do during the summer months.
Looking for an alternative? Also check out Jim Thorpe River Adventures for family river raft trips! They offer whitewater rafting and kayaking trips on the Lehigh River in Pennsylvania.
#37 Pick-Up Some Philly Souvenirs
While discovering Philadelphia with your kids, don't forget to grab some awesome souvenirs to cherish those special moments.
The Open House Store is a Philly gift shop that has some of the best Philly Fan Gear and memorabilia you'll find. There are so many Philly themed gifts here.
This is such a charming place, filled with cute accessories, home goods, and more.
The Store offers a wide range of Philadelphia-themed items, including:
Pillows
Keychains
Jewelry
And even cooking essentials
#38 Cross the Benjamin Franklin Bridge
Close to downtown, Benjamin Franklin Bridge was once the world's longest suspension bridge at just 1750 feet, holding a significant place in history.
This is a good place to take a bike ride with the kids or enjoy a fun stroll next to traffic.
This is my favorite place to take pictures of the city's skyline and the Delaware River.
#39 Philadelphia's Magic Gardens
The Philadelphia Magic Gardens are a really neat getaway.
This non-profit organization preserves an immersive mixed media art environment that is completely covered with mosaics.
Creator Isaiah Zagar tells his life story through the intricate use materials from around the world including:
handmade tiles
bottles
bicycle wheels
mirrors
folk art
There are 2 indoor galleries to explore and a bi-level outdoor sculpture garden.
This is a fun place for a scavenger hunt and kids love trying to find new and unexpected objects in the mosaic.
#40 Cool Off at Dilworth park
Dilworth Park offers a range of activities that change with the seasons. In the summer, this is the perfect place to let your kids splash and play in the water fountains.
In the winter months, they have a fun ice skating rink.
You'll find plenty of charming shops surrounding the park.
They also have fun events in the plaza like movie screenings so keep an eye on their calendar as well.
#41 Visit the National Constitution Center
This is the place to dive into the world of the U.S. Constitution with interactive exhibits, captivating performances, and rare artifacts.
From the second floor, you can get great views of Independence Hall.
Before you leave, make sure to stop by the extensive gift shop for unique merchandise.
#42 Visit Rittenhouse Square and Logan Square
In the heart of Philadelphia, Rittenhouse Square and Logan Square are great places to visit.
At Rittenhouse square, you'll find one of Philadelphia's largest parks.
We love walking this public park as they have ornate lamp posts, flower beds, and statues like the Lion Crushing a Serpent.
The Church of the Holy Trinity has beautiful architecture and stained glass windows which are really pretty to see too!
At Logan Square, you'll see a blend of corporate buildings, historic houses, and green spaces along the Benjamin Franklin Parkway.
#43 Sister Cities Park
Sister Cities Park is a nice, kid-friendly oasis in Philadelphia.
The park's water play area is a big hit with little ones. They can enjoy running through sprinklers and splashing in a gentle rock stream that leads to a shallow pool.
For parents looking for some shade, the park provides tables, chairs, and umbrellas.
The Children's Discovery Garden is has lots of fun things for the kids.
Inside the garden, children can climb a play net with city views, explore a sensory-friendly twig nest, and more.
Don't miss the toy-boat pond! Open from late April to October, kids can rent toy boats and sail them in the pond.
#44 Visit the Art Museum
One of the most special things about the Woodmere Art Museum is that every single piece of art on display comes from a Philadelphia-based artist.
This gives the entire collection an authentic and local touch, spanning from the 1700s to the present year.
Interesting fact…
Woodmere Art Museum was originally the home of its founder, Charles Knox Smith. Even with its expansions and extensions, the original house remains intact, housing many of the historic art pieces and even some of the original furniture, including a stunning chandelier.
#45 Reading Terminal Market
This vibrant food market is a must-visit for families who want to get a good taste of Philly all in one place.
I highly recommend arriving early. This popular spot can get incredibly crowded, making it challenging to navigate or find an available table.
Despite the crowds, you'll find a wide variety of food and desserts.
Take your time exploring the different stalls and stop to enjoy a cup of coffee, a complete breakfast or lunch. There is no shortage of options!
Note: One of our favorite places to go in Philadelphia was One Liberty Observation Deck where we could see out over the whole city. Unfortunately, they've now permanently closed.
Things We Love About Philadelphia With Kids
Many of the historic sites are small but significant. It is easy for parents with children to get age- and attention-span appropriate exposure to history, while still being able to cut and run in the event of a melt-down.

There are many historic sites within an easy walk. To walk from Independence Square to Franklin Court to the Betsy Ross House directly would take less than 20 minutes, even with young children. One word to the wise, as with most historic sites, strollers are difficult to maneuver, assuming they are permitted at all.

The "National Park" does not feel like a national park because it is intermixed with the modern city. It is easy to balance the history with contemporary amenities and age-appropriate restaurants. That said, the cobblestone walkways, historic buildings and random costumed re-enactors make it easy for kids to envision how life was actually was like in the 1700s.

This City takes great pride in its history and its citizens are very knowledgeable. Talking to docents, historical re-enactors, local merchants and business-people alike, it is clear that they are aware and proud of the historical offerings of this City and welcome tourists to ask questions and become vested with the spirit of the City.
Recommendations for Visiting Philadelphia With Kids
To make future Philadelphia visits easier with kids, here's what we'd recommend:
Obtain tour tickets online at the National Park's website and the National Museum of American Jewish History beforehand to better manage time
Start a visit to Philadelphia with an extended horse and buggy tour outside the Liberty Bell Center to get an overview and the feel of historic Philadelphia
Better utilize the audio tour options of the historic sites by calling 267-519-4295
Bring books and other things to entertain the kids while waiting for tours to start
Pay attention to parking suggestions on the various historic sites' websites. There is some on-street parking but we found that our credit card was not accepted nor did we have the city-specific smart card to add money at the parking kiosk. The locals warned that the City is quick to tow, especially cars with out-of-town license plates, when the owners are likely to need them and will retrieve them quickly from the pound.
Visiting Philadelphia's Historic Sites With Kids
A final word to nay-sayers who think taking young children to historic sites is ill-advised: Philadelphia makes it easy.
Start with a fascinating historic figure (Ben Franklin, George Washington, Betsy Ross), add an easily identifiable historic symbol (Liberty Bell), and short vignettes of history with re-enactors and interactive exhibits, then factor in modern amenities such as plentiful cafes and restrooms.
Children of all ages will come away with at least a base knowledge of Philadelphia's significant contribution to the founding of this country and will have fun at the same time.
Fun Times in Philadelphia
There are so many fun things to do in Philadelphia. No matter if you're looking for history, culture, entertainment or just a bit of relaxation, you can find it in this amazing city.
From the famous Philly cheesesteak, Philadelphia sports teams and history, this iconic city has so much to offer.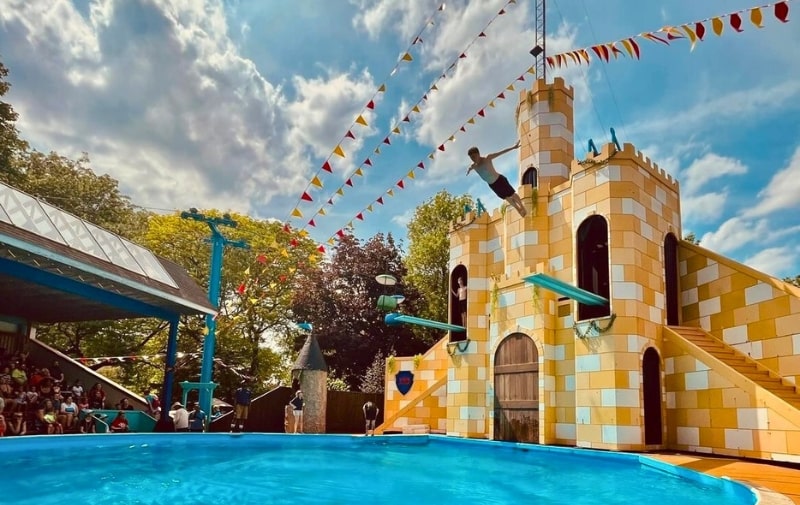 Amusement Parks Near Philadelphia
Unfortunately, Philadelphia doesn't have any amusement parks right in the city, however, there are still several that are close enough to drive to if you're up for a day trip.