Nestled in the mountains of Western Maryland, Deep Creek Lake in Garrett County is a popular vacation spot offering breathtaking scenery and outdoor adventures all year round.
And what better way to refuel after a day of hiking, skiing, or boating than by indulging in some delicious local cuisine to satisfy your taste buds?
Whether you're a fan of seafood, hearty comfort food, or farm-to-table fare, the Deep Creek Lake area has plenty of options to satisfy your cravings.
Whenever I visit Deep Creek, my first priority is always to revisit my favorite restaurant and to try a new one. Join me as we explore some of the best places to eat in Deep Creek, MD, and discover the flavors of this charming mountain town.
Here are the 19 top places to eat in Deep Creek MD.
#1 Dutch's At Silver Tree Restaurant
Dutch's at Silver Tree is a popular, fine dining restaurant in the area with great food. This is definitely the place to go for great seafood and steak. We loved the log cabin type of feel the restaurant had. Very cozy and welcoming!
They offer family size meals and all the servers we encountered here are also very attentive and helpful.
Some dishes you'll definitely want to try are:
Crab imperial
Bacon wrapped scallops
Crabcake sandwich
This definitely isn't the cheapest restaurant on the list but it's definitely one of the most delicious ones.
Tip: Don't forget to visit Harbor Bar there too.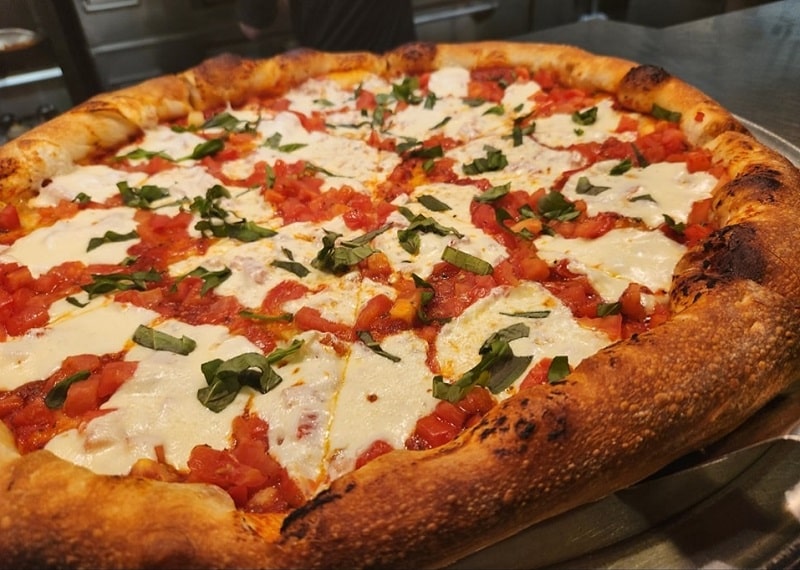 #2 Brenda's Pizzeria
If you're looking for a family-friendly restaurant on the shore of Deep Creek Lake, Brenda's is a great option. They serve some delicious New York style pizza and pasta.
The best way I can think of to describe the food here is Italian food done in a New York style.
The pizza is absolutely amazing (and I'm not usually overly excited about pizza). Both kids and adults enjoy the food here.
The portions are large and you even have a view of the lake.
This is definitely a popular spot so be prepared!
Local tip: they also have gluten free options.
#3 Whisper's Bar
Located at Wisp Resort on Marsh Hill Rd, Whisper's Bar in McHenry's lodge is a full-service restaurant and bar.
This is a perfect spot to go to relax and watch a game.
While they don't have a huge menu, the prices aren't crazy as you might expect being at a ski resort.
They serve pizza, salad and sandwiches, as well as a kid's menu.
Tip: From the parking lot, when you enter, head up stairs and just done the hall to find it.
Local tip: DC's Bar & Restaurant is also on-site. They are more expensive but they do have large portions.
#4 Pine Lodge Steakhouse
If dining in a log cabin doesn't sound wonderful, I don't know what does! Pine Lodge Steakhouse on Deep Creek Dr has nice fireplaces in it's large dining room that make this restaurant extra cozy.
You'll find the restaurant just up the road from McHenry. This is a quieter restaurant with a casual atmosphere if you're looking for something more low-key.
The waiters are attentive and they have a variety of food on the menu ready to be prepared by their house chefs.
We were quite impressed by just how beautiful our food looked when it arrived. Very nicely done!
In addition to the hand-cut steaks, some of the food we recommend is:
Chicken Oscar
Marylander Crab Cake sandwich
Cowboy steak
#5 Deep Creek Seafood
Deep Creek Seafood is popular not just for the fresh seafood, but for it's beautiful views of the lake. I love sitting on the deck overlooking the lake. The restaurant has a lot of wood panels and has a wonderful nature feel to it.
The food here is really good, the owner of the place is so nice and the serving sizes are large.
Deep Creek Seafood is actually one of my favorite restaurants anywhere as they have both great food and great service.
While all the food is good, some popular dishes here worth trying are:
Cheese pretzel with crab meat
Gumbo and steamed mussels
Blackened Mahi Mahi tacos
Maple bourbon glazed salmon with broccoli
#6 Black Bear Tavern
You'll find Black Bear Tavern next door to Pine Lodge Steakhouse on Fort Dr. This is the place to go to enjoy a meal and a beer while you watch sports.
The food isn't as fancy as some of the nearby restaurants but there is a fun atmosphere, some delicious food and the staff are very friendly.
They also have a nightclub with live music (and a mechanical bull).
While you're here, you may want to try:
Crab cakes
Large burgers
Brisket flatbread
#7 Ace's Run Restaurant
Ace's Run Restaurant serves up some delicious and creative American food with fresh ingredients and has beautiful lake views as they have large wrap-around windows.
The views here really can't be beat!
Some of their most delicious meals are:
Crab soup
Shepherd's pie
"Make your own pasta" options
They can also handle large groups well and do it with a friendly smile on their faces.
Note: they do not accept reservations
Local tip: every Wednesday is pasta night where you get a chance to watch pasta dishes being prepared and enjoy all you can eat pasta.
#8 Firewater Kitchen & Bar
Firewater Kitchen & Bar is located right off of Garrett Hwy on Deep Creek Lake along its widest point.
If you're looking for a full bar with some excellent fresh-made craft cocktails and craft beer, this is the perfect place.
You also really can't go wrong with the food here. They have some unique dishes that we haven't seen in some of the area's other restaurants like:
Honey Soy Glazed Salmon with Stir-fry Vegetables & Noodles
Disco Fries with High Country Creamery Cheese
Fisherman's Stew
Smash Burger with 6oz of Angus Blend
Short Rib Grilled Cheese
All the food here really is incredible. The restaurant itself is more upscale and we tried a couple of their specialty drinks which were also wonderful.
Taking the boat up to the restaurant, docking and enjoying a delicious, upscale meal next to the outdoor fireplace is definitely an experience I won't hesitate to do again.
#9 Deep Creek Fun Zone
Deep Creek Fun Zone is a great place to go for family-fun. They have an American restaurant and bar on-site plus lots of other fun indoor and outdoor activities including:
Go-karts
Mini-golf
Laser tag
Arcade
Rock climbing
They have typical food you'd expect to find at a family entertainment center including pizzas, flatbreads, salads, subs and fries.
Local tip: the all-inclusive price is good for even just the golf-carts as the kids go so many times. With the pass, they can go for hours.
#10 El Canelo
El Canelo is the Mexican restaurant in town serving up good Mexican food at reasonable prices.
Fiesta Fries
Grand Veggie Burrito
Chicken Chimichanga
They also have a good vegetarian menu, like the Veggie Enchilada Dinner (even if you aren't a vegetarian!).
Local tip: the Mango Margaritas and apple churros are super delicious!
#11 The Greene Turtle Sports Bar & Grille
The Green Turtle is a sports bar with lots of TVs so you don't miss any of the games.
What's on the menu?
Burgers
Ribs
Buffalo Chicken Nachos
Crab dip sandwich
Crab soup
Don't forget to add beer cheese to your order of fries. It's worth it!
#12 MoonShadow Cafe
If you're looking for food made from scratch, this is your place.
This is a community hangout spot that serves up scratch food and that includes some delicious vegan, vegetarian and gluten free food options in a beautiful setting.
Don't worry, they still serve craft beers and delicious BBQ as well. Plus, on some nights they also have light music.
The menu is quite creative and it's definitely diverse enough that everyone in your group will find something to eat (yes, that includes your picky eaters too!).
Located on Bumble Bee Rd, at MoonShadow you'll find food options like:
Mahi Mahi
Mongolian Beef
Pork-belly deviled eggs
#13 Deep Creek Pizza
Located inside of Funland, a family amusement center, Deep Creek Pizza is a popular spot to take a break from the arcade and enjoy some food.
You'll find everything here from pizza (of course!), fried foods, slushies and other drinks.
The pizzas do come out hot and fresh and despite being from an arcade, are very tasty.
If you're visiting Deep Creek Lake in Winter, they're only open on Fridays and Saturdays. During the summer months, they are open daily.
They also have soft-serve as well as Hershey's hard dip ice cream and all the wonderful toppings.
#14 Trader's Coffee House
If you're looking for a quick bite to eat along with a great cup of coffee, Traders Coffee House is the place to go.
It's always nice to try and mom and pop coffee shop instead of going to Starbucks.
We've tried a number of plates here and recommend:
Sausage, pepper and onion quiche (you'll love this if you like steak & cheese subs)
Pumpkin smoothie bowl
Chicken & hummus wrap
New York bagels
Donut muffins
Cinnamon roll (it's a monster so bring someone to share with!)
And while it can be hard to find smoothie shops in the area, this is a great place for smoothies.
Local tip: they offer gluten free and dairy free options here.
#15 Honi-Honi Bar
The Honi-Honi Bar is a family-friendly restaurant where you can enjoy American food and live music on a terrace overlooking the lake.
This is a fun, party atmosphere which is always fun.
There is lake access here, lake views, lots of outdoor seating and plenty of green space (plus a playground!) for the kids to run around.
I recommend you try their strawberry margaritas in addition to some of their popular meals.
Local tip: visit Honi Honi Bar for the annual Deep Creek Dunk.
#16 Lakeside Creamery
Ice Cream and a lake view? You'll find them both here!
Lakeside Creamery has been around since 1995 and is locally known for their delicious ice cream, homemade waffle cones and lake views.
This is one popular place as you can't find much ice cream in the area otherwise. And during the summer months, don't be surprised if there is a big line waiting (although it does go pretty fast).
They have the regular flavors you would expect at an ice cream parlor along with more fun and exotic flavors like:
Key lime
Peanut butter swirl
Cake batter
Rum raisin
You can even visit by boat and pull right up to the dock.
I found their prices to be reasonable and they give good size portions too.
Local tip: they also serve milkshakes and sundaes. Definitely try the Muddy Creek Sundae
#17 Archie's Barbeque
Archie's Barbeque is a must eat when in Deep Creek Lake. As the name suggests, they serve up some incredibly delicious BBQ.
You'll be seated at an outdoor patio that has picnic tables and if it's hotter out, don't worry, the tables are shaded.
All of Archie's meats and sauces are gluten free.
Everything we had was delicious including:
Smoked wings
Smoked mac n' cheese
Ribs
Pulled pork sandwiches
Beans
Cornbread
Local tip: Achie's is located next to Wisp Resort so this is a great place to go when you're done skiing.
#18 JG's Pub
JG's pub is a better place to go for some really good cheesesteaks, wings, pizza and salads.
They are decently priced and it's a popular local restaurant and bar. Some popular food options are:
Nacho cheese fries with bacon
Maryland vegetable crab soup
Texas ranch chicken wings
Foot long Hebrew national hot dog
The crab cake salad is also good and the desserts are also made in house.
Local tip: less than a mile down the road is Little Sandy's Restaurant which is a great breakfast spot for unlimited coffee, pancakes, omelets, sausage and other yummy breakfast foods.
#19 Mountain State Brewing Co
Located off of Sang Run Rd, Mountain State Brewing Co is one of our favorite places to eat and enjoy the sunset.
They have a fun atmosphere and we find their pizza is better than most pizzerias.
They also have a delicious food menu with:
Baked pulled pork
Mahi mahi
Lobster bisque
One of the reasons this place is a favorite is there 40 different burbons, amazing pizza and their fabulous deck with lake views.
Frequently Asked Questions
What are the most popular restaurants in Deep Creek Lake?
The 3 most popular restaurants in Deep Creek Lake are Archie's Barbeque, Ace's Run Restaurant & Pub and MoonShadow. See the full list of popular restaurants and what they serve here.
What are the best restaurants in Deep Creek Lake that deliver?
​​There are several excellent restaurants in Deep Creek Lake that deliver including MoonShadow, Tomanetti's Pizzeria and Deep Creek Bar and Grill.
Eating at Deep Creek Lake Restaurants
As you can see there are so many delicious restaurants in the Deep Creek Lake area that help make an overall great experience.
With plenty of places with a great menu serving up the freshest food from local farmers to more fast food options, they have it all.
If you haven't tried all the restaurants here, make sure to make plans to visit a new restaurant on your next visit.
Whether you're looking for an outdoor experience, unique restaurant, a delicious breakfast, hardy lunch or just a short drive from the lake, it's all here.
Deep Creek is a premier destination for nature, water activities and some seriously delicious food!