Whether you're a history enthusiast, an art lover, or a family looking for a fun and educational outing, The Frick Pittsburgh has something for everyone.
Nestled next to the picturesque Frick Park, this magnificent home offers a captivating glimpse into the past. Step inside and be transported to an era of grandeur and sophistication.
The Frick Pittsburgh is an architectural gem, meticulously preserved and filled with treasures waiting to be discovered.
One of the best things about The Frick Pittsburgh is that most of its attractions are free! That's right, you and your family can explore this historical mansion without breaking the bank.
So, grab your loved ones and get ready for a day filled with excitement, culture, and a touch of nostalgia.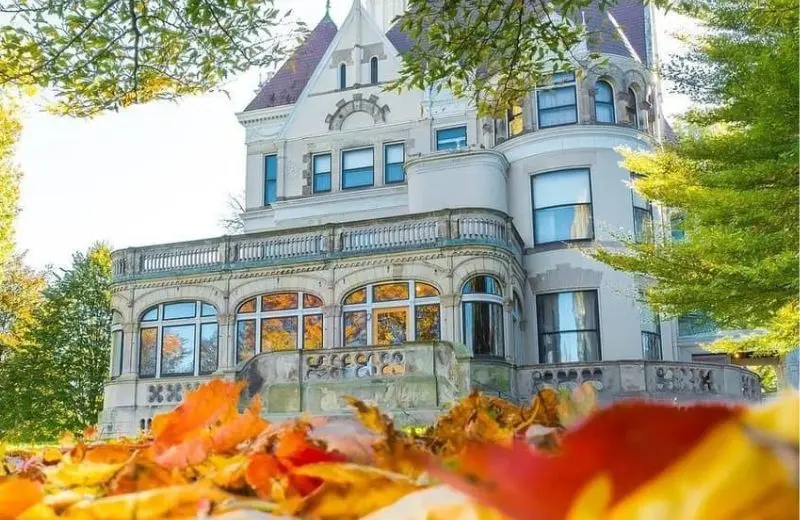 What to expect
This hidden gem in Pittsburgh offers a delightful experience for families and the general public alike. The well-maintained grounds provide a beautiful backdrop for your visit.
As you explore the museum, you'll be impressed by the informative and visually appealing infographics accompanying the exhibits.
While the exhibits we saw were more geared towards adults or teens, there is still plenty for everyone to enjoy and learn from.
Note: The Frick is open until 9 p.m. on Fridays in the summer when it hosts free concerts, special activities, and food trucks.
The staff at The Frick Pittsburgh is friendly and knowledgeable, always ready to assist and provide insights.
Don't forget to take a break at the small cafe located on-site. You can indulge in a refreshing cup of tea, grab a bite to eat, or even enjoy a glass of wine. It's the perfect way to recharge before continuing your exploration.
What's to See and Do
At The Frick Pittsburgh, there are countless treasures waiting to be discovered. Some of the must-see highlights include:
Grable Visitor Center
Car and Carriage Museum
The Playhouse
Greenhouse and Gardens
The Frick Museum
Clayton
Grable Visitor Center
When you arrive at The Frick Pittsburgh, the first stop on your journey should be the Grable Visitor Center.
At the Grable Visitor Center, you'll have the opportunity to purchase tickets for special exhibitions and even a house tour.
Car and Carriage Museum
We loved the Car and Carriage Museum, which has a beautiful selection of vehicles owned by the family, dating back to the turn of the 20th century.
One of the first things you'll notice about the Car and Carriage Museum is its cozy and intimate atmosphere.
Despite its smaller size, this museum boasts an absolutely beautiful collection of cars and hood ornaments that will leave you in awe.
But what truly sets it apart is the impeccable care and attention given to preserving and maintaining these timeless treasures.
It was not just about looking at pretty cars; it was an opportunity for both our kids and us to delve into the rich history of automobiles and witness the remarkable progression of the automobile industry throughout the years.
Inside the museum, you'll discover an array of vehicles, including some of the Frick family's personal cars. Additionally, there are fascinating pieces like Stanley steamers and old race cars that add a touch of excitement to the exhibits.
Now, here's the best part: certain sections of the museum are free to visit! This means you can bring the whole family and embark on a delightful journey through time without breaking the bank.
However, do keep in mind that special exhibits require a ticket.
The Playhouse
Built in 1897, it was specifically created for the children of Henry Clay Frick, an industrialist and art patron.
Back then, this Playhouse had some fantastic features, like a bowling alley and a darkroom. Fast forward to today, though, and it has been transformed into administrative offices.
Note: Unfortunately, the Playhouse is not open to the public, but it still plays a vital role at The Frick. It serves as a hub for staff offices and meetings, ensuring everything runs smoothly behind the scenes.
While you may not be able to explore the Playhouse firsthand, it's fascinating to know its history and how it continues to contribute to The Frick's operations.
Greenhouse and Gardens
I have to say that this is one of my favorite spots in the city. The botanical gardens inside the greenhouse are simply enchanting.
Throughout the year, the greenhouse is open to the public, offering a haven of blossoms and greenery.
Here, you'll find flowers and tropical plants thriving, all cultivated to beautify Clayton and provide seeds for outdoor beds, vegetables, and even mushrooms.
It's truly a marvel to witness the diversity of plants nurtured within its walls.
Spanning an impressive 10 acres, the gardens at the Frick Pittsburgh are a sight to behold.
Surrounded by vibrant peonies, they create a serene atmosphere perfect for a stroll with your kids or a much-needed break from the hustle and bustle of the city.
Trust me, stepping into these gardens will instantly soothe your senses.
And here's a little surprise for your little ones. Just outside the greenhouse, you'll find a mailbox containing a fun scavenger hunt. It's a delightful way to engage their curious minds while exploring the wonders of nature.
Frick Art Museum
The Frick Art Museum is a must-visit destination, especially for families.
One of the things that impressed me the most about the Frick Art Museum is its diverse range of temporary shows. They offer a delightful variety of mediums, styles, eras, and artists.
Whether you're a fan of classical masterpieces or contemporary creations, there's something here to pique your interest.
While the collection at the Art Museum may not be as extensive as the Frick in New York, it still houses some remarkable paintings by renowned artists.
Just to name a few, you can admire the works of:
Rubens
Steen
Guardi
Fragonard
Boucher
Hogarth
And Gainsborough
Each painting tells its own unique story and provides a glimpse into the talent and creativity of these masterful artists.
It excels in Early Renaissance devotional paintings, Renaissance and Baroque bronze statuettes, and 18th-century French paintings and decorative arts.
Clayton
One of the highlights you simply can't miss is Clayton, a stunning example of 19th-century architecture that offers a captivating window into the lives of the Frick family.
We were lucky enough to get a private tour of Clayton. The house was very modern for the time, with central heating, electric lighting, a phone, and an early shower.
The first floor has a receiving room with an 1892 orchestrion, a mechanical instrument, a dining room, and a breakfast room.
The Frick children had a separate children's entrance. On the landing to the upstairs are four stained glass ladies from literature, including Miranda from The Tempest.
Upstairs, you will visit the bedrooms of Mr. and Mrs. Frick and their daughter Helen. Helen's room is painted gold and has birds on the ceiling.
Helen once said that no one could have an unhappy childhood in such a beautiful room and returned to her childhood home as an old lady.
We were moved by the charcoal portrait of Mrs. Frick and her young children. My daughter and I love visiting historic homes; this one was a great example of a Victorian mansion.
Frick's Garage is now a charming cafe called The Frick Cafe that serves lunch, tea, and dinner on Fridays.
The gift shop in the Visitor Center is exceptionally lovely.
Bring Your Small Kids to Clayton
Now, I must give you a friendly heads-up. While Clayton is a fantastic family experience, I wouldn't recommend bringing along small children.
Why, you ask?
Well, it's simple – the artifacts and objects on display are up close and personal, and we all know how curious little ones can be, often tempted to get hands-on with everything they see.
To ensure the preservation of these precious pieces, it's best to wait until your kids are a bit older to fully enjoy the Clayton house.
Admission & Pricing
Admission to the gardens, the permanent collection of The Frick Art Museum, and a section of the Car and Carriage Museum are always free.
Admission fees apply to specific special exhibitions in The Frick Art Museum, Car and Carriage Museum, and to Clayton tours.
Clayton tours are $20 for adults and $17 for seniors, $10 for 17 and under, and free for babies held in arms.
You can buy tickets online or at the museum.
You can also enjoy free public programs and events at the museum.
Good to know before you go
Advance tickets are recommended for Clayton tours.
There are discounts available for groups of 10 or more people.
Free admission is offered for members of the Frick Pittsburgh and for children under 5.
Hours & When to Go
Each part of The Frick has different hours as listed below:
Grable Visitor Center: Open from 10:00am to 5:00pm, Tuesday through Sunday.
Greenhouse and Gardens: Open from 8:00am to dusk, Tuesday through Sunday.
Car and Carriage Museum: Open from 10:00am to 5:00pm, Tuesday through Sunday.
Frick Art Museum: Open from 10:00am to 5:00pm, Tuesday through Sunday.
Clayton: Open from 10:30am to 4:00pm, Tuesday through Sunday.
Special Exhibitions: Hours vary depending on the exhibition.
Getting There & Parking
The Frick Pittsburgh is located at 7227 Reynolds Street, Pittsburgh, PA, 15208. You can reach it by car, bus, bike, or on foot.
There's a free parking lot on Reynolds Street, but space may be limited due to ongoing improvements.
Street parking is also available in the area.