When it's hot out in Charleston, South Carolina, visiting one of the county's water parks is the best ways to beat the heat!
These waters are great for kids of all ages with huge kiddie areas, body slides, lounge chairs and all the fun things you need to have a great time.
Here'll we'll explore these Charleston county parks.
When to Go
Charleston water parks typically start to open for Memorial Day on the weekends and start daily operations in early June.
Check the waterpark's website or social media page for exact dates of opening.
#1 Splash Zone Water Park
871 Riverland Dr, Charleston, SC 29412
Splash Zone Waterpark is in James Island County Park and is a really fun waterpark for the entire family.
They have:
Waterslides
Lazy river (with 2 options!)
200-foot-long slides (including tube slides)
Large leisure pool
Kids splash area
We found the waterpark to be very clean and well-maintained. 
There are many lifeguards on duty who all seemed to be very carefully watching everyone.
You will find picnic areas inside the waterpark where you can spread out to eat and there are also several places to order food in the park as well. They also have cabanas available to rent.
Why visit?
While this is one of the smaller water parks, there is still enough to do for everyone to enjoy themselves. As a parent, it's also nice to be able to see the kids while they're enjoying different parts of the park.
James Island County Park has other fun activities you may want to stay and enjoy like a 50-foot climbing wall, fishing and crabbing, playground, spray play fountain, kayak rentals, dog parks and more.
It's also pretty cheap to visit, especially compared to some of the other water parks in Charleston.
Local tip: If it rains when you're there they let you come on another day for free.
#2 Charleston Aqua Park
3050 Marlin Rd, Johns Island, SC 29455
The Charleston aqua park is an inflatable water park sitting on the man-made lakes, trophy lakes, on the James Island.
They have:
Inflatable water park
Ropes course
Wakeboarding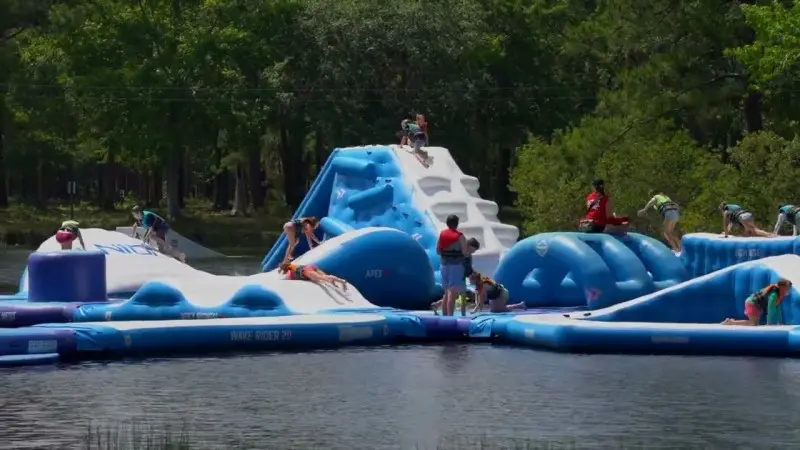 This park is such a blast and both the kids and adults love this one. I'd recommend this water park for the big kids from ages 6 and up.
The course does give you a challenge but that's what makes it fun and it's not impossible to do.

The staff here are really nice and helpful.
They also had a wakeboarding available to try if you wanted to.

On the obstacle course there are different places you can jump off into the lake, plus different slides taking you into the water. The water sprinkler keeps it all wet and cool which makes it really nice in the heat.
You can also stick around and swim in the water after enjoying the waterpark.
Charleston Aqua Park also hosts some special events like Wake School, Ninja Warrior Challenges and more.
Local tips: If you're not just going for the waterpark and want to try out the high ropes course as well, don't forget to bring shoes as you'll need them. When you visit on the weekends during the summer months, it's definitely a good idea to make reservations in advance so if you want to do the other activities like wake boarding, You won't be disappointed if the time slots are filled.
#3 Splash Island Waterpark
444 Needlerush Pkwy, Mt Pleasant, SC 29464
Splash Island Waterpark is a great place for kids 7 and under. So if you have older kids, they'll likely get bored here quickly.
It's nice to have a waterpark for the littler ones so you don't have to worry about the bigger kids in their space.
NEARBY: 5 Best Charleston South Carolina Plantations to Visit
They have a shallow pool that is good for the little ones that has fountains, sprays, geysers, slides, raindrop waterfalls and even a water chute. The largest pool here is 4-feet at the deepest spot.
Some of the water attractions include:
Activity pool
200-foot body flume
16-foot-long otter slide
Cyclone swirling water ride
1200-foot lazy river
I think my favorite part of this water park is that it feels like you're in the middle of a jungle with all the trees around since you're inside Mount Pleasant Palmetto Islands County Park.
Palmetto Island County Park surrounds the water park and has a beautiful tropical settings. If you can, plan on spending some extra time to enjoy the nature trails, go crabbing, playground and tree house.
The lifeguards really pay attention and are frequently rotating.

But having a place to sit is important to you. It's a good idea to go early, otherwise there are places where you can lay out some towels or a blanket and have a picnic. Concessions are available.

The little ones can easily stay here for hours and it's reasonably priced to visit.
If you're going with a group, it may be worth renting a shelter to have some extra shade and seating.
Tip: Local tip: so smaller kids aren't disappointed, know there is a minimum height restriction of 48″ for the body flume and 30″ for the 16-foot otter slide.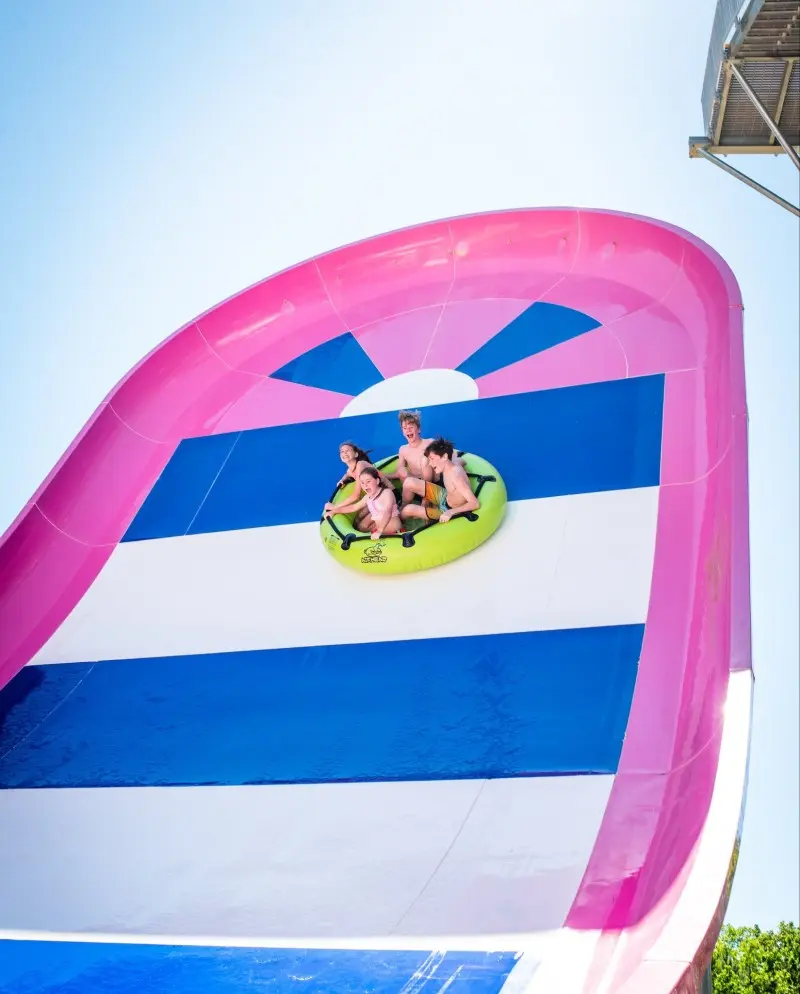 #4 Whirlin' Waters Adventure Waterpark
8888 University Blvd, North Charleston, SC 29406
This North Charleston Wannamaker County Park is the best water park for the in the Charleston Area for the whole family as there are different attractions for different ages. It's the perfect place to go if you want to spend the whole day at the water park!
Whirlin' Waters has an island-style water play which is fun and beautiful. And with over 15-acres to explore, there is so much to do!
They have so many interactive water features and a full range of amenities like:
Big Splash Tree House
Water slides
Big Kahuna Wave Pool
Rollin' River Lazy River
Otter Bay Kiddie Pool Area
Lily Pad Lagoon
The kids love the big water bucket that fills with water and dumps right on you.
Now, because this is a bigger water park, there are some things that are good to know before you go.
You do need to carry a large innertube up several flights of stairs to get to the big slides so if you're alone with younger kids who can't do that, know that you'll be carrying several. 
Prices for the younger children are based on height.
While you cannot bring your own food into the water park. You can leave it in a cooler in the car and you can have your hand stamped so you can re-enter without paying again. They also do have a small store that has pool type items like goggles, sunscreen, hats, etc.

I would definitely recommend getting there early if you want to avoid the bigger crowds, and if you want to grab one of the available lockers too.
This is one of the more expensive water parks in the area with general admission starting at $24 per person, but it's also the biggest. Season passes are also available if you plan on returning multiple times.
Local tip: later in the day the big slide starts to get busy so expect a little longer line for those and bring your patience.
Good to Know Before You Go
Some water parks do have life jackets available but they may or may not be available especially on busier days. If you want to ensure your child has a life jacket, it's best to bring your own.
While one water park does have a store to buy some essentials, you'll want to make sure to bring a dry change of clothes, towels, plenty of water and lots of sunscreen
Plan on extra time before or after your water park visit to spend time in the surrounding parks to relax, have a picnic or enjoy some of the other attractions.
Always check the park's website or social media in the case of storms or extreme weather as they will likely close
You'll have a better chance avoiding the bigger crowds if you visit early
Other Water Parks
Many people in Charleston will take a day or weekend trip to Myrtle Beach which is about 2 hours away.
There are more fun water parks there like:
Myrtle Waves Water Park
Dunes Village Resort
Crown Reef Beach Resort and Waterpark
Or to visit one of the family amusement parks like Family Kingdom Amusement Park to ride Swamp Fox, one of the only remaining wooden roller coasters in the country.