To celebrate the summer ending and the new school year beginning, I decided to take my kids to Jake's Unlimited in Mesa, AZ.
We've been a couple of times before and they routinely ask to go back.
If you haven't been, Jake's Unlimited is a huge 87,000 square-foot family entertainment center with lots of fun things to do including:
Arcade
Bowling
Midway games
Rides
Laser tag
Virtual reality
Buffet
Wristbands for Unlimited Play
When you purchase a package that includes unlimited arcade play, you will be given a paper wristband. When you are at a game, all you have to do is scan your wristband and the game will start.
If you only purchase the Unlimited Eats package hat does not come with any game play, you will be given a purple wristband that does not have this scanning ability.
Arcade
The arcade has 100+ games with options for everyone. There are even a handful of games and a small ride for the littlest guests.
They have games that you would expect at any arcade like basketball, shooting game, ski ball, motorcycle and car, racing games, and others.
Some of the more unique games we saw were:
Fishing
4 player Pac-Man
Dark Escape 4D
Hot Wheels king of the road (for 6 players)
Transformers human alliance
Jet pong
4-player pong knock out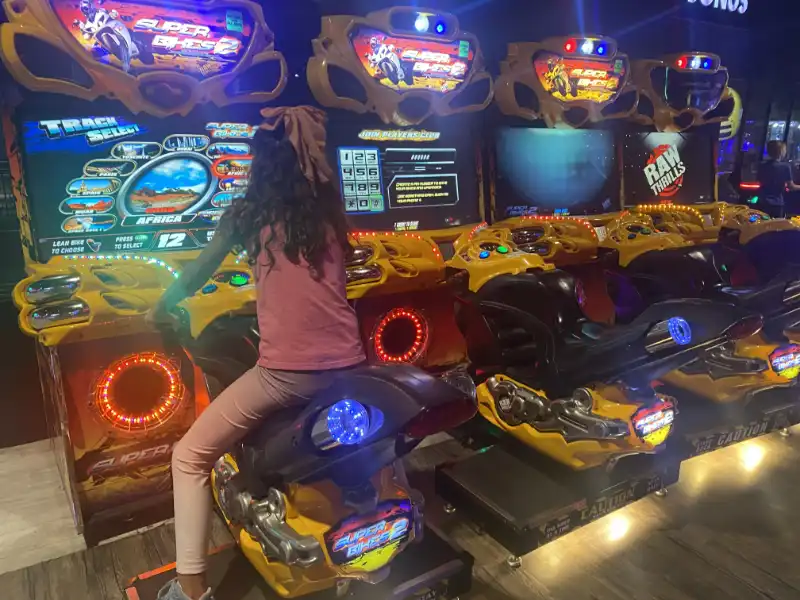 Rides
My eight-year-old absolutely loves the rides and will continue to ride over and over. My 11 year old on the other hand was far more excited by the arcade games that he passed up the rise altogether.
Jake's Unlimited has five rides for the kids.
They are:
Froghopper
Carousel
Tea cups
Radius
Bumper cars
The tea cup, and the carousel are the most fun for the younger kids. The radius is a ride that go with her kids and adults will also enjoy, along with the bumper cars.
READ NEXT: 43+ Things to Do in Mesa: Best Fun Attractions & Ideas
There are about a dozen bumper cars in the area. It's from her car is a different color and lights up at the bottom.
It's a lot of fun, twisting and turning, trying to avoid getting bumped by the other cars coming for you.
Height and Age Restrictions for Rides
There are height and age restrictions for the rides, and the smaller kids may need to ride with an adult.
Kids under 36 inches can only ride the tea cups in a carousel with an adult.
Kids who are 36 inches or taller can ride the radius with an adult, the tea cups alone but they must be at least four years old in order to ride the frog hopper.
Kids 42 inches and taller can ride the radius and the carousel without an adult.
Kids must be 44 inches in order to ride the bumper cars.
Midway Games
When you walk in to Jake's, the front right corner houses all of the midway games. These are your typical Carnaval style games.
While they are not included in all packages, they are included in the Champion Pass (more on that below) or are you can purchase some games individually.
A few of the games in this section include:
Horse race
Water gun fun
Roll a ball
Laser Tag
The laser tag room at Jake's is 4,300 square-feet and is 2-levels!
There's plenty of room to spread out and plenty of hiding spots.
It's nicely decorated like another planet, along with chemical drums and a huge robot.
If you go closer to open on the weekdays, you probably won't find many others to play with outside of your party. Later in the day, particularly once school lets out (unless you go during the summer), more people show up and you' can 'll have a good group of people to play with.
Note: kids must be at least 42″ tall to play.
Unlimited Eats: What to Eat at Jake's
Entrance to Jake's Unlimited comes with an unlimited food buffet.
The food includes:
Pizza
Pasta
Soup
Salad
Dessert (including self-serve soft serve ice cream!)
Drinks
The food is definitely basic and rather plain but having a full buffet out for the kids to eat anytime they want is a lot of fun for them. My kids definitely stop by the soft serve machine a lot more times than they should!
Definitely many trips to the ice cream station. While we've been a few times, they typically only have chocolate and vanilla available other one time they also had pineapple.
They had about 8 different types of pizzas, plus cheesy bread out at most times.
They had three different pastas, including a pasta, Alfredo and mac & cheese. They also had hot chicken noodle soup.
Of the few times that we've been to Jake's, the dessert bar varies. We've seen bite-size pieces of cake, donut holes, and other small, bite-size desserts.
What gets my kids most excited is the unlimited soft serve ice cream that they can serve themselves.
Jake's Sweet Shoppe
There is also Jake's Sweet Shoppe which has its own separate menu that you can order from the house, bigger and fancier desserts.
If you purchase their Champion Pass, they also have one dessert from the shoppe included.
Where to Eat
There are 4 rooms available for you to eat. The one is an open space area with tons of tables and a wall full of smaller TVs.
This is also a place where you could say. Are you watch the kids on the rides.
They also have three separate rooms where you could enter.
One room named Legacy has many booths and just a few TVs so you could eat here with far less distraction and noise.
The next room, High Score, is definitely for the parents who want to watch the latest sports that are going on while you eat. This room is much louder with all of the TVs and the focus is definitely on the games.
The kids are most likely going to want to go to the cinema room.
This has three separate sections with three big screen, TVs, all playing different movies, so you can grab a booth to eat out while you watch a kids movie.
Frequently asked questions about Jake's Unlimited
Do parents have to pay they don't ride or play?
Everyone who enters Jake's Unlimited must pay. However, you can choose the package that you sign up for. If you don't plan to ride or play, you can sign up for the cheapest package which is unlimited eats.
No one can enter for free as everyone would have access to the unlimited Buffay.
Does Jake's Unlimited have Wi-Fi?
Yes, Jake's Unlimited has public Wi-Fi available. I tested it while I was here several times and it always worked very fast.
What is the Jake's Fun Card?
The Jake's Unlimited fun card is a card that you can purchase separately.
The fun cards can be used to play midway games and at photo booths. The fun cards also allow you to win tickets which you can redeem for prizes in the Bonus Room.
It makes sense to purchase the card if you want to earn the tickets on the arcade games.
The unlimited wristbands allow you to play any of the arcade games as many times as you want during your visit but you do not earn tickets that you can redeem in the bonus prize room.
You can use your fan card to swipe at each game and collect points to be redeemed in the prize shop.
What is Fun for Adults at Jakes Unlimited?
There's plenty for adults to enjoy whether you're coming with or without kids.
Adults will enjoy:
Full bar
Billiards (2 tables next to bar)
Bowling
VR
Arcade
High score food room
Bumper cars
Radius ride
Laser tag
You can purchase new fine cards or reload them at stations within the arcade. There is a $1.62 fee for a new card purchase from the kiosk.
Prices
If you're wondering, how much does Jake's Unlimited cost come on break down all of the pricing here.
Everyone age 4 and is up is required to purchase admission. Kids 3 and under are admitted free with a paying adult and can enjoy unlimited eats along with unlimited tea cup and carousel rides.
We typically go with the Pro Pass as my kids don't pay much attention to bowling or VR.
Depending on how much of those activities you want to do, you can add those on as an upgrade which would cost less than the Champion Pass.
Ultimately, you need to decide what you'll want to spend your time doing and how long you'll be there.
Let's start with your options for admission packages:
| | Champion Pass | Pro Pass | Gamer Pass | Endless Eats Pass |
| --- | --- | --- | --- | --- |
| Price | $65 | $38 | $28 | $15 |
| Admission & Unlimited Buffet | ✓ | ✓ | ✓ | ✓ |
| Unlimited Arcade Games | All Day | All Day | 4 Hours | ✕ |
| Unlimited Laser Tag | All Day | All Day | ✕ | ✕ |
| Unlimited Carnival Rides | All Day | All Day | ✕ | ✕ |
| Fun Card | $20 | ✕ | ✕ | ✕ |
| Unlimited Hyperbowling | All Day | ✕ | ✕ | ✕ |
| Unlimited VR | All Day | ✕ | ✕ | ✕ |
| Sweet Shoppe Treat | ✓ | ✕ | ✕ | ✕ |
You can also pay for some activities individually if it's not included in your package.
| Activity | Price |
| --- | --- |
| Game of Hyperbowling | $10 |
| 1 Hologate VR Play | $10 |
| 1 Ombi VR Play | $12 |
| 1 Regular VR Play | $5 |
| Midway Games | $3 |
How to Save on Admission at Jake's Unlimited (2 Ways)
While there aren't tons of ways to save, there are a few things you can do.
#1 Check Their Current Specials
Jake's specials change so make sure to check their current specials.
For example, on weekdays during the summer, the price of admission is reduced by $10 per pass, Monday through Friday.
#2 Check Groupon
There is a Jake's Unlimited discount on Groupon here. The deal is 27% right now but can change. Look for Jake's direct specials first as sometimes it's a better deal with them directly.
Hours & When to Go
Jake's Unlimited is open 7 days a week from 11am to 10pm.
The buffet is open from 11am to 9pm so make sure to eat what you want before they stop serving at 9pm.
Occasionally Jake's closes for special events so it's a good idea to check their hours posted on their website in case of an event.
Avoiding Long Lines & Crowds
If you want to avoid the crowds, definitely visit during the week, even if you go in the evening.
Mondays through Thursdays don't have a lot of people. Fridays there are a bit more and you may have to wait behind 1 person or so for the rides or arcade games. Definitely doable and still a lot of fun!
Jake's big day is definitely Saturday so if you want to go on the weekend, go on Sunday if you can.
Good to Know
We tend to go to Jake's Unlimited during the weekdays so we can avoid the crowds.
On the weekends, I can definitely get packed so you need to bring a little patience and expect lines at the rides in some games.
During the week they do not have a staff member at each individual ride.
Rather, they have one staff member who works the different rides so the kids tend to float between the ride inoperation.
Overall, the staff member does a good job of switching continually between the ride, so everyone gets to ride what they want.
There is no system in place to check children leave with the adults I came with so make sure to keep an eye on your kids.
You are able to leave and come back in as long as you have your wristband on. Make sure to check-in with staff before leaving to make sure they haven't changed that
There are hand sanitation stations throughout.
There are bathrooms located at the front of the venue
Getting There & Parking
Jake's Unlimited is located at 1830 E Baseline Rd, Mesa, AZ 85204.
There is a large parking lot in front with tons of parking. It does get full on the weekends though so you may have to circle a couple of times!