The Flandrau Science Center and Planetarium In Tucson is a great museum for kids.
While it's not the biggest museum, there are 2 levels to explore and they pack a lot into the space they have.
What's the museum is located on the University of Arizona campus, all of the museum staff are university students who are currently studying science.
All of the stuff we interacted with this very nice and happy to see the kids engaging with science. More on our experience with that in a moment.
What to Expect
We knew going in the museum was going to be smaller, at least smaller than the Phoenix science museum.
I was surprised when they told me there were 2 levels to explore.
The lady checking us in said most people spend 60-90 minutes at the museum (excluding the planetarium), depending on how much they engage with the exhibits.
My kids are 8 and 11 years old and we spent 3 hours there. And I had to make them leave. They wanted to go back to their favorite parts but we had to get back to Phoenix.
In fact, we planned to do more things in Tucson but only ended up visiting the museum because they enjoyed it that much.
The top floor where you enter is a loop so you can start in either direction. We opted to start in the shark room.
Shark Room
The shark room is of course, all about sharks.
They have lots of exhibits talking about sharks and several interactive games like:
Shark Racer (an arcade style game)
Drive a deep sea submarine simulator
Design a shark or find the right prey shark wants
Shark puzzle (which was harder than it looked)
Cryptic critters hide and seek game
These kept my kids thoroughly engaged for quite awhile. They wanted to do the deep sea submarine simulator a number of times.
They also had a nice case full of Megalodon teeth, some preserved shark eggs, a huge shark fin display showing how big shark fins got up to.
The showcase had a Port Jackson shark, Tawny Nurse shark and several others, including a 32-foot fin of a whale shark.
At the end of the section was a shark finning game to teach kids about how sharks are being hunted and the problems it causes.
In the game you roll a ball to see if you get caught and finned by a vessel or if you are safe.
Wild World of Bugs
As the name suggests, this section of the museum was filled with bug exhibits! Well, there is a cage of live, giant cockroaches.
Like the shark room, this section also had some interactive activities for the kids like:
Roly-Poly Rollers (a skeeball game)
The Time Challenge
Flying Spiders
The kids loved the flying spiders game where they had to put spiders into a tube of air and see if they would float out the top.
There was also a display of edible insects showing how we may need the help of bugs to feed 9 billion people in a few decades as the population continues to grow.
The Solar System
Just past the World of Wild Bugs is the solar system section. There were some neat displays about the different planets which would be good for the older kids.
There was also a tunnel with lava to walk through.
While there were a few interactive components, this section is more for the older kids than the other rooms which both the older and younger kids will enjoy.
Here you can also see the world's largest scale model of the surface of Mars.
This Mars display shows real photos taken by spacecraft and the model was created using that same data.
Just in between the Solar System and the Wild World of Bugs is a staircase that leads you downstairs.
Insect & Dino Rooms
The downstairs area had about a dozen stations with puzzles and games to challenge them.
They also had a staff member, who are all dressed in white lab coats by the way, available to answer any questions and help kids with the puzzles.
There was a very friendly man who did a great job helping the kids and giving them some hints to help them learn while still feeling they accomplished something.
Some of the puzzles they had were:
Pyramid puzzle
Leaping trilobites
Touch the pegs
Triangle and square
Parabola pool table
Beyond the puzzle is a massive t-rex skull which you can't miss. It reminded me of the skull we saw at Tyrannostorus in Mesa.
There are also tons of Trilobite fossils and meteorites which was actually pretty neat.
Undersea Discovery
Downstairs you'll also find the Undersea Discovery part of the museum. While it's smaller, my kids spent quite a bit of time in here.
There were a few ladies working at this section and they had a display with about a dozen various items for kids to pickup and touch including:
Fossils
Shells
A Megaladon tooth
Coral
A squid beak (did you know squids have beaks?)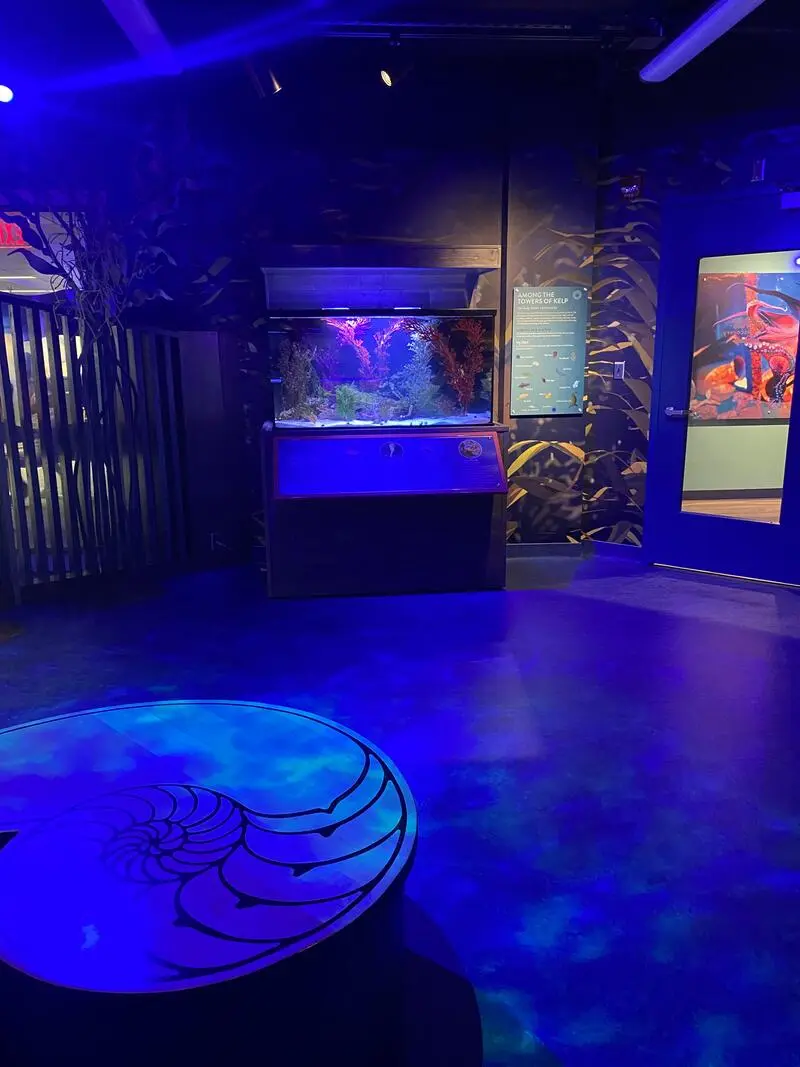 They were very engaging with the kids, listened to them talk and answered all their questions. You could tell they really enjoyed working here which was so nice to see!
Just beyond their display was a wide yet low tank with hermit crabs, sea stars, and small fish.
There are also 3 much larger tanks that had some really neat sea creatures including a puffer fish, eels, sea horses, groupers and more.
The microscope had 16 different speciments for the kids to see and it also displayed what they were looking at on a larger TV above their table for everyone to see.
They had some fun items to view like:
Pink sand from Bermuda
Star sand from Japan
A young sea star (maybe a few millimeters wide)
Eos Planetarium Theater
We didn't end up staying for a planetarium show since we spent longer than expected in the main part of the museum and we had to be back in the Phoenix area.
We definitely plan on coming for just a planetarium show when we're back in the Tucson area.
Luckily, they do publish the various shows and times on their website so you can plan ahead.
The shows last roughly 45-minutes and it is followed by a staff member explaining more about the show which can run anywhere from 45 to 60-minutes depending on the speaker.
Weekends have 4 planetariums shows each day so it's easy to find a show whether you come in the morning or afternoon.
Did You Know? At the Flandrau Science Center you can see the world's largest scale model of the surface of Mars
The planetarium shows aren't all planets and space either. They have a variety of changing shows like:
Mighty monsoons
Black holes
Expedition reef
Touring the solar system
Undiscovered worlds
While we haven't been, they also have laser light movie nights which look really neat. Those don't happen everyday so check their schedule for shows.
During the week they have two planetarium shows in the afternoons as they often have field trip groups that come in the mornings.
On the day we went (a Wednesday) they only had one afternoon show. Just make sure to check their planetarium schedule for the day you plan on going.
Gift Shop
The gift shop is located to the left just as you walk in the door. Unlike other museum gift shops, everything here is reasonably priced.
Some of the items they had were:
Necklaces and keychains with insects and other items inside
Science related kid's books
Astronomy file folders
Science posters
They even have beautifully printed science posters for $5. If I had space for them, I definitely would hold have bought one.
Tickets & Pricing
Tickets for the science center are $12 for adults and $8 for kids ages 3 to 15. The planetarium has the same pricing.
It is important to note that you can choose to pay for just the science center, just the planetarium or both depending on what you wish to do.
There is no discount for purchasing both tickets.
Tickets for the laser light shows are $18 for everyone. When you come for a laser light show, you can also see the science exhibits during that time.
They do offer discounts for seniors, military, college students (with ID), Flandraue members and EBT/WIC cardholders.
Hours & When to Go
The Flandrau Science Center and Planetarium is open Tuesdays through Sundays from 10am to 5pm and is closed on Mondays.
Good to Know Before You Go
With your wristband you can come in and out all day
Bathrooms, stairs to downstairs exhibits and elevator are located at the back of the world of bugs section of the museum
It's easier to find parking on campus and the parking is also free as long as there is not a football game going on
When seeing a planetarium show, make sure to arrive at least 10 minutes early
Don't forget to give yourself extra time to find parking and walk to the museum
Getting There & Parking
The Flandrau Science Center and Planetarium is located at 1601 E University Blvd, Tucson, AZ 85721, on the campus of The University of Arizona.
In front of the museum there is both street parking and a parking garage available. Before lunch we parked on the street.
You'll need to have the Passport Parking app downloaded so you can pay on the app. You'll also be able to extend your time if needed right in the app so you don't have to go back to your car.
After lunch we parked in the garage as street parking was full. There you pay as you exit with credit card. No need for the app.
Parking in the garage or on the street is only $2 per hour.