Whether you're a local or tourist, there are so many fun things to do in Phoenix, Arizona, the fifth largest city in the US.
Especially if you're short on time, it can be hard to narrow done exactly where to start.
That's why, here in the Grand Canyon state, we're diving deep into the best things to do in the Phoenix area. From downtown Phoenix to the Phoenix metropolitan area, there is so much to discover.
Here in the valley of the sun, there is so much to do and it will take a long time to do it all!
This is a list of the best things to do in Phoenix and you can use it as a to-do list of fun!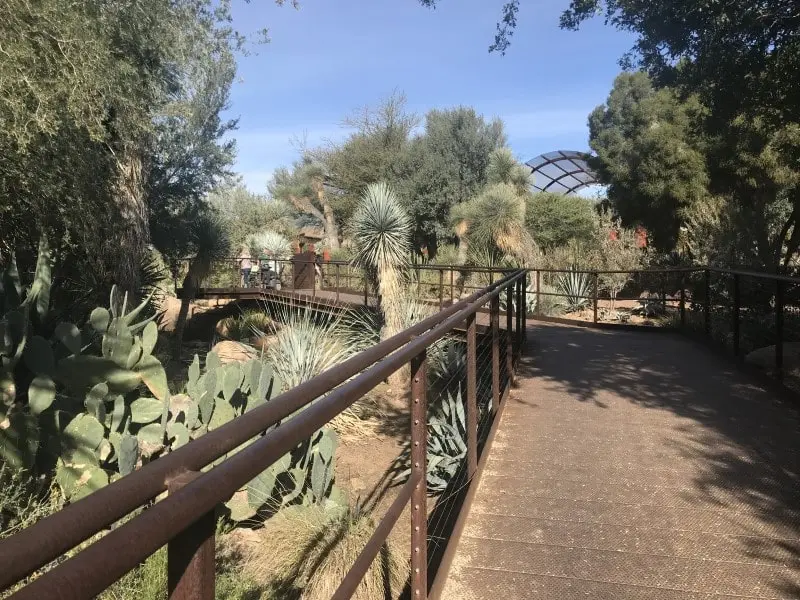 #1 Desert Botanical Garden
The Desert Botanical Garden is a great place to see the beauty of the Sonoran desert and the American Southwest.
Here you'll see and learn about the desert plants, incuding saguaro cacti, that live there.
This 140-acre outdoor museum is beautifully landscaped and you could spend hours here exploring, relaxing and just enjoying the calmness of the gardens.
There are changing exhibits throughout the year, as well as different events to make your visit extra special.
Local tip: On the second Tuesday of every month, the Desert Botanical Garden in Old Town Scottsdale hosts their community day where you can reserve free admission on their website.
The pictures you'll see of this place are amazing, but it's even better in person.
#2 Visit the Largest Art Museum in Phoenix
If you love Art, The Phoenix Art Museum is definitely the place to go! Here you'll be able to see a wide range of art exhibits dating back to the Renaissance all the way up to modern art.
Best of all, this museum is free, although there is a charage to see special exhibits.
Local tip: Every Wednesday from 3pm to 9pm, is pay-what-you-wish Wednesday and admission is free every first Friday of the month.
Their permanent collection caters to all types of audiences.
#3 Visit the Largest Municipal Park in the City
South Mountain Park & Preserve is the largest municipal park in Phoenix. The most popular attraction on South Mountain is Dobbins Outlook.
Enjoy a farm to table meal at The Farm at South Mountain or bring your mountain bike and hit the trails.
The Pima Canyon Trailhead is an easy hike and from the ridgeline, you will be able to enjoy nice views of the city.
#4 Musical Instrument Museum
The Musical Instrument Museum has over 4,000 musical instruments including the largest collection of stringed instruments in the world.
The best part of the museum, besides the sheer number of instruments, are interactive exhibits.
In the Experience Gallery, you are able to touch and play many instruments from different parts of the world.
You will find both newer and ancient instruments from Africa, Asia and Europe that date back as far as 3,500 years ago.
Other galleries have traditional instruments from every continent. You'll be able to see and hear all types of instruments, see where they come from and even see how some instruments are made.
They also have some great musical performances, some included with admission and some not.
#5 Papago Park (Hole in the Rock)
Papago Park is well known by locals and is often referred to as 'Hole in the Rock.' One look at the park's formation and you'll know why. At the top is a giant hole in the rock.
Beside the view, you can hike, bike, picnic, bird watch or just relax. This is a great place for nature lovers!
Papago Park is also right next to the Phoenix Zoo so you can easily visit both on the same day. The Desert Botanical Garden is also next door.
#6 Arizona Science Center
The Arizona Science Center, on E Washington St, is a great place to visit for families with kids who love science.
This interactive museum offers fun exhibits and activities that will keep kids entertained while they learn about the world around them.
The science center is very hands-on so there is a lot to do and learn here. Some of their exhibits include:
All About Me: learn about how the body functions
Flight Zone
Making Sense of Your Dollars and Centers
The W.O.N.D.E.R. Center
Evans Family SkyCycle Page
Solarville
It's easy to spend 3-4 hours at the center going through the different exhibits. The museum does have optional presentations you can attend (for additional fee) so you would need additional time for that.
#7 Hike the Echo Canyon Trail at Camelback Mountain
If you're ready to visit the highest point in the city, this is the hike for you! The Echo Canyon Trail at Camelback Mountain is a popular friendly hike that takes you up to the summit and back down again in about 2 to 3 hours.
It's a 2.5-mile hike that offers a different perspective on the popular mountain.
The trail starts at Echo Canyon Recreation Area and winds through the wash for about a mile before reaching the summit of Camelback Mountain, where you can catch a glimpse of the city below and enjoy some amazing views of Phoenix from above.
Note: This is a more difficult hike at parts so it's important to know your ability but these are definitely some of the most popular mountain ranges in the area.
#8 Phoenix Zoo
The Phoenix Zoo is home to more than 2,000 animals representing over 400 species from around the world. The Zoo is home to many endangered species and it is one of the top zoos in the United States.
The Phoenix Zoo is located in Papago Park, an urban preserve that covers 930 acres of land just south of downtown Phoenix.
The zoo itself spans only about 140 acres, but because it's surrounded by parkland and desert, it feels much larger than that.
The Phoenix Zoo has different sections including the Desert Sky Pavilion, Animal Garden, North America Pavilion and South America Pavilion.
Some of our favorite things to do at the Phoenix Zoo are:
Take a walk through the butterfly house
Watch the flamingos in their flamingo pool
Feed giraffes
Snuggle with baby animals at the cubs nursery
You can even visit the petting zoo to touch animals.
#9 Hall of Flame Fire Museum
You can walk through the history of firefighting, see antique fire trucks and equipment, watch videos about different types of fires and learn how firefighters use their training to save lives and property.
The facility includes several different galleries that showcase everything from:
Antique fire engines
Vintage firefighting equipment
Helmets and uniforms worn by firefighters from around the world
And lots more
The museum features an extensive collection of photographs taken during various emergencies over the years like earthquakes, floods, other natural disasters and historical events.
#10 See the Arizona Diamondbacks play at Chase Field
The Arizona Diamondbacks are a professional baseball team that plays in the National League West Division. They play their home games at Chase Field, which is one of the best stadiums in all of Major League Baseball.
When you go to see a game at Chase Field, you will be treated to a great experience.
The stadium has been renovated over the years, but it still has the same feel as it did when it first opened in 1998.
Fun fact: The stadium, which can hold about 48,000 fans, has a retractable roof that is connected by 4 miles of cable and operated by 200-horsepower motors.
#11 Heard Museum
The Heard Museum is a beautiful museum in Phoenix that displays American Indian art. The Museum's collection includes more than 15,000 pieces of artwork representing over 110 distinct tribes from throughout North America.
You can expect to spend about 2-3 hours here as you learn about the American Indian heritage and history. The museum is very well done and beautifully designed.
Local tip: While you're here, make sure to check out the Frida Kahlo and Diego River exhibit.
The Heard Museum is affiliated with the Smithsonian Institution and is accredited by the American Association of Museums.
While it's not the best museum for younger kids, it's definitely a good museum for the older kids.
#12 Wrigley Mansion
Wrigley Mansion is a historic house museum, which was built in 1928 by chewing gum magnate William Wrigley Jr. as his winter home.
During your visit you can see more than 20 rooms, including a bowling alley, library, and music room. And of course, the 18-hole golf course.
They offer a 45-60 minute guided tour and after the tour, you can enjoy a nice meal at the restaurant.
#13 Ride the Roller Coasters at the Amusement Park
Phoenix is home to 2 amusement parks, Castles N' Coasters and Enchanted Island Amusement Park which are just 15 minutes apart.
Castles N' Coasters is an amusement park with rides for all ages, including some thrill rides. It also has a water park that's just as fun as the main theme park.
Some of the fun attractions include:
Desert Storm Roller Coaster
Beat Saber Arcade
XD Dark Ride
Go Karts
Bumper Boats
Junior Dixie Wheel
So if you're looking for something to do with the family that will keep everyone happy, this is a good place to go.
Enchanted Island Amusement Park on the other hand, is smaller than Castles N' Coasters and has more traditional rides like Ferris wheels and bumper cars.
#14 Children's Museum of Phoenix
The Children's Museum of Phoenix is the largest children's museum in Arizona. It is a hands-on, interactive museum where kids can explore, play and create.
The museum has more than 300 interactive play areas across 3 floors and is perfect for children aged zero to 10 years old.
The kids absolutely love this place and can easily spend hours here!
There are pretend play areas with toys for kids to pretend they are doing grownup things like cooking dinner or working.
#15 Japanese Friendship Garden of Phoenix
The Japanese Friendship Garden of Phoenix is a beautiful and serene space in the middle of downtown Phoenix. It's a great place to relax, enjoy nature, learn about Japanese culture, and learn about the history of Phoenix.
You'll also get an opportunity to learn more about Arizona's natural environment.
The garden has two pavilions and several paths that you can use for walking meditation, picnics, or just lounging in the sun.
There are also plenty of trees and plants to admire as well as a large pond filled with koi fish.
#16 Visit a National Historic Landmark
Previously called the Pueblo Grande Museum Archaeological Park, S'edav Va'aki Museum is another excellent spot for history buffs or anyone who wants to learn more about Native American culture in Arizona.
The site contains over 4,000 archaeological artifacts that date back several centuries ago.
#17 Visit a Cat Cafe
If you love cats, you have to visit La Gattara! You will be in the company of cats that are all up for adoption (although adopting a cat is not a requirement for visiting or snuggling!).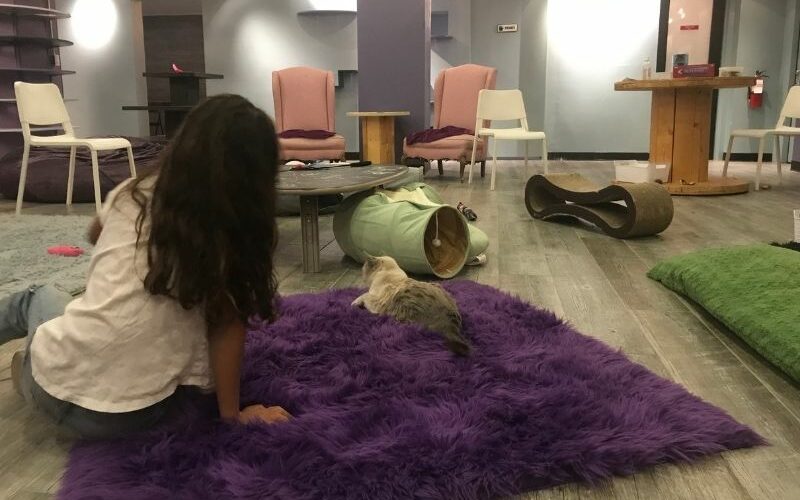 The cafe has about 30 cats that live there, so you will get to see them playing with each other or grooming themselves on their own time.
There are plenty of spots where you can sit down and relax with a cup of coffee or tea while being surrounded by furry companions.
#18 The Phoenix Trolley Museum
One of the best free things to do in Phoenix is to visit the Phoenix Trolley Musum museum, which has a collection of old trolleys and pictures.
The museum is open from October through May and they also hold some events during the season.
#19 Great Arizona Puppet Theater
The Great Arizona Puppet Theater is located in the downtown area of Phoenix and offers puppet shows that are family friendly.
The show times vary, but they perform several days of the week. All of their shows are performed by hand and are very entertaining!
#20 Tour a Farm
Shamrock Farms is a working farm in Phoenix and it's home to over 100 animals.
You can see these animals all year round but during some months, they have special events where you can interact with them and learn more about them.
There are also tours available that show visitors how the food at Shamrock Farms is grown.
UP NEXT: Biggest Pancakes in Phoenix Area at Henhouse Cafe
And even if you aren't super interested in learning about farming techniques or animal behavior, there's plenty here for everyone: feeding carrots to goats, getting up close with bunnies and watching chickens run around.
#21 Go Horseback Riding
If you've ever wanted to explore the Sonoran Desert on horseback, Ponderosa Stables is a great place to do it.
The guides really know the area well, the horses are easy to ride even if you have no experience and the landscape you ride through is beautiful.
#22 Eat a Dino Shaped Treat
Have you ever tried a Stegasaurus shaped sugar cookie or a T-Rex shaped portion of banana bread?
If no, the Dinersaur is where you'll be able to do just that.
NEARBY DINO FUN: Tyrannostorus: An Interactive Museum-Like Shopping Experience
They have sandwiches, desserts and drinks for everyone.
Just don't leave without some breadosaurus treats!
#23 See The Arizona Rattlers Play Indoor Football
Make sure you don't miss the Arizona Rattlers playing at the Footprint Center (previously the Talking Stick Resort Arena) in Phoenix.
The arena is home to NBA's Phoenix Suns, which makes it a pretty cool place to watch sports.
The Rattlers are an indoor football team that plays in the Indoor Football League (IFL).
Did you know? The Arizona Rattlers have won five championships since they were founded in 1992 and are one of the best teams in Arizona's history.
The games typically last about two hours and tickets typically cost between $15-$30 depending on where you sit.
Local tip: You can also get free tickets to the game with the Pogo Pass which is more than worth it even if you plan to do 2 or 3 of the activities they have available.
#24 Enjoy a Cup of Joe at a Kid-Friendly Coffee Shop
The Teapot is a kid-friendly coffee shop. The Teapot serves coffee and tea drinks made with locally roasted beans, as well as pastries and desserts.
It also has a children's play area so you can enjoy your cup of Joe while your little ones run around.
READ NEXT: 35 Best Dessert in Arizona (Phoenix & Beyond)
#25 Valley Youth Theatre: Children's Theater Phoenix
Valley Youth Theatre is a community theater group that serves kids and young adults, providing them with the opportunity to explore their love of theater.
With performances for both children and adults, VYT's goal is to provide entertainment for the whole family.
#26 The Deer Valley Petroglyph Preserve
The Deer Valley Petroglyph Preserve is a one-of-a-kind spot where you can learn about Phoenix's Native American history. This preserve covers over 800 acres and features more than 1,500 petroglyphs, the most visible example of Native American art in the Southwest.
The petroglyphs are from the Hohokam, Patayan, and Archaic and are carved into 500 basalt boulders.
#27 Challenge Yourself at an Escape Room
There are several escape rooms in the Phoenix area, and they're a great way to spend time with friends and family.
Eludesions Escape Room is a great option where you can choose from a variety of themes, including an immersive game set in 1920s Paris, a murder mystery set on a train heading out west, or an underwater adventure. A lot of these places will offer coupons online so you cmay be able to get some discounts!
Some of the popular Phoenix escape rooms are:
Puzzle Effect
Eludesions Escape Rooms
North Valley Escape Room
You can often find discounts on Escape Rooms here.
#28 Arizona Worm Farm
The Arizona Worm Farm offers visitors a chance to learn about the earth's most underrated creatures while they're still alive and wriggling, which is just as fun as it sounds.
The farm hosts workshops on worm composting and worm farming, so you can learn all about these fascinating creatures from experts in the field.
You can also buy worms for your own worm bin at Arizona Worm Farm's retail store.
#29 See Wildlife at Tres Rios Wetlands
Tres Rios Wetlands is a great place to see wildlife, especially birds! The best time to go is during the spring and fall.
There are 5 miles of trails so you can be surrounded by nature. You'll see creatures like:
Birds
Dragonflies
Lizards
#30 Liberty Wildlife
Liberty Wildlife is a wildlife rescue and rehabilitation center located in north Scottsdale.
This non-profit organization takes care of more than 300 native and non-native animals, ranging from birds to reptiles to mammals.
They also have educational programs available for all ages! If you're looking for some fun activities that involve animals, this is the place to go.
They have a variety of animals, including birds, reptiles, mammals and more. They also have an animal hospital where they treat injured animals from all over the state of Arizona.
MORE ANIMAL FUN: La Gattara Cat Cafe in Phoenix, AZ: A Cat Lover's Dream
If you love animals, the Wildlife Sanctuary is a great place to go.
#31 See Bats Take Flight at Night
You can see bats take flight every night of the year at the Bat Cave in Phoenix. The cave is a natural cavern that has been home to these echolocating creatures for thousands of years.
You'll be amazed at how many bats are living inside—there are an estimated 1 million!
#32 See the Phoenix Suns and / or The Phoenix Mercury Play
The Footprint Center is home to the Phoenix Suns and Phoenix Mercury professional basketball teams.
Both teams play from October through April every year on Friday nights and Saturday nights.
Sometimes the Sun's players will attend the Mercury games and sit on the sidelines so you may just spot them there too!
#33 The Salvation Army Kroc Center
The Salvation Army Kroc Center is the largest fitness facility in Arizona, with over 100,000 square feet of space. It features state-of-the-art equipment and a variety of classes, including:
There are also basketball courts and an indoor pool with a waterslide.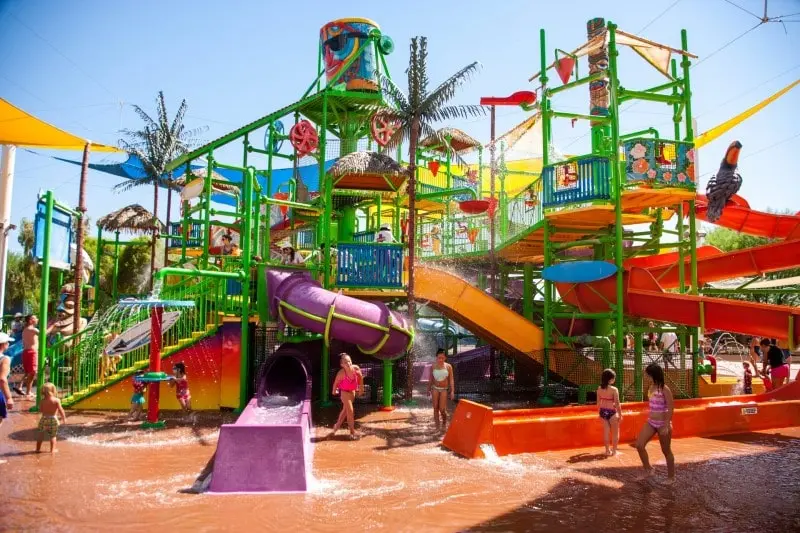 #34 Six Flags Hurricane Harbor
If you're looking for a place to cool off this summer, Six Flags Hurricane Harbor is the perfect spot. It's like an amusement park with water slides, waves, and more water features!
You can ride on the speeder boats or rafts and splash through two-foot waves as you go around the park.
There are also other fun rides where you can make your way across the water in tube slides or just get soaked by getting blasted by high powered cannons!
FOR LEGO FANS: Bricks and Minifigs: Buy Sell Trade Lego in Store
The beach area has soft sand that makes it easy to build sand castles or just relax while listening to music from our DJ booth in this part of the park.
#35 Phoenix Police Museum
The Phoenix Police Museum is one of the most unique, interesting and fun places to visit in all of Phoenix.
If you've ever wanted to see what it was like to be a cop back in the day, this museum has it all.
Kids can even be sworm in as a police officer when they visit!
From police gear from early times and uniforms from when they had horses and motorcycles, to high tech equipment and weapons used today, there's something for everyone who enjoys our fine men and women in blue.
The museum also has crime scene photos from some very famous cases including the Phoenix Serial Killer case that took place in 2005-2006.
It's a great way to learn about how crime solving has changed over time or even see how things were done differently in different parts of the country at various times in history.
#36 Kids Empire
Kids Empire is an indoor playground where children can play, climb, slide and enjoy themselves in a safe environment.
They have many different areas such as an area for toddlers, an area for older children and even an area where parents can relax while their kids play. Some of their attractions include:
Soccer
Slides
Riding
Dance floor
A maze with obstacle course
Climbing elements
Spin top
Fun block area
And more
This is also one of the most affordable places for kids in Phoenix because you pay for all day access which includes re-entry. So if you need to take a break for lunch, you can always come back afterwards wihtout paying.
#37 Tour Mystery Castle
The Mystery Castle is a fascinating place to visit for any history buff or anyone who loves architecture. It was built around 1929 by a father for his daughter. The castle has 18 rooms and 13 fireplaces.
You can visit the Mystery Castle on your own or take one of two guided tours that help you learn more about the history and construction of this unique building.
During the summer months they are closed as it's just too hot to visit, so plan to visit between October and May.
#38 Gecko Climbing Gym
Gecko Climbing is an indoor rock climbing facility with over 20,000 square feet of climbing space. They work with beginners and more advanced climbers so even if you're just looking to try out something new, this is an excellent gym to consider.
Some of their walls include:
Bouldering wall (great if you don't want to go al the way to the top and easier to climb)
Top rope wall (you'll be hooked up the the auto-belay system so you can securely climb to the top)
Lead climbing wall (where they regularly host classes)
Another good option for indoor rock climbing is the Black Rock Bouldering Gym.
#39 Six Flags Hurricane Harbor
Six Flags Hurricane Harbor is a water park that is located in Phoenix, Arizona.
This park features:
5 water slides
3 wave pools
A lazy river
Riptide Racer
Calypso Bay
and More
#40 Ride the Metro
The Valley Metro Rail operate 7-days a week and are an easy way to get around the city. It's fun to ride and also see the $8 million dollars worth of art displayed at each station.
The metro line also connects to the cities of Mesa and Tempe.
Some great stops in Phoenix are:
The Footprint Center
Heard Museum
Phoenix Art Museum
Chase Field
Matt's Big Breakfast
Roosevelt Row for coffee, more food, galleries,murals & more
#41 As You Wish Pottery
As You Wish Pottery is a fun place for kids and adults to paint your own pottery. They have a large selection of pieces for you to choose from, along with paint of every color.
Just keep in mind you'll have to come back in a few days to pick up your pieces so they can glaze them but then you'll have a wonderful keepsake!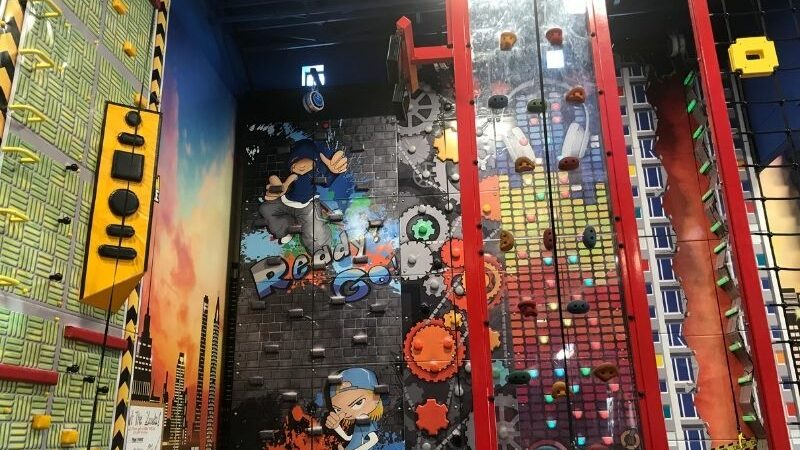 #42 Uptown Jungle
Uptown Jungle is an indoor playground and trampoline park with a couple of locations in Phoenix.
The attractions at their various locations does vary a bit but some fun things you can do are:
Mega play structure
Super slides
Air floor
Climbing / Rock wall
Spider tower
Mini zip line
Ball blaster arena
Ninja course
Obstacle course
DEAL ALERT: Get 50% Uptown Jungle Tickets here
Note: if you're planning to visit nearby cities, they also have locations in Chandler and Mesa.
#43 Go-Karts at K1 Race Factory
K1 Race Factory is an indoor race track and the karts are pretty quick as you race around the track.
They also provide helmets and head socks and misters are on to keep you cool as you race.
Each race has 10+ laps so it's really fun to get going!
They have karts and races for adults or kids (juniors) so you can go with the little bit slower karts if you think it will be easier for any kids in your group.
#44 Cool Off at a Public Swimming Pool
Luckily, Phoenix is home to a number of swimming pools where we can go to cool off, especially in the very hot summers. Some great pools to go to are:
Sunnyslope Swimming Pool
Pecos Park Swimming Pool
Encanto Pool
#45 Party Jungle
Party Jungle is an indoor amusement park for kids with lots of entertainment including:
Rides
Games
Indoor playground
Laser tag
Arcade games
Tokens and games are also reasonably priced. They also game inexpensive day passes.
It's easy to spend 5 hours here letting the kids do it all.
#46 Go on an Urban Quest
With Urban Adventure Quest, you can go on a scavenger hunt of sorts in Phoenix.
You'll be in downtown and see historic buildings, landmarts and art as you walk along.
While you only go about 2 miles, it takes about 2.5-3 hours to complete the 19 challenges. You'll be exploring:
Herberger Theater
Arizona Center
Heritage Square
Orpheum Theater
Hotel San Carlos
Phoenix City Hall
#47 See a Show at Christian Youth Theater
Christian Youth Theatre (CYT) is a high quality theatre with some very talented kids. The theatre itself has grown to become the largest youth theater program in the nation.
Kids ages 4 to 18 train in their after school program so if you can see a show, you won't be disappointed.
#48 Paint Your Own Pottery
If you'd like to paint your own pottery, this is the place to go. While they offer workshops, you can also just walk-in.
At Color Me Mine, they have a wide variety of different pottery, both in style and size, for you to choose from.
#49 Painting With a Twist
Right next door to Color Me Mine is Painting With a Twist where you can take a class to learn to paint on canvas.
You can also just drop-in for some DIY painting where you can paint whatever you like or paint following a how-to guide.
If you don't know how to paint, they show you what to do step-by-step and you'll have a great time.
#50 Visit One of the City's Trampoline Parks
There are many trampoline parks in the Phoenix area so you'll definitely be able to find one near you.
Some great options are:
Altitude Trampoline Park
SkyZone
Rush Fun Park
Urban Air Trampoline and Adventure Park
#51 Take a Craft Workshop
Sunshine Craft Company is creative craft studio in Phoenix. They offer some awesome, crafty workshops that include all the supplies and tools you'll need to have a completed project in hand when you leave.
They also offer home craft kits to pickup if you can't make it to a workshop.
#52 Ride in a Hot Air Balloon Over The Valley
Have you ever dreamt of soaring through the sky like a bird, taking in breathtaking views of picturesque landscapes? Well, in Phoenix, your dreams can come true!
Hop on a hot air balloon by Rainbow Ryders to see stunning vistas of the Deer Valley and the Sonoran Desert.
There are also several hot air balloon festivals in Arizona if you're lucky enough to be in the are when they are happening!
For those who prefer a more romantic ambiance, the Sunset Balloon Ride will enchant you with its golden hues and serene atmosphere.
#53 Hike Piestewa Peak
This hiking trail is a favorite for both beginners and seasoned hikers, thanks to its accessibility, diverse trail options, and the awesome views.
This convenient access from Route 51 not only makes it easy to find the trail but also grants you quick access to local restaurants and cafes, perfect for refueling after your adventure.
The Summit trail, which is the most popular choice, greets you as soon as you enter the mountain. It's a relatively short 1.2-mile hike to reach the top, but don't let the distance fool you—prepare yourself for a rewarding challenge.
After you reach the top, prepare to be mesmerized by the breathtaking 360-degree views of the entire valley below. It's a sight that will leave you in awe and make every ounce of energy expended worth it.
Make sure to bring enough water to keep yourself hydrated.
Along the trail, you'll find multiple ramadas where you can take a rest, enjoy a snack, or simply soak in the surrounding natural beauty.
#54 Go Golfing at One of the Many Golf Courses
Get your clubs ready because this desert oasis is home to some of the most excellent private and public golf courses around.
Whether you're a seasoned pro or just starting out, there's something for everyone to enjoy on the greens.
If you're willing to go a bit outside of Phoenix, the Wickenburg Ranch Golf & Social Club is stunning! The layout is great, the course is very well maintained. This is really a must play!
If you can't make it outside the city, a few other courses to try are:
Papago Golf Club
Arizona Biltmore Golf Club
Encanto 9-Hole Golf Course
#55 Tour a Castle
Tovrea Castle is an iconic historic structure in Arizona.
Take a tour of the castle here. While you can't visit the upper levels, you do get to tour the basement and first floor.
To get tickets, you must enter the raffle to see if you get lucky enough to win the lottery so you'll need to plan months in advance.
Their are volunteer guides who take you on the approximately one hour tour with a golf cart type ride.
#56 Attend First Fridays
Did you know? Phoenix hosts First Fridays on (you probably guessed it!) the First Friday of every month.
Located on Roosevelt Row, this fun celebration attracts hundreds of people who come for the array of bands, performers, food and vendors.
Did you know?
Phoenix hosts First Fridays on (you probably guessed it!) the First Friday of every month. You'll find the main entertainment off of Roosevelt Row.
Some of the spaces you will come across are:
Art exhibitions
Delectable
Food stalls
Refreshing beverages
And lively music performances
#57 Enjoy One of the Many Live Music Venues
We are not going to do Phoenix justice if we talk about fun things to do and not include attending live music events!
Whether you're a die-hard music enthusiast or simply enjoy the thrill of live performances, Phoenix has a vibrant music scene that will get your toes tapping and your body moving.
Located in Downtown Phoenix, The Van Buren is a solid concert venue in Phoenix that deserves a spot on your itinerary.
Upon entering, you'll notice the basic layout of the venue, but don't be deceived by its simplicity. The wide open floor provides ample space for the crowd while the bars on either side ensure that refreshments are never out of reach.
What impressed me the most about The Van Buren was its exceptional acoustics. I could hear every word of the songs and the music sounded fantastic.
#58 Black Rock Bouldering
If you're looking for a fun and challenging workout, Black Rock Bouldering Gym is the perfect place for you. This entirely bouldering focused facility has a wide variety of problems that regularly rotate.
The setters do a great job setting different styles, so you'll never get bored.
In addition to bouldering, Black Rock also has an excellent training space. This includes:
Squat racks
Benches
Dumbbells
Hangboards
Campus ladder
Pegboard
And a moon board
There are several climbing gyms in the area, but Black Rock is definitely the best choice if you enjoy bouldering. The staff is friendly and helpful, and the atmosphere is welcoming. I highly recommend checking it out!
#59 Stay at An Amazing Resort
When it comes to finding the perfect place to stay in Phoenix, The Sanctuary Camelback Mountain is a great option.
From the moment you arrive, you'll be greeted by a courteous staff who will make you feel right at home. The private quarters offer a quiet and serene atmosphere, allowing you to truly unwind and relax.
What sets this apart from other resorts is the attention to detail in every room.
Each space is immaculate and exudes luxury, with unique touches that you won't find anywhere else.
But the beauty of The Sanctuary doesn't stop at the rooms. The property itself is a sight to behold, meticulously maintained and filled with everything you could possibly need for a truly rejuvenating trip.
They also have:
Spa
Fitness center
Swimming pools
Tennis & pickleball courts
Biking & hiking trails
#60 Rent a Boat
With boats that can comfortably seat up to 12 people, Copper State Boat Rentals is a great company to rent a boat from whether you are looking for a little excitement or just a relaxing day on the water.
The boats at Copper State are also equipped with a top-of-the-line surround-sound system. Imagine cruising along the water while your favorite songs play in the background. 
Whether you're sitting back and enjoying the tunes or towing a surfer behind the boat, the crystal-clear sound can be heard from over 80 feet away. It's the perfect soundtrack to your water escapades!
#61 Tour Phoenix Trash Facility
Maybe not your idea of a good time, but this can be interesting and neat! Now, I know what you're thinking—trash facility? But trust me, this is not your average waste management site.
City of Phoenix North Gateway Transfer Station is actually a fascinating place to visit with your family, offering a tour that will give you a whole new perspective on the journey of trash.
During the tour, you'll find yourself standing over semis that will haul the trash to the landfill, right from the comfort of a viewing deck.
You can walk the distance and witness the entire process, from the moment the waste is brought in to its final destination. It's an eye-opening experience that will make you appreciate the efforts put into managing our city's waste.
Local tip: you'll need to plan ahead for this tour as Tours are only available on Thursdays from 9am to 1pm but need to be scheduled 3 weeks in advance.
They also have some exhibits to show trash artifacts from 50+ years ago and how consumption and waste management has changed over the years.
#62 Snap Insta-Worthy Photos at the Selfie Museum
If you're on a quest for the perfect Instagram-worthy pictures, you must visit the Scottsdale Selfie Museum in Phoenix!
These art installations offer various backgrounds for striking poses and capturing photos.
This place is perfect for teen parties, the museum boasts stunning backgrounds and high-quality props that ensure your photos look fantastic. The facility itself is impeccable, creating an inviting atmosphere for all.
Get ready to snap unforgettable pictures at Phoenix's selfie museums!
#63 Cave Creek Park
Cave Creek Park is a fantastic family-friendly park, in fact it's a total of 6 combined parks, in Phoenix, Arizona!
These parks offer:
Dog-friendly walking
Baseball and basketball games
Inner city hike through scenic hills
Picnic tables
Playgrounds
There is a paved path that connects all 6 of the parks.
#64 Visit Margaret T. Hance Park
Looking for a neat little park north of downtown Phoenix? Margaret T. Hance Park is a must-visit for families. The park offers a wide open space with beautiful views of the sky, grass, gardens, and the city.
Margaret T. Hance Park impressively combines the natural landscape and native plants with advanced recycling technology, showcasing the city's commitment to sustainability.
Families with young children will love the unique and adorable playground in the park. It features cute animal figures to climb on and a white sand pit, providing a safe and enjoyable space for kids to play.
If you're accompanied by furry friends, there's a convenient underpass that leads to the dog parks across the street.
#65 Enjoy the Saturday Farmers Market
Every Saturday, this large Farmer's Market takes place at 5th Street and McKinley in downtown Phoenix.
They focus on bringing seasonally grown, local foods, and products. With 50+ vendors (including a handful of food trucks) you'll find a wide range of products and produce like: 
Organic farm food
Cookies & other sweet treats
Mushrooms
Pasta
Salsa
Bagels
Beef
Jewelry
Art
And a lot more
The market runs rain or shine!
#66 Martin Auto Museum
Even if you aren't a car enthusiast, Martin Auto Museum is a great place to visit and immerse yourself in the world of automobiles.
The admission fee is only $10 per person, making it an affordable and enjoyable outing.
You'll find a remarkable collection of both classic and modern-day cars. Whether you have a fascination for vintage vehicles or admire the sleekness of contemporary automobiles, this museum has something for everyone.
One of the unique aspects of this museum is that they allow visitors to touch the cars, sit in them and even take a peek under the hood, adding an interactive element to the experience.
Each car is accompanied by a sign that provides interesting details such as:
Its origin
Any celebrity associations
Restoration status
Adoption information
There is also a huge game room which is perfect for children to let their energy out and have a blast while parents admire the automobile exhibits.
#67 Go Bowling at 810 Billiards & Bowling
The bowling experience at 810 Billiards & Bowling is top-notch. The lanes are well-maintained, and there's a great atmosphere with a mix of music.
They also have excellent pool tables. Whether you're a seasoned pool player or just looking to have some casual fun, the tables are in great condition.
The game room here is packed with great arcade games.
#68 Desert Dragon Pottery
Are you ready to get your hands dirty and unleash your inner creativity?
Desert Dragon Pottery offers a unique and interactive experience that can be tailored to your preferences. It's entirely up to you whether you want a hands-on or hands-off approach. Just communicate your level of comfort, and they will make sure you have a fantastic time!
Each session at Desert Dragon Pottery includes all the clay you need to bring your creations to life. You'll have the opportunity to return for a glazing and firing session to add those final touches to your masterpiece.
#69 Ripley's Believe it Or Not
Ripley's Believe it Or Not is a world of weird and wonderful oddities and curiosities that will both kids and adults enjoy.
They have a large number of exhibits on display including the world's smallest working car to the tallest man ever recorded. 
You'll also encounter animals born with extra body parts and even learn the secrets of making a shrunken head.
Despite its smaller size compared to traditional museums or exhibits, Ripley's Believe It or Not! packs a punch when it comes to the amount of information and entertainment it offers. 
#70 Rent a Bike (or E-Bike)
Another really fun way to explore the city is to rent a bike or an electric bike and ride around downtown. You'll see a lot more than you can walking or driving and you'll be able to stop wherever you like.
Emigos Bike Shop and Pedego Electric Bikes Ahwatukee are both good places to rent bikes from in the city.
Some retailers not only provide the bike of course, but also a helmet, map, lock and even sometimes a phone holder so make sure to check what is included before you rent!
#71 Arizona Capitol Museum
The Arizona State Capitol Building is one of the better state capitols you'll come across! 
This unique four-story building houses an educational museum that covers everything you need to know about Arizona's history.

You can explore exhibits showcasing:
Stones
Leaders
Awards
And more
My favorite part? The amazing train room! It's an interactive experience where you can learn about Arizona through reenactments with trains. Discover famous places, events, and the state's development in a fun and engaging way.
#72 See a Theatre Show Orpheum Theater
The Orpheum Theater is a true treasure in the heart of downtown Phoenix. The size and architecture of this theatre alone is worth seeing.
Throughout the year, they have a wide variety of shows here that are fun to see.
Local tip: Keep in mind that the balcony seats are originally from 1929. While they exude charm, they may not be the most comfortable for some individuals. 
If you prefer a more spacious and cushioned experience, opt for a seat on the main floor, which has been updated for comfort.
#73 Visit Paolo Soleri's Cosanti
Cosanti is the studio and gallery of architect Paolo Soleri.
In the gallery, you'll see a world of bells in all shapes, sizes, sounds, and colors. 
One of the highlights of Cosanti is the opportunity to view the studio space, where the magic happens. It's truly exciting to witness the craftsmanship and creativity behind these beautiful handcrafted bells.
You can sign-up for a guided tour or even watch them pour 2200 degree bronze that into carved molds.
#74 Shop for Crystals, Skulls, Taxidermy & More
Curious Nature is one of my favorite stops in Phoenix! This is a natural history emporium where you'll find a wide variety of items like:
Shells
Crystals
Skulls and bones
Taxidermy
Butterflies
They have an impressive collection of bones and bugs, as well as cool vintage-looking posters that will transport you to a different era.
Local tip: many items in the shop are quite fragile so you may not want to bring young children along
They also offer classes, events, and provide information on the ethical sourcing of the collections they sell. 
#75 Attend the Phoenix Symphony Orchestra
The Phoenix Symphony offers some really incredible performances will an incredibly talented group of highly skilled musicians.
While there are, of course plenty of options for adults, there are also great shows for kids and families to enjoy as well.
One of the great things about Symphony Hall is its intimate setting. It's not overwhelmingly large, so no matter where you choose to sit, you can be assured of a good view and an immersive experience. 
Located in the heart of the city, Phoenix Symphony is surrounded by restaurants and is in a great spot in the city to do more in the area.
#76 Malls & Fashion Centers
When it comes to retail therapy, Phoenix has several outstanding malls and fashion centers.
Some of the options to consider depending on where you are:
Desert Sky Mall
Christown Spectrum
Desert Ridge Marketplace
Arizona Center
CityScape
Many of them also put on events throughout the year, so make sure to check their calendar if you want to have a little added fun (or even a workout!) before you shop.
#77 Shop Til You Drop at Biltmore Fashion Park
This beautiful outdoor mall is a fantastic destination with plenty of shopping options, restaurants, and more.
Some of their stores include:
Anthropologie
M.A.C Cosmetics
Macy's
Pottery Barn
Ralph Lauren
There are numerous restaurants to choose from, offering a diverse range of cuisines to satisfy any craving.
#78 Enjoy the Splash Pad at Desert Ridge Marketplace
Desert Ridge Marketplace is an outdoor marketplace that offers an array of stores and eateries.
Families will love the exciting experiences it has to offer. Kids will have a blast at the splash pad, where they can cool off and play in the summer.
Even during cooler nights and winter, Desert Ridge Marketplace has cozy fireplace at the other end of the mall.
Desert Ridge Marketplace is also home to an AMC theater with comfy recliner seats.
#79 Have a Meal at MacAlpine's Diner & Soda Fountain
Step into MacAlpine's Diner & Soda Fountain, a family-owned gem since 1928. This soda pop shop is a remarkable time capsule with a charming atmosphere that will transport you and your family to the good old days.
What's worth trying:
Ice cream
Malts
Sodas
Potato salad
Sandwiches
Beyond the food, MacAlpine's also has an antique store and a vintage clothing shop.
#80 See a Public Sculpture
"Her Secret is Patience" by Janet Echelman is a public-art sculpture that resembles a giant jellyfish and is a definitely something you got to see in Phoenix.
You can see the vibrant colors during the day but the real magic happens at night when the sun sets andthe sculpture illuminates.
#81 Penske Racing Museum
Discover the Penske Racing Museum, a hidden gem in Phoenix which has about 15 race cars and engines, showcasing the history of Indy, Grand Prix, and NASCAR.
Plus, it's completely free!
Don't miss the miniature car models displayed in the charming cafe upstairs.
If your kids love sports cars or you want to spark their interest in racing, this is a must-visit spot.
Local tip: the museum is nestled right in between some high-end car dealerships so you'll get to see other cars like Ferrari, Bugati and Maserati while you're there.
#82 See a Retro Show
*Film Bar is now permanently closed
FilmBar in Phoenix offers indie, retro, and foreign films that transport you. Comfy seating, perfect views, and amazing sound make it a cinematic delight.
They show thought-provoking documentaries, indie gems, and classic masterpieces.
ADULT FUN: 7 Best Breweries in Sedona, Arizona to Visit This Year
FilmBar isn't just about the movies; it's also a hub for delicious treats and refreshing beverages. Indulge in mouthwatering tamales, perfectly paired with craft beers, wines, or your favorite movie snacks. 
#83 Pioneer Living History Museum
Also known as Pioneer Village, this 90-acre property takes you back to the 1800s with reconstructed buildings from the 1880s and early 1900s.
Explore different types of homes, businesses, and cabins, offering a glimpse into the past. It's like stepping into a time machine!
Volunteers in period costumes bring history to life. They're informative and add to the immersive experience.
Kids will love this fun history lesson. They'll see how people lived and worked in the 1800s. It's educational and engaging, making it a must-do activity when you are in Phoenix.
#84 Take a Self-Guided Tour
If discovering the city on your own terms sounds fun, a self-guided tour may be the way to go.
One way to do so is by using the Phoenix Scavenger Hunt: The Sun's Core.
This will take you to the iconic landmarks in the city's core. 
THE BEST SUNSETS: 13 Best Sunset Hikes in Sedona: Trails & Details (2023)
Along the way, you'll encounter fascinating characters like a political doctor, a popular Pope, and the visionary men who built downtown Phoenix from the ground up.
#85 Phoenix International Raceway
Nestled in Avondale, Phoenix International Raceway is a low-banked tri-oval race track that hosts two NASCAR race weekends annually.
The raceway is a fantastic venue for NASCAR fans, with ample seating and a thrilling atmosphere.
When the race isn't happening, they also have
Video games
A life-size chess game
And a covered cooled beverage area.
#86 Ride Thru the Desert on an ATV
Arizona Outdoor Fun Adventures will take you on an ATV tour or on an off-roading adventure in the Sonoran Desert.
Before you hit the trails, you'll receive a comprehensive safety briefing and training session to ensure your ride is both thrilling and safe.
Once you're geared up and ready to go, it's time to explore the rugged and rocky trails. 
You may even have a chance to cross the Agua Fria River.
Your guide will also share interesting facts about the region's flora and fauna, as well as its rich Native American history.
#87 Go (Indoor) Sky Diving
Whether you prefer soaring through the sky from a plane or trying out the exhilarating indoor version, Phoenix has got you covered.
If you're new to skydiving or just looking for a unique twist, iFLY Indoor Skydiving is the place to go. Step into their vertical wind tunnel and get ready to defy gravity.
It may sound daunting, but trust me, it's an absolute blast! The best part is you don't need any prior experience or to have to jump out of a plane. iFLY provides a safe and controlled environment for you to enjoy the thrill of freefall.
#88 Get Pampered at a Salt Room
If you're seeking some well-deserved pampering in Phoenix, Millennium Day Spa, offers a therapy session with some incredible benefits.
They offer Himalayan Salt Therapy, also known as halo or salt therapy.
This therapeutic experience not only improves your health but also boosts your mood and reduces stress. 
You step into the salt room, breathe in the rejuvenating salt-infused air, and let the relaxation begin.
#89 Experience Tactical Military Training
Arizona Tactical Adventures is a one-of-a-kind facility that offers tactical military training in a safe and controlled environment, making it perfect for friends and even families with kids.
They offer an array of adventures, including:
Black Ops Experience
Sniper Experience
The Shoot House
Their instructors are not only highly skilled but also incredibly attentive to everyones needs.
They have a knack for communicating complex instructions in a way that kids can easily understand, ensuring a memorable and educational experience for everyone.
The staff goes above and beyond to ensure that all participants are well-informed and protected throughout their visit.
#90 Smash Things!
If you're looking for a unique and cathartic way to release some pent-up frustration, Break Through Smash Room is the place to go.
This place is a haven for those who want to let loose and have a smashing good time!
Here, you can unleash your inner Hulk and demolish various objects in a safe and controlled environment. They even let you play your own music if you want!
They also offer a paint splatter room where you can sling paint on walls or even on each other. It's a messy, creative, and liberating!
#91 Pick Your Own Citrus
One of the top destinations for citrus fruit picking near the Phoenix area is Cotton Lane Citrus Ranch.
This farm is a paradise for fruit with trees brimming with organic fruits like:
Oranges
Lemons
And grapefruits.
For just $20, you'll receive a bag that you can fill with any citrus fruits available at the farm.
#92 Grab a Delicious Burger
Lucky's a small family-owned burger shop that guarantees the very best burgers in town.
Lucky's is not just a sit-down restaurant, it's also a fantastic option for takeout.
Their food is fresh and delicious and don't forget about their milkshakes!
When you visit Lucky's, make sure to try the:
Green Chile Cheeseburger with Bacon BBQ
Grilled Chicken Sandwich
#93 See the Stars at Dorrance Planetarium
Located within the renowned Arizona Science Center, this planetarium is truly one of the biggest and most impressive in the entire United States.
The dome-shaped theater has a 360-degree artistic images of our time come to life all around you. 
The combination of stunning visuals and riveting audio creates an awesome experience.
It not only entertains but also educates, making it a perfect outing for families.
#94 Surround Yourself With Live Paintings
The Lighthouse Immersive at Lighthouse ArtSpace is a unique experience in Phoenix as you are surrounded by living paintings.
At Lighthouse ArtSpace, you'll find a variety of interesting exhibits like:
Immersive Monet Phoenix

: with lots of vibrant colors and larger-than-life artworks


Leonardo

: The Universal Man Phoenix, is a journey into the genius mind of Leonardo da Vinci and his greatest contributions through audiovisual elements


Immersive Van Gogh

: an exhibit of projected art, where Van Gogh's masterpieces come alive in a stunning display of brushstrokes, detail, and color
To fully appreciate the art and artists, I recommend watching at least two shows during your visit. Each exhibit offers a unique perspective and a chance to delve deeper into the world of these incredible artists.
#95 See a Comedy Show
If you're looking for a good laugh while in Phoenix, the Celebrity Theater is the place to go! 
This small venue offers an intimate setting with a rotating stage, ensuring there's not a bad seat in the house.
They not only host amazing concerts but also hilarious comedy shows where you can see renowned stand-up comedians perform live.
Local tip: Just remember to comply with their clear bag policy and bring your belongings in a see-through bag
#96 Watch a Horse Race
Turf Paradise is where all the horse race enthusiasts go. Seeing a race is fun, even if you haven't gone before.
They have good seats (both in the shade or in the sun), reasonably priced snacks and great views from wherever you sit.
If you're bringing kids, they also organize exciting events such as bounce inflatables, pony rides, and even have a dedicated playground. 
#97 Experience an Infinity Mirror Room
Within the Phoenix Arts Museum is the Yayoi Kusama Fireflies Infinity Mirror Room which is such a cool experience.
As you enter the room, it transitions from bright lights to a dimly lit space with hanging lights and mirrors creates a House of Mirrors vibe. 
Don't worry if it gets darker periodically; it's part of the experience!
Once your eyes adjust to the lighting, you'll find yourself in a whimsical memory of catching fireflies as a child.
Local tip: be mindful of the mirrors lining the sides of the room, and keep your hands out if you're worried about accidentally touching them. In the end, there's a hidden opening that leads you out on the right.
#98 Sample Some Fry Bread
The Fry Bread House was founded by an Arizona native and has even won a prestigious James Beard Award.
But let's get to the good stuff: the food!
At Fry Bread House, the tacos are huge and incredibly tasty.
What's worth trying:
Red chili beef taco
Hominy stew
Cinnamon sugar fry bread
The bread is soft and not greasy, while the meat fillings are simply delicious.
What I love about this place is its low-key vibe. You won't find fancy cutlery or plates here. Instead, they provide disposable options and even have paper towels on the table. It's all part of the authentic experience!
More To Do Nearby
Day Trip From Phoenix
Being in the center of the state, Phoenix gives you easy access to surrounding cities and other places in the state. If you're looking for a good day trip without having to go too far, here are some good options.
See the Salt River Wild Horses or Kayak Canyon Lake
Wildlife World Zoo, Aquarium & Safari Park
Plum Creek Alpacas: an Alpaca Farm where you feed & interact with Alpacas!
Grand Canyon Deer Farm: to feed and interact with deer
Old Town Scottsdale
Taliesin West is a Unesco world heritage site and was the architect's, Frank Lloyd Wright's, home and studio
Odysea Aquarium
More Arizona Fun
When's The Best Time to Go to Phoenix
Most of the year is a great time to visit Phoenix. The summer months (June to August) are very hot and if you visit during that time, it's best to plan on doing mostly indoor activities.
It can be dangerous to be out in the heat and sun when hiking, mountain biking or out for long periods of time.
The Arizona monsoon season is also during the summer months, so you can also avoid the rain.
Save on Arizona Fun & Attractions
While there are so many fun things to do in Phoenix, it's always nice when you can save a little money too.
Here are some of the ways to save:
Get the Pogo Pass and save on multiple attractions
Check Groupon for new deals on fun and food
Visiting Phoenix Attractions
Whether you're a local or a visitor, there's never a shortage of things to do in Phoenix. With so many museums, galleries and events to choose from, the hardest part is narrowing it down.
We hope these 99 ideas get your creative juices flowing!