There are lots of Phoenix Kids Museums and you're in the right place if you're trying to find amazing museums to take the kids to.
Here we're covering various museums where kids of all ages will have a great time playing, running, climbing, doing creative activities, learning and attending one of the metro Phoenix special activities often hosted at the museums.
Whether you're looking for something a lot of fun to do in the air conditioning or want to escape the cold in the winter months, you'll find the perfect place here.
Here's the 27 best museums for kids in the City of Phoenix.
#1 Children's Museum of Phoenix
215 N Seventh St, Phoenix, AZ 85034
Located on the SE corner of 7th Street and Van Buren, The Children's Museum of Phoenix is a fantastic destination for families with young children, offering 3 floors filled with interactive exhibits and hands-on activities with over 300 play experiences for them to enjoy.
One of the most popular attractions at this children's museum is The Climber, a 3-story high climbing structure made from recycled materials that encourages kids to climb and play.
At the Market, there is a miniature pretend grocery store where you and your kids can pretend to be a shopkeeper and you can be their customers.
This children's museum offers some fun and unique experiences for kids including a pedal-power car wash they can ride through, building their own forts and more.
Kids will also enjoy getting lost in the Noodle Forest's maze of Styrofoam tubes. Additionally, kids can bring out their inner artists in the art studio.
Every day in the Book Loft on the 3rd floor, staff hosts storytime and this is also just a good place for kids to read a good book.
For the more adventurous kids, they also have a race track for toy cars.
To end the day perfectly, the museum also has a gift shop that kids will love.
Tip: while children of all ages are welcome, this museum isn't really set up for the older kids as they'll get bored quickly. It is best for ages 10 and under as they will have a blast and will happily stay for hours.
#2 Musical Instrument Museum
4725 E Mayo Blvd, Phoenix, AZ 85050
The Musical Instrument Museum turned out to be way more fun than I imagined and took a lot longer than I anticipated to go through.
The kids absolutely loved the Experience Gallery which is a huge room with lots of musical instruments from around that world that they can actually touch and play!
There were many we had never seen before.
They museum is separated by continent rooms which showcase actual instruments and how they sound by country.
When we visited, it happened to be a day when they have live music which was really neat. You can try and coordinate a visit with their event calendar to see different performances.
They do have special exhibits that rotate during the year as well so there is something new to see everytime you go.
#3 Penske Racing Museum
The Penske Racing Museum is a small museum that only takes about 20-minutes to go through but it's really neat for kids (and adults) who are into cars or racing.
They get to see race cars right up close, along with some engines and racing trophies.
Plus, it's surrounded by high-end dealerships so you can see many luxury cars in the parking lot and even explore some of the dealerships.
We combined our trip here with a visit to the Musical Instrument Museum.
#4 Wonderspaces Arizona
7014 E Camelback Rd #584, Scottsdale, AZ 85251
I was surprised by Wonderspaces in Scottsdale. Even though visiting an art exhibit with kids wasn't at the top of my list, Wonderspaces' interactive and immersive rooms made the experience really fun.
Kids will really enjoy these magical spaces in Wonderspace:
Magic mirrors
Shadow room
The light dome
The disco room
The Killing Time display, which also had a scientific element, piqued our interest the most.
You'll want to check their website which has the list of the most recent presentations since they change their art exhibits frequently.
#5 Arizona Museum of Natural History
At the Arizona Museum of Natural History, visitors can explore the natural world and discover ancient animals native to Arizona while learning about prehistoric mammoths and dinosaurs that once roamed there.
With over 20 exhibits on Southwest cultures in Mesoamerica and South America, visitors can gain insight into the state's unique environment at this history museum.
The playground includes a pretty amazing excavation area where the kids could move rocks and dust and unearth various dinosaur fossils.
They also have exhibits featuring fossils, skeletons, and life-sized models of creatures like giant ground sloths or saber-toothed cats.
READ NEXT: 97+ fun things to do in Phoenix from water parks, museums, arcade games, hidden gems & more
Don't miss the space called "Dino Mountain," which has animatronic dinosaurs made to look highly realistic.
In addition to its focus on natural history, this museum highlights human civilizations' impact on Arizona through artifacts from Native American tribes and Spanish explorers.
Learn about how these groups shaped modern-day Arizona while viewing pottery, tools, weapons, textiles, and jewelry pieces preserved from centuries ago.
Kids can even try working a 3-D mammoth puzzle!
Did you know? Phoenix has free museums days where you get free general admission on the First Fridays of every month. So if free admission sounds good to you, make sure to check out museums like the Children's Museum of Phoenix which give free admission during those select days / hours.
#6 Hall of Flame Fire Museum
The Hall of Flame Museum of Firefighting holds the prestigious title of being the largest firefighting museum in the world.
They have over 100 trucks along with fire apparatus for kids to see. Plus, there are thousands of other items that cover this acre-sized museum.
At this museum you will learn about the history of firefighting by exploring exhibits that showcase various techniques used throughout time and plenty of firefighting equipment from ancient hand pumps to modern-day fire engines.
Local Tip: Don't forget to check out a culture pass from the local library to get 2 free admission passes to some of these museums and others.
There are plenty of interactive displays and hands-on activities for kids.
#7 Arizona Science Center
600 E Washington St, Phoenix, AZ 85004
The Arizona Science Center is a fantastic destination for families looking to explore the wonders of science through engaging, hands-on activities.
With over over 300 hands-on exhibits covering various scientific topics, this interactive center offers something for everyone.
Some of the exhibits you don't want to miss at the museum are:
Flight Zone
Evans Famly SkyCycle Page
Forces of Nature
The W.O.N.D.E.R. Center
Dorrance Planetarium
Located in the Heritage and Science Park in Cooper Square, this center is known for its permanent exhibits that engage the little curious minds with a planetarium and a giant screen theater.
#8 i.d.e.a. Museum
150 W. Pepper Place Mesa, AZ 85201
Besides just The Children's Museum, if you have young kids, the i.d.e.a. Museum is a great place to go where the kids will have so much fun.
This museum offers a learning experience that combines science, technology, engineering, arts, and math (STEAM) concepts.
The museum has many interesting areas for kids, like the:
Jungle and Optical Illusion interactives
Coloring areas
Black Light Room
Robo Art
Shadow Dancing
In addition to the interactive stations for early learning, the i.d.e.a. Museum provides blank canvas spaces where young artists can unleash their imagination by drawing on whiteboard walls or participating in collaborative mural projects with other visitors.
#9 Scottsdale Museum of Contemporary Art (SMoCA)
The Scottsdale Museum of Contemporary Art is a great museum for families seeking an engaging and educational experience in the world of contemporary art.
You can enjoy a tour with children's hands-on art project that consists of five art galleries and a sculpture garden.
Scottsdale Museum of Contemporary Art is a good choice for a family-friendly museum because it has exhibits for children that introduce them to modern art.
Their exhibits are typically interactive and inspire imagination in children of all ages.
Local tip: Make sure to see James Turrell's "Kight Rise" skyspace for a beautiful view of the desert sky with changing lights.
#10 Liberty Wildlife
Liberty Wildlife is home to various animal species that have been hurt or are otherwise unable to survive in the wild that they call it home.
You can stroll through an outdoor area to observe the unique birds. There is also a confined section where you could see a variety of local creatures, including spiders and snakes.
Some of the creatures you may see during your visit are:
Eagles
Several hawks
A variety of owls
Snakes and other reptiles
The presentations that take place throughout the day feature volunteers who answer questions about the different species of birds they have.
Our kids loved learning more about the birds and getting up close to them.
Private tours are also available if you would like a guide to walk the facility with you.
#11 S'edav Va'aki Museum
Previously called the Pueblo Grande Museum Archaeological Park, S'edav Va'aki Museum has a 2/3-mile trail that takes you around prehistoric ruins where you can see:
A platform mound
Ball court
Replicated houses
This unique experience allows families to dive deeper into Arizona's ancient past while outdoors.
They also have indoor archaeology-based activities.
You can enjoy two permanent indoor display galleries and two rotating show galleries that explore archaeology, the magnificent artifacts of the ancestors of the Sonoran Desert People, and modern cultural themes.
#12 Rosson House Museum at Heritage Square
113 North 6th St, Phoenix, AZ 85004
To discover more about the Victorian Era's cultures, ideas, and traditions, a visit to Rosson House Museum is worth visiting for your kids.
Located in downtown Phoenix, Rosson House is a reflection of the city's Victorian period dating back to the late 1800s.
Docent-led tours are available Friday through Sunday and last about 60 minutes.
Visitors may get an insight into the everyday activities of early Phoenix families on home tours that cover each room in the house. The house is bigger than it seems and shows you how people in Phoenix used to live.
The Rosson House Museum hosts different activities for kids and families as well, so they can enjoy:
Scavenger Hunts
Traditional Crafts
Storytelling
Educational Games
Garden Tour
Historical Riddles & Puzzles
Themed Workshops
#13 Arizona Capitol Museum
1700 W Washington St, Phoenix, AZ 85007
The Arizona Capitol Museum symbolizes the extensive history of the state. Housed in the historic Arizona State Capitol building, the museum delivers valuable insights about:
Social history
Culture
Governance of the state of Arizona
While it may sound a little boring for kids, they'll actually be quite engaged with many of the exhibits and learn quite a bit.
The Arizona Capitol Museum offers a variety of engaging and educational activities for children and adults. Some things we found particularly fun were:
The Arizona Lego flag (with over 114,000 legos)
Historic House Chamber (to see how the room looked during the Arizona Constitutional Convention)
Several minerals from Arizona mining communities (including 2 you can touch)
The museum serves as a foundation for understanding the state's journey and plays a vital role in maintaining and sharing Arizona's unique story with the world.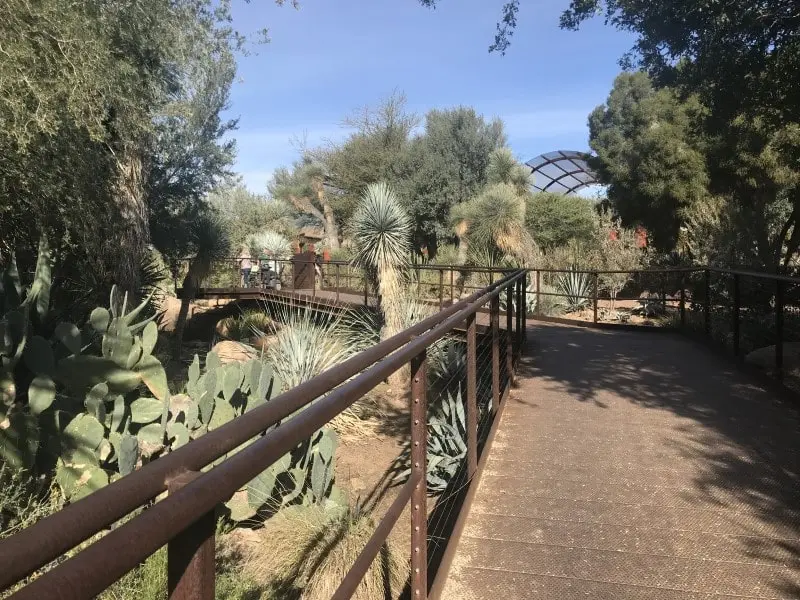 #14 Desert Botanical Garden
The Desert Botanical Gardens are perfect for kids to roam around and explore different types of cacti that are found in desert landscapes. You can engage young minds with interactive learning stations scattered throughout the garden.
These stations offer hands-on activities and displays that provide insight into the fascinating world of desert plants, pollinators, and adaptation strategies.
My kid's absolute favorite section was the Children's Garden where they easily spent an hour before we had to go.
They were able to dig, play in the dirt, build a fort out of sticks and other nature based play. There are also some shaded places for parents to sit.
The Desert Botanical Garden hosts numerous events throughout the year that cater to families and kids.
#15 Phoenix Police Museum
The Phoenix Police Department Museum in downtown Phoenix offers a unique opportunity for families to learn about the history of law enforcement in Phoenix.
This museum tells the story of the department through a series of informative displays, allowing visitors to gain insight into how police work has evolved over time.
At the museum, you'll find exhibits showcasing various aspects of policing, from early uniforms and equipment to modern-day technologies used by officers.
Children can gain a firsthand understanding of police work through engaging activities that simulate the experience of being an officer or detective. These interactive elements make learning about law enforcement both fun and engaging for kids.
#16 Phoenix Zoo
The grounds at Phoenix Zoo are divided into four trails: the Africa Trail, the Arizona Trail, the Nina Mason Pulliam Children's Trail, and the Tropics Trail, each of which has its own distinctive wildlife and landscape.
They have all the animals you would come to expect, plus more including:
Flamingos
Lions
Tigers
Rhino
Camels
Every trail offers unique experiences, but you shouldn't miss the paddle boats or the Endangered Species Carousel because kids enjoy them the most!
If you want a little break from the animal sights, you should cool down in the Yakulla Caverns splash pads and play area. It is designed for children aged 5 and up.
Local tip: they also have electric animal scooters you can rent and ride as the park is quite large.
#17 AZ Heritage Center at Papago Park
You can learn about Arizona's history and have insightful conversations with your kids about how history affects our lives at the Arizona Heritage Centre at Papago Park.
The museum's exhibits, which are centered on Central Arizona, take visitors on a journey through time, starting with early settlements and continuing through World War II, the post-war emergence of desert communities, and Arizona's pop culture.
Children will enjoy seeing a scale model of an Arizona copper mine and learn about the beauty of minerals and jewels from Arizona and other countries.
#18 Superstition Serpentarium
The Superstition Serpentarium has 28 different species of venomous snakes including mambas, rattlesnakes, a python and more.
It's run by the couple who owns all the snakes and while a small museum, it's really neat to see so much venom in one room!
#19 South Mountain Park & Preserve Phoenix
215 N 7th St, Phoenix, AZ 85034
You can engage in a range of family-friendly activities at South Mountain Park and Preserve, such as horseback riding, biking, hiking, and more!
One thing we love to do is to take the car up to the summit of the mountain to enjoy the stunning views of Phoenix and have a picnic. It's free to do too!
Now while this is a park, make sure to visit the ranger station to see the buildings built in the 1930s. 
This is actually one of the largest municipal parks in the country as well!
In the spring this is a beautiful place to see lots of wildflowers.
#20 Phoenix Herpetological Society
The Phoenix Herpetological Society offers an awesome opportunity for kids to learn about and interact with reptiles and amphibians in a safe and educational environment.
Here are some exciting activities for kids to enjoy at the Phoenix Herpetological Society:
Reptile Encounters
Junior Herpetologist Program
Snake Feeding Demonstrations
Art and Craft Workshops
Nature Walks
#21 Ripley's Believe It or Not
Ripley's museums are known for their extensive collections of odd and unusual artifacts from around the world. Kids can explore exhibits filled with:
Shrunken heads
Bizarre art
Strange animal specimens
Other mind-boggling items
It features interactive displays that allow kids to engage with exhibits in a hands-on manner.
They can try puzzles, optical illusions, and interactive games that challenge their perceptions and critical thinking skills.
Ripley's attractions often provide educational programs that focus on science, history, and culture.
Kids can learn about topics such as ancient civilizations, strange animals, and scientific discoveries in an engaging and memorable way.
The Arizona Railway Museum is home to a collection of historic train cars from various eras.
#22 Arizona Railway Museum
Kids can explore vintage passenger cars, freight cars, and even a caboose, giving them a glimpse into how people traveled and worked on trains in the past.
Many train cars are open for visitors to enter and explore. Kids can climb aboard and experience what it was like to be inside these massive machines.
They can walk through the passenger compartments, peak into the locomotive cabs, and touch the various controls.
Local tip: The museum might host special events throughout the year, like the Arizona Railway Day and family-friendly fall festival.
#23 Pioneer Living History Museum
At the Pioneer Living History Museum, the exhibits are set outdoors, creating an open and inviting environment for your little explorers.
This offers a refreshing twist from traditional indoor museums, allowing your children to learn while they roam freely. The outdoor setting means your young ones will have more room to roam, scream and explore.
The museum also has two magnificent gardens, offering ideal spots for a relaxing family picnic. You can enjoy a leisurely lunch surrounded by history and nature.
During our visit, we noticed exciting additions like gold panning and hay maze attractions being set up. Our kids were excited just looking at the setup.
#24 Commemorative Air Force Museum
One of the most fascinating aspects of the Commemorative Air Force Museum is the chance for kids to get up close to a wide range of historic aircrafts.
They'll learn about the roles these planes played in significant events and the brave men who flew them.
Imagine the thrill of sitting in the cockpit of a genuine warplane!
The museum might offer cockpit experiences where kids can climb into the pilot's seat, touch the controls, and get a firsthand feel for what it's like to be a pilot.
The museum also hosts several family-friendly events throughout the year that include:
Display of military vehicles
Kids adventure hunt for ages 6-12
Aviation technology challenges
Hidden History tours
Exhibits
Kids can engage with exhibits that showcase the inner workings of aircraft engines, the mechanics of flight, and even flight simulators that let them experience the sensation of flying.
#25 Martin Auto Museum
If you're looking for hidden gems in Phoenix, the Martin Auto Museum should be at the top of your list.
With over 60 cars on display, spanning from the late 1800s to 2015, this collection is a treat for car enthusiasts and families.
Keep an eye out for the kid-size cars that are sure to captivate your little ones' imagination.
Each vehicle is accompanied by a plaque containing interesting information, making the visit both engaging and educational.
While most of the cars aren't available for sitting, don't hesitate to ask about any cars that catch your eye.
We were fortunate enough to slide into a couple for quick photos. Additionally, the museum offers delightful surprises such as a carousel, driving video games, and mini cars for short rides.
#26 Pangaea Land of the Dinosaurs
As you step into Pangaea Land of the Dinosaurs, you'll be greeted by a vivid world of animatronic dinosaurs.
With around 50 of these lifelike creatures and their immersive habitats, kids can witness the diversity of the ancient world.
The exhibit also offers a variety of dinosaur-themed activities to keep young minds engaged and entertained. Some of the activities include:
Interactive Screens with Dinosaur Information
Fossil Dig Pit
Small Magnetic Interactive Display
Carousel
Arcade games
It's not a big museum so if you're going with older kids it won't take too long. The younger kids will probably stick around a bit longer as everything looks so big, colorful and fun to them.
Note: Outside of the dinosaur display, you will have to pay for the kids activities separately. Ask about their packages if you want to add-on or just pay for the museum part by itsef.
#27 Supersitition Mountain Museum
Located just a mile down the road from the Goldfield Ghost Town Arizona is the Supersition Mountain Museum.
The museum's exhibits provide insights into the lives of miners, pioneers, and Native American communities that once thrived in the region.
Discount Alert: Save 37% Off Superstition Mountain Museum Here
There are both indoor and outdoor activities including:
Superstition Mountain Museum Railroad
Dutchman's Gulch Western Town
Apacheland Movie Ranch
Mining History
Labyrinth
Apache Village
And more
You can explore the museum's collection of historic buildings, including a stamp mill, blacksmith shop, and miner's cabin.
Good to Know Before You Go
It's a good idea to check for field trips when you go during non-summer months on the weekdays so you don't end up with large groups of kids
Many of the museums have special events which can really add to your experience so make sure to check their calendar in advance
A lot of the museums also have educational programs and even camps for kids that gives the kids something extra to participate in
To save yourself time when you get there, make sure to check for parking ahead of time. While some museums have free parking, others do not and you'll need to find a nearby garage.
More Fun Things to Do in & Near Phoenix
Chandler Museum
The Chandler Museum has some engaging displays and a scavenger hunt for kids to learn about the city's past in an entertaining way.
Watch Plans at Hanger Cafe & Chandler Municipal Airport
At Hanger Cafe, step inside a working hanger, watch planes take-off and land, all while enjoying a meal.
97+ Fun Things to Do in Phoenix Arizona
Phoenix is packed with lots of fun things to do no matter what you're interest. Here's the full list…
Best Ice Cream in Phoenix: 11 Places You Must Try
It's hot in Phoenix but there are lots of delicious ice cream spots to help!
La Gattara Cat Cafe in Phoenix, AZ: A Cat Lover's Dream
This is your place to sit and enjoy a number of sweet cats as they sleep, roam and play.