If there's one thing Phoenix is known for…it's for being HOT!
To help you cope, I'm going to share the 11 best ice cream spots in Phoenix that you must try!
These are delicious, a little different and fun!
And most importantly, you'll feel cooled off and refreshed after tasting these mouth watering iceams here in the Phoenix area.
Some of these ice cream places are so good, they made it onto our top list for best desserts in Arizona.
Without wasting any time, here are the 11 best ice cream places in Phoenix.
#1 Novel Ice Cream
Nove Ice Cream is one of the best ice cream spots in Phoenix. They not only are known for their small-batch ice cream, their Doughmelts are what keep many going back.
These warm doughnuts come with your choice of ice cream inside.
My favorite is a cup of ice cream with unique flavors with an added topping or two.
They also rotate flavors which is fun!
What to try:
Ice cream in a warm donut (doughmelt)
Honey lavender ice cream
Nutter butter ice cream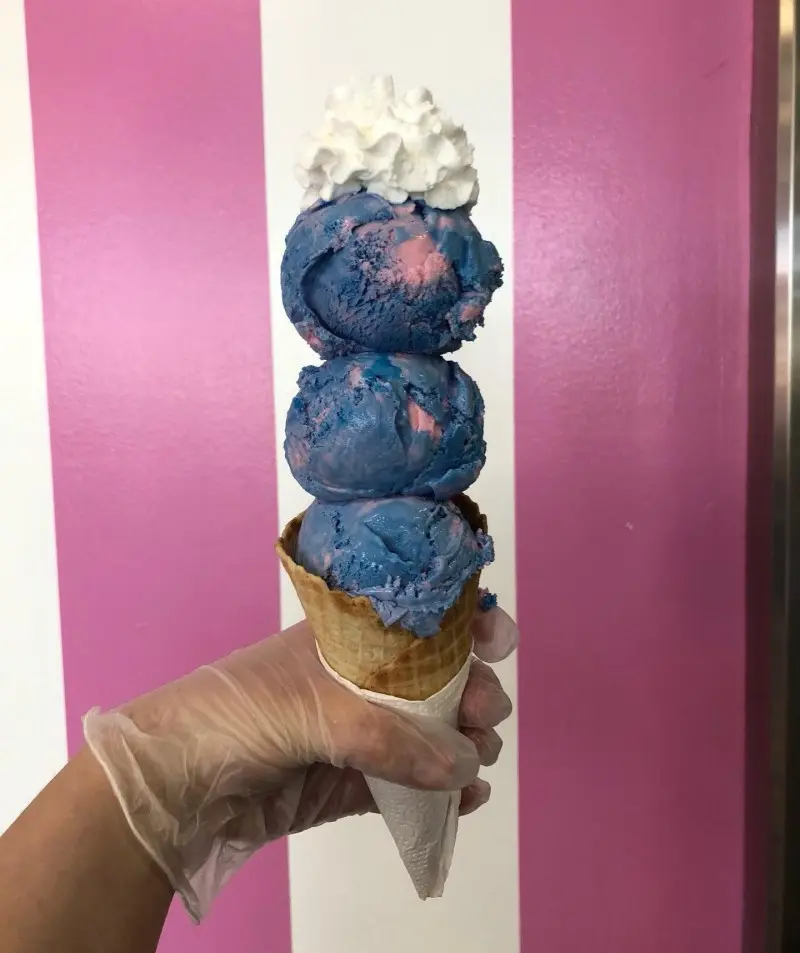 #2 Mary Coyle Ol' Fashion Ice Cream
Mary Coyle Ol' Fashion Ice Cream is a quaint ice cream shop with an extensive menu.
Literally everyone can find something they'll be excited to try here.
While it's not a fancy place, the ice cream is really good and inexpenseive compared to many other options.
What to try:
Cookies n' cream shake
Pistachio ice cream
Salted caramel
#3 Churn
This is one ice cream place I'm willing to drive a distance for! I particularly like their build-your-own sundae where you can add fresh strawberries, whipped cream and other toppings.
This may be the best ice cream place in the state!
They have cookies too. And while there isn't space to sit inside, you can look for a cozy spot on their outdoor, shady patio.
What to try:
S'mores sundae
Snickerdoodle cookies
Vanilla bean
#4 Melt Ice Cream Shop
If you're looking for more of a creative ice cream place, this just may be your option.
The 12 changing ice cream flavors are served in a chinese takeout box and are topped with a fortune cookie.
While the ice cream place is inside a bar (so you can grab a craft beer if you want one too), this place also has some outdoor seating.
What to try:
Lavender latte
Pomegranate raspberry
Maple bacon
Margarita cheesecake
#5 Sweet Republic
Sweet Republic is the place to go for hand-crafted ice cream, shakes and sundaes.
If you're looking for a local ice cream shop, this is a great option! Plus, this ice cream is made from scratch and you can have it served in a homemade waffle bowl. Yum!
While we normally get scoops, last time we tried the Campfire S'mores sundae and it was amazing!
You can also order a toasted homemade marshmallow on top!
What to try:
Ultra chocolate
Brown butter pecan
Malted chocolate chip
#6 The Yard Milkshake Bar
The Yard Milkshake Bar was actually seen on Shark Tank.
The toppings are what take the ice cream at the yard to the next level.
When you add the toppings, it becomes far more than just ice cream (think brownies, cookies and a lot more to top your ice cream with!).
You can even order your milkshake in a jar that you can take home.
And this has got to be the most visually pleasing ice cream you'll find in the state.
And just a tip…you may want to bring a take home container with you or a person or 2 to share!
What to try:
Peanut butter oreo dough specialty milkshake
Dirt n worms cup
Cereal killer milkshake
#7 Frost Gelato
Frost Gelato at the Biltmore has handcrafted gelato and sorbet. They have plenty of flavors you can sample before deciding.
They are happy to let you split flavors in a cup if you can't narrow done what you want.
What to try:
Strawberry sorbet
Lotus cookie gelato
Hazelnut gelato
#8 The Screamery
The Screamery has a fun cow theme as all their ice cream is made from their own cows and they pasterize on-site.
What's fun is they have a Tasting Flight where they serve you numerous flavors. It's like a sampler!
The banana split comes with a few flavors and is a great option if you want to share and not spend too much.
Little kids will enjoy the small picnic tables they have.
Don't forget to try the waffle cone nachos.
What to try:
Butter cake
Peppermint chip
Chocolate chip cookie dough
#9 Scooptopia
Scooptopia is your place for Filipino desserts. They have halo halo, taho, ube ice cream, shaved ice, boba and bubble tea.
And to make this ice cream place even more unique, they have free karaoke too!
While I didn't try it, they even have a Play Doh flavor.
What to try:
Mango sherbet with chamoy and tajin
Triple chocolate
Lemon cheesecake
Black seasame shake
#10 Peace Cream
Peace Cream is a family owned ice cream shop with such kind and friendly owners. And if ice cream and coffee sounds good, this just may be your spot.
Beyond just ice cream, we enjoy going here for breakfast as they delicious waffles and crepes.
You can tell by the taste the food is homemade.
Make sure to ask about their "secret" menu.
What to try:
Superman sherbet
Strawberry banana milkshake
Cookies & cream frappe
Chocolate brownie milkshake
#11 LIX Uptown Ice Cream
LIX is an award winning ice cream shop that serves hand-crafted, small batch ice cream.
Not only do they have some unique ice cream, they also have sorbet, Mexican soda and hot chocolate.
With their creative ice cream flavors and unique ambiance, this spot is different from the rest. They even have a lounge room with Jenga and other games and sofas.
I definitely recommend their homemade waffle cone dipped in chocolate with whichever ice cream you get.
What to try:
Mango sticky rice ice cream
Coconut cream pie
Manhattan