The cats at these cafés have been rescued, are well taken care of, and are available for adoption.
But don't worry, if you just wanna play with kitties with no intent to adopt, these cafés are still for you!
When my daughter, who absolutely loves cats, was having a birthday, I bought a gift certificate to a cat cafe for her as this makes for such a great experience gift for kids.
#1 La Gattara
147 E Garfield St, Phoenix, AZ 85004
Visiting La Gattara is one of our favorite things to do in Phoenix. It's a nice, clean, open space area right in downtown Phoenix.
Typically they have between 25 and 30 cats at a time
They have plenty of toys for you to play with them. Lots of cat fixtures and hiding spots for the cats to roam in and out of the safe please. It's nice and comfy for cats and humans.
The café has a selection of drinks available that she can consume with or without the cats. There's also a little bit of are in merchandise available for sale. The staff here is incredibly nice and clearly loves what they do.
READ NEXT: 97+ Fun Things to Do in Phoenix
Cats that have a red collar are not overly social so if you come with kids, it's best to have them play with other cats.
They also have regular events like paint night and cat yoga.
Time slot duration: 60 minutes
Cost per hour: $18 / person
Reservations required: No, but encouraged
Note: day, month, and year passes are also available.
#2 Kitty Pause Kitty Cafe
1837 West Guadalupe Road, Mesa, Arizona 85202
At Kitty Pause Kitty Cafe, you'll find tons of cat toys to to help you interact with more of the cats.
They have comfortable furniture to sit on and lots of fun and interesting furniture and climbing structures for the cats themselves.
The owners and staff are so nice and you can tell the cats are well taken care of. The cats are friendly and it's so nice to relax. You'll get to pet and play with them.
Don't forget to ask for your coffee or tea, and they'll make it to order for you.
READ NEXT: 43+ Fun Things to Do in Mesa
They also have regular events like:
Cat bingo
Color with cats
Yoga with cats
You can even book study or work sessions so you can bring your books or laptop and work alongside the cats.
Time slot duration: 60 minutes
Cost per hour: $15
Reservations required: no but highly recommended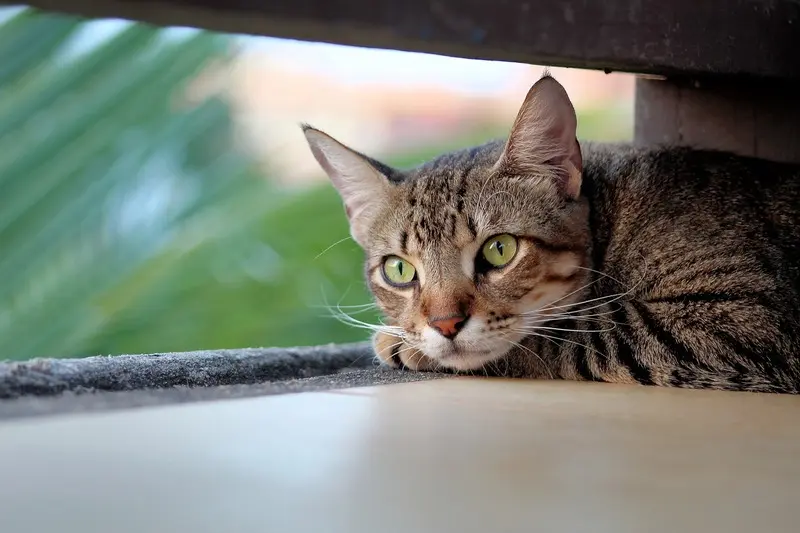 #3 El Jefe Cat Cafe
3025 N Campbell Ave Suite 151, Tucson, AZ 85719
This is one of the best cat cafés we've been to. The place itself has three levels and you'll find the cats on the third level.
I highly recommend you purchase the cat treats at the front desk because this is a good way to get the cats to come to you so you'll have more interaction.
They have about 35 cats, although that changes as new cats come in and others are adopted out.
Just like with people all the cats each have their own personalities.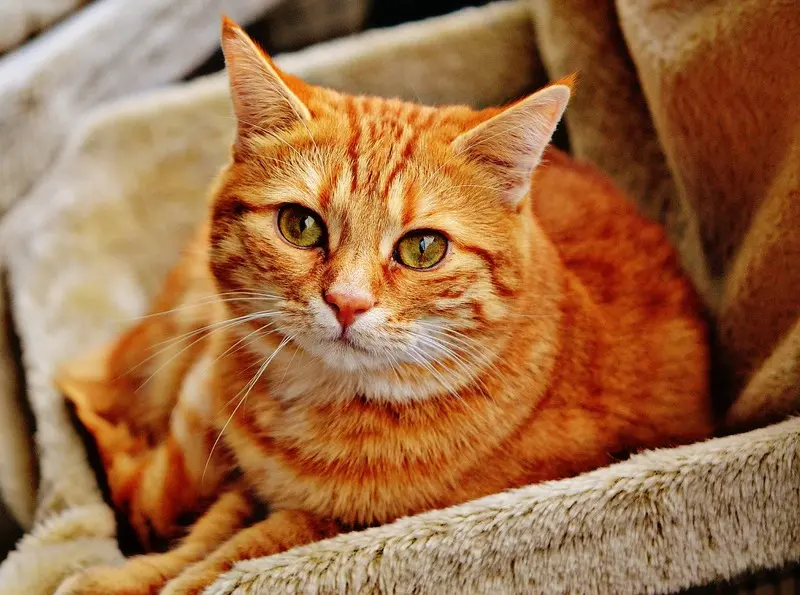 When you get there, you'll find some cats are energetic and ready to play, some are friendly, and some just want to sleep and be left alone.
The café itself is separate from the cat area.
Keep an eye on their event, calendar for fun events like:
Comedy nights
Cat bingo
Cat yoga
They also have drinks at reasonable prices available for you as well.
Time slot duration: 60 minutes
Cost per hour: $12 / person
Reservations Required: no but recommended
Note: you can also purchase 30-day passes here if you'd like to come several times during the month.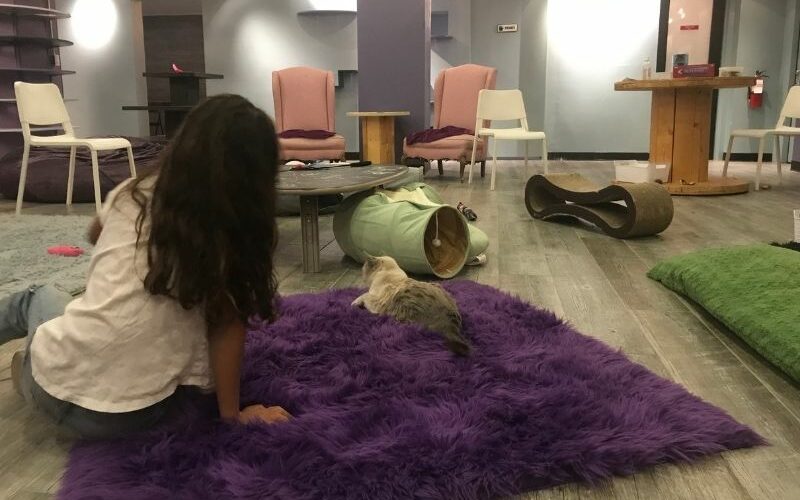 Cat Cafes in Arizona
While there's only a few cat cafes in Arizona right now, they are really great ones! We love how well the cats are cared for.
It's also a great way to interact with cats if you're looking to adopt, so you can see their personality.
And if you're like my family and can't own a pet right now, this is such a great way to be able to spend time with cats without the commitment or responsibilities.
It's so nice to see these wonderful places taking such great places of cats that really need the help!
Good to Know Before You Go
There's a few things that are helpful to know when visiting a cat cafe:
Most cats are available for adoption but desire to adopt is not a requirement for visiting
While the cafes are clean, cat hair is to be expected. Don't wear your finest clothes
These organizations accept both financial and supply donations if you wish to further support their work
Never force a cat to play or be held that doesn't want to be. There are plenty of cats available
Kids are welcome at cat cafes. Please just make sure they don't run or scream so they don't scare the cats.