Finding the perfect gift for teens can certainly be a challenge! I love to get my teens outdoors as they move more, are happier and yes, even nicer!
Here I'm going to share my favorite outdoor gifts for teens that have been perfect for getting them out and into the great outdoors.
This is how you can get them off the Nintendo Switch and social media and into more outdoor adventures.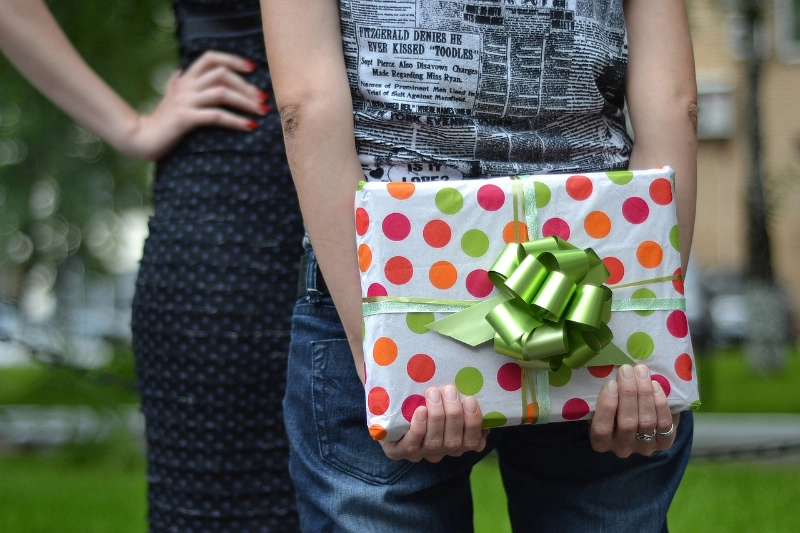 For some reason it starts to become harder to shop for kids when they go from being young kids to teenagers.
But that's exactly why I've put this list together! Whether you're looking for a birthday gift, the perfect Christmas gift for Christmas morning, a great stocking stuffer or just a fun outdoor activity for your teen, you're in the right place!
Whether you're looking for ideas for your teen boys or teen girls, you'll find the best outdoor gifts here that will turn them into more adventurous teens.
On to the ultimate gift guide with awesome outdoor gift ideas for teens!
#1 Outdoor Games
Over the years we've loaded up with outdoor games. Anytime I can tell we've been in the house for too long, I send my kids (including my teens!) outside to get some sun and recharge.
Having plenty of outdoor games and on hand has really helped keep them entertained and outside even longer than I had hoped.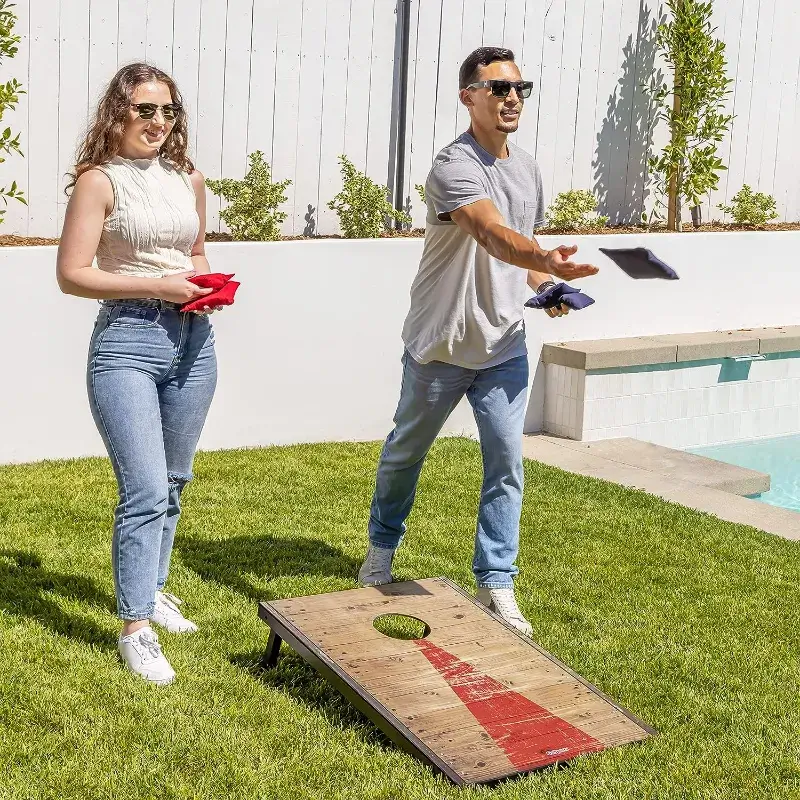 Some of the games we have that they really enjoy are:
The younger teens and younger siblings will jump in on these too. And often on the weekends, we'll spend some time with the whole family playing a great game to end the week with some nice family time.
#2 Camping Gear (or Trip!)
Many kids love camping. Mine were unsure of the idea until we actually tried it together for the first time and now they're hooked.
If you often go camping, you can get them some new gear of their own like:
You could even plan a new camping trip as a gift. Here's a full list of the best camping gifts for kids.
Is this the new portable version of the lawn game?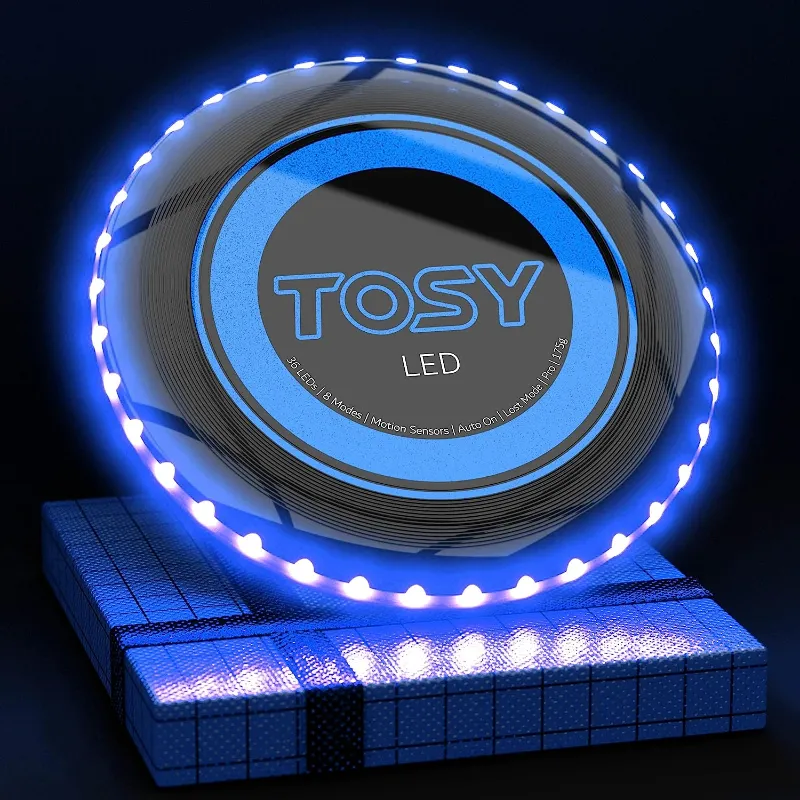 #3 Ultimate Frisbee
A frisbee is a great outdoor toy. And maybe not just any old frisbee. We got the Tosy Light Up frisbee which was really cool and the older kids loved playing it outside as the sun went down.
This is a pretty inexpensive gift, yet tons of fun. This one here is a best sellerhttps://amzn.to/46f6X6s.
#4 Walkie Talkies
I don't know what it is about walkie talkies but younger kids and teens love them. They seem to create their own outdoor game and maybe it's the freedom they feel roaming around outdoors with their friends.
Tip: I purchased a 4-pack of long-range walkie talkies so I could keep one with me at the house when they go out. That way when I want to check in or need them to come back, I can call them on the walkie talkie.
#5 Swim Gear
A new swimsuit, goggles or fun pool toys like a Activ Skip Ball, LED Beach Ball or floating basketball hoop will make sure they have so much fun at the pool.
#6 Waterproof Bluetooth Speaker
Teens, especially teenage boys, love having a bluetooth speaker they can take around with them. I like to get a waterproof one in case they want to take it to the pool or just because, well…they're teenagers!
Great for the shower, camping, the pool being outside in the rain and anywhere else they want to go!
#7 Insulated Water Bottle
Especially for the more active teens, a good water bottle is really nice to have and it keeps the water cold even when out of ice or out of the fridge for long periods of time.
I got this one as it comes in a variety of colors and sizes. My teen and her friend love them!
Another similar idea: If you want to encourage teens to be more active, a great idea is to get them a hydration backpack so they can carry the water on their back and not have to stop to get a drink. They're really nice for hiking. My tween girl loves hers!
#8 Outdoor Projector
Many teens spend more than enough time watching TV but what if you could at least get them to do it outdoors. I see this as a double win.
An outdoor projector like this one works with a smartphone, TV stick, PS5, or a laptop and will get your teen outside for an extra fun movie night.
And since you'll totally be the cool parent, their friends will want to come over too. That way you know where your teen is, who they hang out with and what they're up to. I love being the teen hangout house!
This is definitely one of the more unique gift ideas that your teen won't be expecting!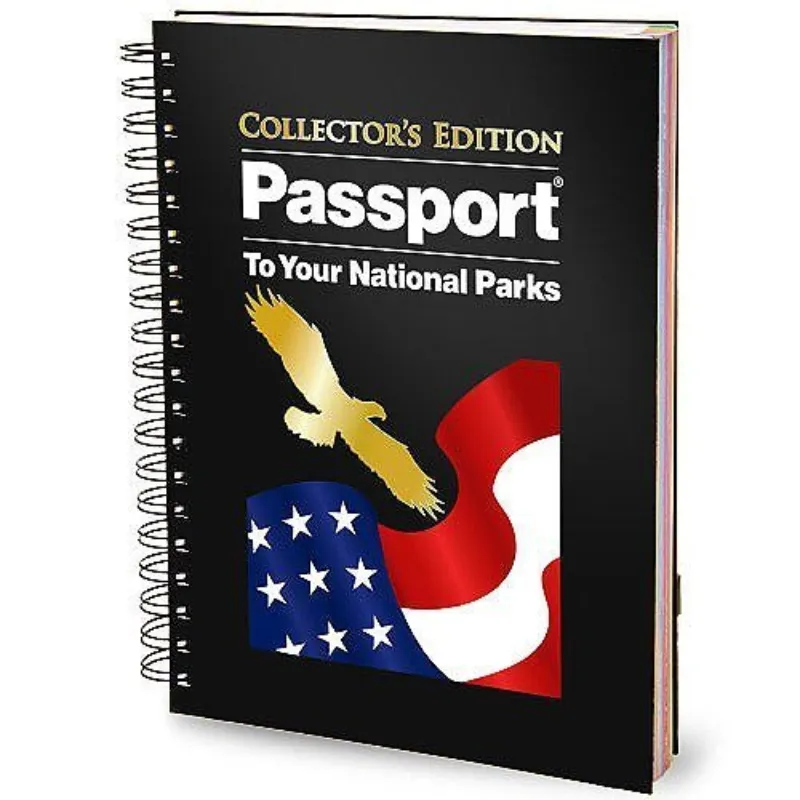 #9 National Park Pass
Especially if you live even within a couple hours of a National Park and want to see even more, a National Park Pass makes for a great outdoor fun gift.
Your teen will have something to look forward to and will have so much fun being outside and exploring a new place.
Tip: I bought my teen this National Park Passport and Passport Stickers so she could track all the National Parks she has gone to and collect stamps from the rangers as she goes. Plus, she can keep this book as an adult and my hope is she will be encouraged to continue exploring on her own as well.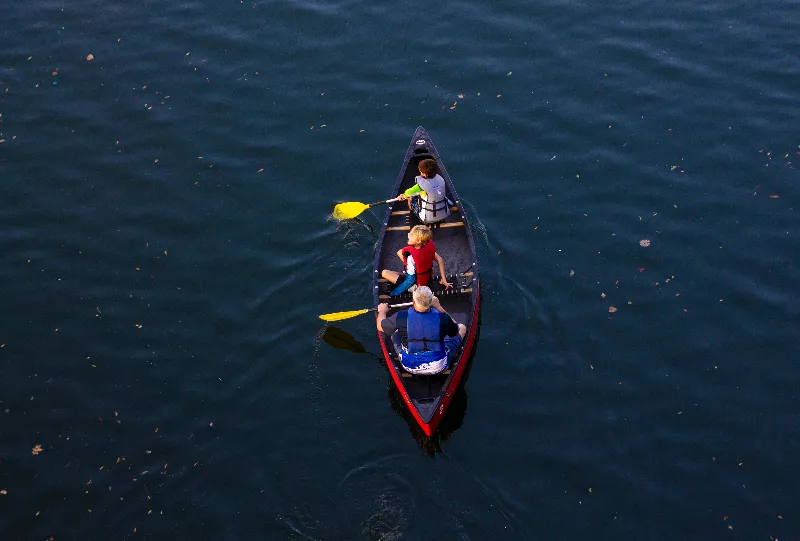 #10 Boat Tour or Rental
One of the best gift ideas for getting teens (and really kids of all ages) for hours of fun in nature is to rent a kayak, canoe or paddle board at a lake near you. It's a mix of nature, exercise, fun and togetherness that re-energizes everyone.
If being on the water sounds nice but not having to paddle, a perfect outdoor gift can be a bout tour that takes you around a lake and talks about nature or history.
#11 A Bike (or Bike Accessories)
One of the best gifts for physical activity for teens is a new bike. Maybe their bike is old or too small and a new bike will not only get them outdoors, it will get their heart rate going.
If your teen already has a bike, consider getting them some fun accessories to enourage them to go out more often.
You may consider: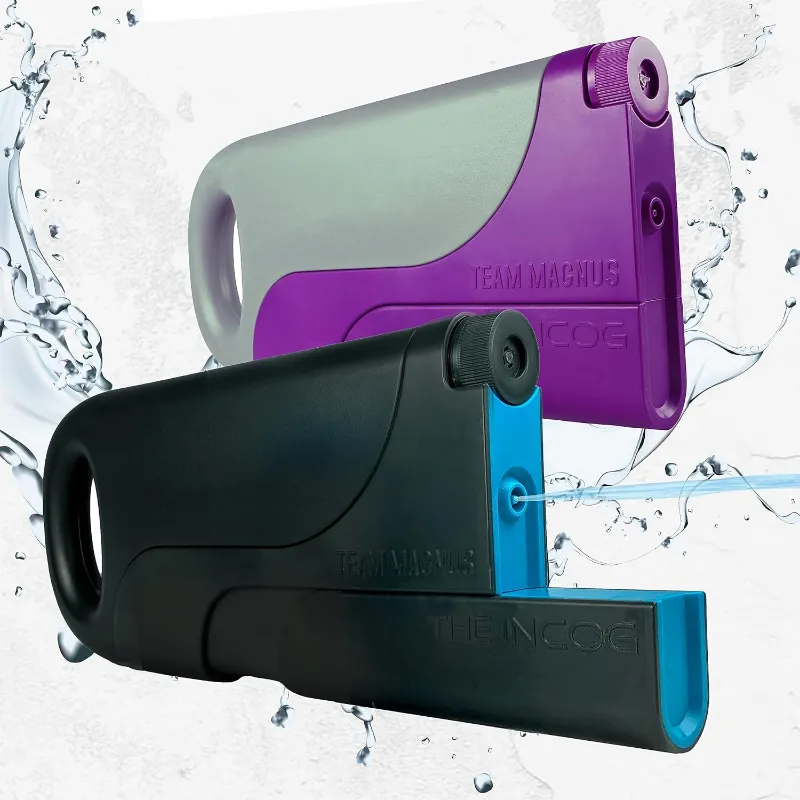 #12 Water Soaker
My son repeatedly requested me for the biggest, baddest water soaker on the market. I finally caved this summer, and his face lit up unwrapping that high-powered water blaster!
He immediately soaked his little sister, igniting squeals of laughter. Those two kept cool all season long with epic water fights in the backyard.
Nothing brought me more joy than watching my kids enjoy carefree outdoor fun all summer, thanks to that beloved super soaker.
Quick thought: If you're not sure of the exact color or style your teen would want for one of these fun outdoor toys, you can alway give them a gift card and tell them specifically what they can purchase with it. That way they don't buy something else and you don't have to deal with a return when it's the wrong one.
#13 Remote Control Car
I've got a great outdoor gift idea for the teen in your life. Those remote control cars are always a hit, right? I know my nephew goes nuts playing with them in the backyard.
He loves seeing how fast he can make it zip around the picnic table and over the garden hose. Gotta be careful not to crash into the fence! Anyway, a high speed RC car or truck would make for an awesome birthday or holiday gift. The whole family can get in on the fun!
And I just know your teen will have a blast testing their new ride's speed and maneuverability. An RC car is hours of entertainment for any backyard!
#14 Remote Control Plane
What I love about this remote control plane gift is that it's a great way to get them learning aviation skills, radio transmission, focus and coordination without them really noticing.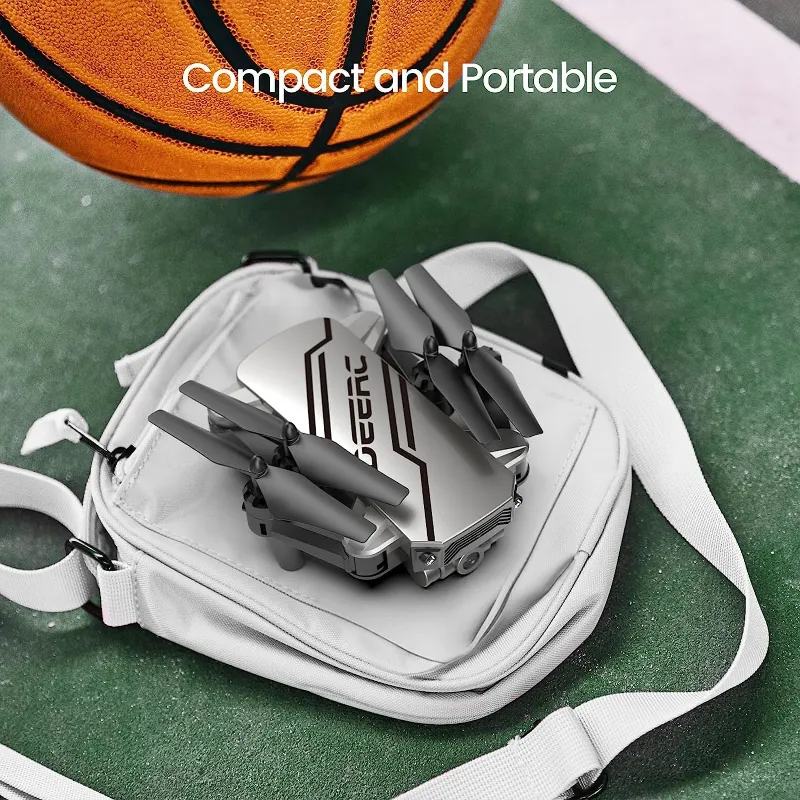 #15 Drone for Teens
I recently bought a drone for my teen since he's really into technology and he loved it. He loves flying it around.
Although he's comparatively new at operating drones, it was relaxing to see how safe it was. And the best part is it didn't cost a fortune.
This was definitely a new hobby for him that he enjoyed. It was a great creative outlet for him.
#16 Tickets to Visit Caves
Another one of the outdoor activities my teen loves is to walk (or crawl!) through caves. It's not always at the top of my list of activities but it is one of the cool gifts for him and active kids make me happy.
Many caves are cooler, having nice walking paths and have awesome guides who tell you all about the cave you are experiencing. 
My teens wanted to visit more after our first cave visit to Kartchner Caverns in Arizona.
The best part for me is that while this is one of the unique gifts, it's definitely doable to bring the little kids along to for many of the caves. Just check for any age restrictions before you go.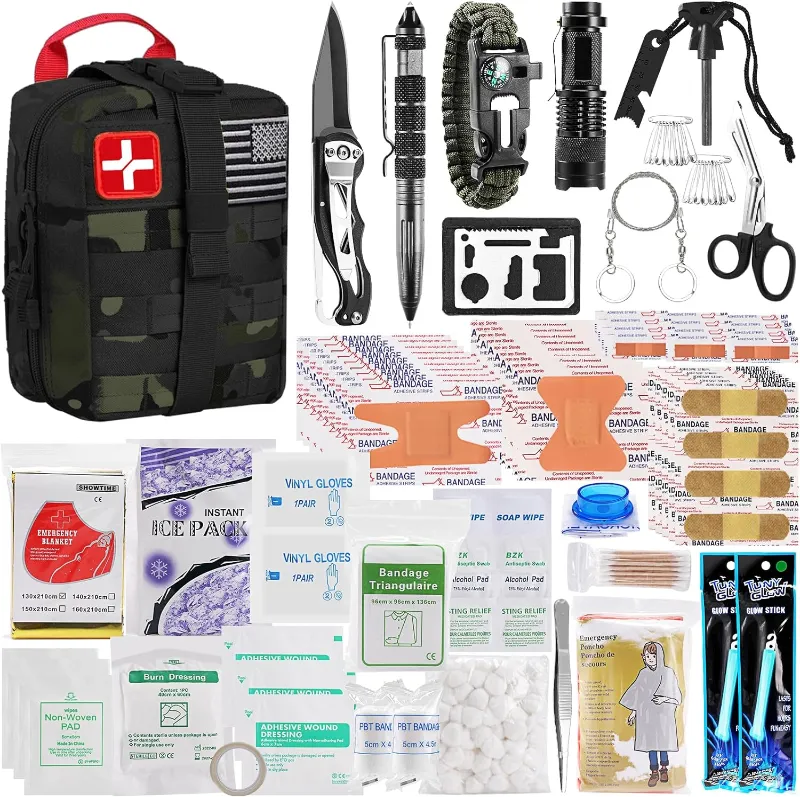 #17 Pocket Knife or Survival Gear Kit
I recently bought my son a pocket knife and survival gear kit for his 16th birthday. He loves the outdoors and is always looking for gadgets to take on our camping trips.
A sturdy pocket knife has always come in handy for things like:
Cutting rope
Opening packages
Whittling sticks for the fire
The survival gear kit also comes with a flashlight, fire starter, and other tools that helped us be prepared when we went out in the wilderness.
This gift is definitely a good option for the older teens. As long as you can teach your teen proper knife skills and supervise him, it could be a useful gift he enjoys!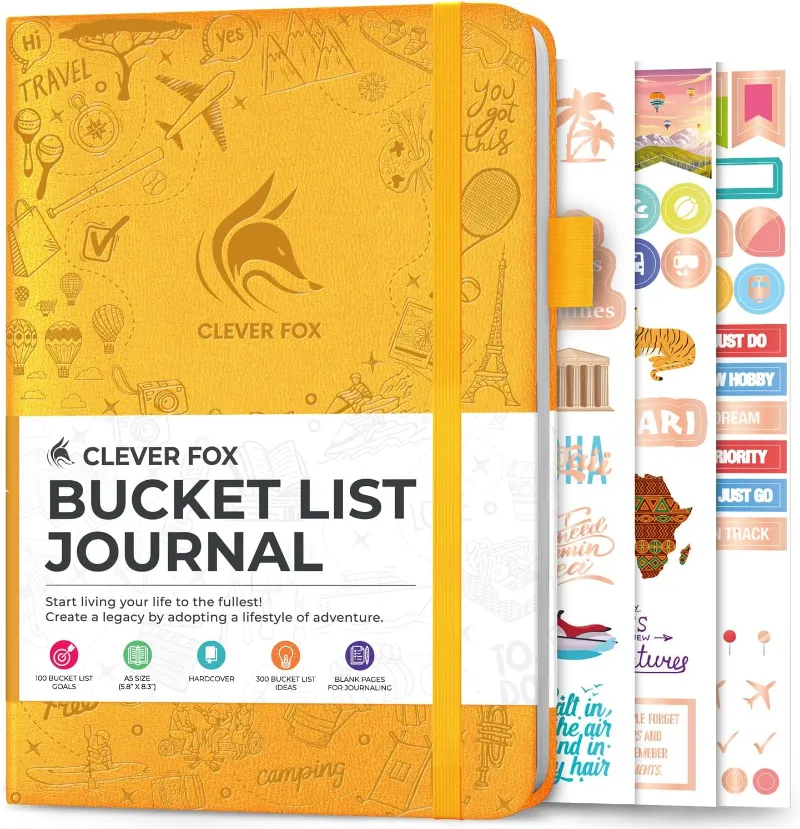 #18 Adventure Travel or Bucketlist Journal
Nothing gets my teenage son more excited than our annual family camping trip. This year, I gave him an adventure travel journal beforehand so he could help plan our itinerary.
He researched hiking trails, fishing spots, and scenic pullovers—taking such pride in crafting the perfect outdoor vacation.
This just may be my favorite outdoor gift for a teen because not only do they have a great time, the entire family can – A perfect way to have them come up with getting out the house and outdoors all on their own.
#19 Hammock
Nothing beats swaying in a hammock on a nice day! A good old fashioned rope hammock would let your teen relax in the fresh air. I have one hung between two trees in my backyard.
When I'm not using it, my daughter loves stretching out with a book.
A hammock stand is another option if you don't have two posts or trees. There are some pretty cool hammocks these days with built-in shade tops and pockets too. I just know your kid would love having their own private hangout to unwind in.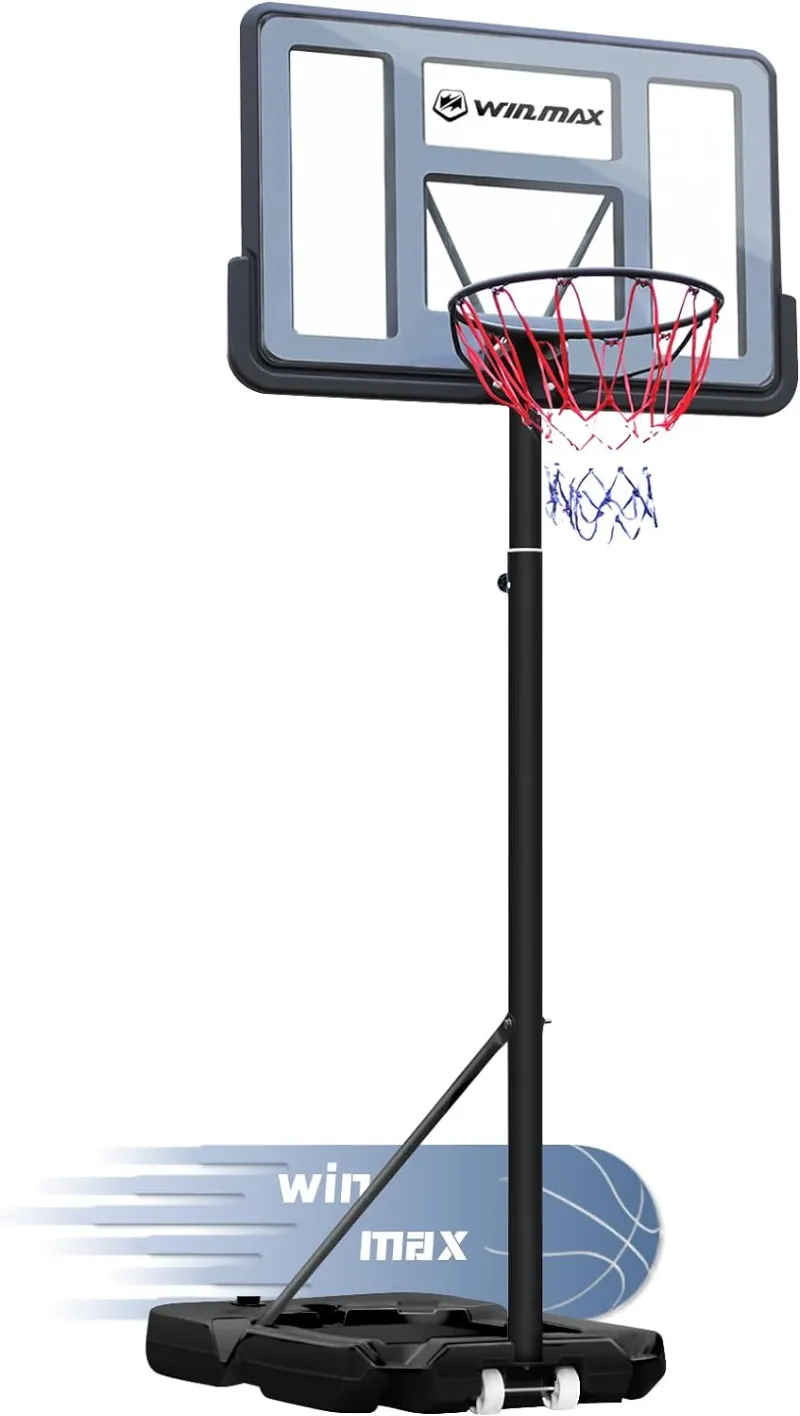 #20 Basketball hoop
You can't go wrong with a basketball hoop for endless active fun! Get one with a portable base that can be wheeled around the driveway or yard. I used to play HORSE with my son for hours with ours.
Lower it for your younger teen or raise it up as they grow.
Install a permanent pole and backboard if you want something more heavy-duty. Just make sure to get them a ball (or better yet this glow in the dark basketball to keep them outdoors longer) and pump too!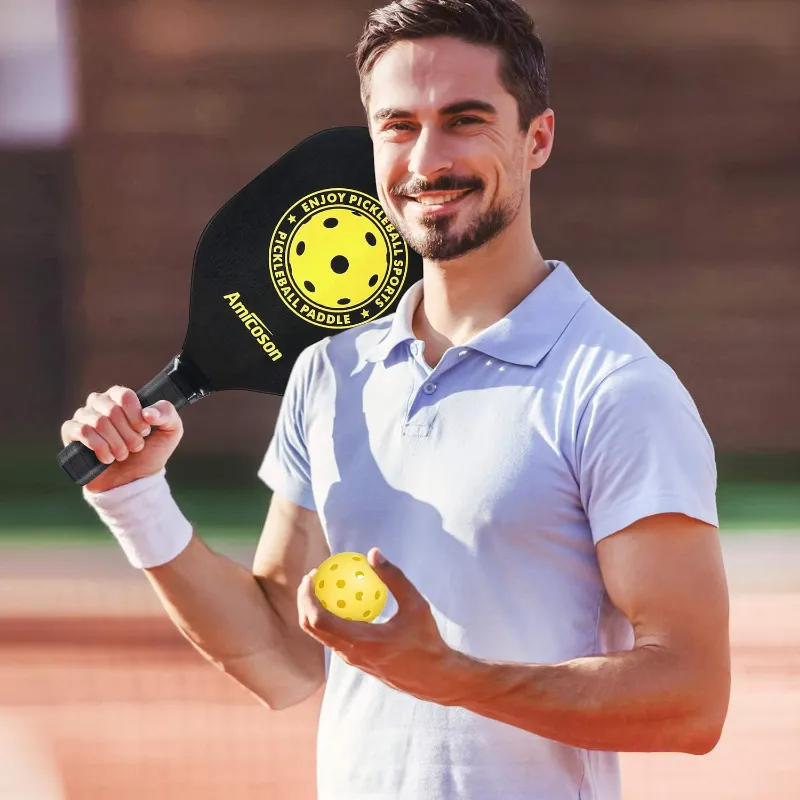 #21 Tennis, Badminton or Pickleball Rackets
Tennis, badminton, pickleball – take your pick! All you need is a couple rackets and a net to get a game going.
The net setups these days are super easy to put up and take down. Or surprise them with their own pickleball paddle – it's such a trendy sport.
#22 Discs for Disc Golf
Here's an affordable outdoor game: disc golf! So many neighborhoods have disc golf set-up but if you're not near one, you can also get a portable basket target for the yard or park.
My son is hooked on disc golf right now. We designate trees and landmarks as "holes" and keep score. There are even glow discs for night play!
#23 Trick or Motorized Scooter or Hoverboard
Joyrides, here we come! Motorized scooters are a blast for teens who want to zoom around. But some just prefer a trick scooter like this.
Make sure to get them a helmet for safety too.
I see kids in our neighborhood having scooter races and doing tricks. Plus it's an eco-friendly ride.
#24 Waterproof Digital watch
A waterproof digital watch would be essential for your sporty teen's active lifestyle.
Get them one with a stopwatch, alarm, and other handy outdoor features.
These are great for:
Timing runs
Setting hourly reminders
Using the light at night
Your teen will appreciate having the date/time on hand no matter what new adventure they're embarking on.
#25 Rollerblades
Remember rollerblading back in the day? Well it's back in style!
I think some snazzy rollerblades would be an awesome gift for your athletic teen. The bike paths around here are perfect for blading.
And the new inline skates have better safety, comfort and performance. Maybe your teen can even teach us old-timers some new rollerblading tricks!
#26 Electronic Skateboard
E-skateboards are so cool – your teen would love zipping around on one! They come in different colors and styles so you can pick the one that best fits your teen's personality.
The built-in safety features give me peace of mind too. And you can find an e-skate at a great price these days.
#27 GoPro or Action Camera
A GoPro would allow them to film all their outdoor adventures – whether mountain biking, skating, at the beach, etc. Plus, it's waterproof so they can do so much with it.
My daughter loves making videos of our family hikes and bike rides. The footage lets her relive the memories.
#28 Zipling Tickets
How fun would a ziplining experience be! Many outdoor adventure parks offer zipline tours suitable for teens.
Your thrill-seeker would get to soar and glide across the beautiful landscape. Some courses have suspension bridges and aerial games too.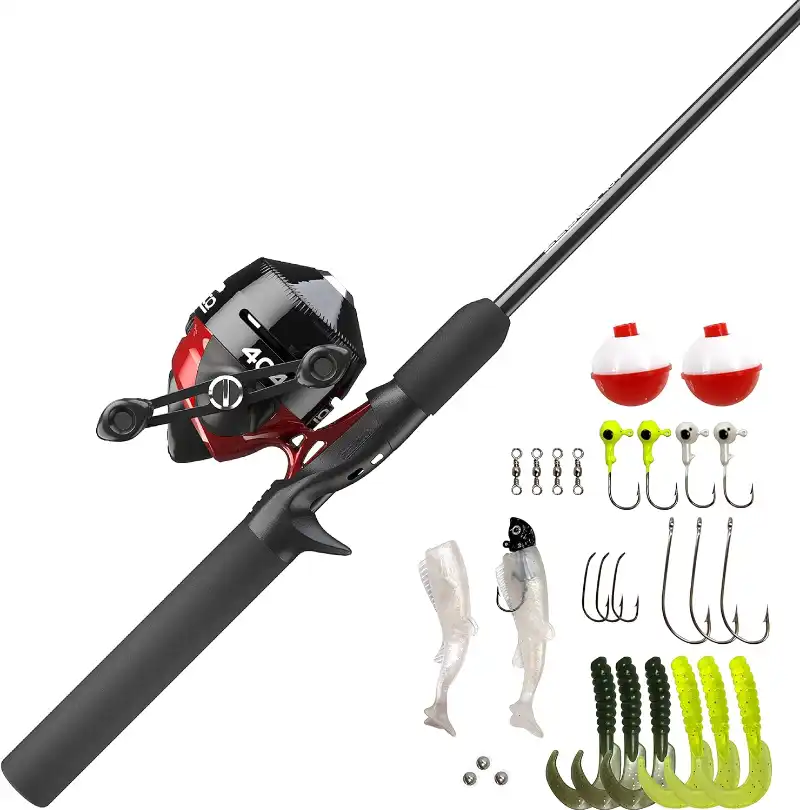 #29 Fishing pole and gear
Here's a classic outdoor hobby – fishing! Get your teen their very own rod and tackle box filled with lures, bait, tools, etc.
I'm sure they'd love casting a line at the lake this summer. And there are so many cool high-tech poles nowadays.
#30 Telescope
We bought this telescope for my son. It's not quite a beginner telescope and not one that's super advanced either so he can grow with it as he learns.
It stays in my teen's bedroom and he brings it out a few nights a week. We also picked up this book to help him learn about and look for constellations.
#31 Rockets
Gift your aspiring astronaut some model rockets for a fun outdoor activity! My son was obsessed with model rockets at that age. Watching them soar hundreds of feet in the air is such a rush!
#32 Pogo stick
Pogo sticks aren't just for little kids! They make a great outdoor gift for teens too. Your kid will have a blast bouncing around the driveway or yard. Today's pogo sticks come in all different heights and styles – including cool ones with stunt pegs.
#33 Road Trips
A parent-teen road trip is such a fun way to bond outdoors! Last summer, my daughter and I took the most memorable road trip out West! Just the two of us on the open road, taking in all the natural beauty America has to offer.
From hiking trails in Zion to stargazing in the Badlands, we made outdoor memories to last a lifetime. That special parent-teen time exploring breathtaking landscapes was the best gift I could have given my girl. And I had got her this road trip journal to record it all!
#34 Outdoor Toys
I'll do just about anything to get my teens to participate in more outdoor play and be more outdoor kids.
Some of the best outdoor toys are the classics like:
When my teens were younger, I'd bring out a variety of outdoor toys to practice some hand-eye coordination and let them choose what to play with. It kept them engaged for hours with new toys!
#35 Outdoor educational gifts
For the curious teen, educational outdoor gifts are fantastic. Think…
…anything to spark their sense of wonder in nature.
My daughter loved collecting flowers and bugs during our walks, then examining them up close and trying to identify species.
A portable microscope or geology set would make the perfect gift for your budding scientist. Let them pick specimens straight from your backyard or neighborhood park to investigate.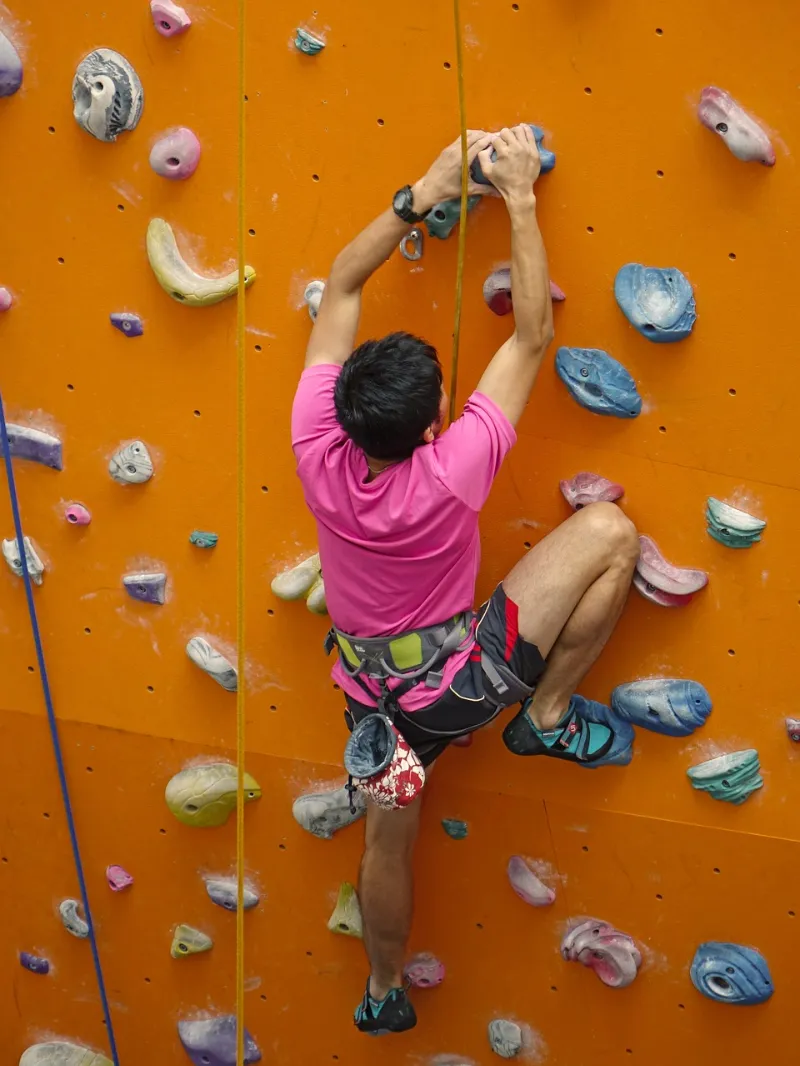 #36 Adventure Gifts
Got a thrill-seeking teen? Surprise them with an outdoor adventure gift like:
Surfing lessons
A ziplining experience
Whitewater rafting passes
Indoor rock climbing
The options are endless. My son is all about adrenaline so I'm always on the hunt for extreme outdoor activities he'll love. Let me know if you want help researching group deals.
Pro tip: book an adventure excursion for the family so you can all get your hearts pumping! Your teen will be so excited.
#37 Portable charger
One gift any parent of a teen can appreciate is a portable phone charger! With a wireless power bank they can easily juice up their phone when you're hiking, at the beach, camping, etc.
At least you won't have to hear "my phone's dead" as often when you're trying to enjoy nature!
#38 Balance boards
Balance boards provide hours of fun outdoor play while improving agility and stability. They also come in a variety of patterns.
They'll love practicing tricks and new balancing skills on one. My son uses his balance board for cross-training too. It's a great gift for active, coordinated teens.
#39 GPS tracker
GPS trackers provide peace of mind when your teen is adventuring solo. Just have them clip it to a belt or shoe. That way you can check their location remotely via the app.
Some trackers even have SOS alert buttons! I got my daughter one for her hikes after she went off trail once – now I can know where she's at.
#41 Inflatable paddleboard or kayak
This is a great addition to your outdoor gear. We've gone many times to a lake near us and we now intentionally look up lakes near any road trips or vacations we go on so we can bring our inflatable paddleboards.
#42 Garden starter kit & supplies
A perfect addition to your backyard. What a thoughtful gift a garden starter kit or smart indoor garden would be! Some seeds, gardening tools, kneeling pad, gloves, and planters are perfect for helping a teen learn to grow their own flowers and veggies.
The whole process of tending the soil, planting seeds, and watching things bloom is so rewarding. Just think of all the fresh herbs and produce they could grow!
#43 Outdoor cooking class and or recipe book
For aspiring chefs, an outdoor cooking class or outdoor cookbook would be amazing. Your teen can level up their skills over a campfire or grill. Look for classes focused on:
Camp cooking
Dutch oven meals
Pizza making
Cast iron skillets
Foil packet recipes
Lots of fun themes to choose from!
If you'd rather gift a book, I'd recommend one with camp recipes, diagrams, cooking tips and equipment guides. Get those teens cooking up a feast!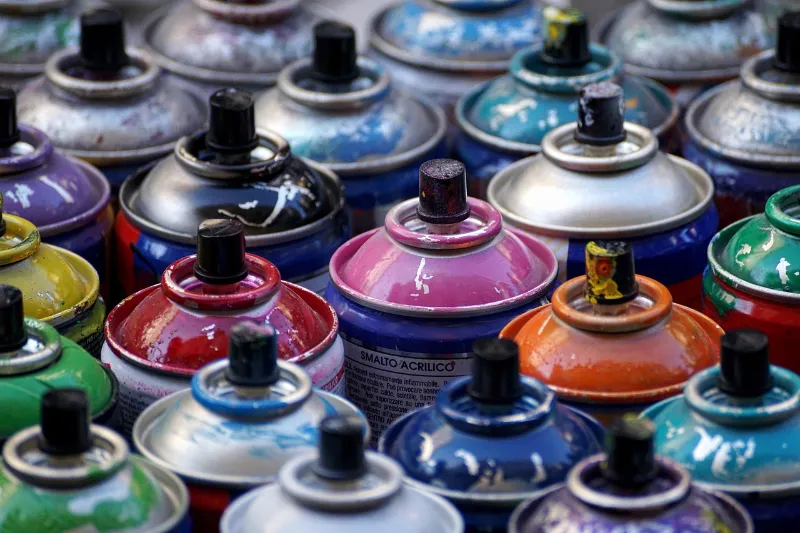 #44 Outdoor art and graffiti supplies (spray paints, stencils, etc.)
Here's an artsy idea – get your teen some graffiti art supplies to decorate outdoor spaces! Pick out a variety of spray paint colors and stencils of cool designs, templates and alphabets. Then challenge them to create artistic tags and murals on surfaces like the driveway, sidewalks, garden stones, etc.
It's such a fun creative outlet. My son loved "vandalizing" our backyard with his street art. Just cover any nearby plants and watch the colorful magic happen!
#45 Outdoor classes
Sign you and your teen up for a special outdoor class together! Options include:
Fly fishing
Stand up paddleboarding
Survival skills
Astronomy
These are all fun things you can learn as a duo.
My daughter and I took archery lessons last fall and loved having a new hobby to bond over. An experiential class also makes for a more meaningful gift than material possessions.
#46 Tosy boomerang
A boomerang set would provide tons of lively outdoor entertainment! Look for an easy-to-use V-shaped boomerang made of reinforced wood or plastic. Then head to the park with your teen to take turns practicing throws and catches.
My kids could never get enough of boomerangs at that age. It's such a novel way to play catch! Plus it teaches hand-eye coordination. Maybe get a fluorescent one so you can play in the backyard after dark too
#47 Outdoor swing
Want to create an outdoor oasis for your teen? Hang a relaxing outdoor swing! Pick a disc, bench or hammock-style swing with weatherproof fabric and adjustable rope.
Your teen will love having their own special spot to unwind outdoors. For extra coziness, attach a sun shade above the swing.
#48 Volleyball, soccer ball, football
Gift your sporty teen new equipment to stay active outdoors! Ideas include:
Volleyballs
Spikeball sets
Disc golf starter set
And don't forget glow-in-the-dark versions for night play. So many options depending on their interests!
When my kids were that age, we'd pick a different ball game each weekend to play as a family in our yard or at the park. Rotating kept it fun and engaging. Plus, it'll get them off their screens!
#49 Skim board, body board
If you have a beach lover, surprise them with a skimboard or bodyboard for endless water fun! Look for a lightweight board with smooth contours for catching waves.
Add in a leash and watersports bag for toting gear. Then hit the ocean or lake for an exhilarating session of wave riding all summer long!
Buying Fun Gifts for Teens
So no new video game this year. This year, you're going to have a more happy and active teenager who becomes a more outdoorsy teen. These are just a few great gift ideas for your teen.
Spending time together in nature will nurture their health, imagination and sense of adventure. Before you know it, your once-indoor kid will transform into a cheerful, outdoorsy teen.