Tumbleweed Park has something for the entire family. From a 2.5 acre playground for both younger and older kids, a fossil dig area, ziplines, plenty of courts and fields, walking trail and more, this is a park you'll come back to over and over again.
In this guide, we'll cover everything you need to know to make the most of your visit to Tumbleweed Park.
In This Guide:
Playtopia (The Playground)
Other Attractions
Butterfly Garden
Tumbleweed Ranch
Park Map
What to Bring
When to Go
Getting There
Good to Know Before You Go
Things to Do Near Tumbleweed Park
Playtopia: The 2.5 Acre Playground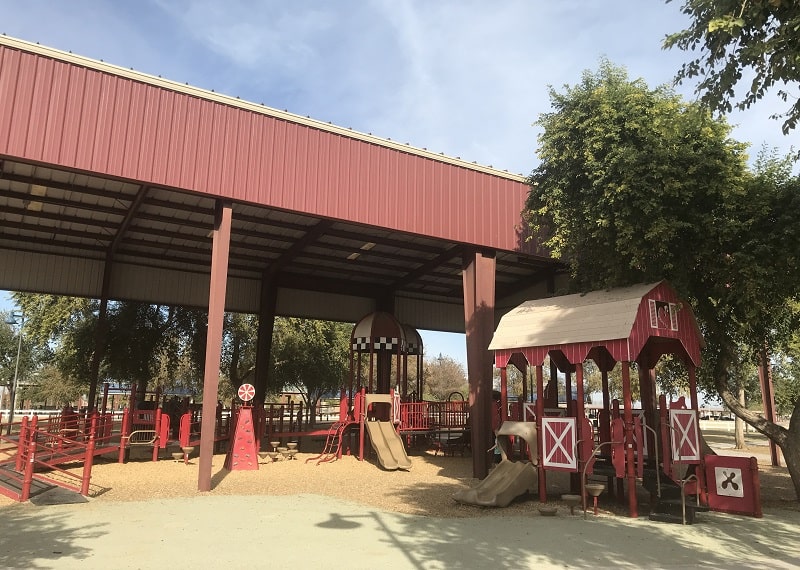 The main attraction for kids at Tumbleweed Park is definitely the 2.5 acre playground called Playtopia. The playground has several zones or sections so there is something for kids of all ages.
Each zone is has a theme from Chandler's heritage. You'll find swings, slides, bridges and climbing zones.
The 3 main zones are:
Zone 1: Farm Land
This is a huge farm-style playground with a barn-style cover which is designed for kids ages 5 – 12. There are various slides and lots of things to climb on, over and around all incorporating the farm theme.
Zone 2: City Land
This is such a fun area to bring small bikes and ride along the marked "roads," going past lampposts and street signs. This area is geared for the younger ones and again has more climbing opportunities and plenty of slides.
Zone 3: Critter Land
There is also a large fossil dig area where kids can play in the sand and dig around for fossils. You'll see a gigantic gila monster along side, giant tortoise shells and you won't be able to miss the huge bones sprouting from the sand.
And don't forget, next to these zones are the 2 ziplines – 1 for the older kids and 1 zipline with a seat for younger kids.
Other Attractions
While Playtopia tends to steal the show for kids, there is a lot more the park offers. At Tumbleweed Park you'll also find:
A 1.25 mile walking trail
Bocce ball
Sand volleyball
Horseshoe pit
Multi-purpose fields
Soccer fields
Basketball courts
Pavilions
A Butterfly Garden (see more below)
Tumbleweed Ranch (see more below)
The courts and fields are lit up at night so if you want to come after dark, you can still enjoy a game!
This is a great place to bring a picnic and watch the sunset. And if you bring a picnic earlier in the day, there are many covered picnic areas which provide nice shade.
Butterfly Garden
There is a 2,000 square foot, open-air butterfly garden that has over 100 plants to attract Monarch butterflies. This includes over 15 types of plants and a tree to help support the butterflies in the different stages of their life cycle.
Tumbleweed Ranch
Across from the park is Tumbleweed Ranch. This 14-acre portion of the park is operated by the Chandler Museum so it's not usually open unless there are planned demonstrations or school / homeschool field trips.
The area features the old McCroskey House, a house from the early 1900s, which was originally ordered from a catalog and brought in by railway.
There is also a grocery store, theatre stage and agriculture equipment, including a cotton tractor, from the same time period.
While the gate to enter is not always open, you can still see some of the agricultural equipment and the McCroskey House with fruit trees from the parking lot.
Park Map
What to Bring
Although when you come to the park you don't need much, it helps to be prepared so you can stay longer and enjoy your time. We recommend bringing:
A picnic
Snacks
Plenty of water
Sunglasses
Sunscreen
Toddler bikes for city land in Playtopia
Soccer ball, basketball, volleyball if you plan to play
When to Go
The park is open daily from 6am to 10:30pm.
The winter months tend to be the most popular time to visit. Early and late visits in Spring and Fall are also popular when the heat isn't so strong.
This is a popular place for meet-ups and playdates as well so there are usually plenty of kids to play with.
The Ostrich Festival comes to the park around mid-March every year so it does tend to be more crowded during that time.
Getting There
Tumbleweed Park is located in South Chandler at 2250 S. McQueen Rd. Chandler, AZ 85286.
It is located between S McQueen Road and E Germann Road.
Good to Know Before You Go
There are large bathrooms on site with a handful of stalls and a baby changing station
The pavilions and fields are available for rent
The courts and fields are well lit at night
Dogs on leashes can be brought to the park
Every year the Ostrich Festival is held at Tumbleweed Park in March
Things to Do Near Tumbleweed Park
Visit the Arizona Railway Museum (1 minute away)
Lantana Ranch Park playground (corner of Appleby and McQueen) (3 minutes away)
Stop for a bit to eat and watch the planes at Hangar Cafe and Chandler Municipal Airport (1 minutes away)
Get your jumps in at Big Air Trampoline Park (5 minutes away)
Stop by the The Chandler Museum for some local history (10 minutes away)
Ride the train at Desert Breeze Park (11 minutes away)