Journey to the tropics at Volcano Island Waterpark this summer. The Polynesian themed water park is decked out with palm trees, tiki thatched buildings, and island statues.
I loved the layout of the park, the lack of crowds on a weekend afternoon, and how it was perfect for toddlers up to age 8.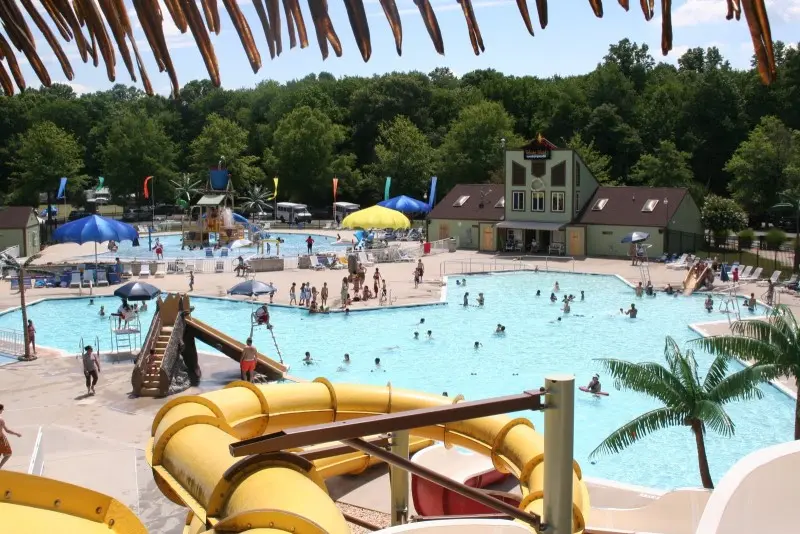 Attractions
Main pool
The main pool has two tree stump slides for good swimmers. Surprisingly nobody was on the pair of waterslides at the park.
Both the waterslides and tree slides drop pool goers into 4 feet of water while the deepest part of the central pool has a depth of 6 feet.
Play Feature
The main attraction at Volcano Island is the play feature with its 500-gallon dumping bucket. There are two slides, one of which is a tube version while the other is open. There are squirters and fountains making this area the most popular among visitors.
The beach entry and shallow area has a clam shaped kiddie slide sitting in one feet of water. As you walk closer to the play feature, the water maxes out at 3 feet.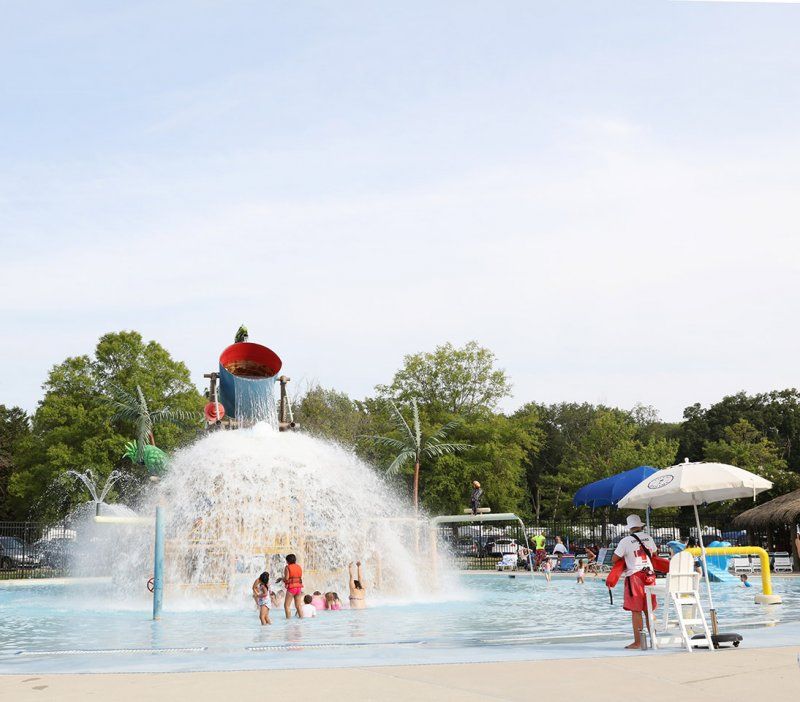 Splash Pad
The large splash pad was the first place my six year old wanted to go to at the park. Slide down a mini volcano, get drenched by dumping buckets, sprinkled by watering flowers, and walk through fountain jets.
Children control the water action by waving their hand against the platform.
All ages can enjoy the splash pad, although water shoes help protect feet against the concrete.
While you're in this area, have a game of Neos. It's a giant version of the game Simon and it's free to play.
Paradise Café
Grab a bite at the Paradise Café with patio tables and shade. The typical fare consists of nachos, pizza, all beef hot dogs, burgers, chicken fingers, ice cream, and my summer favorite…funnel cake!
Hours & When to Go
The hours change throughout the season, so check the website for more details. Be sure to get a wristband if you plan on leaving and returning to the park the same day.
Prices & Tickets
Individuals that are 48″ or taller cost $13.00 per person, less than 48″ tall pays $11.00 per person and children under age 2 are free.
The daily admission fee decreases on non-holiday weekdays at $10.50 and $8.50.
If you plan on spending your summer at the pools, invest in a bounce pass which can be used at all of the Northern Virginia Regional Park Authority Water parks including Volcano Island, Pirate's Cove, Atlantis, Great Waves, and Ocean Dunes.
The pass varies from $85 to $95 per person, but is a great way to sample the different parks at a reasonable price.
Good to Know
Locker rooms have a dressing area, showers, baby changing station, and lockers can be rented for a small fee.
There is a first aid station and complimentary life jackets.
I suggest bringing your own flotation devices as there were only infant life vests available.
I was impressed to see lifeguards everywhere, even walking around the spray park area. They conduct safety breaks for ten minutes at the end of every hour.
Only the splash pad remains open during the breaks.
Tables and lounge chairs along with oversized umbrellas dot all areas of the water park. This was great because you could easily move and find a spot to keep an eye on family members.
Getting There
The Volcano Island Waterpark is located at 20015 Volcano Island Dr, Sterling, VA 20165
After the fun at Volcano Island, take your family next door and play a round of miniature golf. It's only $3 per person if you were at the pool; $4 for non-swimming patrons.
Note: mini golf closes 1 hour before the pool closes.
Volcano Island offers a lot for families with children of various ages. The waterpark is less crowded than other ones we have been to which was a plus for our family.
One family came from Maryland to escape the heat so you know it has to be a good place to hit up this summer!
Nearby Water Parks