If your family loves water, pirates or both, make Pirate's Cove Waterpark on your summer to-do list. Nestled in Pohick Bay Regional Park, Pirate's Cove is a great place to beat the summer heat.
This fun, pirate-themed place is great for families with children up to age 10.
Upon entering Pohick Bay Park, you will need to show proof of residency. If you do not live in Alexandria, Arlington, City of Fairfax, Fairfax County, Falls Church and Loudoun, you will need to pay a $8/day vehicle fee (this is in addition to water park admission).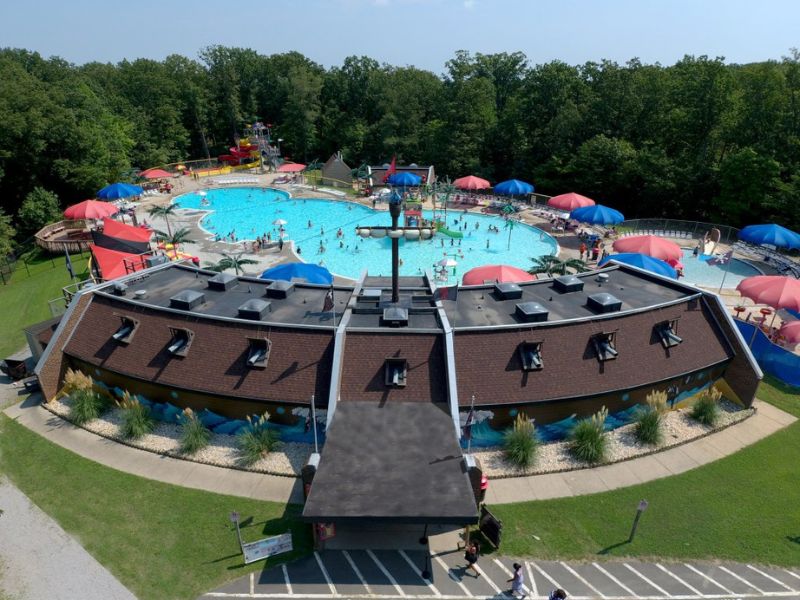 We arrived on a Saturday right when the Pirate's Cove opened and there was already a line. After we paid our admission, it was off to the locker room.
There are dressing rooms, showers, and a baby changing station. Small lockers can be rented.
Upon exiting the locker room, look to the side for life jackets available for all ages. Life jackets are not required, but many people took advantage of them.
I was happy to see over a dozen lifeguards present and enforcing the rules.
Main pool
Pirate's Cove is set up with several pools geared toward different ages and interests. The main attraction is the large pirate structure complete with a giant skull bucket that dumps 300 gallons of water on unsuspecting guests.
There is a pair of small slides and a longer enclosed slide for older children. You can shoot water cannons, swim underneath the structure and get sprayed by palm trees.
The main structure reaches 2 to 2 1/2 feet deep making it tame for young children to climb the steps of the play area. The downside is that it is very crowded with children pushing and running up the stairs.
The area outside of the pirate structure has water reaching a maximum depth of 3 feet. There is a roped off area leading to a deeper area of the pool where it reaches 4 1/2 feet deep.
Separate from the main pool are a pair of large, enclosed waterslides for those seeking more adventure.
Kiddie Pool and Buccaneer Beach
The kiddie pool is designed for babies up to age 6, although we saw older children. The enclosed area consists of a large wading pool with small slide.
Adjacent to the pool is Buccaneer Beach. The shady sand play area has shovels and funnels for sifting through buried treasure. If you find any tokens, bring it to the front desk to receive your own pirate loot!
There are tons of lounge chairs along with several oversized umbrellas for shade.
However, when we entered, all the space under the umbrellas were taken. The music through the speakers was subtle making the day relaxing.
Outside food and drink is not prohibited. There are metal tables and chairs with umbrellas in an area to dine in as well as a separate party rental space. You also have an option to reserve a picnic table.
Cost
Kids under age 2 are free, kids under 42″ tall are $11.00, and anyone over 42″ is $13.00. On non-holiday weekdays, the cost drops to $8.50 and $10.50 per person.
You can also purchase an annual waterpark pass which is valid at all 5 NVRPA pools: Pirate's Cove, Upton Hill, Atlantis, Great Waves, and Volcano Island.
These passes are valid for all seasons, but vary in price from $85 to $95 per person depending on where you live.
Hours
The hours change throughout the season, so check the website for more details.
If you plan on leaving and returning to the park the same day, get your hand stamped. At 12:30 pm on a Saturday, Pirate's Cove was at max capacity and turning people away.
Beyond Pirate's Cove, meander around Pohick Bay Park where you can play a round of mini golf at Treasure Island, enjoy the playground, and have a picnic by the water.
There is also disc golf, fishing, camping, hiking trails, and weekend paddle boat rentals.
Bottom Line
Our Kids recommends visiting the park during the weekday to avoid crowds if you can swing it. If not a weekend is perfectly fine, just arrive early to ensure you get in.
So get in a pirate state of mind and head over to Pirate's Cove Waterpark this summer!
Nearby Water Parks