Our favorite part of summer is the pool. My daughter can't get enough of being outside in the water, so we were so excited to check out the Water Mine Family Swimmin' Hole in Reston.
The Water Mine is a Fairfax County Park Authority park.
In This Guide:
What to Expect
Attractions
Tickets & Prices
Hours & When to Go
Food & Drink
What to Bring
Park Map
Getting There
Good to Know Before You Go
Things to Do Nearby
What to Expect

The park is big enough to have plenty to do but small enough to not be overwhelming which is perfect, especially for elementary aged kids.
The biggest thing that I noticed in the park? The lifeguards. They take their job seriously and there are a LOT of them.
Even though it was packed when we were there, I felt really safe at the park because of how attentive the lifeguards were.
The park was also really clean, especially considering how crowded it was.
Like most community pools, the Water Mine has a 10 minute break each hour.
It's the perfect excuse to take a bathroom break, re-apply sunscreen, grab some water, a snack or even lunch.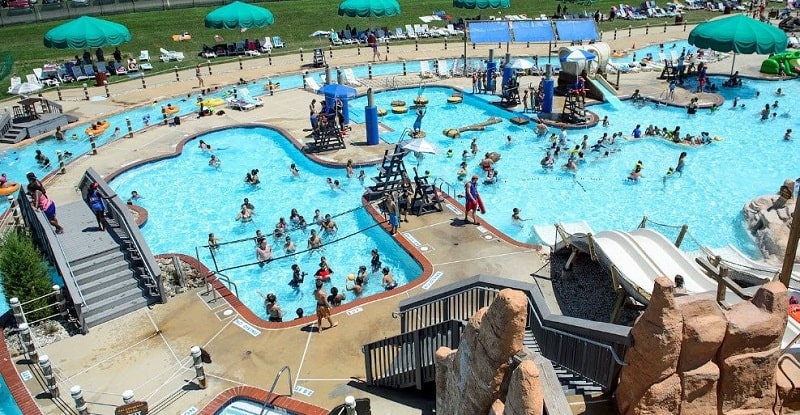 Attractions
The park looks like a wild west town offering over an acre of water features including slides, flumes, sprays, showers, floatables and water playground. There is so much to do from young ones to teenagers.
Slide off covered wagons, float on wild animals and cool off with water poured from ore carts.
Slides
One of the sections features three large body slides and the long line of happy kids speaks for itself as to how fun it is. You must be 48" or taller to slide.
Water Features
Another section of the Water Mine has a huge splash structure. It has lots of space to climb, fountains and sprays everywhere, and two smaller body slides.
Both slides are a lot of fun but even more exciting is the giant (and I mean GIANT) bucket of water that fills up then dumps out on the happy kids waiting below.
There were also some smaller fountains, water tables along the edges for the smallest visitors as well as a pint sized slide.
The splash structure is awesome and you can easily spend an hour just playing on it.

Large Floatables
The large floatables that are scattered throughout the water. There is something about riding a horse or climbing up on a giant snake that just screams fun.
Rattlesnake River
All the water features are inside Rattlesnake River which is a 725-foot gentle, lazy river, fun for the whole family.
There are both single and double tubes available and it was fun to float along and navigate the different water features (buckets that drop water on random guests are REALLY fun!).
Try just going around once!
Pete's Peak
The center of Pete the Prospector, according to local legend, searched for gold here in the mid-1800s but only found water. The slides and mountain have been named after him.
There are two large slides, Big Pete & Little Pete, and several smaller themed slides.
Big Pete was a big hit as kids slid down over and over and over again. Much of the fun is that the slide looks like you're shooting out of a covered wagon.
Tot Area: BoomTown & Tenderfoot Pond
The Tenderfoot Pond area has small slides and bubblers especially for toddlers to enjoy playing in the area.
BoomTown has plenty of bubblers and spray fountains, a mult-level water playground, interactive slides and other features.
Box Canyon Crossing: Older Kids
Box Canyon Crossing is great for the older kids who are looking for a little more adventure. There is a walk obstacle course.
For Teenagers
While the park is geared towards the younger kids, there are plenty of tweens and teens enjoying themselves. There's a small water volleyball court and "Box Canyon Crossing" for older kids.

Tickets & Prices
The cost of tickets is sold by height and day of the week. Tickets can be purchased in advance with Parktakes Online.
Same day, walk-in tickets are available for purchase at the entrance of The Water Mine. This year, the park is also offering Summer Season Passes.
Daily Ticket Prices
Prices on Weekdays:
Under 48 inches $13.25
Over 48 inches $16.25
Prices on Weekends:
Under 48 inches $13.25
Over 48 inches $17.25
Ages 2 and under are always free.

Hours & When to Go
The park is opened on the Memorial Day Weekend and remains open now, seven days a week.
Check the Watermine Park website for exact dates closer to the start of the season. The season typically ends in mid-September.
The water Mine is open from 11am to 6pm.
It's best to make a reservation so you are guaranteed admission. You can walk-in, however, but it is possible on busy days for the park to reach capacity and limit additional entry.
Years ago, the park went through an expansion which significantly increased the capacity of the park. While great, this also increased capacity.
Food & Drink
There is a small concession stand and a pizza truck available, but we took advantage of the fact that you're allowed to bring your own food in and packed a picnic.
There is a large covered picnic area with plenty of tables to enjoy your picnic, or you can also spread out a towel or eat on one of the lounge chairs.
What to Bring
A day at the water park is a lot of fun and even more fun when you're prepared. Here's what we recommend bringing with you:
Bathing suits
Change of dry clothes
Towel
Floaties
Sunscreen
Sunglasses
Hats
Plenty of water
Snacks and / or picnic
Park Map
The Fairfax County Park Authority published this map of Water Mine for rentals, however, this gives you a great look at what's available at the park and where the different features are located.
Getting There
Water Mine Family Swimmin' Hole is located at: 1400 Lake Fairfax Dr, Reston, VA 22039

Good to Know Before You Go
It's easy to spend at least a few hours at the park
The park is designed specifically for elementary age children
Bathrooms with changing areas and showers are available (and were also remarkably clean for the crowd levels)
There are a couple of large seating areas
There is a family bathroom available
Lockers are available onsite
Life jackets were plentiful for non-swimmers
Nearby Water Parks
Things to Do Near Water Mine Family Swimmin' Hole
Looking for more fun things to do in the area? Here are some great options: