The local beaches in North Carolina are famous for their natural, unspoiled beauty and over the last decade, it has also earned the title of the shark tooth capital of the world.
Here we have listed the best beaches to find shark's teeth in North Carolina.
#1 Myrtle Beach
1200 North Oak Street, Myrtle Beach, SC 29577| Website
This is one of the best places to explore expansive sandy beaches, lush natural beauties, breathtaking sunrises over the Atlantic Ocean, and thrilling new adventures.
Since there are more than 400 species of sharks, there are many opportunities to discover various and unusual shark's teeth.
The sand tiger shark, conventional tiger sharks, bull shark, and lemon shark can all be found in the North Myrtle Beach region.
You might get lucky and uncover a more hot spot, such as a great white shark tooth or a megalodon tooth that is in high demand.
Cherry Grove Beach, which is close to the Inlet Pointe Villas in North Myrtle Beach, is recommended.
#2 Folly Beach
1100 W Ashley Ave, Folly Beach, SC 29439| Website
On Folly Island, in South Carolina, just south of Charleston, sits the city of Folly Beach. The more than 1,000-foot-long Folly Beach Pier is located there.
RELATED: Best Things to Do in Little Switzerland NC
Excellent pier and surf fishing, a tempting selection of eateries and pubs, live music, and some of the greatest surfing on the east coast can all be found here.
A trip to Folly Beach is great if you enjoy strolling down the beach in search of shells and other beach treasures, especially if you collect shark teeth.
Fossils are common finds at Folly Beach. There is a better chance of sharks offshore from Folly than anywhere else along the Carolina coast, according to the number of shark teeth in this area.
#3 Nags Head
Town Hall, Nags Head, NC 27959 | Website
On the Outer Banks of North Carolina sits the coastal town of Nags Head. In Jockey's Ridge State Park, the sand dunes are famous for their height.
MORE SHARK TEETH: Flag Ponds Nature Park: Shark Teeth, Beach & Trails
From the summits of its enormous dunes, the renowned Jockey's Ridge State Park provides stunning views of Nags Head.
If you visit Nags Head at low tide, when more shell beds are exposed, your chances of finding shark teeth are rather great.
Look out for the clam shells, sand dollar, bull sharks and olive shells among the bottom-dwelling shark species, such as the sandbar shark.
While more wedge-shaped sharks teeth come from aggressive, pelagic species like tiger sharks and great whites, thinner, sharper teeth are more likely to belong to a type of extinct Mako shark.
#4 Topsail Island
820 S. Anderson Blvd., Topsail Beach, NC 28445| Website
A 26-mile-long barrier island off the coast of North Carolina is called Topsail Island. Three cities and two counties make up Topsail Island, which has come together for an island-wide endeavor to help safeguard the lovely beach.
Topsail is well renowned for its work to protect and save marine turtles. Visit the Karen Beasley Sea Turtle Rescue and Rehabilitation Center in Surf City while you're here.
Shark teeth are particularly well-known on Topsail Island. You can observe everything from huge Lightning Whelks to small Coquina Clams by simply walking along the beach and looking down.
FIND MORE TEETH: Purse State Park: Fossil Hunting & More
From microscopic ones to the most sought-after tooth of them, the prehistoric teeth of a megalodon, they come in all sizes and shapes.
#5 Edisto Beach State Park
8377 State Cabin Rd, Edisto Island, SC 29438| Website
In Colleton County, 50 miles south of Charleston, and close to the town of Edisto Beach, is where you'll find Edisto Beach State Park.
The hiking and bicycling routes in Edisto Beach State Park offer fantastic opportunities for park exploration. The park primarily consists of a beachfront where you can cycle, hike, or walk.
Shark teeth of all sizes and shapes are dispersed across the sand. When the tide is low, try looking for teeth in the moist sand. The sand contains fossilized shark teeth. Usually, they look like shiny, dark marbles.
Because ice age mammals left deposits on its beach, Edisto Beach is a special place to search for shark teeth.
#6 Wrightsville Beach
Wrightsville Beach, NC 28480| Website
The town of Wrightsville Beach is located in New Hanover County, North Carolina. The island is renowned for its pristine, big beach and lovely surroundings.
These tours are only appropriate for experienced divers because the majority of the shark teeth found here are about 100 metres below sea level.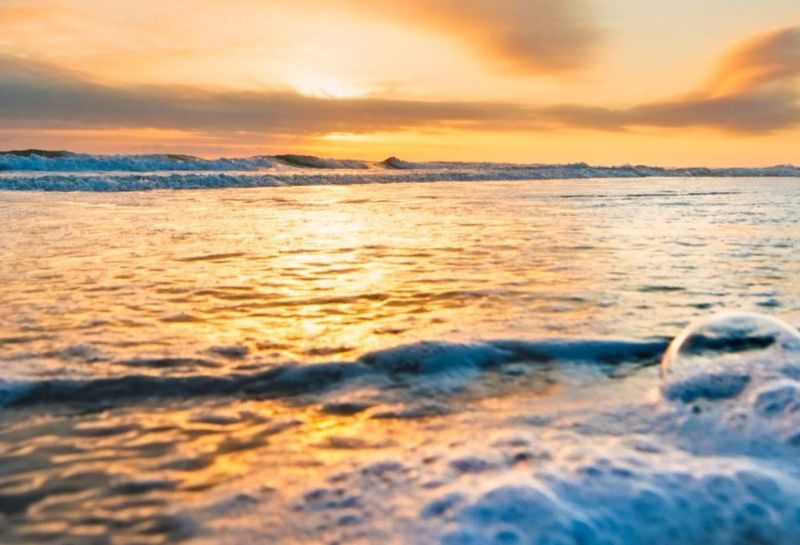 If you don't yet meet the requirements, the prospect of discovering a shark tooth worth thousands of dollars can be all the incentive you require.
It is one of the few places in the world where megalodon teeth are found in such high quantities despite the fact that the dives are deep and the currents are strong.
#7 Emerald Isle
7500 Emerald Drive Emerald Isle, NC 28594| Website
Emerald Isle is a town located on Bogue Banks Island, which is a portion of North Carolina's Crystal Coast. Family vacationers love Emerald Isle because it offers great fishing and a variety of aquatic life.
One of North Carolina's most well-liked beaches is Emerald Isle, which has emerald waters and golden dunes. It gets incredibly crowded in the summer, making it more challenging for shark tooth hunters to find their treasure.
When the tide is high, it might be challenging to find the triangular shapes since they are sometimes covered in shell beds.
Early dawn after a storm has uncovered fresh sediment layers is the best time to explore Emerald Isle.
#8 Ocracoke island
Ocracoke, NC 27960| Website
The Outer Banks of North Carolina's coast includes Ocracoke Island, where Ocracoke is a village. North Carolina's nicest beaches are on Ocracoke Island.
The majority of the shoreline on Ocracoke Island remains conserved and unspoiled.
Families, environmental enthusiasts, anglers, and surfers coexist on Ocracoke's unspoiled beaches.
NEXT: 9 North Carolina Beaches Close to Virginia (+ Attractions & Activities)
Nearly every beach on Ocracoke Island, which is renowned for its exceptional shelling, has something special to share. In the Outer Banks region of North Carolina, where there are fewer people to deter you from your hunt, lies Ocracoke Island, which is renowned for its superb shelling.
On Ocracoke Island, looking for shark teeth can be a fun activity.
#9 Shark Tooth Island
Wilmington, NC 28412| Website
A brief boat ride through the stunning Marshlands of Coastal Georgia will take you to the island in the Savannah River.
Shark Tooth Island is one of the state's top beaches for shark tooth hunting, despite not being technically on the North Carolina coast.
This artificial landmass, officially known as Hollis Island, is situated in the midst of the Cape Fear River alongside a number of other smaller islands.
Shark Tooth Island is a great spot to find antique shark teeth since it is made up of "sand, sediment, and limestone rock that UNCW scientists believe is between 35 and 40 million years old."
If the tide is low enough to reveal the two miles of beach you wish to explore, you can kayak there.
#10 Ocean Isle Beach
111 Causeway Drive Ocean Isle Beach NC 28469 | Website
A little seaside community called Ocean Isle Beach can be found in the North Carolina county of Brunswick.
Ocean Isle is the ideal vacation spot for everyone because of its white sand beaches, family-friendly atmosphere, and abundance of restaurants, local attractions, activities, and events.
READ NEXT: 35 Best Things to Do in Cape Hatteras (Tours, Fun, Museums, Food & More)
Shark teeth are easier to lift and rinse out of the shells since they are lighter than seashells, therefore the optimum time to discover them here is when the tide rises just enough to reach the shell beds along the coast.
You can locate over 100 teeth in a day when the conditions are right, so there's no reason you shouldn't leave with at least a few trinkets!
#11 Cherry grove beach
3500 North Ocean Boulevard, North Myrtle Beach, SC 29582 | Website
Cherry Grove Beach, also referred to as Cherry Grove, is a section of North Myrtle Beach in Horry County, South Carolina.
One of the nicest beaches in the US is also considered to be this one. Shark teeth of various shapes and sizes are everywhere on the beach.
A gently sloping beach next to Cherry Grove Pier is great for discovering shark teeth.
There are many shark teeth to be found, and every year, at least one megalodon tooth is discovered.
When the tides are going out, more sand is exposed along Cherry Grove Beach, and if you're lucky, a shark's tooth or two. This is also a good time to go fossil hunting.
#12 Carolina Beach
1121 N. Lake Park Blvd., Carolina Beach, NC 28428| Website
North Carolina's coast is home to the town of Carolina Beach.
Aside from its nostalgic appeal, Carolina Beach has a bustling charter boat basin where visitors may go on offshore fishing trips, a state park with hiking trails and coastal vegetation, as well as locally owned eateries and a lively nightlife.
Blacknose and dogfish sharks' teeth are among the shark species whose teeth are most frequently discovered on this beach.
You will need to work hard to find them and search carefully if you want to find teeth from a huge species.
#13 Bald Head Island
Bald Head Island, NC 28461| Website
A settlement called Bald Head Island, formerly known as Smith Island, may be found in Brunswick County, North Carolina, USA, on the east bank of the Cape Fear River. 10,000 acres of beach, marsh, and maritime forest preserves are present on Bald Head Island.
14 miles of immaculate beaches with extensive lengths of sand and the best waves for surfing or paddle boarding are available for strolling.
On Bald Head Island's 14-mile beach, finding great white shark teeth like this one requires patience and time, but it simply takes a few hours to uncover the fossil shark teeth from more common species.