While we're always posting about fun events and ideas to keep the kids happy, having fun and making memories, summer is always a unique challenge.
With the kids home it always seems like we need more activities and our mind starts wondering about fun possibilities and even trips we can tackle over the summer.
So we put together this fun summer list to keep the whole family entertained this summer.
Whether you want to mix it up and choose activities from a different state than where you're located, or stick close to home, you'll find lots of great options right here!
#1 Go to a Waterpark
Summer and water…it's kind of obvious. But did you realize there are so many?! You can even try out both indoor and outdoor waterparks to stay cool this summer.
Did you know there are 7 waterparks in Northern Virginia alone?
Here are some of our favorite in the area:
#2 Challenge Yourself on a Ropes Course
Go on a treetop adventure at Go Ape (seriously so much fun!)
Try the vertical climbing course with 90-elements at Climb UPton.
Or try the Terrapin Explorer Course at Terrapin Adventures.
Test your skills at The Adventure Park at Sandy Spring Friends School.
If you prefer to be indoors, try the indoor rope course at Summit Ropes or the high ropes course at ZavaZone.
#3 Visit a Lake
Keeping it a bit more natural, head to the lake. Some of our favorite lakes are:
#4 Visit the Beach
Well, duh! 🙂 But did you know there are some good local beach options to you don't have to go for the whole week or spend crazy money to go?
Here are a few options:
#5 Search for Fossils
For some reason we don't seem to hear about this often but there are some great places to look for shark teeth close to home! Some good options are:
Flag Ponds Nature Park not only has shark teeth you can find (while you play at the beach of course) but you can also enjoy the trails too
Purse State Park is another hidden gem for shark teeth
Calvert Cliff also has shark teeth
Dinosaur lovers will also really like the Dinosaur Park in Laurel where you can search for 115 million year old fossils!
#6 Go to a Museum
One of the great things about being in the DC metro area is the shear amount of museums available. There are so many free museums in DC and around the area you'll find others that are still well worth the price of admission.
A few great ones to start are the International Spy Museum, the College Park Aviation Museum and Selfie Wrld in Tyson's which is the best selfie museum in the area.
#7 Go Fishing
Break out the fishing pools and join the Anacostia Riverkeeper's with their Friday Night Fishing. This catch and release program at the dock at Diamond Teague Park is great for all ages!
This is a free, family-friendly event that is open to all ages. They provided everything you need to learn how to fish. Runs June 17th to August 19th from 5pm to 8pm at Diamond Teague Park.
Or go on your own to some of these great places to go fishing:
Shake it up and try Groupon for a new fun place to go this summer
#8 Take a Hike
There are so many great hikes in the area. It's something the whole family can do together and there is nothing like getting out into nature.
Here are some great ones to try this summer:
#9 Rent a Boat or Kayak
Nothing quite says summer like being on the water (even if you don't want to be in it!). Luckily there are boats, kayaks, canoes and even paddleboards you can rent for an hour or even the day.
Take your chance at getting up close to different birds while kayaking at Janes Island State Park or rent a canoe or kayak at Gunpowder Falls State Park.
#10 Visit a New Nature Center
If you'd like to spend some time in nature and make it a bit more educational (without the kids realizing it), head to one of your favorite or even a new nature center for your family.
Here are 19+ great nature centers near you.
#11 See a (Cheap Movie)
Regal's Summer Movie Express offers $2 movies on Tuesdays and Wednesdays kids movies for only $1. They have a fun line up of movies the whole family can enjoy over 10 weeks.
Cinemark's Summer Movie Clubhouse also offers 8-weeks of kids movies for only $1.50 per movie, plus more deals of snacks and drinks.
Head to Alamo Drafthouse in Arlington, Woodbridge, Ashburn or DC for Kids Camp where tickets for children or adults is just $5. They offer lots of great movies throughout the whole summer.
RELATED: Top 5 Summer Family Picks at National Harbor
#13 See a Movie Outdoors
Seeing a movie outdoors is a totally different experience and it's a lot of fun! Best of all there are many free outdoor movies you can attend.
At 7pm on Saturdays, head to Starlight Cinema for a free, public outdoor movie.
Through the end of September, Tyson's Corner Center hosts free, family-friendly outdoor movies on the last Friday of every month (beginning in May).
On the second Friday of every month (all the way through mid October!), you can attend the Annual Drive-In at Union Market. Some movies are for the whole family while others are for teens and / or adults only.
For older kids, check out the Rossyln Outdoor Film Festival. For the entire family, Cinema Del Ray, Movies on the Potomac at the National Harbor. Familiy Movie nights are on Sundays.
#14 See a Show
This area seriously has some amazing talent. You're missing out if you aren't seeing some of the amazing shows available to you.
Some of the places we love are Imagination Stage in Bethesda and Adventure Theatre MTC in Rockville, MD.
ALSO SEE: UniverSoul Circus (You Don't Want to Miss This!)
We also love Wolf Trap's Theatre in the Woods shows. You have to attend at least one!
#15 Play Inside
Beat the heat and head inside. There are so many great options that will have you forget how hot it feels outside. Visit:
Or explore these 15 indoor playgrounds in Northern Virginia.
#16 See a Minor League Baseball Game
What's more fun than attending a baseball game? There is something about the whole experience that just screams summer.
And the minor league teams offer lower cost tickets that are perfect for families.
In Maryland you have different teams to choose from like:
You can also see the Potomac Nationals (now called the Fredericksburg Nationals) play in Fredericksburg. They even have $2 tickets on Tuesdays!
#17 Pick Your Own Fruits & Vegetables
There are so many wonderful places to pick your own fruits and vegetables and this is such a great experience for kids.
Strawberries and blueberries abound at the start of summer and then go peach picking later on.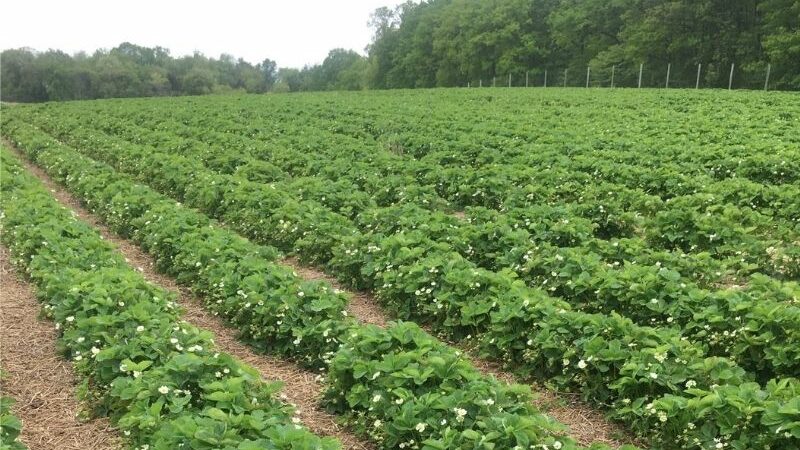 Some of our favorite farms to pick our own fruits and vegetables are:
READ NEXT: 5 Best Farms to Pick Your Own Strawberries in Virginia
You can also fine 3 Farms to Pick Your Own Strawberries in Maryland here.
#18 Pick Your Own Lavender
One of our favorite things to do every summer as a family is head to Seven Oaks Lavender Farm where we can pick our own lavender.
The kids love the bunnies and playhouse!
#19 Explore Local History
Take the Underground Railroad Experience Hike, a 2-mile round-trip adventure sure to please most history buffs.
Visit the Harriet Tubman Underground Railroad Visitor Center.
Attend the Parks Celebrate Heritage Days in Montgomery County on June 24th.
Alternatively, visit the Accokeek Foundation and explore the beauty and heritage of this 18th century agricultural farm. Start your visit at the Visitor Center and bring a picnic to enjoy.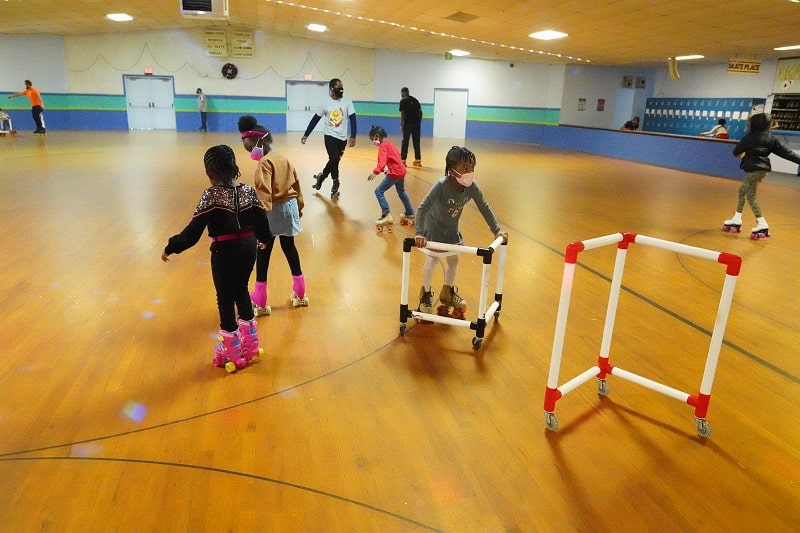 #20 Go Roller Skating
Roller skating is always a blast and a nice past time for the adults. There are some fun roller skating rinks in the area and for some, you can pick up free passes for kids 12 and under to skate.
Where can the kids skate free?
If you're looking for a fun thing to do in Manassas, Skate N' Fun Zone in Manassas for example or Skate Zone in Crofton.
Another good option (although no free kid's passes) is Laurel Roller Skating Center. They do have a family night session on Wednesdays from 7pm to 10pm with $5 admission for kids.
#21 Go Ice Skating
If roller skating doesn't sound cool enough for you, why not give ice skating a try?
The Gardens Ice House in Laurel is a skating facility that has an Olympic ice rink, two NHL rinks, and an outdoor mini-rink.
And you can also attend a public skate time at Herbert Wells Ice Arena in College Park.
#22 Have Fun at the National Harbor
There is so much to do at National Harbor, from a ride on The Capital wheel to trying out a watersport, not to mention fun and family-friendly dining options.
Here are our top 5 summer family picks at the National Harbor.
#23 Buy Local
There's no better tasting food that what comes fresh right from the farm. Visit a local farmers market and prepare a meal with your children from your purchases. Just a small handful of options are:
Or choose one of the 30+ Northern Virginia Farmers Markets.
#24 Visit an Independent Toy Store
There is nothing like visiting a toy store with where you'll have unique and special toys you just won't find at the big box toy stores.
You may be surprised that they're all around us. Here's 3 independent toy stores in Arlington and another 5 toy stores in Maryland.
#25 Take a Day or Weekend Trip
One of the beautiful parts of living in the DC metro area is you don't have to go far to get away. If a week or even a weekend is too long to be away, there are plenty of day trips not to far.
Here's some ideas:
Trip 1
Go see the wild ponies on Chincoteague Island. A guided boat tour is a true experience to see them but you can also see them right along the road on the northern part of the island.
It's such a fun place to visit during the summer as they have a waterpark, lighthouse, wild ponies, refuge trek, adventure park and so much more. In fact, here's 24 things to do on Chincoteague Island.
Although more crowded at this time, you can visit for the annual pony penning and carnival.
Trip 2
Head to Solomon's Island and visit the Calvert Marine Museum. Here kids can play in the discovery room, learn more about seafaring and even climb up a lighthouse.
You can even combine the trip with a visit to the Annemarie Sculpture Garden and Arts Center with your little ones for a magical summer in the garden where kids can search for over 100 fairy houses, build their own fairy house, find a hidden Dragons nest and so many more fun activities!
Trip 3
Plan a day trip to Calvert Cliffs for some shark tooth hunting or over to Greenbrier State Park to enjoy a relaxing day at their 42-acre man-made beach (ok it's a beach)!
But arrive early this is a hot destination and the park will not let more beachgoers in when they hit their capacity.
Trip 4
Do it in a day or make it a 2-day trip, but head to the Shenandoah Valley and visit Luray Caverns, Shenandoah Caverns or take a drive on Skyline Drive.
Trip 5
Richmond isn't too far and there is plenty of to do whether you're going for the day or even a few days. Some fun things to do in Richmond are the Children's Museum of Richmond, the Science Museum of Virginia,the Lewis Ginter Botanical Garden, the Metro Richmond Zoo and Maymont.
#26 Enjoy a Summer Concert
Let kids romp while listening to some of the area's best kid musicians. The Gaithersburg Morning Concerts for Kids is a great free way to entertain the kids.
Looking for more options?
It's always a good idea to check the websites of the shopping centers near you as many often have concerts and other fun events.
#27 Get Up Close with Animals
There are some really fun and unique animal experiences. You could probably stay busy with just all the animals this summer!
We've had so many fun animal experiences like:
You can also get more up close and person with some large birds and reptiles at the areas nature centers.
#28 Explore a Nature Preserve
Explore the natural trails at Rust Nature Sanctuary.
Scott's Run Nature Preserve is part of the Potomac Gorge and a short hike takes you down to a nice waterfall.
The Winkler Botancial Preserve is a hidden gem in Alexandria.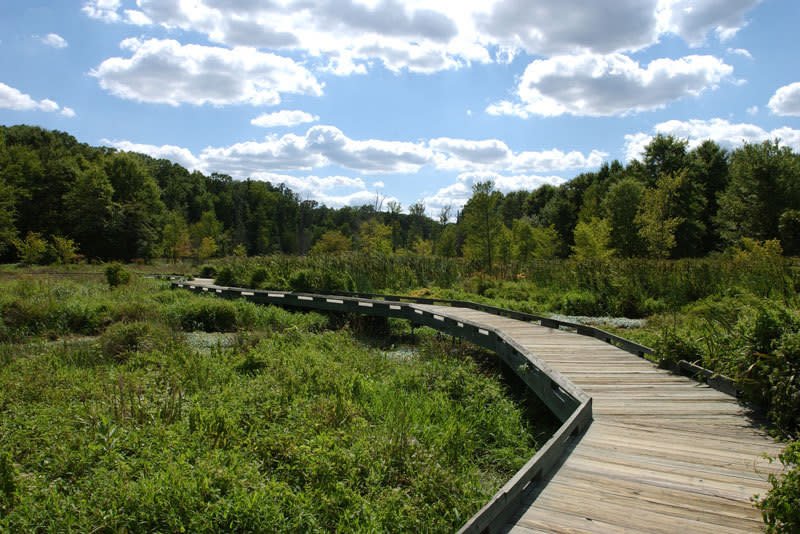 #29 Walk the Boardwalks
Yep, we have some great boardwalks right here close to home! And you don't even have to go to the beach.
The boardwalk takes you right over the water at Huntley Meadows Park. The Stone Bridge Trail in Manassas National Battlefield Park at the Stone Bridge also has a boardwalk.
You can also stroll these beautiful and relaxing boardwalks:
Known as Neabsco Boardwalk, stroll the boardwalk at Potomac Heritage National Scenic Trail.
Head to Arlington and stroll the beautiful boardwalk at Theodore Roosevelt Island. The boardwalk begins righ next to the Theodore Roosevelt Bridge and is a great place to enjoy nature, see the birdlife and have a picnic.
Explore the wetlands along the boardwalk on Bayview Trail at Mason Neck State Park.
Bull Run Regional Park has an 18-mile path that takes you through the woods, the first mile of which is a boardwalk.
Kenilworth Aquatic Gardens boardwalk is a beautiful, quiet and peaceful place to be.
#30 Go on a Safari
Did you know you could take an Island Safari Tour at Theodore Roosevelt tIsland? The tours are usually on Saturday and Sunday mornings. Walk with the ranger to learn more about the nature and history of the island.
Head to Natural Bridge to the Virginia Safari Park and drive around an 180-acre zoo and see (and feed!) tons of different animals.
NOVA Wild (previously Roer's Zoo) in Reston has a safari tram tour where you can see the animals up close.
The safari at the Catoctin Wildlife Preserve is also awesome!
#31 Visit the Caverns
If you're really looking to cool off (think jackets!), head to the caverns from a cool underground experience that will not only keep you quite cool, it's educational and an experience you must try.
A few good caverns in the area are:
#32 Get Up and Close With Butterflies
Butterflies are not only beautiful, it's interesting to see their colors up close.
Visit the immersive live Butterfly Pavilion at the National Museum of Natural History that is home to over 300 butterflies from around the world.
Visit the Wings of Fancy Live Butterfly & Caterpillar Exhibit at Brookside Gardens.
Brookside Gardens also has a nice, open butterfly garden to see (along with a whole lot of other types of gardens).
#33 Goat Yoga
Goats are so much fun and let's just say…they make yoga a bit interesting!
The Little Goat Farm at the lake in Nokesville is a great option.
MORE GOAT YOGA: 7 Spots for Goat Yoga in Virginia (+ DC & Maryland)
A few other options are:
Silver Maple Farm in Berryville
Goat for the Soul, Goat Yoga
Strohmer's Farm
#34 Learn About Alpacas
No, they're not llamas! Alpacas are a different animal to see than what you're used to.
Meet 30+ alpacas on an amazingly fun and informative alpaca tour at Alpaca Lane Criations in Upper Malboro, MD.
#35 Go Bowling for FREE
Kids Bowl Free is a summer program that let's you select a bowling alley to play at during the summer. Kids can bowl 2 games free every single day. You can also purchase an inexpensive family pass so the parents can join in too!
At Bowlero you can purchase summer passes where kids and adults can play 3 free games every single day (and shoes are included).
The passes can be used from May 2nd through September 5th.
#36 Attend a Military Parade
Enjoy a Tuesday Sunset or Friday Evening Military parade where our amazing military men and women perform. Parades happen weekly through August.
Through July, You can also attend the U.S. Army's Twilight Tattoo which is free and open to the public at Joint Base Myer-Henderson Hall.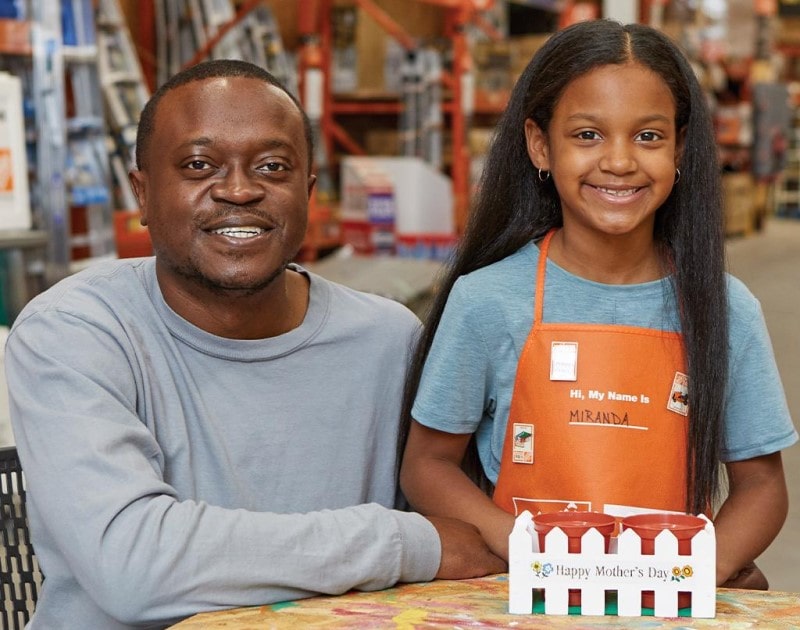 #37 Participate in Fun Craft Activities
If you're in a crafty mood, head over to Upcycle Creative Reuse Center for their workshops and activities.
There are also many fun places to paint your own pottery or paint your own canvas.
And don't forget on the first Saturday of every month, you can attend Kid's workshops at Lowes and Home Depot.
Plus, kids can participate in Michael's Camp Creativity, an arts & crafts program every Monday, Wednesday and Friday in June and July. Register for the session you want, it's just $5 / session.
#38 See the Planes
There are lots of opportunities to experience planes in the area! Here's some great options:
Head over to Gravelly Point Park and watch the planes take off from Ronald Reagan National Airport. Pack a picnic and a soccer ball and make it a morning or afternoon activity.
Visit the Steven F. Udvar-Hazy Center in Chantilly to see planes up close and personal. Spend time in the Observation Tower to watch real planes flying into Dulles International Airport.
Located across from BWI aiport, the Thomas A. Dixon Observation area is a great place to watch planes land. Plus there's a park and playground!
Visit the National Air and Space Museum
Climb in a Circa 1939 and participate in lots of kids activities at the College Park Aviation Museum
Pick up some aircraft history at Hagerstown Aviation Museum
See planes land at Dulles Aiport from the Sully Historic Site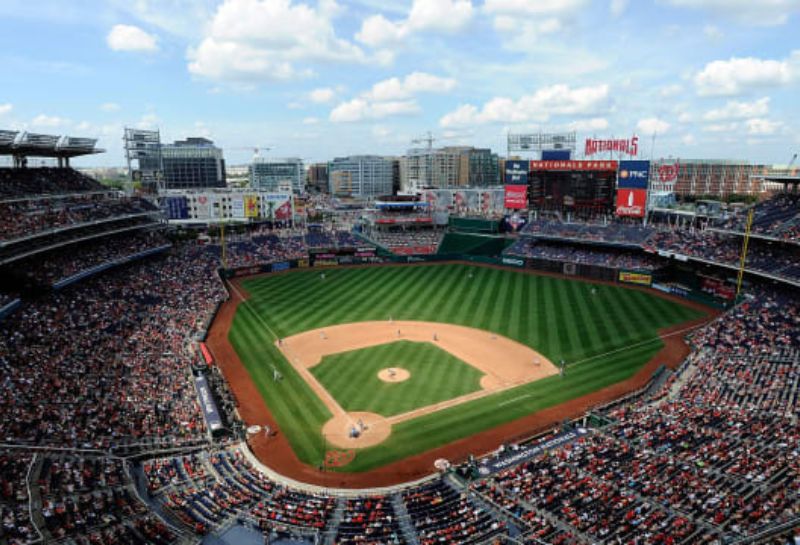 #39 Go to a Professional Sports Game
Washington DC is home to several professional teams and going to a game is a lot of fun.
Go see the Washington National's play baseball at Nationals Park. Did you know you can also take a behind-the-scenes tour of the stadium?
If you're more of a basketball fan see DC's NBA team, the Washington Wizards or WNBA team, the Washington Mystics.
A soccer game is always fun to see with DC United.
#40 Go Camping
Consider camping, such a fun experience for kids an families.
Camping at Burke Lake is a low-key option to try out.
You can also try Camping at the Lake and Big Meadows Campground in Shenandoah.
#41 Go to Amusement Park
Visit Virginia's premier destination for fun, Kings Dominion. They have world-class rides, an all-inclusive water park, 14-acre kids area, and immersive events all year. there is something for everyone!
Looking for More Amusement Parks? Try These
An alternative to Kings Dominion is Busch Gardens.
You can also head to Adventure Park USA which is a blast or Six Flags America in Bowie
#42 Playgrounds & Spraygrounds
Play outside and cool off at one of the many playgrounds and spraygrounds this area has to offer. Some great places are:
#43 Participate in the Summer Reading Programs
Most counties have great summer reading programs for kids (and adults). It helps get the kids to continue reading over the summer in order to earn some fun prizes like art kids, tickets, free books and more..
Here are some great county summer reading programs:
There are also non-library programs where kids can earn free books, food, movie tickets and more like:
Teens can also listen to free audio books with Sync over the summer.
#44 Be a Tourist
Why is it when we live somewhere we never take advantage of the attractions that people will drive hours to get to?
Change that this summer! Head to DC and act like a tourist!
Take advantage of the many free monuments and attractions. Visit the:
If you really want to get into the whole tourist thing (or the kids don't like walking much), take one of the many tourist tours.
#45 Climb Aboard a Pirate Ship
Barely a 50 minute drive from DC, Annapolis makes for a fun day trip for the kids. You can take a trip on Pirate Adventures of the Chesapeake.
Afterwards, walk around downtown for lots of people watching and grab a bite to eat from one of the local seafood restaurants.
Older kids will enjoy taking a tour of the US Naval Academy.
#46 Attend a Summer Festival
Attend the annual Smithsonian Folklife Festival, held June 29 – July 4 and July 6-8, which celebrates resilient communites around the world.
There is tons of fun activities like see what it takes to train a falcon, cook slabs of meat underground, explore the Smithsonian gardens and much, much…much more!
#47 Go on the Maryland's Best Ice Cream Trail
Maryland's Best Ice Cream Trail runs through September. There are now 10 on-farm creameries throughout Maryland that produce and sell their own ice cream.
This was initially created to help the public learn more about dairy farming and bring awareness to Maryland's dairy farms (there are 100's!)
Throughout the "ice cream season" you can visit the different farms and enjoy the locally made ice cream and participate in the challeng to be named the Ice Cream Champion Trailblazer.
#48 Indulge in a Sweet Treat
You can always kick up your feet with an iced latte while the kids enjoy a concert or play with toys at one of our many family-friendly coffee shops or cafes.
And if the whole family is looking to enjoy a sweet treat together, let's just say we have a few ideas of where to go!
We know there are so many other good ones but this list should get you started!
#49 Snuggle Kitties at a Local Cat Cafe
Is there anything better than snuggling up with a bunch of cats?! There are some local cat cafes where you can do just that. While most cat cafes will actually allow you to adopt the cats you visit with, that isn't required.
Just show up and spend time with the cats.
You can head to Crumbs and Whiskers Cat Cafe in Washington DC to cuddle up with cats or Kittens In Cups – A Purrfect Cat Lounge in Annapolis.
There is also Mount Purrnon Cat Café + Wine Bar in Alexandria and Meows Corner in Sterling.
You'll even find fun events that you can attend and participate in while spending time with the cats.
#50 Entertain the Train Lovers
Don't forget about all the train fun you can have this summer.
If you want to see a train museum and exhibits, head to the Roads and Rails Museum.
And there's lots of great places to ride trains too, like Burke Lake Park and the Miniature Train at Wheaton Regional Park.
And if you really want to go all out, take a longer ride on a real train with the Walkersville Southern Railroad.
#51 Head to the Gardens
There are so many beautiful, peaceful gardens in this area, there's no way you can find a special garden for you.
It's hard to pick just one or two so we'll share several of our favorite here.
One of the absolute must-dos is attending Burnside Farms Summer of Sunflowers which typically starts in mid to late July depending on the blooms.
Kenilworth Park & Aquatic Garden hosts their Lotus & Water Lily Festival in July when the tropical water lilies bloom towards the end of the month. It's a beautiful sight!
Meadowlark Botanical Gardens is also beautiful and even has a children's garden.
Green Spring Gardens has a wonderful Children's Discovery Garden (aka the Family Garden) with several fun activities for kids to play, explore and learn (without realizing it).
Brookside Gardens is a 50-acre partk with just about every type of garden you can think of, like an aquatic garden, butterfly garden, children's garden, maple terrace and many more.
Head to the United States Botanic Garden. It's free and fun for kids of all ages. You can hit up the children's garden or ask for a Junior Botanist kid's backpack of exploration (ages 9+). Check it's status before going.
#52 Play Mini Golf
There are so many mini golf places in the area so you can easily try a new course and explore a new area.
READ NEXT: Is Top Golf Kid Friendly? Here's What Kids Can Do
Some good courses to try are: