Both Maryland and Delaware have some beautiful beaches. Some are wildly popular while others are lesser known so you can enjoy the peace and quiet of nature.
With miles of coastline along the Atlantic Ocean, these states offer a wide range of beaches that cater to different preferences.
Whether you're looking for a family-friendly beach or a quiet spot to relax and unwind, Maryland and Delaware have something for everyone.
Here we explore some of the best beaches in Maryland and Delaware and what makes them unique. So, let's get started and plan your next beach getaway to these charming states.
#1 Bethany Beach
Bethany Beach, Delaware
Bethany Beach in the First State is a small seaside town that is perfect place for a relaxing beach vacation if you're looking for a quieter beach.
This family-friendly beach has soft sand and gentle waves, making it ideal for swimming, sunbathing, and building sandcastles.
Bethany Beach also has a ½ mile-long boardwalk and since there is no amusement park on it, it's a nice quiet place to stroll.
The boardwalk is lined with a variety of small shops, cafes, and restaurants. Some places you'' want to visit are Captain Jack's Pirate golf for mini golf, Bethany Beach Comics & Gaming, Boardwalk Fries and Fisher's Popcorn of Bethany.
READ NEXT: Trap Pond State Park: Pontoon Tours, Free Bikes & Nature Center
During the summer you can get around on the Bethany Beach trolley which only charges 0.25 cents and is a great way to explore this southern Delaware beach inexpensively.
Why Visit?
Gentle waves
Wide boardwalk beach
Smoking is prohibited on the beach year round
No dogs on boardwalk from mid-May to the end of September
No bikes (outside of 6am – 9am daily)
#2 Dewey Beach
Dewey Beach is a smaller, quiet beach town. It's actually one of the best beaches in Delaware for families.
It's quieter, less crowded and yet still has fun water activities like kayaking, jet skis, wakeboarding and more.
During the summer months, when most people visit, the beach also hosts fun events for families right on the beach like movies and bonfires on the beach.
Fun fact: While Dewey Beach doesn't have a boardwalk, during the summer months, the Jolly Trolley takes visitors between Dewey Beach and nearby Rehoboth Beach where there is a boardwalk and amusement park.
Why Visit?
Not as crowded
Events like movies and bonfires on the beach
Calm and clean waters
#3 Rehoboth Beach
Rehoboth Beach sites on a barrier island and has so much to see and explore with a boardwalk, amusement park, souvenir shops and wetland to enjoy.
Along the boardwalk there is food, ice cream, arcade games, shopping, and amusement rides. At the center of the boardwalk, at Rehoboth Avenue, the Rehoboth Beach Bandstand has live music and entertainment during the summer and for special events.
There is access to the beach all along the boardwalk so you can take a beach walk with your family and get some really nice beach photos or fly a kite. It's definitely a family-friendly atmosphere here.
GOOD TO KNOW: There's no sales tax in Delaware so this is a popular spot for tax-free shopping!
Good to know: Rehoboth Beach is a popular destination and can be crowded in high season. It's also one of Delaware's largest coastal towns.
Local tip: make sure to visit the Penny Lane Mall, an open-air, European-style mall which you'll fall in love with.
Why Visit?
• Boardwalk
• Funland amusement park
• Gordon's Pond Wetland
#4 Fenwick Island State Park
A three-mile long, serene, and spotless beach, Fenwick Island State Park is widely known for its sea glass and great surfing conditions.
The park frequently offers Wild Crab Chases at night, an enjoyable activity for people of all ages, where a guide will help you find ghost crabs.
You can also rent kayaks and stand-up paddle boards at the park's bayside if you want to have some fun on the water (or use the boat ramp to launch your own).
Why Visit?
The beach is regarded as being among the cleanest in the area and features restrooms, a refreshment cafe, and outdoor showers for washing off sand.
• Sand dunes
• Surf area
• 4wd access (with a permit)
• Dog friendly
#5 North Beach
North Beach in Maryland is great for families! Easy to access with ample paid parking. The water is shallow and is perfect for families with young children.
The beach area is small but has a fun playground. All shopping, restaurants and salons are within walking distance of the pier, boardwalk and beach.
Good to know: Reservations are needed on the beach during high season
Why Visit?
Pier
Boardwalk
Playground
#6 Sandy Point State Park
Sandy Point State Park is a beautiful, clean State Park with views of the Bay Bridge. Sandy Point State Park offers accessible food and beverage, fishing, Picnic areas to grill and have a family picnic at, shelters, bathhouses and playgrounds.
There are also trails for walking, and many scenic views.
NEXT: 130+ Fun Things to Do in Maryland With Kids (By City)
Pets are allowed in the park after September 30th and if you plan on swimming, lifeguards are on duty from 10am to 6pm, Memorial Day through Labor Day.
Tip: Sandy Point State Park is a great place for photographing the Bay Bridge and Sandy Point Shoal Light
Note: there is a day-use admission fee which is per person from May 1- September 30 and per vehicle from October 1 – April 30
Why Visit?
• Parking
• Great views
• Family friendly facilities
#7 Calvert Cliffs State Park
This beach is probably best suited to elementary aged children and above, as the trails and rocky/shelly beach make stroller access more difficult and the playground is not as baby friendly as others.
A day-use park, Calvert Cliffs State Park has:
13 miles of hiking trails
Sand beach
Rare fossils
Accessible recycled tire playground
Fishing
Freshwater and tidal marshes
There is a day use fee and only cash is accepted. If you're coming from out-of-state, it will cost a couple dollars more.
MORE WATER FUN: 23 Places to Go Kayaking in Maryland (By Region)
Water shoes are definitely recommended due to the rocks and shells.
People come with special tools (i.e. strainers, shovels, etc.) to look for the shark teeth and fossils though the cliffs are a hazard.
Looking for More Places to Find Shark Teeth & Fossils? Try…

Purse State Park: Fossil Hunting & More
Flag Ponds Nature Park: Shark Teeth, Beach & Trails
13 Best Beaches to Find Shark Teeth in North Carolina
Why Visit?
Playground
Fossils
Trails
#8 Assateague Island National Seashore
Assateague Island National Seashore is known for its Atlantic beaches, trails and wildlife including wild ponies and bald eagles. The area is great for kitesurfing, kayaking, bike riding, bird watching and camping.
There are lifeguards on duty during summer, a visitors centre open daily and camping with facilities.
NEARBY FUN…

24 Things to Do on Chincoteague Island
7+ Best Boat Tours Chincoteague VA (Cruises, Tours, Ponies & More)
Janes Island State Park: Crabbing, Nature Center, Kayaking & More
Note: Near Toms Cove is the working, 19th-century Assateague Lighthouse nearby
Why Visit?
Wild ponies
Bald eagles
Hiking trails
Camping
#9 Delaware Seashore State Park
Delaware Seashore State Park, boasting six miles of ocean and 20 miles of bay shoreline. The south side is recommended for young families.
Swimming areas are patrolled by lifeguards from 9 a.m. to 5 p.m. daily during the summer season (each lifeguard post has designated yellow flags that demonstrate their area of responsibility), and feature modern bathhouses with showers, changing rooms and concession stands.
There are also more than seven miles of trails welcome to hikers, bikers and birders.
There is also a historic Life-Saving Station on the island, built in 1876.
Why Visit?
Marina
Surfing
Fishing
Trails
#10 Breezy Point Beach
If you're looking for a private beach in Maryland, this just may be your spot.
This campground site is just south of Chesapeake Beach with a half-mile of sandy coastline and a secure swimming area for children with jelly fish netting in place.
The lack of ocean waves mean that it is a relaxing and a safe place for kids to swim. New visitors should understand that the water here is brownish; not a clean color.
Here you'll find:
Playground
Barbecue grills and tables
Pier for fishing
Campground
On summer weekends, check before going to be sure the beach is not at capacity.
The key draws here are shallow, gentle water, shaded portions of the beach and fossilized shark tooth hunting.
Why visit?
Fossils
No ocean waves
Jelly fish netting
#11 Chesapeake Beach
Chesapeake Beach is a town in Calvert County, Maryland that is great for for families and kayaking.
For family friendly swimming, enjoy Brownie's Beach (also known as Bayfront Beach). This is the perfect beach for little ones to enjoy because the water is calm and shallow.
Did You Know? The Indian River Bay, Rehoboth Bay and Little Assawoman Bay are 33 inland bays in coastal Delaware that are great for kayaking, boating, fishing, crabbing and other water fun
It slopes so gradually that small children can still stand up above the water even 50 feet out. Just watch out for jellyfish as the water gets warmer towards the end of the summer. This is also another fossil beach.
Note: from Memorial Day through Labor Day there is a fee for non-residents to use the beaches
Why Visit?
Views of the beautiful Chesapeake Bay Bridge
Chesapeake Beach Railway Museum
Chesapeake Beach Railway Trail
Boardwalk
Marinas
Piers
Charter boa fishing
#12 Lewes Beach
Lewes beach has some of the calmest waters in Delaware as it doesn't have many waves making it the ideal spot for families. So if you're looking for a beach that's good for younger kids, this is a great option.
This is a public beach with shallow water & restrooms, for swimming, fishing & boating.
In Lewes, you can also take the ferry to New Jersey so if you're heading to Cape May, Atlantic City or other beaches across the border, this is a faster and perhaps more fun way to get there.
While you're there, Lewes also has a number of historic sites including: Ryves Holt House, Lightship Overfalls and the Cannonball House.
Why Visit?
Kid-friendly beach
Good parking
Facilities
#13 Cunningham Falls State Park
A great park for all the family. There is a lake for safe swimming for the kids. Lots of picnic tables, grills, bathrooms and lifeguards on duty. There is also fishing and a waterfall hike. Boat house and snack shack open during the season.
Why visit?
#14 Broadkill Beach
Nature lovers will love Broadkill Beach. It's a horseshoe crab sanctuary surrounded by the Prime Hook National Wildlife Refuge and Plum Island Nature Preserve. It is a quiet, uncrowded beach with it's bay location makes for calm waters.
The Broadkill Store, is a general store which, on the weekends, sells sandwiches, grocery items, bait & tackle, beach toys, souvenirs and homemade donuts.
Rentals for kayaks and stand-up paddleboards can also be arranged at the store.
Why Visit?
#15 Ocean City
Ocean City, Maryland
Ocean City is most famous for its boardwalk. This is a free, public access beach, carefully manicured and maintained by local officials. The newly replaced Ocean City boardwalk is long with many different activities like concerts, shops, market, food vendors, pet shows, rides!
Inside tip: You can travel to the end and vice versa by bus.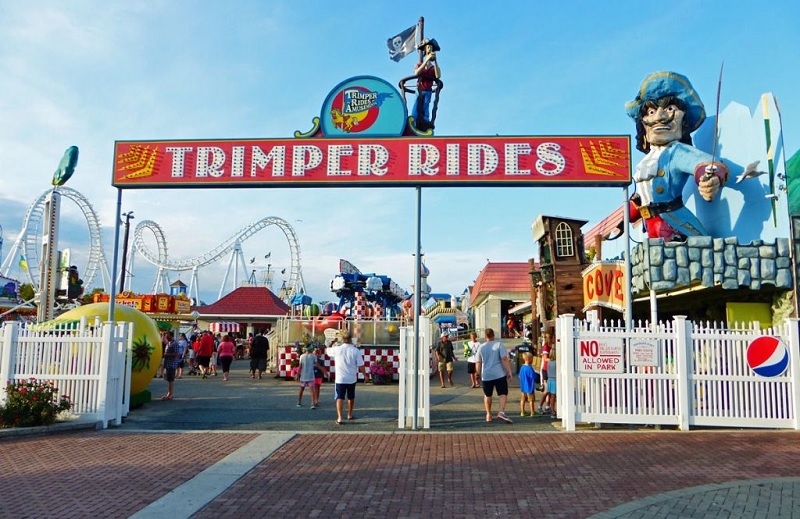 While you're there, save some time to visit nearby Assateague State Park.
Did you know? Delaware's scenic coastal highway stretches from Rehobeth Beach to Ocean City making for a beautiful and fun drive.
Why visit?
#16 Cape Henlopen State Park
A land of gentle dunes and singing shorebirds, Cape Henlopen State Park is revered for its rich assortment of activities:
Sunbathing on the park's six miles of shoreline
Fishing from the jetty
Walking or cycling down the miles of wildflower-adorned trails
Plenty of camping with facilities
The Nature Center is highly recommended and the Fort Miles Historical Area includes has a number of WWII military sites including observation towers.
Why Visit?
Point Overlook
Fishing Pier
Nature Center
#17 Matapeake Beach
In addition to a public swimming beach, there is an outdoor amphitheatre, a family picnic area, and a mile-long trail through the nearby woods with views of the Bay Bridge.
At Matapeake Beach, which is situated on Kent Island in Maryland on the Chesapeake Bay, the beach is accessible from sunrise to sunset.
It's bay location makes the waves gentle here which makes it an ideal location for kids.
Good to know: Pets are not permitted on the clubhouse's lawn, on the public beach, or in the parking lot at the Matapeake Clubhouse.
Why Visit?
Public swimming beach
Outdoor amphitheatre
Family picnic area
#18 Deep Creek Lake
This well-known state park has one mile of shoreline along Deep Creek Lake where guests can go swimming, fishing, and boating. Families who wish to go swimming will love the sandy beach, and the picnic area makes it a great spot to stay all day.
RELATED: 7 Deep Creek Lake Winter Activities
In the day use area you can enjoy the waterfront and designated picnic spots from eight in the morning until sunset. The lake has two secured swimming beaches, which also provide kayak and paddleboard rentals.
Additionally, there are:
3 playgrounds
Beach shower house
Changing area
Fishing
Picnic tables & grills
A personal boat launch for canoes, kayaks, and other watercraft
Note: There is a park fee to use the day-use area, which is paid upon entering.
Why Visit?
Discovery center
Calm lake waters
Lifeguards
#19 Point Lookout State Park Beach
This beach and state park are situated on a peninsula with the Potomac River and the Chesapeake Bay on each side.
Swimming, sailing, boating, and fishing are just a few of the water sports available in the park. There are barbecues and picnic tables at the beach.
There is a dedicated swimming area, and during summer weekends, lifeguards are on duty there. There are bathrooms and showers for your comfort.
The tranquil surroundings of this park, which is located in St. Mary's County on a peninsula between the Potomac River and the Chesapeake Bay, belie its past as the site of a camp that held up to 52,264 Confederate soldiers during the American Civil War.
The local museum details this fascinating history. The Civil War Museum/Marshland Nature Center, the camp office, the camp store, and the park headquarters all have park maps accessible.
Good to Know: the park charges for both day access and overnight camping
Why Visit?
Picnic Area
BBQs
Lighthouse
#20 Gunpowder Falls State Park (Hammerman Beach)
The Hammerman day-use area is located in Gunpowder State Park. Visitors can enjoy swimming in the Gunpowder River on the 1500-foot beach while being watched over by lifeguards (Thursday to Sunday Memorial Day to Labor Day).
Visitor activities at Hammerman include swimming, canoeing, kayaking, fishing, hiking, and picnics.
If you forget to have lunch, the Riverside Grille sells food (open seasonally). The swimming beach, beach bathhouse, and day-use pavilions are all accessible. Except for Christmas, the day-use area is open every day of the year.
Note: The Hammerman Area does have a fee for entry and the parking lot fills up rapidly, get there early!
Why visit?
Lifeguards
Picnics
Riverside Grille
#21 Slaughter Beach
Slaughter Beach, one of the delaware bay beaches, is ideal if you want to be surrounded by nature, clean air, and the ocean. You won't find any shops, restaurants, boardwalks, or tourists there. Because the sand is fairly rocky, wearing water shoes is recommended. The public entrance is close to a small bath house that is open in the summer.
Note: There are no lifeguards on duty, so swimming is at your own risk.
Why Visit?
Horseshoe crabs
Plenty of parking
#22 Holts Landing State Park
Holts Landing State Park is a great place to go to a beach area if you'd also like to be surrounded by trees and other fun things to do besides the beach.
This is a nice place to sit along the water and relax or even bring your kayak or paddleboard and head out to the water.
At this park there are also walking paths through the trees, a playground for kids in the shade, and nice picnic areas.
The Sea Hawk trail is a nice, easy trail that loops around ponds as you stroll through the pine trees.
They also have a nice crabbing and fishing pier with absolutely beautiful views. You can even see the Indian River Bridge from the pier. 
During the summer months they host Family Fun Nights and free concerts as well.
Why Visit?
BIrdlife including herons, osprey and others
Crabbing / fishing pier
Large playground area
Soccer fields and picnic areas with grills
Trails
Exploring Beaches in Maryland and Delaware
Maryland and Delaware are home to some of the most beautiful beaches on the east coast.
From the bustling boardwalks of Ocean City to the quiet shores of Cape Henlopen State Park, there's no shortage of options when it comes to planning a beach vacation in these states.
With their clean, sandy beaches, inviting waters, and picturesque scenery, Maryland and Delaware offer a perfect escape from the hustle and bustle of everyday life.
So, whether you're looking for adventure or just a place to relax and soak up the sun, be sure to consider these two states as your next beach destination, snag one of the beautiful vacation rentals and enjoy your time in the sun!