If you're trying to figure out the best time to go crabbing in Maryland, this is your guide.
Here we will be covering everything you need to know about recreational crabbing, however, if you are a commercial crabber, this isn't going to cover the different rules you need to follow.
So if you're ready to catch some crabs to make some delicious crab cakes, crab soup, crab dip, or you just want some crab meat from something else yummy, here you'll find the rules and regulations you need to follow and some of the best places in Maryland to go crabbing.
So grab some Old Bay and let's get started!
What We Will Be Covering
In this post, we will delve into various factors affecting crab activity, including:
Seasonal patterns
Tidal movements
The best months for successful crabbing
Best locations for crabbing in Maryland
Legal considerations (licenses, quantity and size limits)
I'll also cover essential equipment requirements, including nets/poles and bait selection strategies.
With this information you'll be able to make a more informed decision about the best time to go crabbing in Maryland.
Crabbing Season in Maryland
If you're wonder what time of year the crabbing season is, in Maryland the season typically begins in April and December is the last month of the season, making the late summer and early fall months the best time of the year to catch Maryland crabs! 
Maryland Blue crabs, one of the most delicious species of crabs, are abundant during this period, providing ample opportunities for all you recreational crabbers. 
In particular, September to November is ideal for catching the heaviest crabs as they begin to "fill out."
Months for Optimal Crab Activity
If you're looking to catch crabs, plan your outings between June and August, which is the peak season of the blue crab population. 
Both the summer and fall months are great for catching crabs.
During these months, you'll have a higher chance of success as more than enough crabs will be active.
Fall Months = Meatier Catches
As the weather cools down from September through November, blue crabs tend to fill out their shells with more meat.
This makes them perfect candidates for steaming or boiling at home – just remember that it's important to always follow Maryland Department regulations, including size limits and daily catch allowances.
Before going out to catch some crabs, make sure you have the proper permits and licenses as required by local laws. 
Note: For a successful crabbing trip in Maryland, check the tide and weather beforehand.
You may also want to brush up on some tips from experienced recreational crabbers regarding equipment, such as using chicken necks or fish heads as bait that you can pick up from the grocery store , so that everyone has a fun-filled day.
Tides and Weather Conditions
When planning your crabbing adventure in Maryland, it's important to consider the tidal patterns as they play a significant role in determining the best times for catching crabs.
Aim for one and a half hour to two hours before or after high tide, as crabs tend to be more active during incoming tides.
You can check local tide charts from sources like NOAA Tides & Currents to help you plan accordingly.
Incoming Tides Provide Better Chances of Success
If you're looking to catch blue crabs, it's best to target incoming tides.
When water levels rise, blue crabs tend to move around more, making them easier for recreational crabbers to catch. This simple tip can increase your chances of success!
Slack Water Periods Offer Calm Conditions
Besides focusing on high tide timings, slack water periods around high or low tide also present great opportunities for crabbing.
During these periods, waters will generally be calmer, allowing your crab pots and traps (per Maryland Department regulations) to rest undisturbed at the bottom – enticing more crabs inside them.
On top of that, calm weather conditions ensure better safety measures for both adults and children involved in crabbing.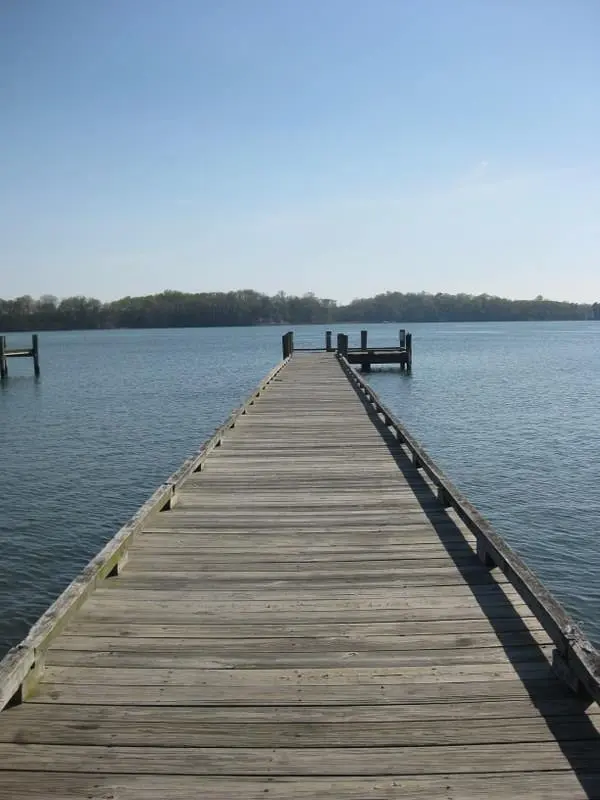 Popular Crabbing Locations in Maryland
Maryland is one of the best places for crabbing in the Atlantic Ocean, with many popular spots to catch blue crabs while enjoying the beautiful surroundings.
Let's take a closer look at some of these locations.
Tip: if you're a crabbing beginner, the easiest way to try out the sport is from a pier.
Sandy Point State Park
Sandy Point State Park has several crabbing piers and it's also easy to crab from the shallow shores as well. There's also a lot more to do at the park if you want to do other activities as well.
Janes Island State Park
Janes Island State Park is great for crabbing, kayaking and even has a nature center. You can go crabbing right from the shoreline and in shallow waters.
Assateague State Park
Assateague State Park near Chincoteague Island, has beaches as well as piers for crabbing. It also just so happens to be a beautiful place to spend time.
NEARBY FUN: 7+ Best Boat Tours in Chincoteague VA (Cruises, Tours, Ponies & More)
Jonas Green Park
Jonas Green Park in Annapolis has a nice fishing pier which you can use for crabbing or you can even rent a boat.
Carrs Wharf
If you're in the Baltimore area near the Inner Harbor, Carrs Wharf gives you access to the shoreline of the Patapsco River where you can crab in the moving waters.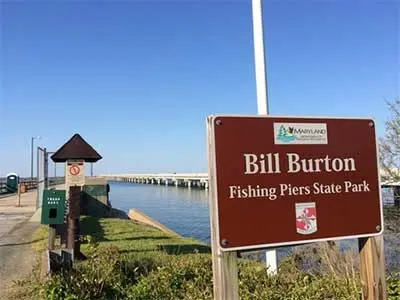 Bill Burton Fishing Pier State Park
Bill Burton Fishing Pier State Park has a 400-foot fishing and crabbing pier to help you access deeper waters for crabbing and is a great place to go! If the waters are too deep for you, you can also crab from the shoreline.
Nan's Cove
Nan's Cover has calm waters which make it a great spot for setting up your crab pots or collapsible traps during high tide when crabs tend to be more active.
Ocean City
If you prefer a more lively atmosphere, Ocean City might be just what you're looking for.
With numerous piers available along its coastline, Ocean City offers plenty of opportunities for recreational crabbers who want easy access to prime fishing spots without needing a boat.
This is also a good spot for larger catches like South Carolina stone crabs which are often found in these areas from October 15th to March 15th each year.
Tip: Before heading out to any of these locations, make sure to check the Maryland Department of Natural Resources website for up-to-date information on crabbing regulations and licensing requirements.
Crabbing Equipment Essentials
When planning your crabbing adventure, it's crucial to know not only when but also what equipment you'll need.
In this section, we'll discuss the must-have items for crabbing in Maryland. Plus, we've thrown in some helpful tips to make sure your experience is the best it can be.
Crab nets/shrimping nets attached to poles: The primary tool you'll need is a crabbing net or shrimping net, which should be attached to a 3- to 5-foot-long pole.

This setup allows recreational crabbers to easily reach into the water and scoop up blue crabs without getting too close themselves. Choose a sturdy pole with an extendable handle for added convenience.

Chicken bait secured by string/twine: To attract crabs, use chicken as fresh bait tied securely using string or twine.

Crabs are attracted to the scent of raw meat, so placing fresh chicken pieces in your traps will increase your chances of success. You can also try other types of fish or seafood if you prefer.

Buckets: Bring along one or two large buckets for storing caught crabs until it's time to head home.

Rulers: A ruler is essential for measuring the size of captured crabs – remember that they must be at least 5 inches across from tip-to-tip in Maryland (Maryland Department regulations). Release any undersized catches back into the water immediately.

Gloves: Wearing gloves will protect your hands from sharp crab spikes and make handling them easier.

Crab pots/traps: For those who prefer a more passive approach, consider using crab pots or traps. These devices can be left in the water for several hours, allowing crabs to enter but not escape. Check local regulations before using these methods.

Trot line: a long line with a number of baits on it (typically between 2-6 feet apart) that is anchored to the bottom of the shore.
Fun Fact: Eel pots are another common method of catching crabs. These pots are cylindrical traps that are lured with fish or other types of food. Once a crab enters the pot, it cannot leave due to the small opening.
With the right equipment and some patience, you'll be well on your way to catching delicious blue crabs during Maryland's prime recreational crabbing season.
Daytime vs Nighttime Crabbing
When it comes to catching crabs, timing is crucial. Although the idea of crabbing under the moonlight might sound appealing, crabbing at night is illegal in most states, including Maryland.
Therefore, it's best to stick to daylight hours – starting after sunrise and finishing before sunset.
Tips for Successful Daytime Crabbing
Pick a sunny day: Crabs tend to be more active during warm weather conditions which makes them easier targets for your traps or nets.

Avoid high winds: Windy days can make it difficult to manage your equipment and may cause your bait or traps to drift away from prime locations.

Keep an eye on the clock: Since nighttime crabbing is not allowed, be sure to give yourself enough time to pack up and leave before sunset.
Daily Limits
In Maryland, recreational crabbers have restrictions on how much they can catch per day for personal consumption. Here is the breakdown:
Unlicensed individual: 2 dozen male hard crabs; 1 dozen male peelers, soft crabs, or combination
Licensed individual: 1 bushel male hard crabs; 2 dozen male peelers, soft crabs, or combination
Unlicensed boat: has different restrictions depending on the number of unlicensed individuals. A boat with 1 unlicensed individual, you can catch 2 dozen male crabs. A boat with 2 or more unlicensed individuals can catch 4 dozen male crabs.
Now if a boat has 1 or more licensees (despite the number of unlicensed individuals), you can catch 1 bushel of male crabs.
Size Restrictions
However, they must be at least 5 inches across from the tips of their spikes. It's worth noting that the minimum size for soft crabs caught by recreational crabbers is 3 inches. Male peeler crabs must be 3.25 inches (and 3.5 inches after July).
This size restriction ensures that only mature blue crabs are harvested and helps maintain a healthy population in local waters.
Note: the use of dip nets and hand lines is allowed anytime of day or night (or anytime in registered crab pots on private property).
Crabbing Onshore vs Offshore
Whether you choose onshore or offshore crabbing, understanding the differences and ideal conditions for each can help maximize your chances of bringing home a bountiful catch.
High Slack Tide Ideal for Onshore Locations
High slack tide, which occurs around two hours before or after high tide, is recommended when crabbing from docks or beaches.
During this time, waters are calm and traps can rest undisturbed at the bottom while enticing more crabs inside them.
As mentioned earlier in our Tides and Weather Conditions section, incoming tides provide better chances of success as crabs tend to be more active during these periods.
You can use a trotline at the beach or the fishing pier, but make sure you have a crabbing or a fishing license and follow the regulations for this equipment. 
Favorable Sea / Weather Conditions Crucial for Offshore Crabbing
In oceanic environments like those found off Maryland's coastlines, focus less on specific times of day but rather ensure sea conditions are favorable by avoiding rough seas or heavy rainfalls that may impact trap placement. 
Before heading out to deeper waters with boats containing crab pots or traps, it is important to first check the local weather forecast and follow any safety guidelines provided by the Maryland Department of Natural Resources or other relevant authorities.
In both onshore and offshore crabbing, always remember to follow local laws and regulations regarding catch limits, size restrictions, and licensing requirements. By doing so, you'll not only ensure a fun-filled day out with your family but also contribute to the sustainable management of blue crabs in Maryland's waters.
Did you know? The Chesapeake Blue Crab is the most common crab to catch in Maryland. These are smaller and less sweet than the west coast Dungeness crab.
FAQs in Relation to Best Time to Go Crabbing in Maryland
What Time of Day Can You Crab in Maryland?
Crabbing in Maryland is legal at all times, but catching them during incoming tides or high slack tide is more effective due to increased activity levels.
What is the Best Time of Day to Go Crabbing?
Crabbing is best done during daylight hours, starting after sunrise and finishing before sunset. Nighttime crabbing is illegal in most states, including Maryland.
What are the Best Months to Go Crabbing?
Crabs are best caught from June to October, but watch for seasonal changes. Weather and region affect their behavior.