Kings Dominion is a popular and seasoned theme park, located about 20-minutes north of Richmond on I-95.
What I love is being able to see some of the same attractions from when my parents took me growing up and now going back with my own kids. And of course, there's a whole lot of new attractions as well.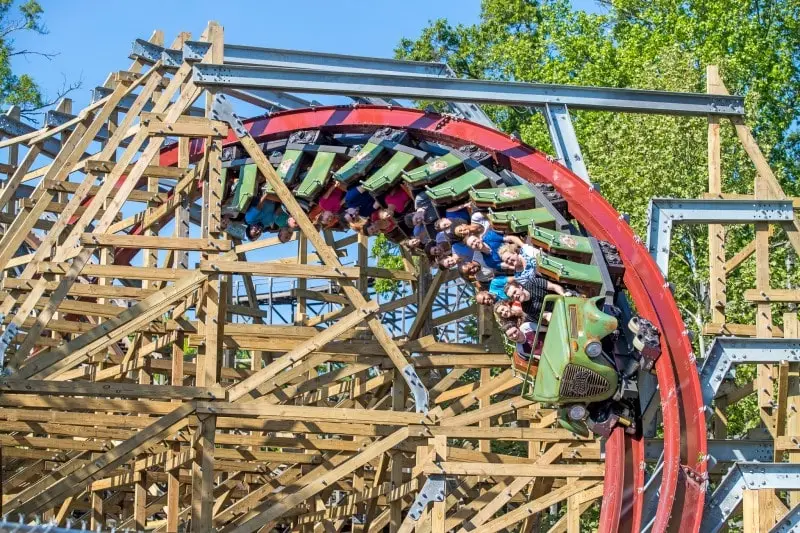 Here I'm going to share what to expect on your next visit to King's Dominion, some things you need to know before you go, as well as, pricing and discounts you can take advantage of.
So let's go for a ride!
Rides at Kings Dominion
Kings Dominion is known for its thrill rides and on that end it did not disappoint our crew of kids ages 18, 14, 10, 9 and 8. The key height for thrill seekers in this park is 48 inches.
Guests below this height have fewer options for roller coasters or other high adventure rides.  Upon entry into the park with kids your first stop should be the measurement station next to the Eiffel Tower.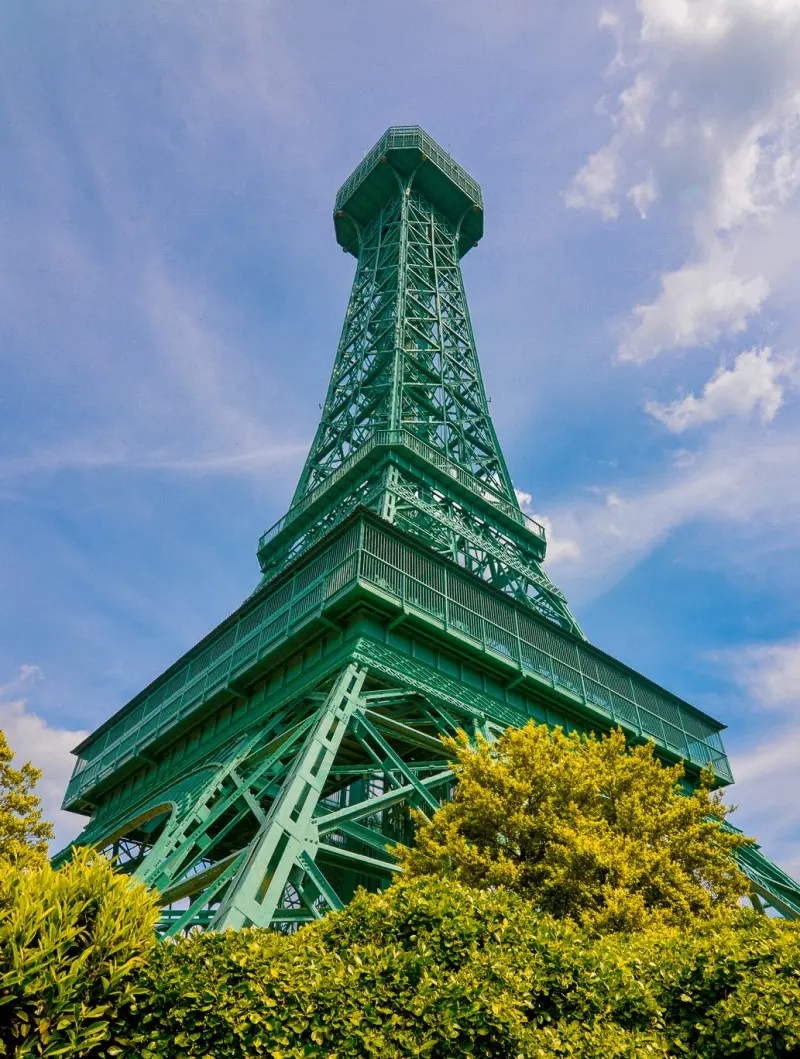 Here kids get officially measured and get a color-coded wristband to see which rides they are eligible for. Kings Dominion has a good mix of old school wooden coasters and newer high speed rides.
Our group rode the Twister Timbers, Racer 75, Apple Zapple and the Anaconda. Those 54 inches and over have even more options for roller coaster fun.
NEXT: 9 Virginia Amusement Parks: Family Fun Amusement Parks in VA
For kids who like to stay closer to the ground Kings Dominion offers a few "low thrill" family rides.
Bumper cars, old time cars for driving, a log flume, carousel and Ferris wheel are scattered throughout the park. 
READ: Is Kings Dominion Cashless? Here's How to Pay
If you want to get soaked without venturing to the water park, White Water Canyon is a must.
You can pay to use the "family dryer" at the exit if you get wetter than planned (otherwise, just pack an extra pair of dry clothes and some towels)!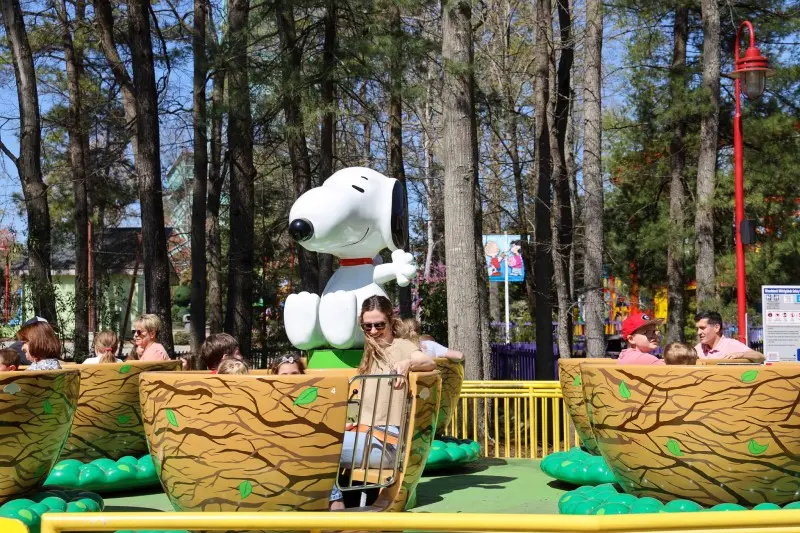 Planet Snoopy
For the youngest visitors the park offers Planet Snoopy. This area has rides for kids 36 inches and over to ride alone and several rides with no height limit that parents and kids can ride together.
This area also has Peanuts themed shopping, character greets and entertainment. 
There is also a Family Care Center located near the restrooms in Planet Snoopy where parents can have a comfortable spot to feed infants. The center is air-conditioned and has a microwave for warming up bottles.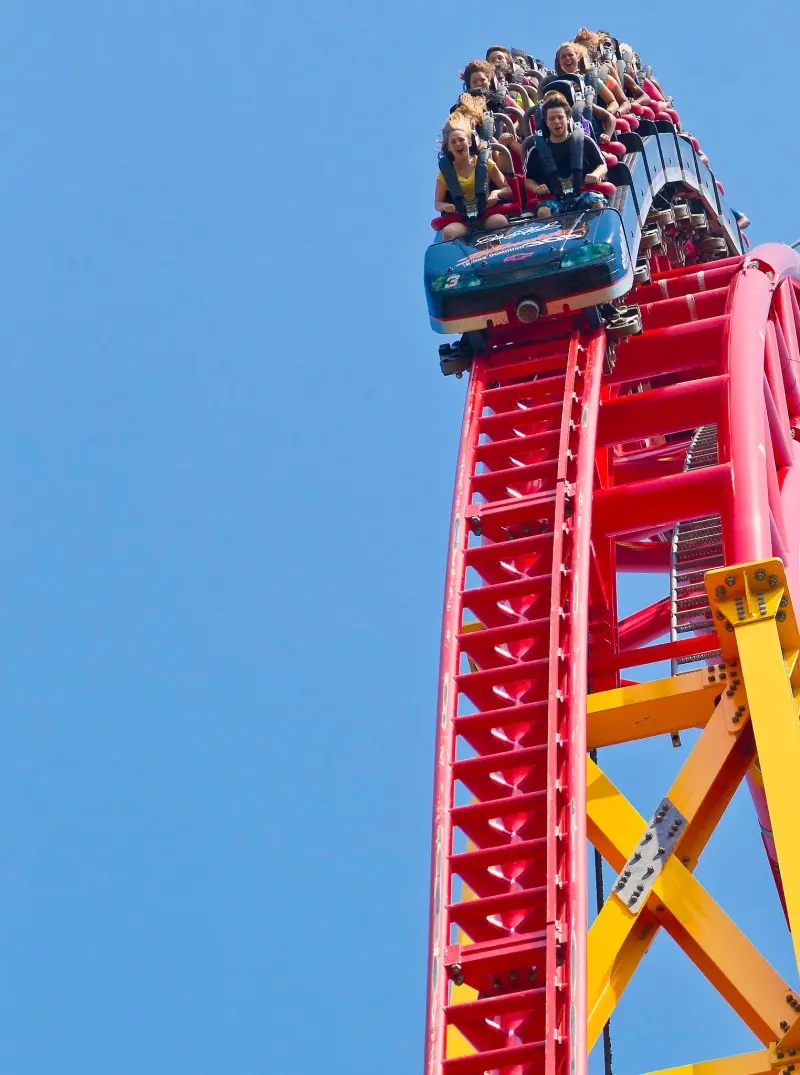 Twister Timbers
Twisted Timbers is a hybrid wooden/steel roller coaster with 20 airtime hills and three inversions. It's a blast, and our family's favorite ride at Kings Dominion.
The airtime is incredible, especially on the first drop and the three consecutive camelback hills.
The inversions are also a lot of fun, and the zero-g roll is particularly disorienting.
If you're looking for a thrilling roller coaster with amazing airtime, Twisted Timbers is definitely worth checking out. Sit in the back for the best airtime, hold on tight, and have fun!
Racer 75
Racer 75 is a classic wooden roller coaster at Kings Dominion that has been thrilling guests since 1976.
The ride features two racing trains that compete for the finish line, and it's a great way to experience the thrill of a wooden coaster without going too extreme.
However, Racer 75 is starting to show its age. The track was a bit rough in some spots, and the trains can be a bit jerky. This made the ride a bit painful for us to enjoy.
Apple Zapple
This Wild Mouse roller coaster is full of unexpected twists, tight turns, and sudden drops. There's even a thrilling 50-foot drop that catches you off guard!
My family and I had a blast riding Apple Zapple. We loved the way the coaster kept us on our toes with its unpredictable track layout.
The drops were definitely a highlight, and we all got a good laugh when we were surprised by the 50-foot drop.
Anaconda
Anaconda is a classic roller coaster that has been around for over 20 years. It was the first looping coaster to have an underwater tunnel, and it's still a lot of fun today.
I had way more fun than I thought I would on Anaconda. The inversions are actually really cool because they go so slow you actually hang there.
The only downside is that some of the transitions are a bit jerky. But overall, I would definitely recommend Anaconda to anyone looking for a fun and thrilling ride.
The coaster is really pretty with how it sits on the lake, so make sure to take it all in. And if you're feeling brave, you can even ride it backwards!
Carousel
Located in the Candy Apple Grove area, Carousel is a beautiful and historic ride that is sure to bring back memories for many people.
It is one of the last wooden carousels left in the world, and it was built in 1917. The carousel features 66 hand-carved horses, including a special 40th anniversary horse named Ruby.
The horses are all different colors and styles, and they are sure to capture the imagination of children and adults alike.
The carousel is also home to a classic band organ, which plays old-fashioned melodies as the horses go round and round. The music is a part of what makes the carousel such a magical experience.
Ferris Wheel: Americana
The Americana Ferris Wheel is a great way to see Kings Dominion from a different perspective.
Riders travel as high as 110 feet, and it's a popular ride for families. It doesn't allow single riders, so you're guaranteed to have a buddy to share the experience with.
White Water Canyon
Want to get soaked on a hot day? Then White Water Canyon is the perfect ride for you!
This family-friendly river rapids ride is about 1,800 feet long and takes about 4 minutes to complete. You'll be seated in a six-person raft and sent down a winding river through a series of rapids, waterfalls, and geysers.
It's impossible to stay dry, so wear a swimsuit or clothes that you don't mind getting wet.
Intimidator 305
If you're looking for an aggressive roller coaster experience, then Intimidator 305 is the ride for you!
This towering coaster stands 305 feet at its highest point and features a first drop of 300 feet at an 85-degree angle.
The high-speed twists and turns will leave you breathless, and the G-forces will make you feel like you're being crushed.
Intimidator 305 is a must-try for any coaster lover, but it's not for the faint of heart. If you're afraid of heights or you're prone to motion sickness, then this might not be the ride for you.
Dodgem
Dodgems is a classic bumper car ride that is perfect for families and groups of friends.
Riders can control the speed and direction of their cars by using the steering wheel and pedals, and the object of the game is to bump into other cars and knock them out of the way.
It's a great way to get some laughs, as you try to outmaneuver your opponents and bump them out of the way.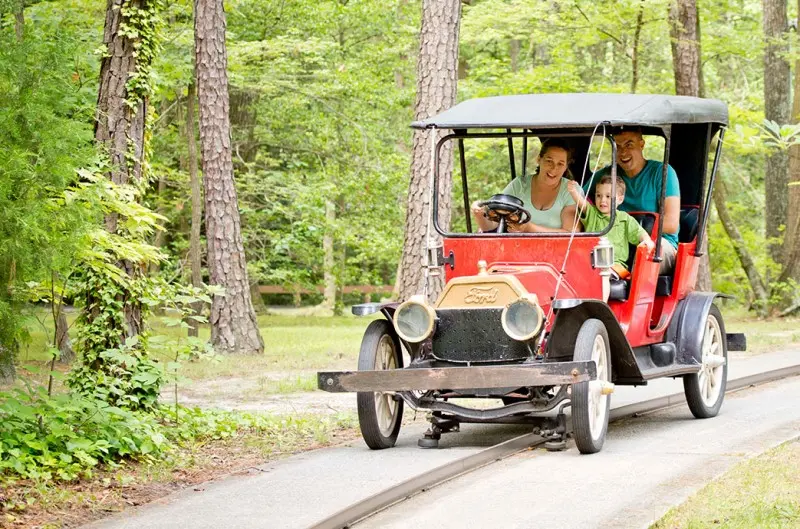 Ride Restrictions
Each ride has it's own restrictions so you can check before waiting in line. But let's look at some of the restrictions so you'll be prepared on what you can and can't do before you go.
And of course, before you ride any roller coasters, you want to make sure you're free of any health conditions that may not be safe.
For Twisted Timbers, Racer 75, Dodgem and Anaconda, riders must be at least 48 inches tall. It is moderately intense and not wheelchair accessible.
For White Water Canyon, minimum height is 46 inches.

While for Apple Zapple, riders must be at least 44 inches tall
To ride the one of the tallest roller coasters, Intimidator 305, riders must be at least 54 inches tall and no taller than 78 inches.

For Carousel, riders must be at least 46 inches tall to ride (there are no health restrictions for this ride)

To ride the Americana Ferris Wheel, minimum height (alone) is 48 inches, however riders below 48 inches must be accompanied by others who fulfill the minimum height (alone) criteria.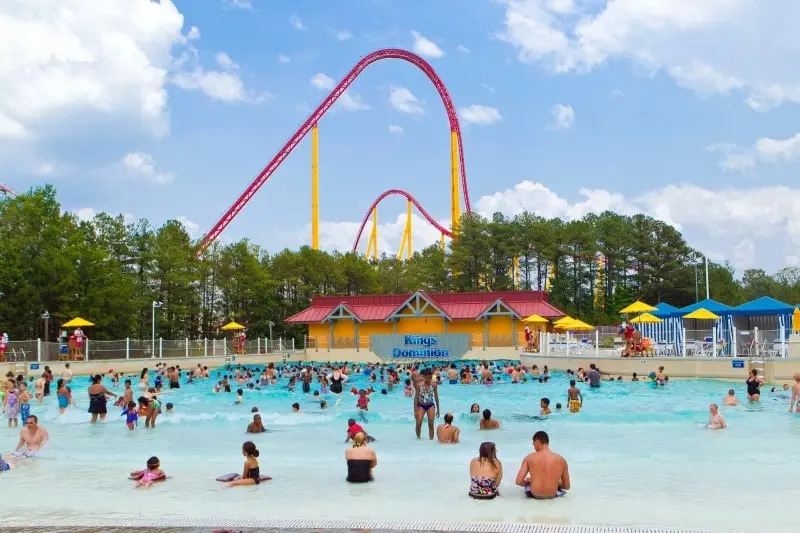 Water Park
On a hot summer day Soak City is a welcome respite from the heat. The water park opens daily at noon. 
For kids and adults over 48 inches there are a variety of water slide options (most of them enclosed tube type of slides). Younger kids and those less adventurous can cool off in the lazy river, wave pool or 2 water play areas.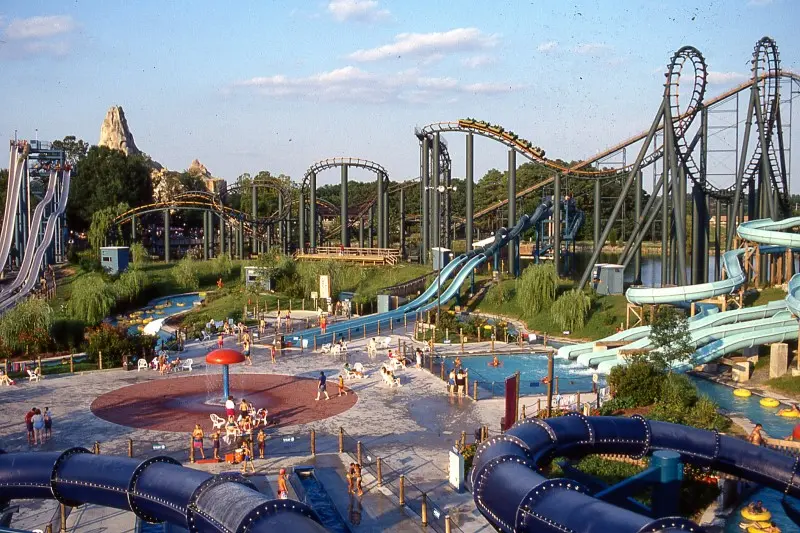 There are changing areas, lockers, beach chairs and cabana rentals available in the Soak City area.
Life jackets are available and are required for kids under 48 inches. So be sure to bring your bathing suit and take advantage of this fun piece of the park.
Food
Kings Dominion has many chain restaurants within its borders. Chick-fil-a, Sweet Frog, Panda Express, Subway, Rita's and Starbucks are all found here with increased prices from their normal locations.
The majority of non-chain food options are typical theme park items – pizza, burgers, chicken fingers and ice cream abound.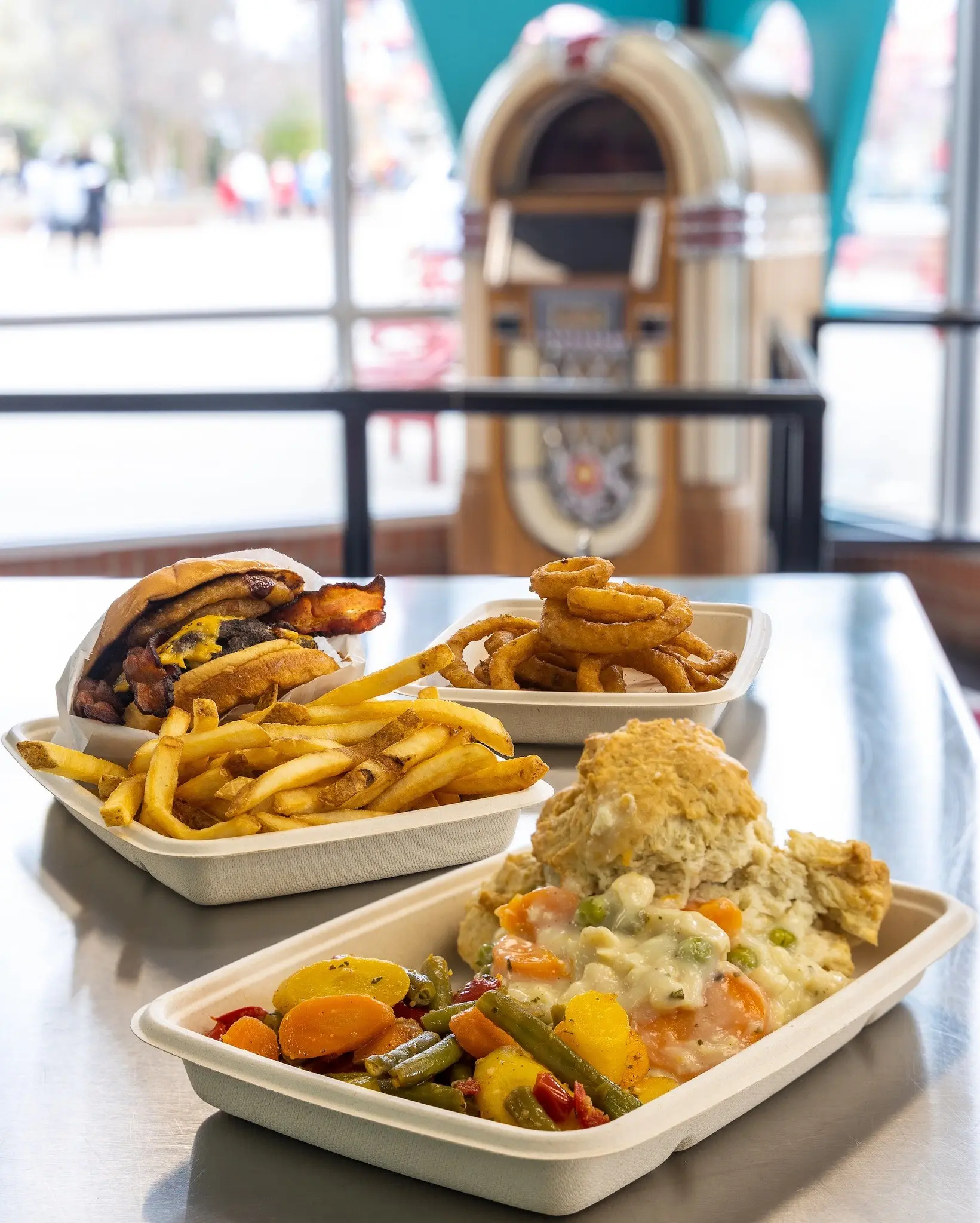 No outside food or drink is allowed in the park and they do check bags upon your arrival at the front gates. You can leave the park and eat food from home in the picnic area outside the gates and return as long as you get your hand stamped.
There are plenty of water fountains so you can bring in an empty reusable water bottle to fill up throughout the day to cut down on food costs.
Special Events
While you may normally just consider visiting Kings Dominion during the summer, the amusement park has several great events throughout the year. Here are a few that are definitely worth considering:
Halloween Haunt: features 7 haunted mazes, 5 scare zones, 2 live shows, food, drinks, games, activities, and souvenirs. It's a great way to get scared this fall.

The Great Pumpkin Fest: features pumpkin painting, hay mazes, ghostly games, not-so-scary live entertainment, and more. Celebrate Halloween with the whole family at the Kings Dominion!

WinterFest: a nighttime event with a 300-foot-tall Christmas tree, an ice-skating rink, live shows, winter-themed rides, food, drinks, games, and activities.

Map of Kings Dominion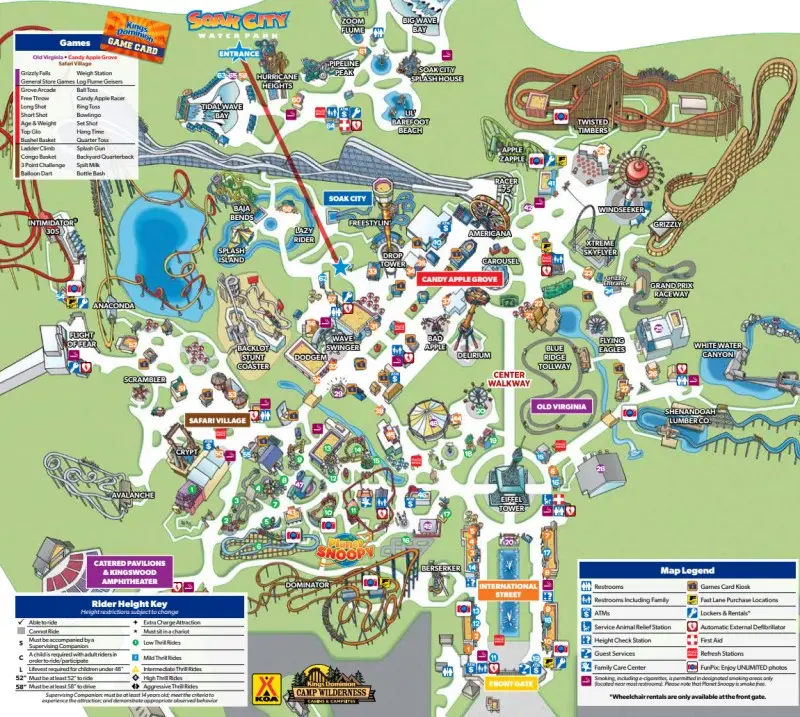 The full map of the park can be downloaded here.
Hours & When to go
Kings Dominion is open daily through August 10th from 10:30 AM to 10:00 PM.
Beginning on August 11th, weekday hours are 10:30 AM to 8:00 PM with weekend hours extending to 10 PM. 
The park is open on weekends only from September through Halloween.
If you're looking for the least crowded days, then I recommend going on Tuesdays or Wednesdays.
The park is also less crowded in September and October, when most kids are back in school.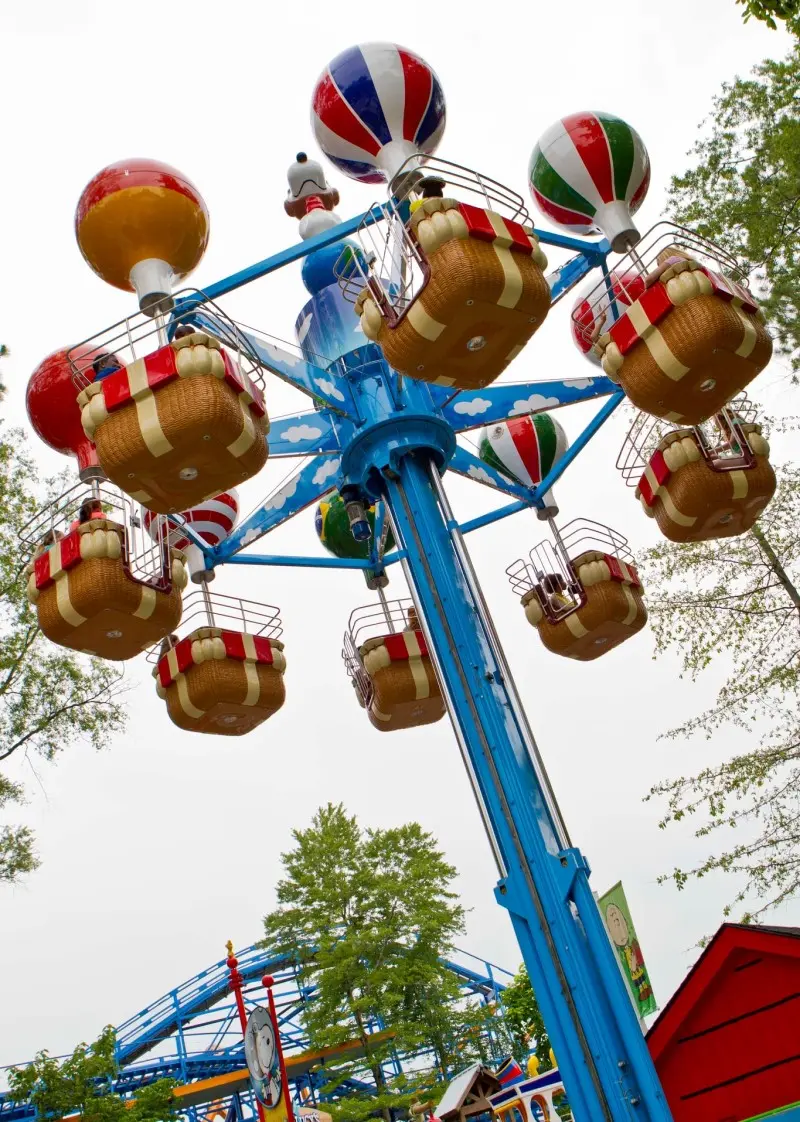 Tickets & Pricing
Single-day tickets cost $44.99 for adults, while two-day tickets cost $69.99.
Season passes start at $110. Group tickets cost $38.99 per person for groups of 15 or more.
Military personnel can purchase tickets for themselves and up to 6 family members or dependents for $39.99 each.
Discounts to Kings Dominion
In addition to the online deals mentioned above, there are several other ways to get reduced admission to Kings Dominion.
Of course, you can always get a season pass if you plan on visiting at least a few times to help you save. Season passholders also get signed up for "Pass Perks" so you can earn additional benefits during the year.
Here are some additional way sto save:
With a free Pre-K Pass: for pre-k kids ages 3 to 5
Go with a season passholder (and get bring a friend ticket discounts)
Visit after 4pm for discount tickets
Certifikid has previously offered deals, check here to see if they are currently offering any
Go with a group to receive a group discount (even if you don't stay together during your visit)
Getting There & Parking
Kings Dominion is located at 16000 Theme Park Way, Doswell, VA 23047.
Parking at Kings Dominion is $25 for general parking and $35 for preferred parking.
We paid for general parking and had no trouble getting a close spot shortly after opening on a Saturday morning. If you want to avoid the lines for parking, you can prepay for it online. 
However, you do not have to use the Express Lane upon your arrival. You can still use the regular entrance and pay the parking fee at the booth. Cash and credit are both accepted for the parking fee onsite.
Frequently Asked Questions
Can I bring a water bottle to Kings Dominion?
Yes, you are allowed to bring empty water bottles into the park and refill them at any of the water fountains or soda fountains.
Is Kings Dominion expensive?
Kings Dominion can be a costly destination for solo travelers, but there are ways to save money (check above in the Tickets & Pricing section) by purchasing tickets online or through group discounts.
Is Kings Dominion owned by Six Flags?
No, Paramount owned Kings Dominion until 2006 and it was then taken over by the Cedar Fair Entertainment Company
How long does it take to go through Kings Dominion?
You can see the most popular rides in one day, but two or three days are recommended for a full experience.
Can you bring cash to Kings Dominion
Kings Dominion stopped accepting cash as of March 12, 2022 and is now cashless. Here's how to pay now.
More Amusement Park Fun