Richmond has a great mix of fun, history and natural beauty which is why this tends to be one city my family returns to over and over.
Since we've now spent more time in this mid-size city than I can count, I wanted to share some of the best Richmond Virginia attractions you'll find whether you're spending the day with friends or family.
Since the city of Richmond is only two hours from the DC area, we have been often for day trips and the occasional overnight. 
This year we decided to spend an entire week in the capital of Virginia since we never get to do everything we want to do during shorter visits.  
Even after spending a week there, we plan on going back soon.  Richmond has a great mix of new and old – plus lots of fun. 
Here is a run down of what we did on our most recent visit, some highlights from past visits and even some more fun things we still have on our list for future visits.
You're sure to find the best places to go and top things to do in Richmond, VA, no matter your interest. 
#1 The Children's Museum of Richmond
The Children's Museum of Richmond is a large complex with plenty of spaces for imaginative play from digging for fossils to "driving" a real ambulance to climbing an indoor treehouse with slides.
There is also a large, well-stocked art room.  My kids range in age from 2 to 11 and they all had a good time.  
#2 Science Museum of Virginia
The Science Museum of Virginia is adjacent to the Children's Museum of Richmond.  This museum has so many highly interactive exhibits and features on speed, genetics, and more.  
We even saw rats playing basketball.  Although geared towards older children, the museum also has a very nice play area for children under five.  
Just a handful of things my kids loved were:
The wind tunnel
Playing air hockey against a robot
Taking interactive quizzes
Participating in a cooking demonstration
This is a great place to also catch a flick at the IMAX Dome, the largest film screen in Virginia.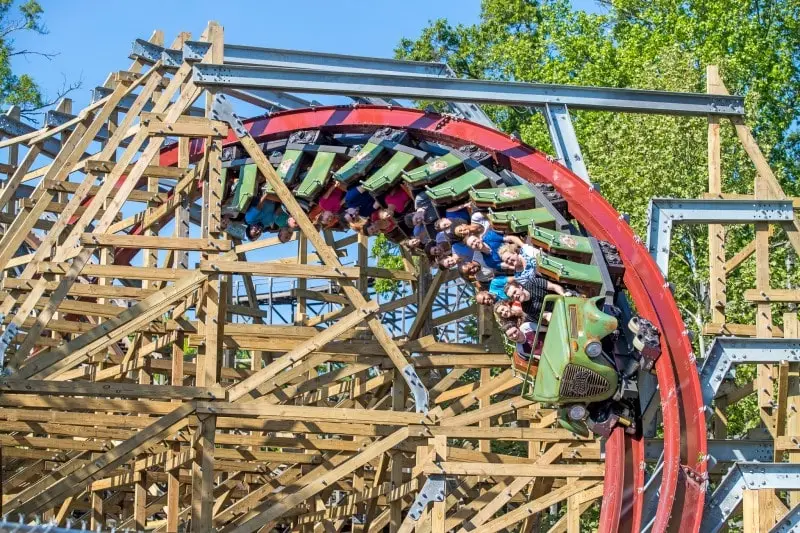 #3 Kings Dominion
Kings Dominion is just a 25-minute drive from Richmond and is one of the best amusement parks my kids have ever visited.
Kings Dominion has a great mix of rides for older kids (and adults) and Planet Snoopy will keep younger kids happy for hours.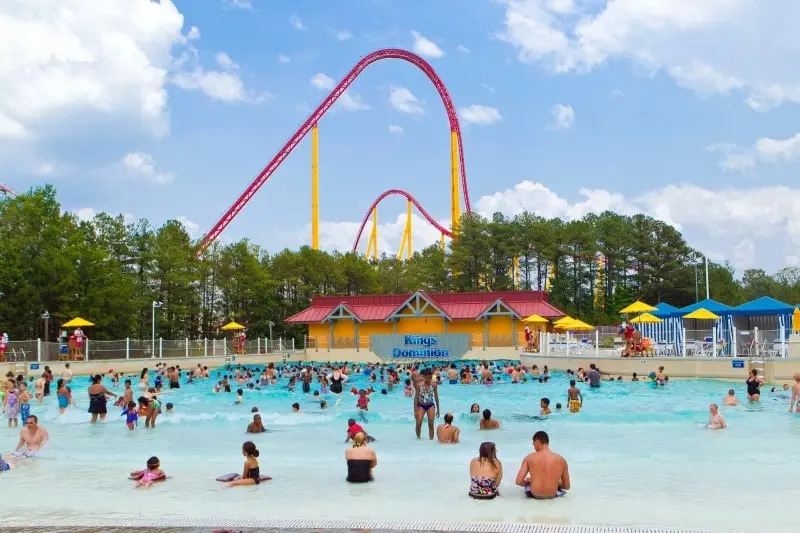 We also loved the water park in Kings Dominion, Soak City, which also has a good mix of thrilling water slides and other water rides for older kids, plenty of play areas for little kids, and a lazy river for everyone.  
READ NEXT: Is Kings Dominion Cashless? (Here's How to Pay)
So if you'd like to spend the day having a blast, this theme park just may be the ideal place. 
#4 Enjoy Some Delicious Ice Cream
One highlight of our time in Richmond was a visit to Charm School Ice Cream.  
They make unusual homemade flavors and even hand-make their waffle cones on site. We even got a few extra cones after we finished our sundaes.
They used to have a sit down location but now have a walk up location that is adjacent to the park which is a nice place to sit anyways.
Gelati Celesti Ice Cream is another popular spot for ice cream. 
#5 Sample Different Foods
We also ran the gamut of dining from the Ipanema Café with a quaint cave-like interior to grabbing food and snacks to-go at Ellwood Thompson's Market, to the modern The Daily Kitchen. 
And if you're in the mood for live music while you dine, checkout The Broadberry and The Tin Pan.
Local tip: the Hardywood Park Craft Brewery is the best brewery in Richmond in my opinion. They have some creative pizza options, outdoor live music, adirondack chairs, multiple bars and a great time!
#6 Explore Richmond History
Richmond was the Capital of the Confederacy and its history is relevant now.
As one of the oldest cities in the United States, Richmond's 400-year history spans from colonial times to the present day, witnessing many pivotal events and transformations.
Who's Buried at Hollywood Cemetery?
While many people are buried here, just a few well-known individuals are:
Jefferson Davis (former President of the Confederacy)
President James Monroe
President James Tyler
Visitors are welcome to explore the grounds.
As you walk around, keep an eye out for the monument to the Confederate War Dead and beautiful views of the James River.
#7 The American Civil War Museum at Historic Tredegar
The American Civil War Museum is also worth a visit. This museum tells the story of the Civil War and Confederacy on a level many children can understand.
To help learn about their lives and experiences, you will see:
Artifacts
Uniforms
Weapons
Personal items of confederate soldiers
Local tip: Older children can also tour the adjacent White House of the Confederacy. My 6 and 9-year-olds found the tour interesting, but it is close to an hour and younger kids are likely to find it too long.
#8 Take a Cruise Along the James River
The James River runs through Richmond and it's likely you will run into it even if you don't intend to!  There is a lot to do on the James River.  
On past visits to Richmond, we have hiked one of the James River's "easy" trails with kids.  You can also hike, canoe or kayak, swim fish or tube down the river.  
On our most recent visit we decided to take it easy and take a Canal Cruise to get a different view of the river and be able to relax and enjoy the view. 
#9 Lewis Ginter Botanical Garden
The beautiful Lewis Ginter Botanical Garden is a 50-acre botanical garden which is home to a variety of plants from around the world, including a rose garden, orchids, cacti, and succulents.
With its stunning floral displays, serene lakes, and tranquil paths, this botanical paradise is a true gem. 
If you're going with kids, you definitely don't want to miss the interactive Children's garden.
They can dig in the dirt, plant fruits and veggies, climb the 2nd story tree house and a lot more!
#10 Virginia Museum of Fine Arts
The Virginia Museum of Fine Arts boasts an impressive collection of over 50,000 art pieces. From different cultures and time periods, you'll find a wide variety of art forms waiting to be discovered.
One of the highlights is their exceptional art nouveau and art deco collection, showcasing intricate designs and details.
And yes, they even have Fabergé eggs on display—a true marvel!
Did you know? In 2020, the New York Times included Richmond on its global list of 52 Places to Go in 2020.
With so much to see, you can easily spend a day or two exploring and still not see it all.
And did I mention, admission is free?
Local tip: the museum also has 2 places to eat. While one is more of a cafe style, the other I would consider fine dining. If you prefer fine dining outside of the museum, head to Lemaire where you won't be disappointed. 
#11 Enjoy Outdoor Recreation at Belle Isle
Belle Isle is a natural oasis , scenic that is a great place to just sit and relax or enjoy activities like:
To explore the island and trails, cross the pedestrian bridge. This is the perfect spot to enjoy the river and it's views!
#12 The Robins Nature Center at Maymont
The Robins Nature Center has outdoor wildlife habitats to explore where you'll see animals like:
Bobcat
Red fox
Black bears
Bald eagle habitats
The best time to go is earlier in the morning when they are more likely to be active.
The nature center is primarily designed for younger kids but even ny 10-year-old had a blast exploring the aquarium and interactive tables. 
Be sure to visit the Japanese and herb gardens.
#13 Visit a National Historic Landmark
Richmond is a great place for history buffs and houses some of the most worthwhile historic sites to visit.
The Maggie L Walker National Historic Site is the home of Maggie Lena Walker, the first African American woman to found a bank in the United States.
The site offers a walking tour that covers a significant part of Jackson Ward, a historically African American neighborhood in Richmond. 
#14 Visit the Poe Museum 
Also known as the Edgar Allan Poe Museum, this museum brings Edgar Allan Poe's life and works to life.
The spaces here date back to the 1800s and there is a great collection of artifacts that once belonged to Poe that show off his early years and creative genius.
Did you know? The Edgar Allan Poe Museum is located in the Shockoe Bottom neighborhood which is a historically significant neighborhood. Today it is also home to the Virginia Holocaust Museum, upscale shopping, cafes and festivals.
Don't miss the reading room, where you can see Poe's haunting tales and poems and learn about their context.
Some other interesting permanent exhibits include:
The Edgar Allan Poe Shrine
The Chamber of Horrors
The Enchanted Garden
The Poe Shop
And more!
#15 Richmond National Battlefield Park
This 3,122-acre park in Virginia preserves the sites of 13 Civil War battles fought around Richmond.
Here you can explore the open battlefields and use the signs to learn about the history of these battles.
The park features cannons that mark the opposing forces' lines, providing a powerful reminder of the conflicts that took place here.
Standing where you know thousands of men fought and died, regardless of which side they fought for, is a humbling reminder of the sacrifices made during the Civil War.
#16 Virginia Holocaust Museum 
The Virginia Holocaust Museum is the only free museum dedicated to the Holocaust in the area. Prepare for an emotional journey as you explore exhibits designed to evoke the realities of that dark time.
The Virginia Holocaust Museum stands as a solemn reminder of the atrocities committed during the Holocaust and pays tribute to the millions of lives lost due to hate, fear, and abuse of power.
Inside the museum, you'll find thought-provoking exhibits and permanent collections that transport you back in time.
#17 Virginia Museum of History 
The Virginia Museum of History & Culture is one of my favorite history museums.
Both the long-term and temporary exhibitions are excellent, and the staff is friendly and helpful.
The static exhibits can take a few hours to explore, and there are plenty of interactive elements for kids too.
If you have the opportunity, I highly recommend checking out the Apollo exhibition. I mean, who wouldn't want to sit in a lunar rover? It's a truly unique experience!
We visited with our 12-year-old and had a great time. It's a must-visit in Richmond, especially for families.
#18 Tour the Virginia State Capitol
The Virginia State Capitol in Richmond was designed by Thomas Jefferson himself, this historic landmark is a must-visit for history enthusiasts.
This building is also where the Virginia General Assembly is held.
Here you can take a guided tour to dive into the interesting American history and see the neoclassical architecture.
Outside of the tour, the Capitol grounds offer a nice, relaxing place for a stroll.
#19 Richmond Raceway
For race fans and families seeking a more thrilling experience in Richmond, Virginia, you just may want to consider watching a race at Richmond Raceway. 
The view from the booths is fantastic, so you won't miss any of the action. 
The knowledgeable guides also provide a great tour experience, especially for NASCAR enthusiasts.
#20 Metro Richmond Zoo
With 150 acres, this zoo offers a memorable experience on a day trip. There are of course, tons of animals to see.
But there are also some unique experiences like getting to see the world's oldest African Penguin, getting to feed the giraffes and the seeing the famous odd couple – a Cheetah and a dog named Kumbali and Kago.
#21 Maymont Farm
One of the must-visit attractions in Richmond, Virginia is the Maymont Children's Barn. This farm is a perennial favorite for kids and families.
Kids especially enjoy the interactive experience of feeding the friendly goats, while also having the change to explore the winding path in hopes of catching a glimpse of the bobcat, fox, or bears. 
The farm is also home to a diverse array of wildlife, including elk, deer, and eagles.
Local Tip: Throughout the year, Marymont hosts special events that are perfect for family outings or memorable girls' nights. One such event is the Maymont Glow, which promises an evening of magical experiences.
A highlight of the Maymont Children's Barn is the enchanting Japanese gardens, complete with stepping stones that provide endless fun for kids. 
You can also tour the mansion for more of a historical exploration.
#22 Discover Pipeline Walkway on the James River
Located just a short walk from the capitol, it's a must-visit attraction in Richmond, although it's not widely known.
In the summer, you can enjoy swimming in the calm parts of the river near the walkway. It's a great way to cool off and have fun!
However, there's something you should know before you go. To access the walkway, you'll need to climb down a metal ladder. It's not too difficult, but it may not be suitable for everyone.
Keep an eye out for spots where you can leave the trail and sit on the beach. It's a nice place to take a break and relax.
#23 Short Pump Town Center
This open air mall has a beautiful setting and it is filled with lots of restail stores and restaurants so you can find everything you need.
There are also activities like the kids' train ride and the interactive large chess game, adding fun for both kids and adults.
#24 RVA Trolley tour
Whenever I visit a new city, I love to take a bus or trolley tour to get familiar with it. While we had visited Richmond a number of times, we felt like we hadn't explored enough so we decided to take a trolley tour.
RVA Trolley Tour takes you on a 90-minute narrated tour that takes you past famous landmarks like:
The Virginia State Capitol
Edgar Allan Poe Museum
Hollywood Cemetery
And others
Hop on the vintage trolley for a unique perspective on the city and learn about its history and popular attractions.
#25 K1 Speed
K1 Speed is a thrilling and enjoyable indoor Go Kart place.
They separate junior and adult racers, which is great for the younger kids. The track is smaller than expected, but they compensate by giving you five laps per race.
The track is full of sharp turns, so you don't get much of a chance to open up and go too fast but it's still a lot of fun.
#26 Rent Paddle Boats
Fountain Lake & Boat Lake is a nice outdoor place to relax.
There are paddle boats available if you want to head out on the water.
You can also just stroll along the waters edge and watch the geese if you're looking for a relaxing time.
#27 Three Lakes Park and Nature Center
The aquarium at Three Lakes Park & Nature Center is a must-see. It has 50,000 gallons, and it showcases a variety of fish, amphibians, and reptiles native to the area.
From bass to turtles, you'll be amazed by the diverse species on display.
The aquarium is divided into two sections: freshwater and saltwater. The freshwater section features fish native to the park's lakes, such as:
Bass
Sunfish
Catfish
And turtles
In the saltwater section, you'll encounter species from the Atlantic Ocean, including: 
Angelfish
Clownfish
And eels
Don't miss the touch tank! You and your family can interact with turtles, frogs, and fish up close. It's an unforgettable experience that brings you closer to these incredible animals.
#28 Brown's island
To get to Brown's Island, simply cross the bridge and climb the stairs, where you'll be rewarded with one of the best views of Richmond.
If you're traveling with your furry friends, don't worry! There's also a longer route available that is dog-friendly, so everyone can join in on the fun.
Throughout the year, Brown's Island plays host to a variety of events, with the folk festival being one of the highlights.
You'll also find a range of other gatherings taking place here, making it an awesome little location for all kinds of activities.
#29 Crump Park
Crump Park is a family-friendly park with a range of activities for everyone to enjoy.
The playground caters to kids of all ages and is perfect for letting them burn off energy.
Local tip: Crump Park is also home to Meadow Farm Museum and on select weekends you can find history programs for kids and adults, plus their are live farm animals.
The park is well-maintained, and the playground gets plenty of sun and light.
In addition to the playground, Crump Park offers multiple pavilions, a scenic pond with ducks and geese, walking trails in the woods, and a historic farm with animals.
#30 Rent Pedal Boats
One popular summer activity is to cruise around Swan Lake (in Byrd Park) in pedal boats.
Local tip: you'll also find Fountain Lake and Shields Lake in the same park
As this is the perfect place for a picnic, we typically pack our food before or after the boats so we can just enjoy being in nature and spend some time together. 
#31 Visit a Playground
Richmond is home to some of the most amazing parks with playgrounds.
Going to parks with a playground is a great way to let the little ones burn off some energy while you rest at the park away from the hustle bustle of the city.
Some of the best playground options include:
Mary Munford playground
SOAR 365
Powhatan Playground
#32 Enjoy Rockwood Park
Enjoy a run, walk, or play on the playground. Rockwood Park has one of the best dog parks in the area.
Explore paved and unpaved trails. Picnic areas with or without shelters are also available. 
You can also bring your ball and take advantage of the baseball, basketball, and pickleball courts. Plus, there is a shooting archery here too!
#33 John Marshall House
It's an amazing experience to be up close to the very items that this famous family lived with day and night.
The John Marshall House is structurally the same as it was when it was originally built in the 1700s, and it contains many detailed and informative pieces about John Marshall, his life and career, as well as information about his life as the Chief Justice of the Supreme Court. 
Taking a tour of this house would be a great way for your kids to learn about American history and see how people lived in the past
#34 The Grand Kugel
This massive granite marvel, weighing a staggering 29 tons, holds the title for being the largest Kugel in the world.
Located just outside the science museum, this unique attraction is definitely a tourist stop.
While we were fortunate to visit when it was less crowded, it's typically a happening spot but it is free to visit.
One of the most exciting aspects of the Grand Kugel is that you can actually change its spin direction with your own hands. 
#35 Egyptian Building
The Egyptian Building in Richmond, Virginia is a National Historic Landmark and a prime example of Egyptian Revival architecture.
Once a college building, the Egyptian Building now houses the offices of the Department of Physical Medicine and Rehabilitation in the VCU School of Medicine.
The building's columns, carvings, and symbolic motifs are pretty cool to check out.
Inside you can see history and appreciate the work that went into the interior.
#36 The Richmond Slave Trail 
The Richmond Slave Trail follows the port and slave markets that made Richmond the largest source of enslaved Africans on the east coast of America from 1830 to 1860.
Along the trail you can explore 17 historical markers that provide audio sharing the stories of enslaved individuals. Some of the markers along the trail are:
Crossing the Atlantic
Slavery Challenged
Use of Arms
Auction Houses
Lumpkin's Jail
This trail offers a valuable resource to learn about the history of slavery in the United States.
#37 Richmond Murals & Street Art
Downtown Richmond is a great place to see murals and art.
The collection of murals along the old retired canal is simply stunning. Most of these incredible artworks were created by talented VCU art students/alumni.
The murals are easily accessible from downtown and Shockoe Bottom. As you walk along the pathway alongside the canal, you'll be captivated by the vibrant and diverse murals.
The peaceful environment, occasionally interrupted by passing trains, adds to the charm.
#38 Visit a Triple Main-Line Railroad Crossing
The Richmond Triple Railroad Bridge Crossing is a fantastic spot to watch trains and the downtown area. 
Did you know? Richmond is the only city in the world with a triple main-line railroad crossing still in operation.
However, it is important to note that it may be difficult to get a good view of the location, since much of it is NS property or blocked by the floodwall.
Regardless, it is still worth visiting!
#39 Richmond Ice Zone
The Ice Zone in Richmond, Virginia is a fantastic rink that offers a range of activities. The full-sized and well-maintained rink is perfect for skating.
They have open skating sessions for two hours with skate rental, as well as lessons for hockey and figure skating. The rink also hosts local hockey games.
Safety is a priority with regular ice maintenance and dedicated rink safety personnel.
For beginners, they have a clever solution using stacked buckets as support devices.
#40 Roller Dome Roller Skating
Roller Dome is a family-friendly fun place in Richmond, Virginia! They haveroller skating, laser tag, and arcade games for all ages. 
The rink is open seven days a week and offers various sessions.
Whether you're a seasoned skater or a beginner, you'll have a blast at Roller Dome. It's the perfect place for some good, clean family fun!
#41 Challenge Yourself at Breakout Games Escape Room
Breakout Games in Richmond is an exciting attraction where you and your team can test your problem-solving skills in escape rooms.
With six different themed rooms, such as Museum Heist and Operation: Casino, you have 60 minutes to find your way out.
In the Museum Heist room, we played with an amazing game master named Bee. They were incredibly helpful and made our experience even more enjoyable.
Our mission was to break into the thief's home and recover stolen artwork before time ran out.
#42 SkyZone Trampoline Park
The atmosphere at SkyZone is thrilling and will keep your kids entertained from start to finish.
SkyZone offers a variety of options for kids to explore, including:
Basketball
Dodgeball
A foam pit
A rope ladder
Arcade games
Don't forget to use the lockers!
The adorable socks from SkyZone make a great keepsake. Your kids will love wearing them to remember the fun night out!
#43 Putt-Putt Fun Center
This is one of the best ways to spend a little downtime while still having fun in between seeing other attractions.
In addition to mini golf, they also have:
Arcade games
Go-karts
Batting cages
Laser tag
#44 Drive Shack
Drive Shack offers a three-level entertainment complex with a high-tech golf driving range, interactive games, delicious food, and craft cocktails.
At Drive Shack, you'll play games, hit targets, challenge yourself on a golf course simulation, and have a blast with your group.
The atmosphere at Drive Shack is fun, the food is delicious, and the game play is exciting! Plus, each bay has heaters to keep you warm in cooler weather.
#45 DawnStar Video Games and Arcade
Dawnstar Video Games and Arcade is a great little retro game store with an arcade called "Starcade" in the back. It's $10 for all-you-can-play arcade games, which is a great deal.
My kids loved the pinball machine, while I had a blast playing on the Japan-only arcade cabinets.
The only thing I wish is that they would translate the controls, but it's still a lot of fun.
#46 Try Indoor Rock Climbing
The Triangle Rock Club is a great place to try out rock climbing. It's a very large place and it's well laid out.
The staff is welcoming, and the instructions are clear and easy to follow.
Triangle Rock Club offers a variety of climbing options, including tall and shorter walls, as well as bouldering. They have a dedicated gym area and offer yoga and exercise classes.
#47 See a Children's Theatre Show
With a focus on providing high-quality theatre experiences, The Children's Theatre of Virginia has very talented actors, musicians, and dancers in their performances. 
Each production is carefully crafted to be suitable for audiences of all ages, so families can enjoy the shows together.
#48 See a Flying Squirrels Baseball Game
Check out the Flying Squirrels baseball team! The stadium has improved, offering comfy seats and fair-priced, generous food and drinks.
The Flying Squirrels bring families together, packing the stadium with exciting entertainment between innings.
#49 Walk or Bike the Virginia Capital Trail
The Virginia Capital Trail is a beautiful and scenic bike path that runs from Richmond to Jamestown.
The trail is well-maintained and has great views of the James River, Chickahominy River, and several plantations. The trail is mostly flat, but there are a few challenging hills. 
There are a few areas where the trail crosses streets, but these crossings are well-signaled and safe for pedestrians and cyclists.
There are also several bridges where you can cross over creeks.
#50 Enjoy a Bowling Match
River City Roll is where bowling gets a cool makeover. This upscale bowling venue has great food and house beer.
They also have musicians come in so you can enjoy live performances as you bowl.
River City Roll is one of the few places in the country to offer this incredibly fun bowling experience.
#51 Enjoy Delicious Chocolate & Candy
This place is a favorite among kids and adults alike. It's like being a kid in a candy store all over again!
For the Love of Chocolate offers an overwhelming selection of candies, treats, and confections. The variety of international sweets is superb.
I absolutely love their pecan turtles and cashew turtles. Recently, I discovered and fell in love with the chocolate-covered candied orange.
#52 Look for Heron Nests Downtown
Don't miss the heron Rookery at the Pipeline and Trestle Trail in downtown Richmond.
It's a popular spot for birdwatching, especially known for its heron nests.
The Rookery is located near 12th and Byrd Streets and is home to a large number of great blue herons. They arrive in spring and stay until fall.
Visit early morning or late afternoon for the best chance to see the herons flying and feeding.
#53 Hop Aboard a Richmond Canal Cruise
One of the best self-guided tours in Richmond is the 40-minute narrated tour along the historic riverfront Canal Walk.
This short tour provides a glimpse into the city's downtown area and offers a dose of history, perfect for the kids.
Our tour guide was personable and knowledgeable, sharing the canal's history from its inception to the present-day lofts. I learned a lot and captured some great photos.
#54 Visit Libby Hill Park
Libby Hill Park is a public park in the city and it's actually one of their first. This is a great place to get a view of the city.
Libby Hill Park has lots of green space, perfect for relaxing and picnicking. Whether you choose a picnic blanket or a bench, you'll find a cozy spot.
With the best panoramic views of Richmond's skyline and the James River, Libby Hill Park is a a great place to go, especially at sunset.
The stairs on the hillside facing the river are popular for workouts.
The park is also surrounded by a historic neighborhood.
#55 Maymont Japanese Garden
These Japanese gardens are absolutely beautiful. They even have a 40-foot waterfall and an Asian inspired landscape.
At the beautiful gardens, there is a  collection of ponds scattered throughout the garden, some of which have bluegill fish.
The most impressive pond for me is the koi pond.
Did you know? Richmond is home to the oldest public Japanese Garden on the entire east coast of the United States.
There are winding paths through the garden where you can spend plenty of time exploring.
#56 Wilton House Museum
Wilton House is a beautiful Colonial brick Georgian mansion. I was immediately struck by the house's unique design and interior trim, which reflect William Randolph's style. 
The house was dismantled and moved 14 miles upstream on the James River to save it from demolition, and then reassembled.
Our guide was extremely knowledgeable about the Randolph family and the history of the house.
I highly recommend visiting Wilton House, even if you're not interested in Colonial American history.
#57 Black History Museum and Cultural Center of Virginia
A small but impactful museum that holds a wealth of history is the Black History Museum and Cultural Center of Virginia!
There interactive displays that give you a glimpse into both the somber and triumphant sides of black history.
The museum's bottom atrium dives into the challenging aspects of black history, shedding light on struggles like slavery and the civil rights movement. 
Upstairs, the top floor celebrates black excellence, showcasing the accomplishments of black individuals across various fields.
Visiting Richmond Virginia Attractions
Richmond, Virginia, offers a myriad of attractions that cater to diverse interests. Whether you're a history buff, an art lover, a nature enthusiast, or a science geek, this captivating city has something for everyone.
From exploring historic landmarks to immersing yourself in cultural experiences, Richmond will leave you with memories to cherish.
Plan your visit to this enchanting city and unlock the wonders of Richmond's rich heritage, natural beauty, and engaging attractions.