If you're wondering if Topgolf is kid friendly, you're in the right place! Topgolf is a great place for kids and there are many reasons to bring them.
Here I'll share what you can expect when visiting Topgolf with your kids, all the things they will be able to do and what you should know before heading over with your kids.
What's for Kids
While Topgolf is a point-driven driving range, kids not only enjoy playing, they also enjoy watching others hitting golf balls all over the place.
Driving Range With Point Scoring Golf Games
While the driving range is a 240-yard field, there are targets closer up so kids can still aim for those to earn points.
READ NEXT: How much does Chuck E Cheese cost (+ 9 Ways to Save)
Before starting, you will select one of the many point-scoring games, some of which are kid (and beginner) inspired.
While the games range from beginner to advanced, they have a handful of games the kids will enjoy. My kids picked the Angry Birds game.
While at TopGolf be sure to check out the driving range, the kids will get a kick out of watching players hitting balls all over the place. It's literally a 240-yard field with targets.
As there are multiple levels, if your child is uneasy with heights, make sure to ask to be on the lower level.
Golf Clubs for Kids
They do have kid's golf clubs available so the kids will have no trouble playing. Just ask at the front desk for the clubs you need.
Mini Golf
While most don't, a few Topgolf locations have mini golf courses available.
Kid & Family Events
Different Topgolf locations host events specifically for kids and families. The best way to find out about these events is to go to your location's Topgolf family webpage and sign-up for email notifications.
They will send you updates on events, you can get a free meal on your child's birthday and be aware of sales.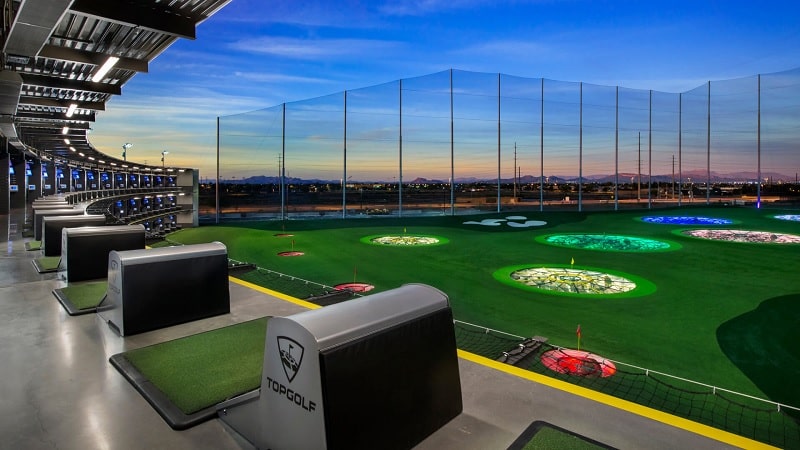 Junior Lessons
Topgolf has private and group golf classes for kids.
Classes are typically for 6 to 12 year olds and you can drop them off for their 60-minute lesson as long as you sign the child in and out.
READ NEXT: Is Dave & Buster's for Kids?
Some lessons are available for kids under 6-years-old. That parent will be present in the bay during the lesson.
Seasonal Academies
Topgolf hosts different academies during the year (typically during the spring) for kids ages 6 to 12. These academies typically run for a few days each for a few hours.
The academy typically includes:
Game play and instruction
Lunch
Gift
Certificate of completion
Not all locations offer academies so make sure to check with the one closest to you.
Birthday Parties
Topgolf is a great place to celebrate a kid's birthday up to age 17 even if they're not a big golfer. They can host groups of 7 to 18 kids in most locations. They offer different packages depending on the child's age. Birthday packages typically include:
2 hours of golf
Complimentary kids clubs
Junior Life Memberships for all guests
Party food
What Age Do Kid's Need to Be for Topgolf?
Topgolf recommends the driving range with point-scoring games for kids ages 7 and up.
While many people will say Topgolf is good for all ages, it's not really great for toddlers or little kids. I agree with Topgolf that kids should be at least 7 but the 8 to 10 year old range is better (especially if your child is on the smaller side).
Tip: if your kids are small or would be scared being on a higher level, make sure to request a bay on the lower level.
Especially if you are not on the lower level, it's not the safest for babies or toddlers to be crawling or walking around. That would make me very nervous as a parent. Plus, you have to worry about them being accidentally hit during someone's turn. No thanks!
If you have teens who will be doing, keep in mind Topgolf's policy is that any Guest under age 16 must be accompanies by an adult 21 or older. Anyone under the age of 18 must be accompanied by an adult 21 or adult after 9pm.
FREE KID FUN: Free Bowling for Kids: 2023 Free Summer Bowling
What Kids Can Eat
Since outside food cannot be brought in, they do serve food. And Topgolf has a dedicated kid's menu!
On the kid's menu you'll find yummy options like:
Chicken Bites
Grilled Cheese
Jr Cheeseburger
Their meals come with a choice of carrots, grapes, fries, tater tots and a drink. There are also burgers and sandwiches on the regular menu that kids will like.
Desserts
And don't forget dessert (when isn't that a hit with kids?). They have Injectable Donut Holes. These are cinnamon sugar flavored donut holes and they come with your choice of filling – chocolate sauce, rasperry jelly, bavarian cream or a seasonal flavor.
They actually bring you syringes filled with the sauces and you can inject your own donut holes with the delicious concoctions. Do I need to say the kids LOVED this? They are definitely a must-try!
Note: Keep in mind the menu can vary by location, so if you (or your kiddo) has your heart set on something in particular, make sure to check with your specific location ahead of time.
Pricing for Kids
At Topgolf you pay for the bay, not per person so there is no separate pricing for kids.
Save at TopGolf

Visit Topgolf on Tuesdays for up to 50% off bays.
They do offer discounts of up to 50% off on Tuesdays which is a great deal! The first hour of the day starts with the largest discount and the discount drops throughout the day the later you go.
How Much Time Will You Need With Kids?
I recommend planning to spend an hour. Since you pay by the hour for the bay, this will let you see how your kids are feeling after the first hour.
Your attendant will come by to see if you would like to continue your time. If so, they will easily extend it for you and you can continue playing.
One to two hours is typicall enough time.
Frequently Asked Questions
What is the youngest age for Topgolf?
While all ages are welcome at Topgolf, kids should really be at least age 7 to enjoy themselves.
Can little kids play at Topgolf?
Toddlers and little kids will likely get easily bored and not have much to do at Topgolf. Kids ages 7 and older will have a much better time. There are golf clubs available for them and they will have an easier time hitting the targets than smaller kids would.