With the weather getting warmer and warmer everyday, it's time to get back to some of the best water parks in Northern Virginia! Luckily, there are some really great options.
In fact, you can spend your summer waterpark hoping and trying decide which one is your favorite.
Here we've pulled together the best water parks in Northern Virginia so you can enjoy your summer days with the kids cooling off in the water and making memories.
#1 Great Waves Waterpark
4001 Eisenhower Ave, Alexandria, VA 22304 | Full Details
Located inside Cameron Run Regional Park, Great Waves Waterpark has many fun features including a wave pool, splashbad, sprayground cascades, a lagoon and of course…water slides!
This Alexandria waterpark can entertain kids of all ages as there is something for everyone. Different areas of the park are designed for different ages.
Read the full details here including hours, pricing & more.
#2 Ocean Dunes Waterpark
6060 Wilson Blvd, Arlington, VA 22205 | Full Details
What's fun about Ocean Dunes Waterpark, is that besides just the waterpark, you can also play mini golf and visit the batting cages inside Upton Hill Regional Park.
My kids absolutely love this pool!
And despite having a lap pool, kiddie pool, splash area, waterslides and more, it's often not overly crowded like some of the other pools.
Read full details here.
#3 Atlantis Waterpark
7700 Bull Run Dr, Centreville, VA 20121 | Full Details
Inside Bull Run Regional Park in Centreville, you'll find Atlantis Waterpark.
The main pool is quite large and ranges from 2 1/2 to 5 feet in depth. One nice feature here is the rubberized cushions at the bottom of the pool so when you come down the slide, you'll bounce back up to the top.
Of course, you'll find a pair of waterslides as can be expected. And if that isn't enough, there is a play structure with King Neptune, Nemo, seahorses and mermaids for the little ones to enjoy as well.
#4 St James Water Park (& Super Awesome & Amazing)
6805 Industrial Rd, Springfield, VA 22151 | Full Details
Did you know St. James Water Park is an indoor waterpark inside of Super Awesome & Amazing in Springfield?
While it's not a huge waterpark, it does pack a lot of fun. There are large indoor waterslides, a pool, big buckets of water that pour down, sprinklers and more.
Plus, once you're done at the waterpark, the rest of the complex is a huge paradise for kids with a ninja course, trampolines, rope course and a whole lot more.
#5 Pirate's Cove Waterpark
6501 Pohick Bay Dr, Lorton, VA 22079 | Full Details
As you probably already guessed from the name, Pirate's Cove Waterpark is a par-themed place for families and is best for kids up to age 10.
Located inside Pohick Bay Park, there are several pools targeting different ages and interests. You'll see features like a large pirate structure with a skull bucket, slides, water cannons, palm trees that spray water and more.
RELATED: 7 Water Parks in Maryland: Huge Slides, Wave Pools, Lazy Rivers & More
Another fun area that is unique to this waterpark is Buccaneer Beach. This is a shady area with sand, shovels and funnels for sifting through buried treasure. Kids can bring tokens they find to the front desk to recieve their own pirate loot!
Here's everything you need to know about Pirate's Cove.
#6 Splash Down Waterpark
7500 Ben Lomond Park Rd, Manassas, VA 20109 | Full Details
Splash Down Waterpark in Manassas is a 13-acre water park for kids and adults. In fact, it's the biggest waterpark in Northern Virginia!
There are many water activities and attractions including a zero entraince pool, slides, fountains, a tot area, a 770-foot lazy river, cannonball slides, and more.
Likely the most popular feature in the waterpark are the two, seventy-foot waterslides.
Kids also really like the lily pad and log walk.
Full details on the water park here.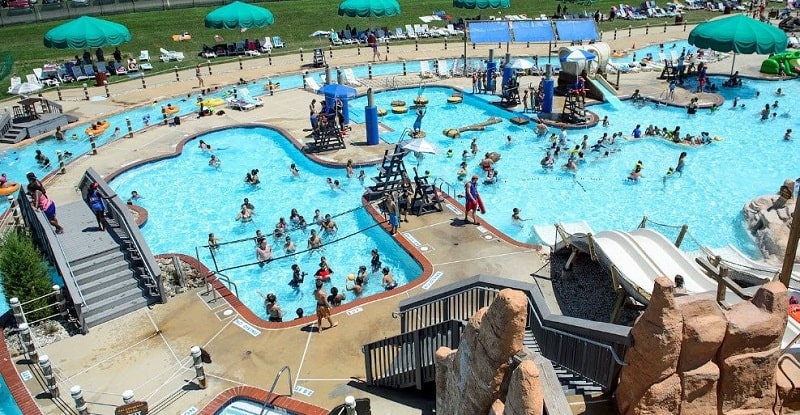 #7 Water Mine Family Swimmin' Hole
1400 Lake Fairfax Dr, Reston, VA 20190 | Full Details
The Water Mine Family Swimmin' Hole is a 1+ acre wild west town theme waterpark with numerous features like:
Slides
Flumes
Sprays
Showers
Floatables
Water playground
One reason we like this waterpark so much is that it's great for young ones to teenagers.
One unique feature is Rattlesnake River which is a 725-foot lazy river the whole family can enjoy. There are even double tubes available!
Find out everything you need to know here.
#8 Volcano Island Waterpark
20015 Volcano Island Dr, Sterling, VA 20165 | Full Details
Volcano Island Waterpark in Sterling is a Polynesian themed waterpark which means you can expect to find things like tiki thatched buildings, palm trees, and island statues.
There are water tree slides, fountains, a beach entrey area, splash pad where you can slide down a mini volcano and more.
This is a good waterpark for families with kids of varying ages and we've found it to be less crowded than some of the others.
Read more about the waterpark here.
Which One
We are so lucky to have so many great water parks in Northern Virginia. You can literally spend the summer visiting a new water park almost every week.
Some water parks are better for the younger ones, while others are great for the young ones, plus tweens and teens too, so the whole family can have fun.
It's fun to try out different water parks with unique themes and features, as well as visiting the ones we already know and love again and again.